Written by guest blogger Jazz Senat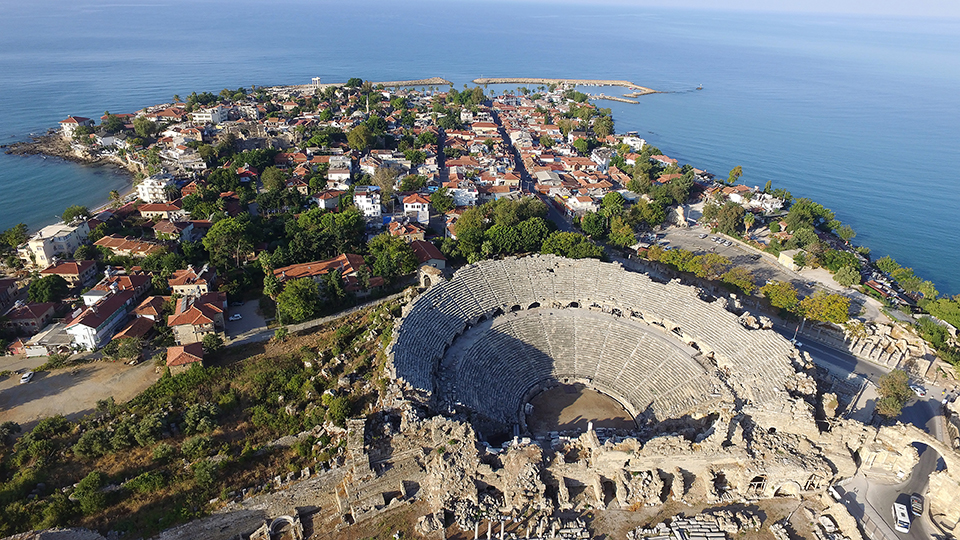 When you think about diving in Turkey, you might think about places like Kaş, Antalya or Bodrum. And you're right. They are indeed beautiful places with many interesting dive locations. Recently you could read 2 great blog posts about the most popular scuba diving locations in Turkey on the PADI website. 
But one place that you don't hear often about, is Side.
Historic Side
Side is undoubtedly one of the most famous historical places of Turkey. The city was founded on a peninsula around the 7th century B.C. and the ancient name of this port means pomegranate.
Side is primarily known for its beautiful ruins, beaches and shopping centres. One of the most famous attractions is the ancient theatre, and it is with its loggia, the oldest in the region. Other monuments that are worth to visit are the Temple of Apollo which is located near the harbour, a fountain and an acropolis. The great Roman baths have been converted into museums where one of the finest archaeological collections is on display.
Because of its rich history it's not surprising that you can encounter real artefacts (pottery) during your dives in Side.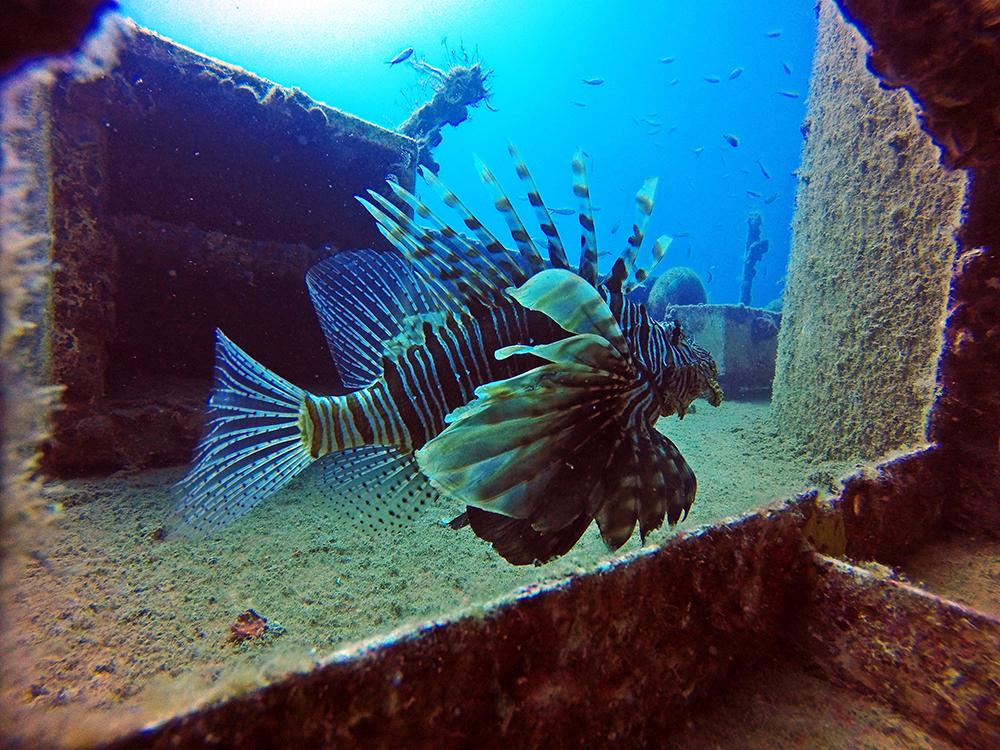 Scuba diving in Side
What most people don't know, is that Side is also a great place for scuba divers and great for nondivers looking to try diving, with some great features for discover scuba divers and experts.

I am always surprised when I hear people saying that you can't see much underwater in Side. Because there's plenty to see! Especially in the summer season Side has a rich marine life. The scuba season runs from April till +/- half November. The water temperature increases from +/- 17 degrees in April to about 31 degrees Celsius in high season.
A great plus is that all diving locations are nearby so depending on where you'll be diving it takes about 3-15 minutes by boat. That gives you the possibility to choose a dive center with a way of working that suits you best. Some dive centres have a big boat that stay all day onto sea and give the possibility to dive with bigger groups while other dive centres keep the groups small and personal and turn back to the base after each dive.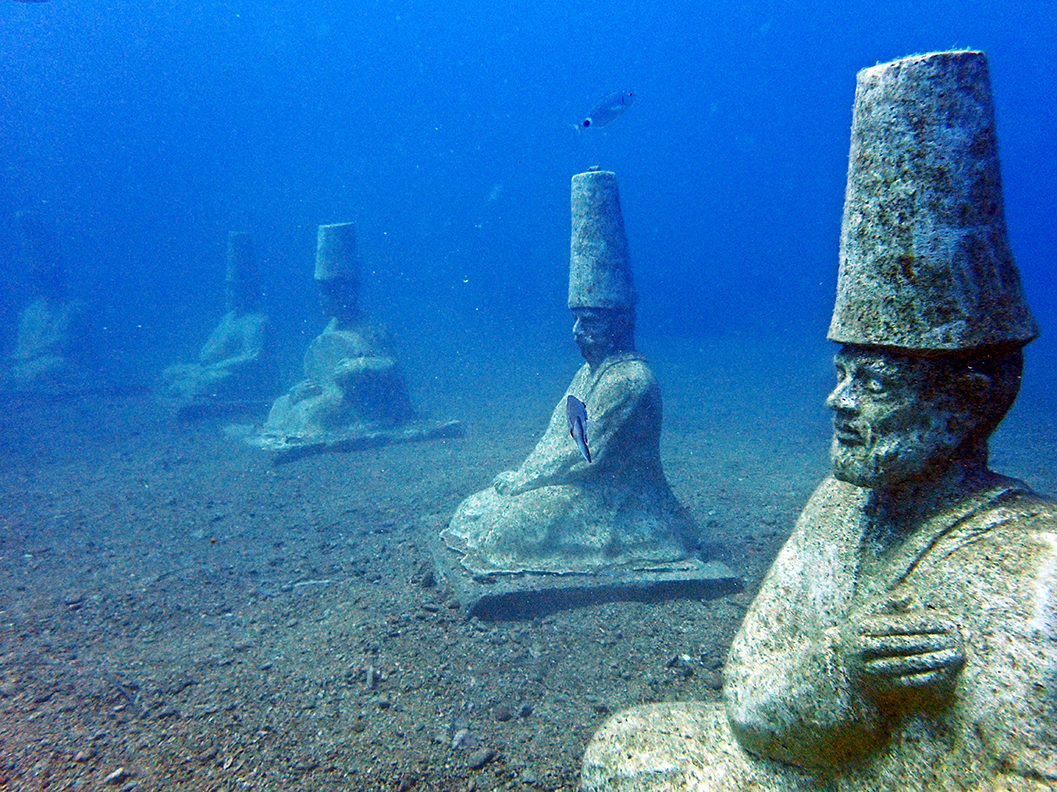 Dive Locations
Although the diving locations are limited, they are interesting. Side got something unique to discover and boasts the first underwater museum in Europe!
The Side Underwater Museum, which was created in 2015 is divided in 5 dioramas; 'Whirling Dervish', 'War of Independence', 'the Temple of Poseidon', 'caravan of camels' and 'Flower Garden'. The 110 statues range between 1 and 6 meters in height and weigh up to 5 tonnes. They were carefully positioned by a team of 20 people, crane boats and professional divers in a period of 3 months.
It's also possible to wreck dive in Side at 25 meters. The wreck TCSG-117, sunk in 2008 has made a great artificial reef for marine. It's 30 meters long and at this location you can see a part of the Side Underwater Museum 'War of Independence' and 'the Temple of Poseidon' which is a 6 meters large statue.
Camel Road is where you can see diorama 'Caravan of Camels' and has a depth of 18 meters. Here you can see life-sized statues of horses as well.
Side Reef 1 is a favourite among most divers. The reef starts at 6 meters which makes the location very suitable for new divers as well as experienced. The reef slowly descends to a maximum depth of 12 meters where you can see the diorama 'Flower Garden' of the underwater museum. A great addition is a copy of the Apollo temple, which is of course a bit smaller scale than the original!
Dive centres in the area have their own local house reefs and beaches where children can try out diving in a safe environment. Dive centres that are located near hotels generally offer pool dives and try-outs as well.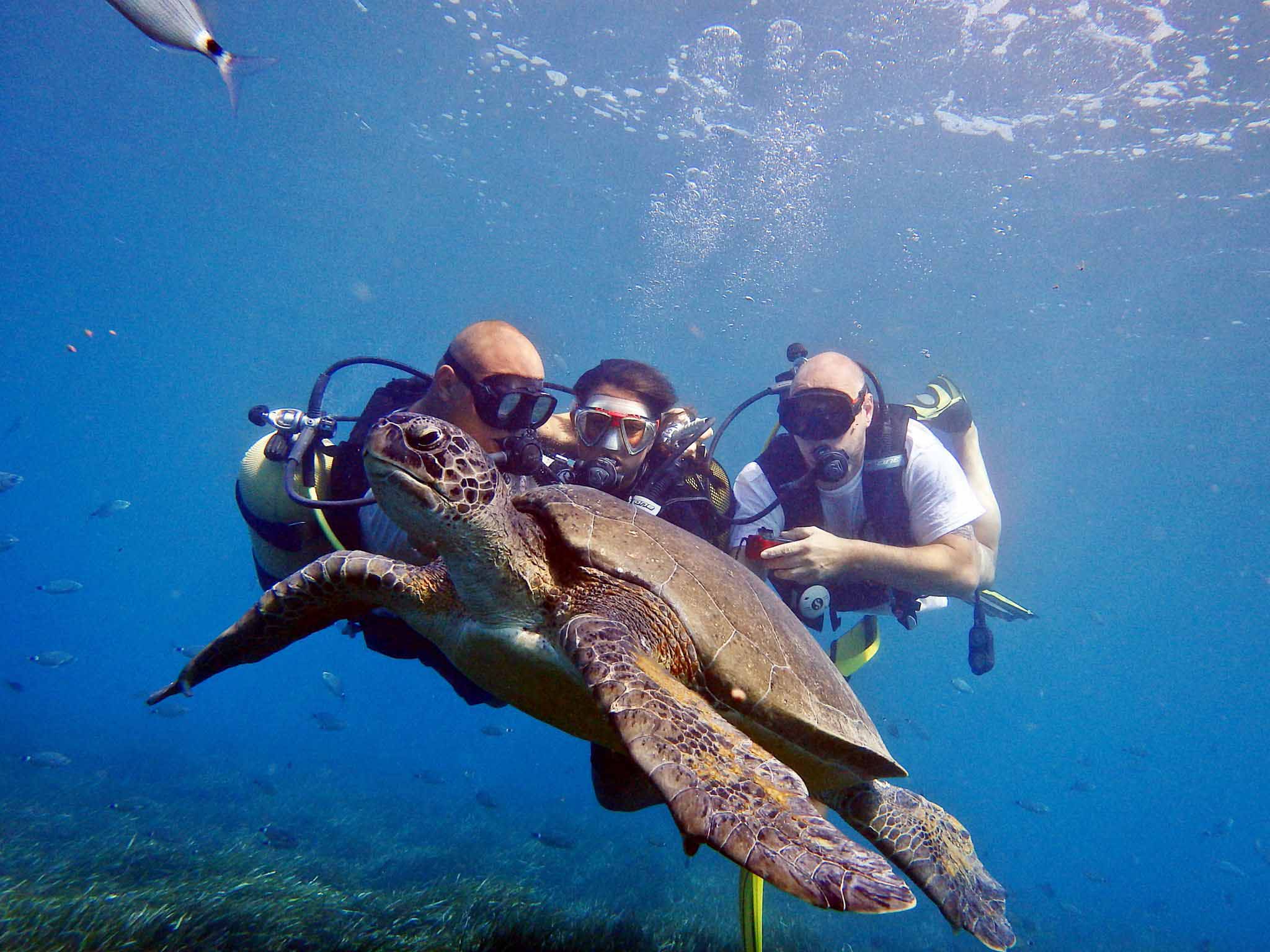 Marine Life
Let's start with the marine life that can be seen. Did you know that the Loggerhead Turtles (Caretta Caretta) come every year to Side to lay their eggs on the beaches? The Caretta Caretta turtles may weigh between 300 and 400 pounds and all return to the same beach where they themselves hatched in order to lay their eggs when they reach maturity. The season to see the turtles is between the end of May and October. You can encounter them while swimming but there's also a spot called Turtle Reef where you can see them whilst diving. The depth varies between 5-7 meters so it's perfect for discover scuba divers.
Besides that, you can (depending on the diving location) encounter crabs, octopuses, moray eels, parrotfish, lionfish, groupers, starfish, nudibranchs, rays, tuna fish, barracudas, rainbow wrasse, soldierfishes, shrimps, angel sharks (when you're lucky), and other species as well.
Put Side on the map!
Have you been diving in Side? How was your experience? It's always great to hear your stories! Side is certainly worth a visit. On land and under water. Whether you're an expert or someone that would fancy a discover scuba dive, Side offers possibilities for any age and certificate level.