Not only are mermaids real, it's easier than ever to become a mermaid (or merman). Mermaid tails are available for all ages and body types, and mermaiding communities are popping up around the world. Read on to learn how to step up your mermaid game, meet some famous mermaids, and learn about mermaid job opportunities.
To truly become a mermaid, the first thing you learn is how to adapt to the underwater world. The two main options are: learning to freedive, or learning to scuba dive.  
Option One: Learn to Freedive
Freediving is the best option as it fits the mermaid aesthetic. As a freediver, you'll be able to glide through the underwater world just like fish do, silently swimming alongside fellow marine creatures. In the PADI Freediver™course, you'll learn basic breath hold techniques and get your feet wet with freediving gear. You'll start with a breath hold goal of 90 seconds, and work towards holding your breath for three and a half minutes in the Master Freediver course. Find a PADI Freediving Center near you.
Option Two: Learn to Scuba Dive
If breath holding isn't for you, or if you'd like to spend more than a few minutes underwater world, the PADI® Open Water Diver course is an excellent choice. As a PADI Diver you can explore the seven seas with more than 6500 dive centers and resorts worldwide. Find a PADI Dive Center or Resort near you.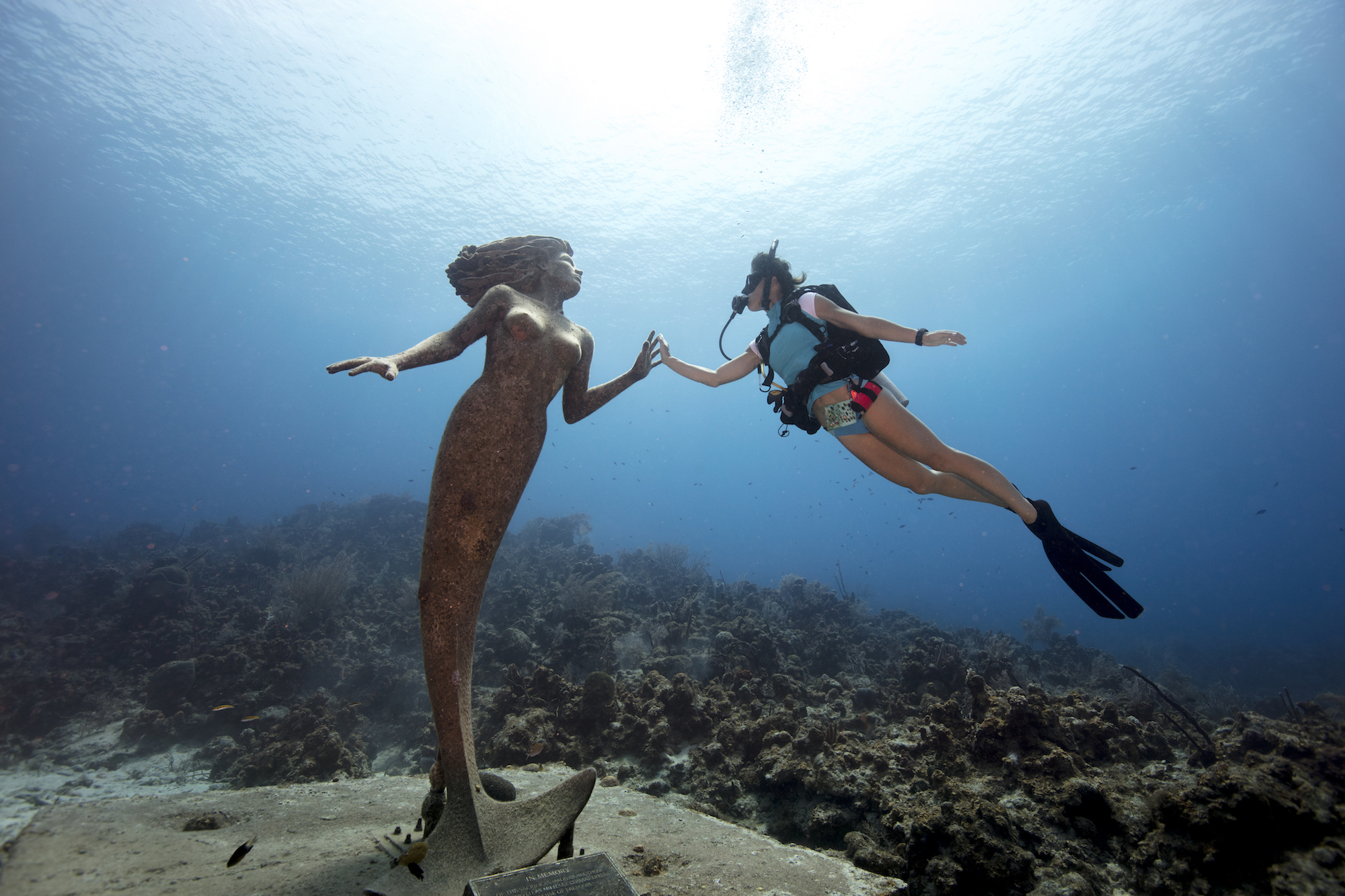 Option Three: Take a Mermaid Class
There are several mermaiding schools around the world. Be sure to research what the class entails, some are glorified photo shoots. Here are a few PADI members that offer mermaid training:
Adventures in Scuba Calgary, AB, Canada
Adventures in Scuba offers a monthly mermaid class and has mermaid tails available for sale or rental. The course is four hours of training over two evenings and includes monofin skill practice and photos.
Swim Freedive Cozumel Cozumel, Mexico
Swim Freedive Cozumel offers a variety of mermaid classes: Learn to Mermaid, Professional Mermaid training (includes the PADI Freediver certification), Movie Star Mermaid training (includes a 3-hour photo shoot session), as well as mermaid fitness classes.
Adventure Scuba Plano, TX, USA
Adventure Scuba has beginner and advance mermaid classes each month. Read the history of Adventure Scuba's mermaid class and one reporter's mermaiding experience.


Next Step: Get a Mermaid Tail
One of the best reasons to become a mermaid is to get a fantastic tail. Mermaid tails are available on Amazon in child and adult sizes in a variety of shapes, styles and a rainbow of colors. Choose one with a monofin designed for swimming.

For mermaids who plan to work professionally, check out The MerTailor (aka Eric Ducharme). The MerTailor has created tails for the famous Weeki Wachee Mermaids, Lady Gaga, Disney, etc.
Mermaid Careers
With the right skills and a proper tail, it's possible to get work as a professional mermaid or merman. Hannah Fraser describes herself as a "freelance mermaid" and has appeared in numerous films, was featured by Cosmopolitan magazine and gave a TEDx talk about her work.
PADI AmbassaDiver™ Dada Li is a Freediver Instructor Trainer in addition to being a mermaid. Follow her adventures on Instagram @dadali27.

The best of the best can become a Weeki Wachee Mermaid. These legendary sirens have been performing in the Florida springs daily since the late 1940's. Mermaid training camps for kids and adults are offered each summer, but sell out quickly.


If you know any aspiring mermaids, invite them to participate in PADI® Women's Dive Day. PADI Dive Centers and Resorts around the world offer special diving and Discover Scuba® Diving opportunities for women and girls to experience the underwater world. Find a Women's Dive Day event near you.