PADI's third Pillar of Change, People & Humanity, was created to foster diversity and inclusion in the dive industry and support local communities. PADI was founded on the core belief that the oceans should be accessible to all. We strive to create an environment of openness across our industry with a shared understanding that 'underwater we all speak the same language.' As the world's largest network of underwater explorers, the inclusive nature and diversity of diving is something that we celebrate and honor.
To advance our vision of establishing a balance between humanity and ocean, it's necessary to acknowledge the social, economic and environmental impact of our actions. We are committed to cultivating diversity and inclusion across the dive industry. We will also seek out and create new pathways to increase access to the ocean and the transformational power of diving.
The PADI Blueprint for People & Humanity sets out our approach to advancing Pillar 3: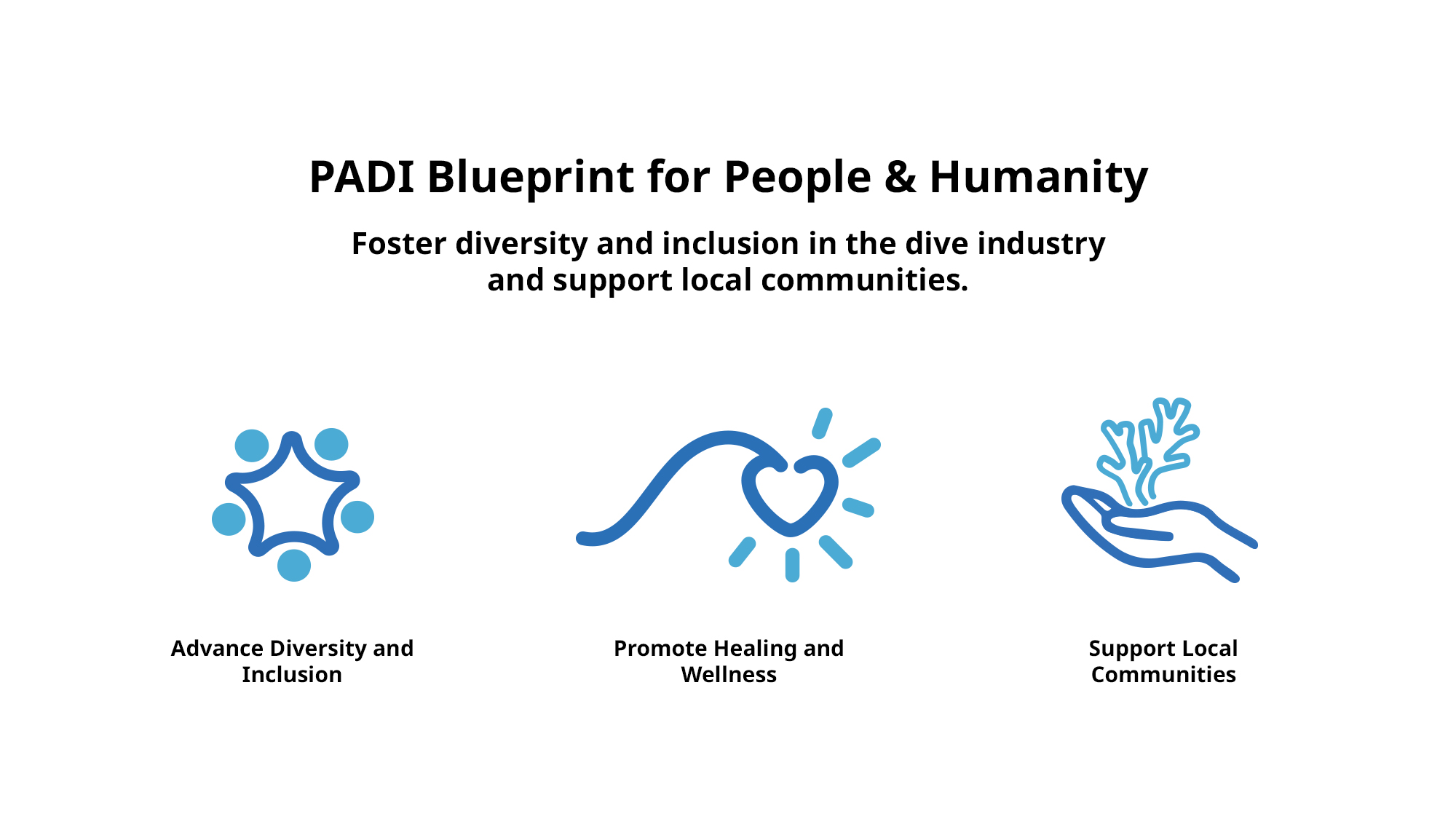 ---
1. Advance Diversity & Inclusion
We are constantly looking to create greater opportunities for more people to explore and protect the ocean. We embrace the existing diversity of the PADI community and seek to identify new partnerships and opportunities for diving to become more inclusive, welcoming everyone, including people of all backgrounds and ethnicities.
Established in 183 countries, PADI Dive Centers and their divers are arguably one of the most diverse communities in the world dedicated to a single goal: exploration and protection of the ocean.
2024 will mark a decade-long celebration of PADI Women's Dive Day. Every year, PADI Dive Centers and Resorts across nearly every continent host events aimed at introducing more women to the underwater world. PADI Women's Dive Day is now the world's largest single day of diving action and testament to PADI's potential to influence positive cultural change on a global level.
Building on the success of Women's Dive Day, we added Diversity in Diving Day to the annual diving calendar. Diversity in Diving Day aims to recognize and celebrate all members of our global community, including those who fall outside of typical diver age groups, identify as LGBTQ+, overcome physical/mental challenges to access diving and/or enter diving from cultural, racial or geographical backgrounds that have historically had less access to the underwater world.
Furthermore, PADI proudly supports organizations like Black in Marine Science, which celebrates Black marine scientists and divers, spreading environmental awareness and inspiring scientific thought leaders.
The more communities that become scuba-centric, the more Torchbearers we can create for the ocean. As Sharanya Iyer, a PADI AmbassaDiver from India, states, "My goal is to get more Indians into the water world so they can each be ambassadors for ocean conservation in their spheres of influence."
In addition, PADI youth diving programs continue to encourage the next generation of divers, from Bubblemaker experiences through to our PADI Seal Team Program and Junior Open Water Diver and Advanced Junior Open Water Diver courses. We are proud to support the youngest generation of Ocean Torchbearers.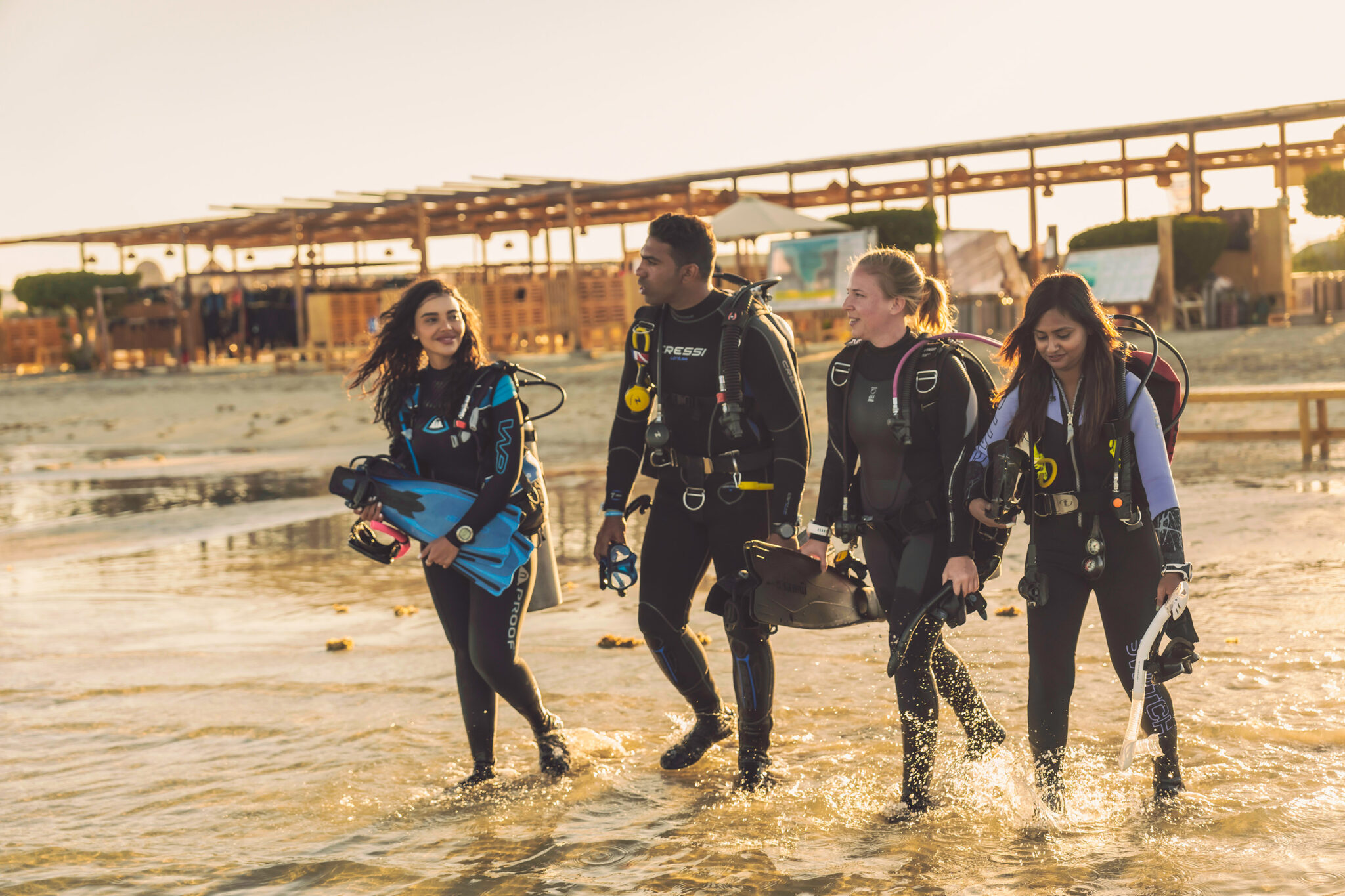 PADI Freediver & PADI Mermaid Courses
In addition to PADI's scuba diving courses, PADI also offers opportunities for divers and ocean explorers to become freedivers and/or mermaids, with the PADI Freediver and PADI Mermaid courses. These avenues enable more people to access the underwater world in a new capacity, further expanding our global network by welcoming more individuals to the PADI family.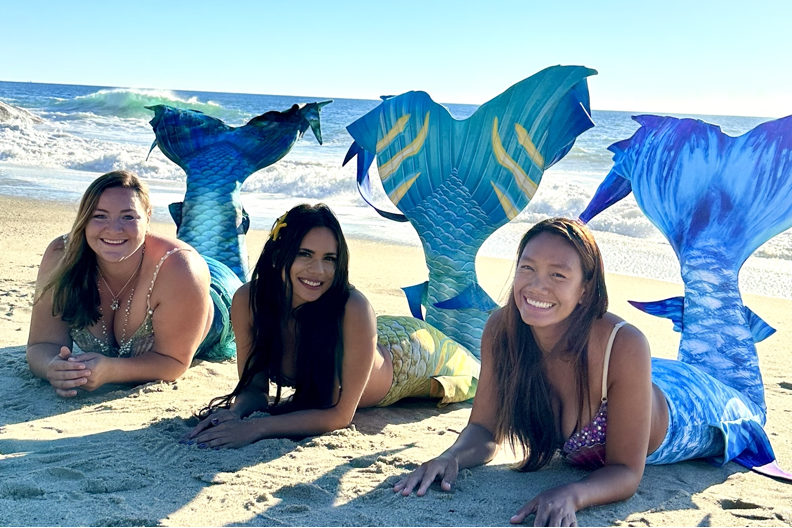 ---
2. Promote Healing & Wellness
Here at PADI, we believe in the transformational potential of diving for all of humanity's emotional and physical wellbeing.
And, by increasing access to diving and diving careers for everyone as well as creating more opportunities to experience and learn about the underwater world, PADI Operators and Professionals are a critical driving force in increasing the connectedness, health and wellbeing of the community.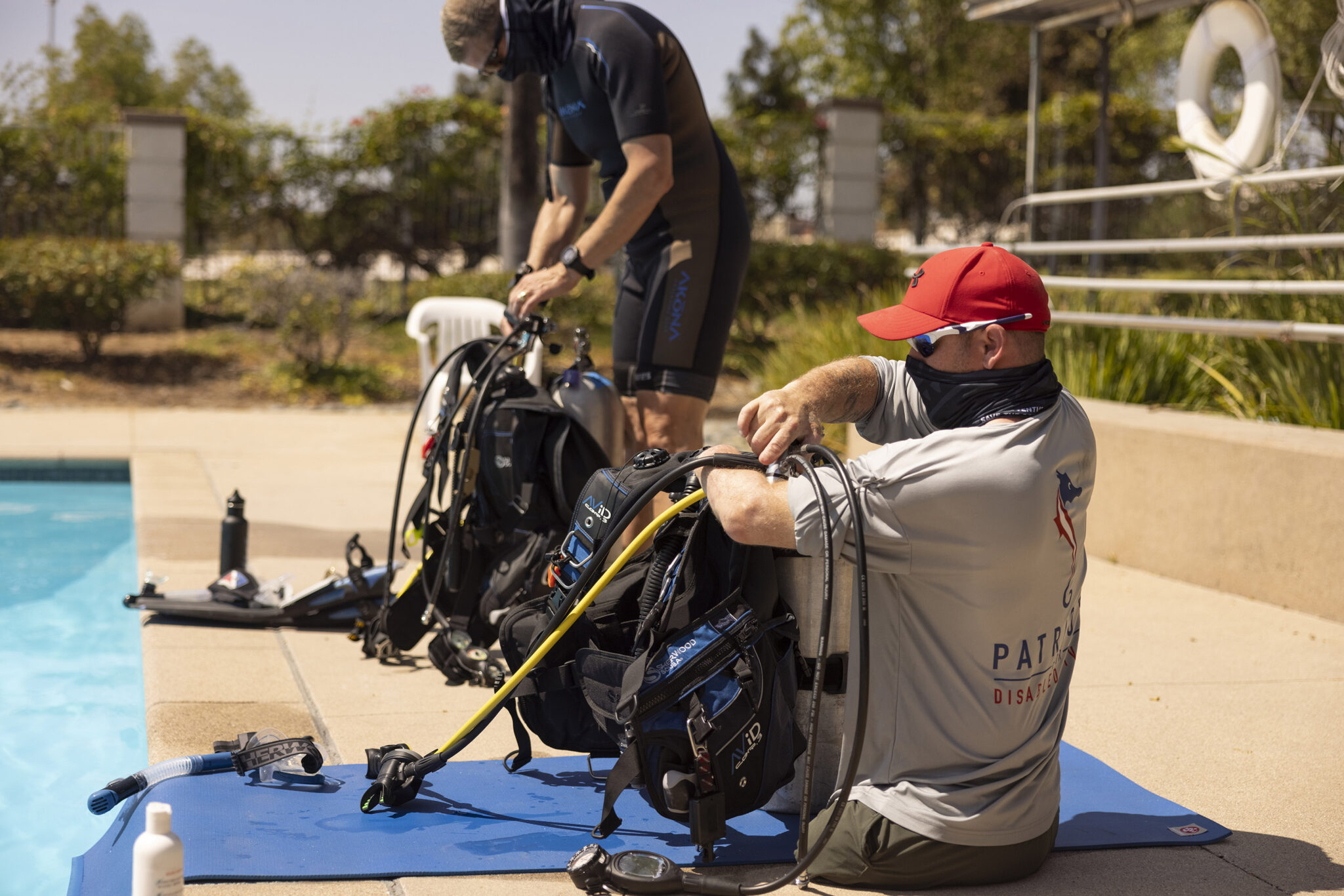 PADI Adaptive Techniques & Adaptive Service Facilities
There are an estimated one billion people on the planet that have a physical and/or mental disability. That's why PADI's approach to diver education has always been inclusive; everyone who meets safety prerequisites is welcome. In turn, learning to dive has helped veterans with PTSD and other life-altering injuries, Paralympians, individuals with spinal paralysis and countless others find healing.
In order to further the transformational power of diving, we created two courses that focus on increasing awareness of the varying abilities of divers and exploring adaptive teaching techniques to apply when training and diving with disabled divers. These courses further expand a PADI Instructor's abilities to be prescriptive when adapting techniques to meet diver needs.
In 2023, PADI also launched Adaptive Service Facilities, a PADI Dive Center and Resort accreditation to recognize excellence in adaptive provisions. A PADI Adaptive Service Facility is an operation that has invested in comprehensive operational services and infrastructure that meet the needs of divers with disabilities. These provisions might include staff trained specifically in adaptive diving techniques and support, providing training for those who want to learn more about adaptive support, having accessible retail and classroom floors as well as accessible pool and boat decks, and much more.
---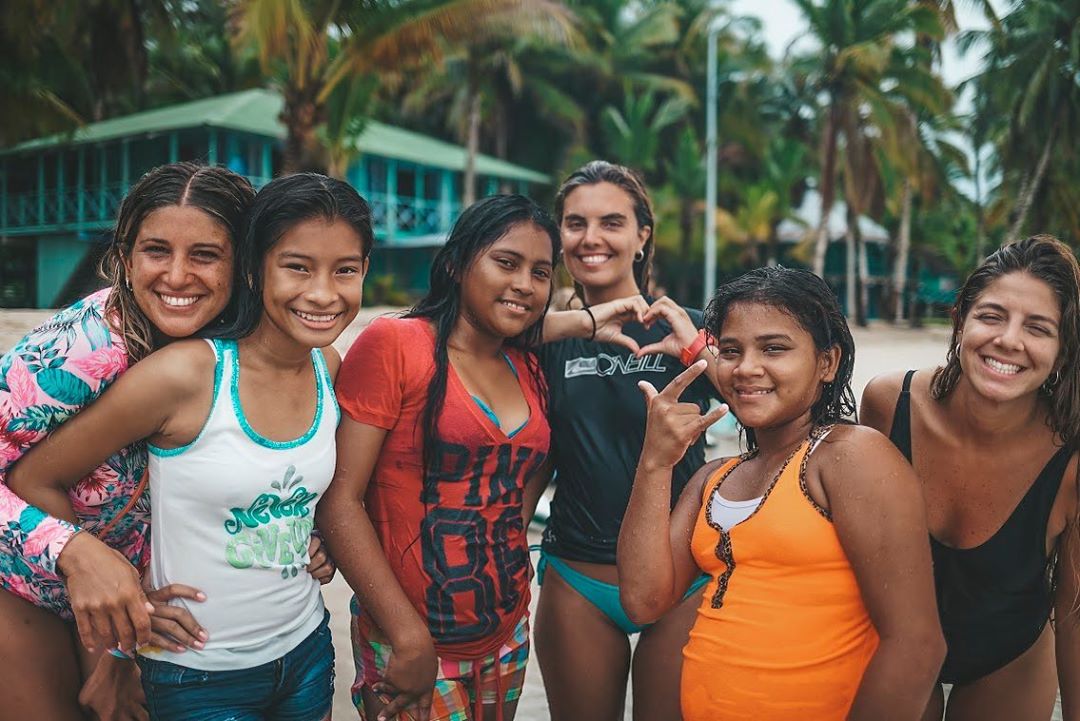 3. Support Local Dive Communities
Local dive communities can play a significant role in the economic stability of a region as well as the health of its aquatic environments. Across the globe, millions rely on healthy marine ecosystems for their livelihood and wellbeing.
For this reason, the extended PADI family can be a force for good by connecting people to causes and actions that create positive change. We strive to provide opportunities for local and indigenous communities to access the marine environment, diving and diving careers. We also seek to collaborate with and create initiatives that unite communities in order to increase local resilience, environmentally, socially and economically.
The PADI AWARE Community Grant Program provides critical resources to PADI Professionals and small NGOs that operate local projects tackling marine debris, vulnerable species protection, climate change, coral conservation and/or marine protected areas. Ultimately, this program aims to empower local champions to make a positive difference, safeguard sustainable and regenerative livelihoods and protect the foundations of life in our oceans.
Furthermore, Adopt the Blue unites thousands of PADI Dive Shops and Professionals to act as stewards for their local dive sites and take underwater conservation action. Data shared through the program directly informs AWARE programs, driving conservation education, citizen science action and policy work. Ultimately, each participating PADI Dive Center, Resort and Professional works to realize the global agenda to protect 30% of the ocean by 2030.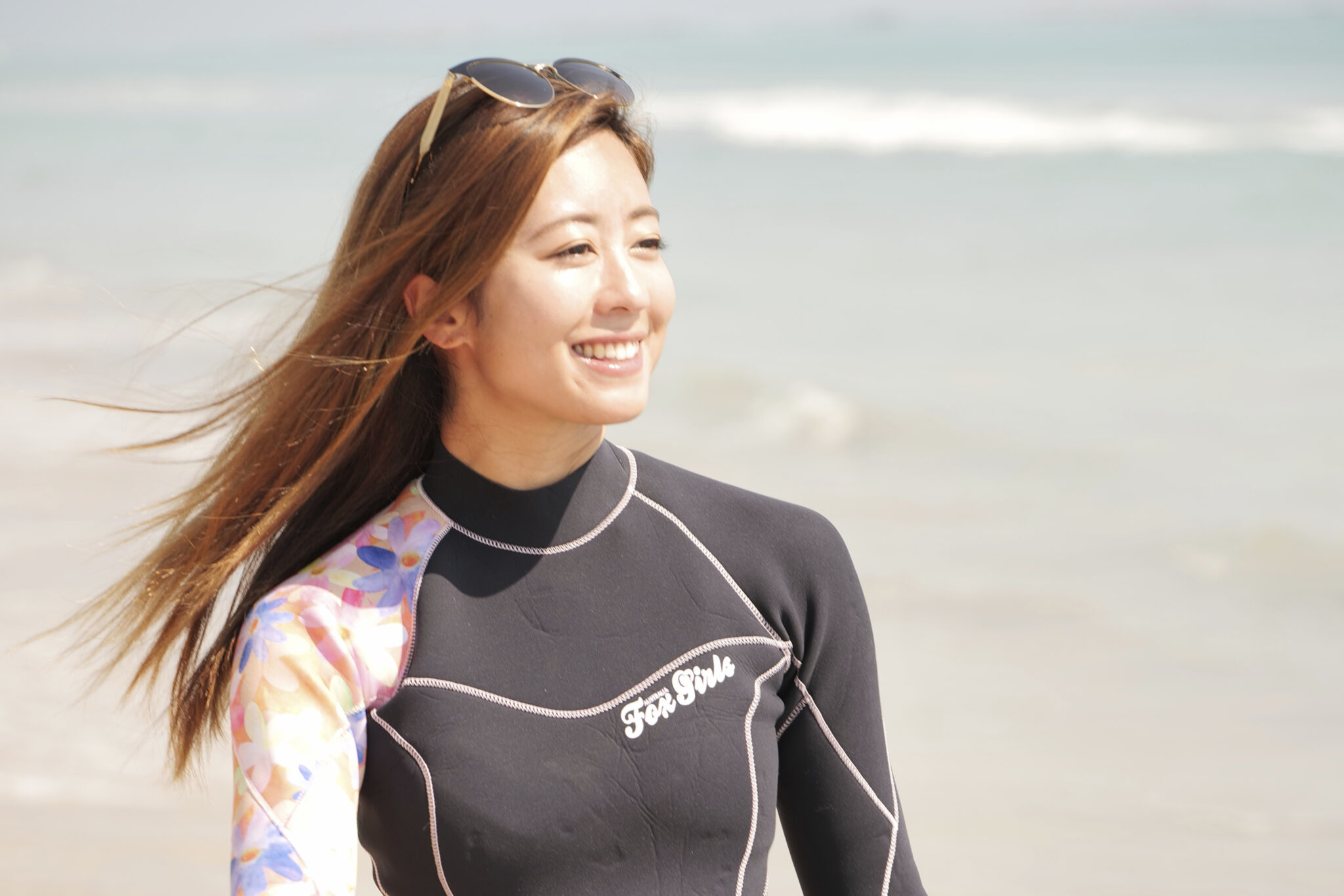 PADI AmbassaDivers
The PADI Ambassadiver™ Program showcases the diversity of diving and inspires people around the world by providing a human connection to the sport. Through our AmbassaDivers, we are working to amplify the stories of divers who encourage others to love and care for our ocean planet. These individuals elevate diving in their communities. They exemplify what it means to be an Ocean Torchbearer and empower more people to follow their dreams.
---
Read more about our programs to foster diversity and inclusion in the diving industry here. Alternatively, if you aren't yet a diver and want to join the growing PADI community, consider enrolling in the PADI Open Water Diver course today. Get your PADI and become a force for good above and below the surface.