It's the world's biggest living coral reef, so, of course, diving the Great Barrier Reef is on every diver's bucket list. Australia's most famous natural wonder is made up of nearly 2,900 individual reefs, 600 continental islands and 300 coral cays, as well as being the only living structure on Earth that can be seen from outer space.
From incredible wrecks to some of the richest biodiversity in the world, the best dive sites in the Great Barrier Reef don't disappoint. No matter which part (or parts) of the reef you choose to visit, there are worthwhile places to get in the water. So be sure to make the most of your time in Australia by visiting some of the best places to scuba dive on the Great Barrier Reef.
Here are 14 of the must-dive spots on Australia's Great Barrier Reef.
---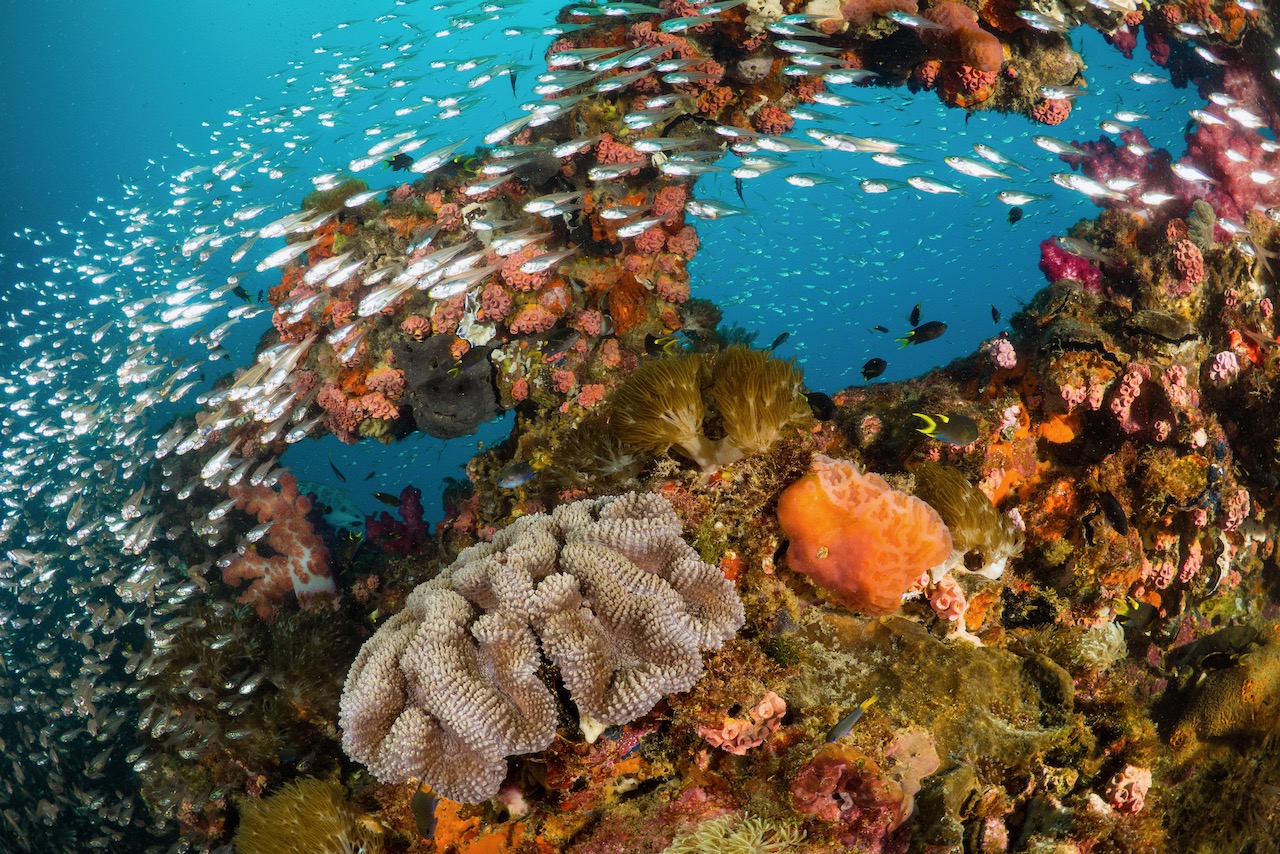 1. SS Yongala – Townsville (near Ayr)
In addition to being one of the best dive sites in the Great Barrier Reef, some divers would call the SS Yongala the best wreck dive in the world. It is an underwater museum encrusted with corals and teeming with marine life. It also attracts some of our favorite megafauna, like groupers and manta rays. This 110-meter (360-foot) steel passenger ship tragically sank in 1911 during a cyclone. Due to its depth and strong current, this top-notch dive is reserved for experienced divers only. Day trip divers can access the SS Yongala via a three-hour boat ride from Townsville, or a 30-minute boat ride from Alva Beach near Ayr.
---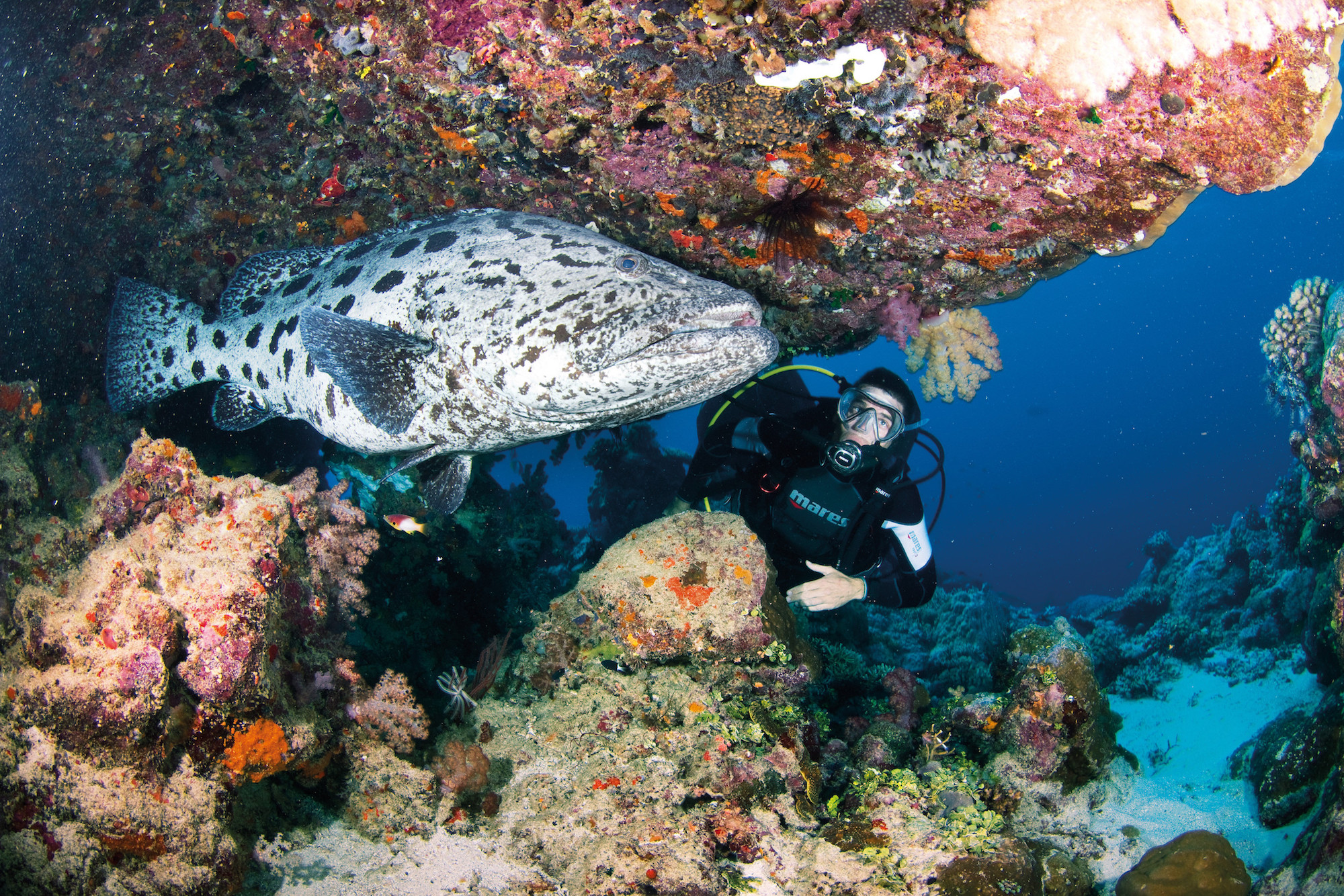 2. Cod Hole – Ribbons Reefs
Possibly the most well-known dive site in the world can be found roughly 96 kilometers (60 miles) north of Cairns, at Cod Hole. Part of the string of long, narrow Ribbon Reefs, Cod Hole is home to a group of friendly potato cod. Drop in at this coral reef to swim alongside potato cod so massive that some rival a diver in length. Some can even reach up to 100 kilograms (220 pounds) in weight. This fish, like its relative across the pond, the goliath grouper, is wildly curious about people, often willing to approach and ask questions. And by ask questions, we mean take you in with its eyes and swim slow circles around dive groups.
Moreover, sites like this one allow divers to see giant clams. This mollusk may not sound exciting, but there is a rush when you see an animal cobalt blue in color with threads of neon turquoise throughout.
---
3. Stanley Reef – Townsville (near Ayr)
Slip beneath the surface of year-round warm tropical waters to get up-close and personal with this pristine coral reef. With great protection from wind, Stanley Reef generally experiences calm surface conditions with only a slight current below – great for divers of all skill levels. Be on the lookout for passing manta rays, sea turtles and whales as you get lost in the sea of colorful reef fish and intricate invertebrates. This untouched area of Australia's Outer Great Barrier Reef will truly deliver an awe-inspiring underwater experience. Since they are close in proximity, and offer two vastly different (and incredible) experiences, divers often visit Stanley Reef and the SS Yongala on the same dive trip.
---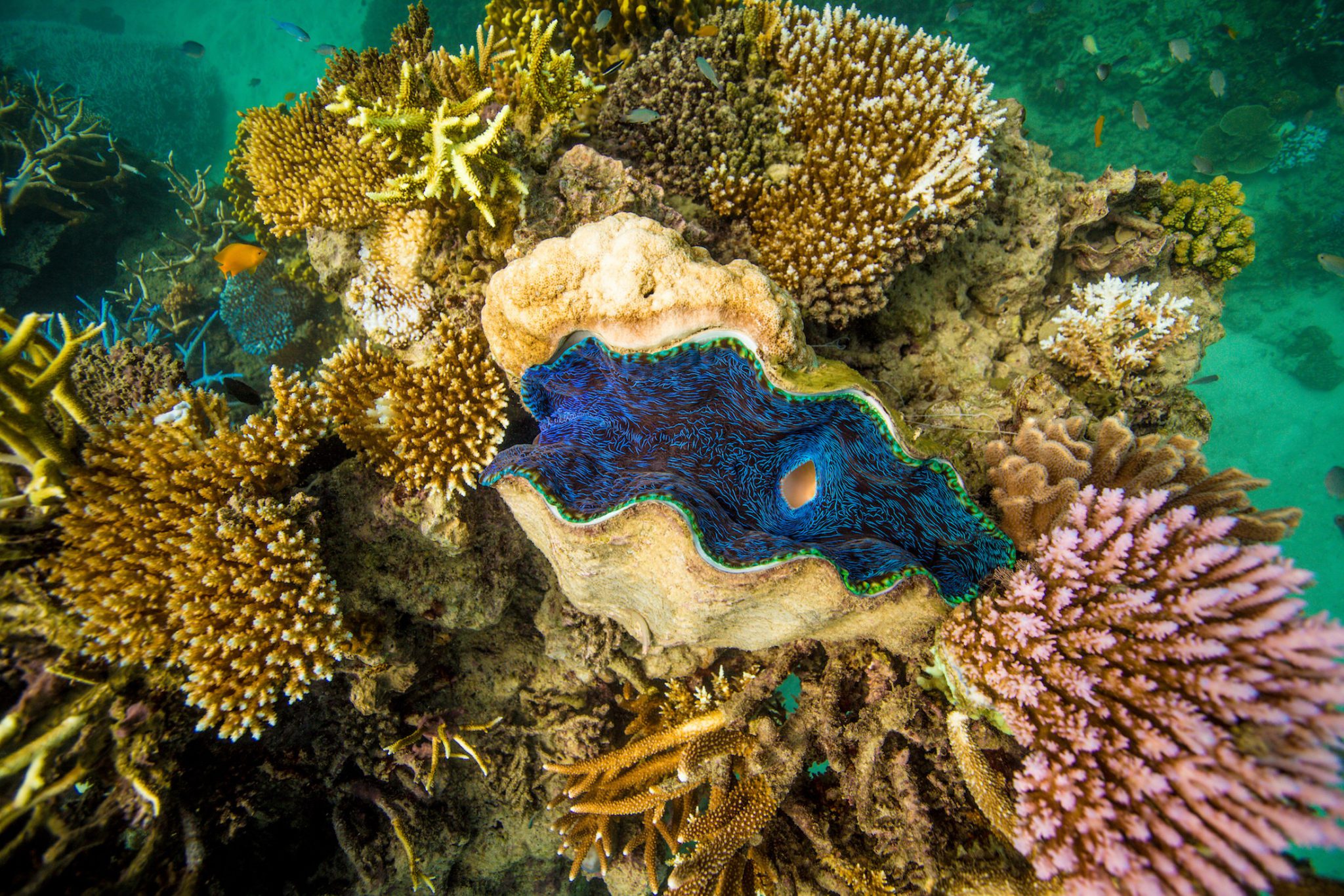 4. Hastings Reef, Flynn Reef and Norman Reef
These incredible dive sites near Cairns are some of the most popular to dive in the area. They offer every diver, from novice to very experienced, plenty of memorable underwater experiences. You'll find bright coral gardens, deep outer reef walls, swim-throughs, caves and the occasional bommie. Slip beneath the surface for the opportunity to be surprised and delighted by maori wrasse, reef sharks, giant clams, anemone fish, giant humphead parrotfish, stingrays, octopus, sea turtles and so much more. These dive sites are conveniently located close to Cairns, making them easily accessible via boat for an easy yet spectacular day trip.
---
5. Steve's Bommie – Ribbon Reefs
In Australian English, it's a bommie. In American English, it's a pinnacle. Either way, this stand-alone towering mount of coral is an oasis of life, attracting everything from gray reef sharks and schools of trevally to smaller finds.
This site, found along Ribbon Reef Number Three, shelters a wealth of tiny life, from leafy scorpionfish to false clownfish — the species that Finding Nemo was modeled after. Octopuses, eels and nudibranchs are all common finds among the crevices of the site. Swim out from the reef and the wider view includes the resident school of barracuda and more.
---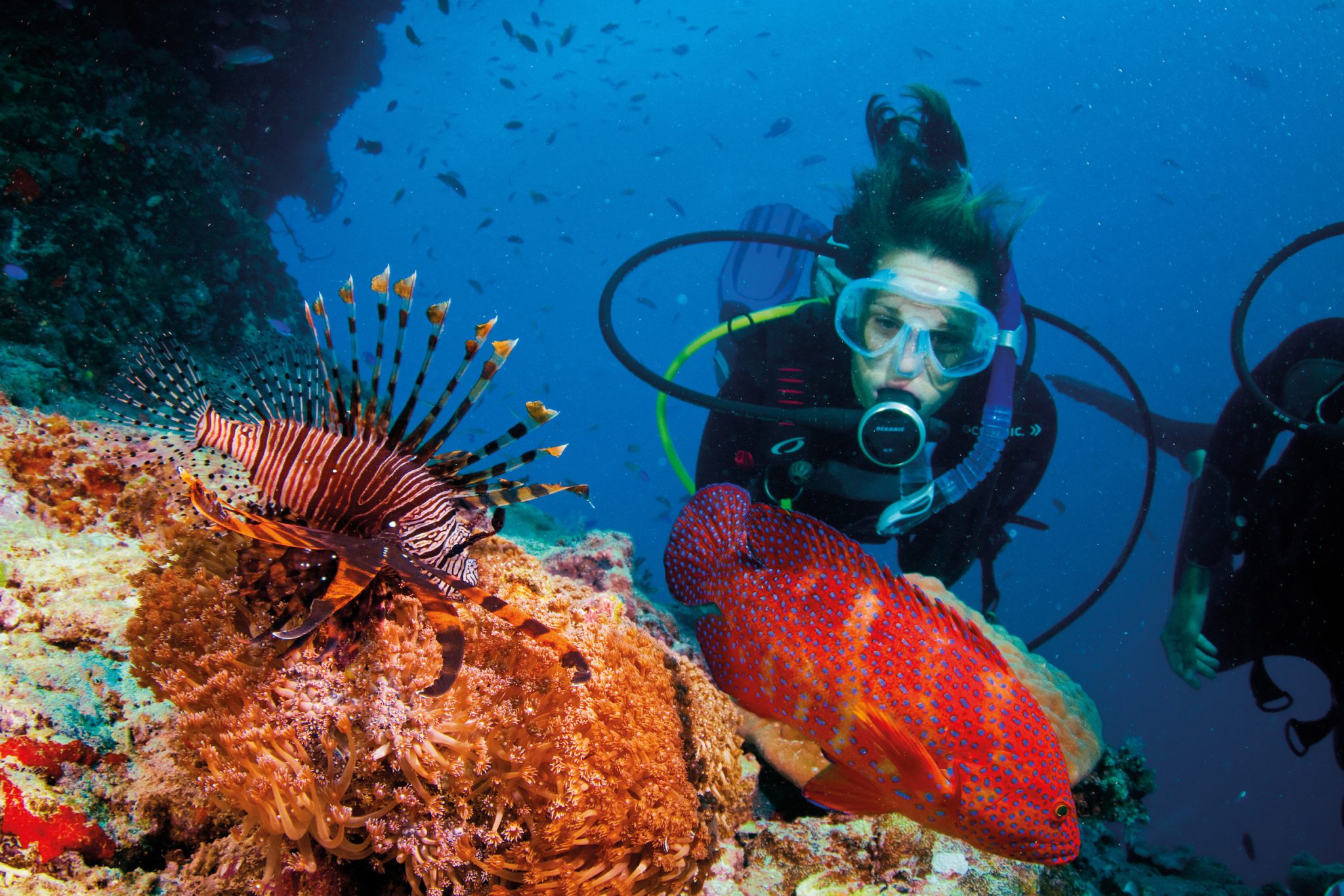 6. Lighthouse Bommie – Ribbon Reefs
Located on the Ribbon Reefs, north of Cairns, this impressive pinnacle is visited each week by liveaboard dive boats. Lighthouse Bommie is the world's premier dive site for dwarf minke whale interactions. These gentle giants visit the northern Great Barrier Reef off the coast of Tropical North Queensland between June and July each year, forming the only known predictable aggregation in the world of this species. An encounter with a dwarf minke whale is sure to be an unforgettable underwater experience. Apart from spending time with those amazing creatures, Lighthouse Bommie offers everything from micro to macro, snakes to sharks and massive plate coral to fragile soft coral. Lighthouse Bommie is truly a photographer's delight.
---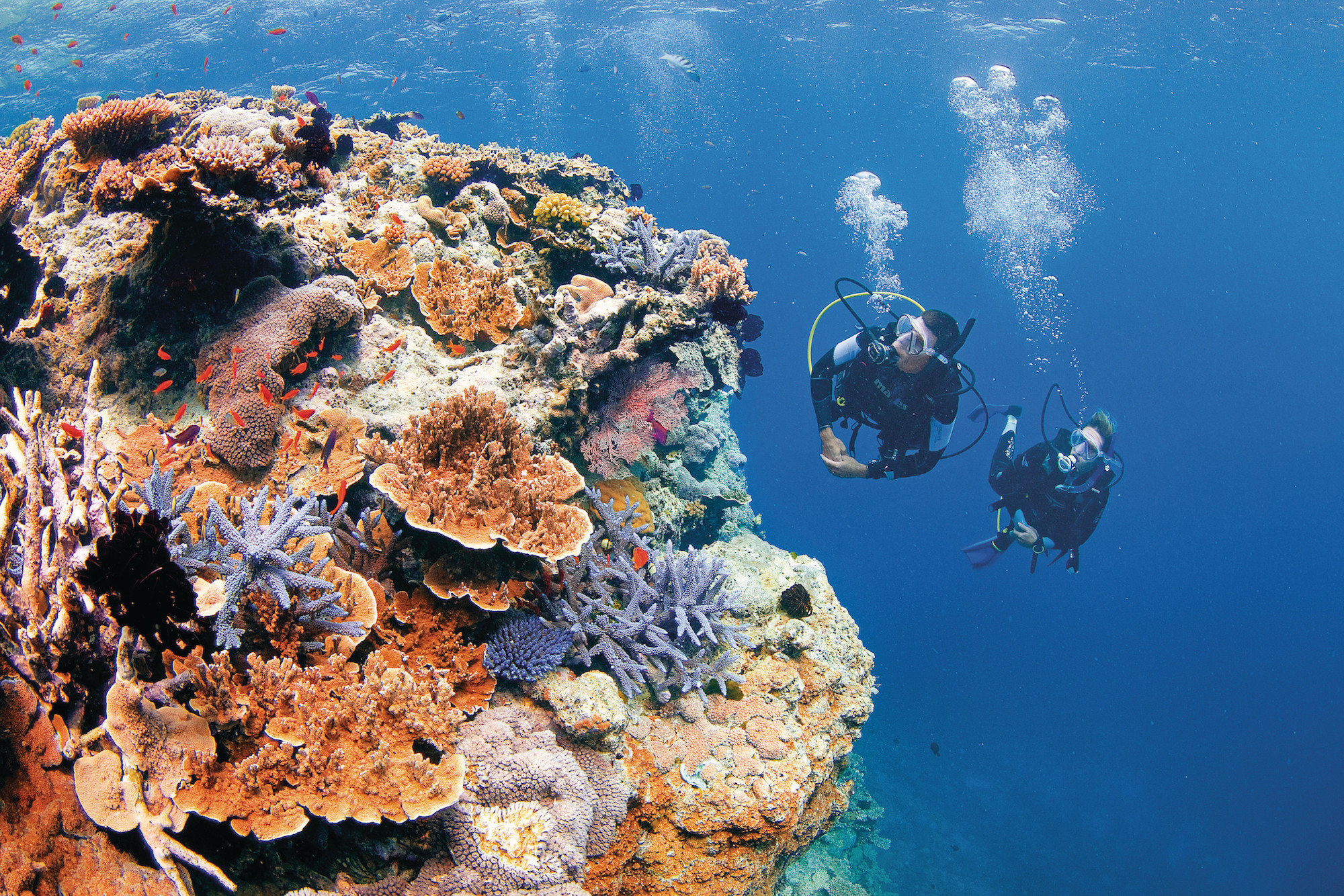 7. Pixie Garden – Ribbon Reefs
Yes, this site is magic. Scores of nudibranchs, some fat as Twinkies, amble over the corals. The reef structure here has tunnels and cutouts, creating a little maze that's waiting to be explored. Plus, the overhead environment provides ample shelter for eels, damselfish and a plentiful amount of shrimp. This is a site you won't regret when you're diving in the Great Barrier Reef.
---
8. Eddy Reef – Mission Beach
Strap your fins on tight for this current-swept site. Eddy Reef is located off Mission Beach, just two hours south of Cairns and accessible on day boats. The dive starts with a tour that leads around a corner of the reef — and as you pass the corner, the current picks up. It's here that the big stuff hangs out, such as tuna, black-tip reef sharks, barracuda, coral trout, barramundi cod and groupers. Then, when you've had your fill of fast, drop into the protected nook of the curve where white-tip sharks sleep on the sand and epaulet sharks nestle among the coral.
Divers exploring this reef will find a maze of coral ridges from 10 to 20 meters (33 to 66 feet). These ridges are covered in beautiful corals – wide gorgonians, lovely pink whip corals and delicate soft corals. Between these corals live angelfish, surgeonfish, boxfish, pufferfish, lionfish, wrasse and many other reef species. A close inspection of the coral will also reveal many small critters, like nudibranchs, flatworms, shrimps and coral crabs.
---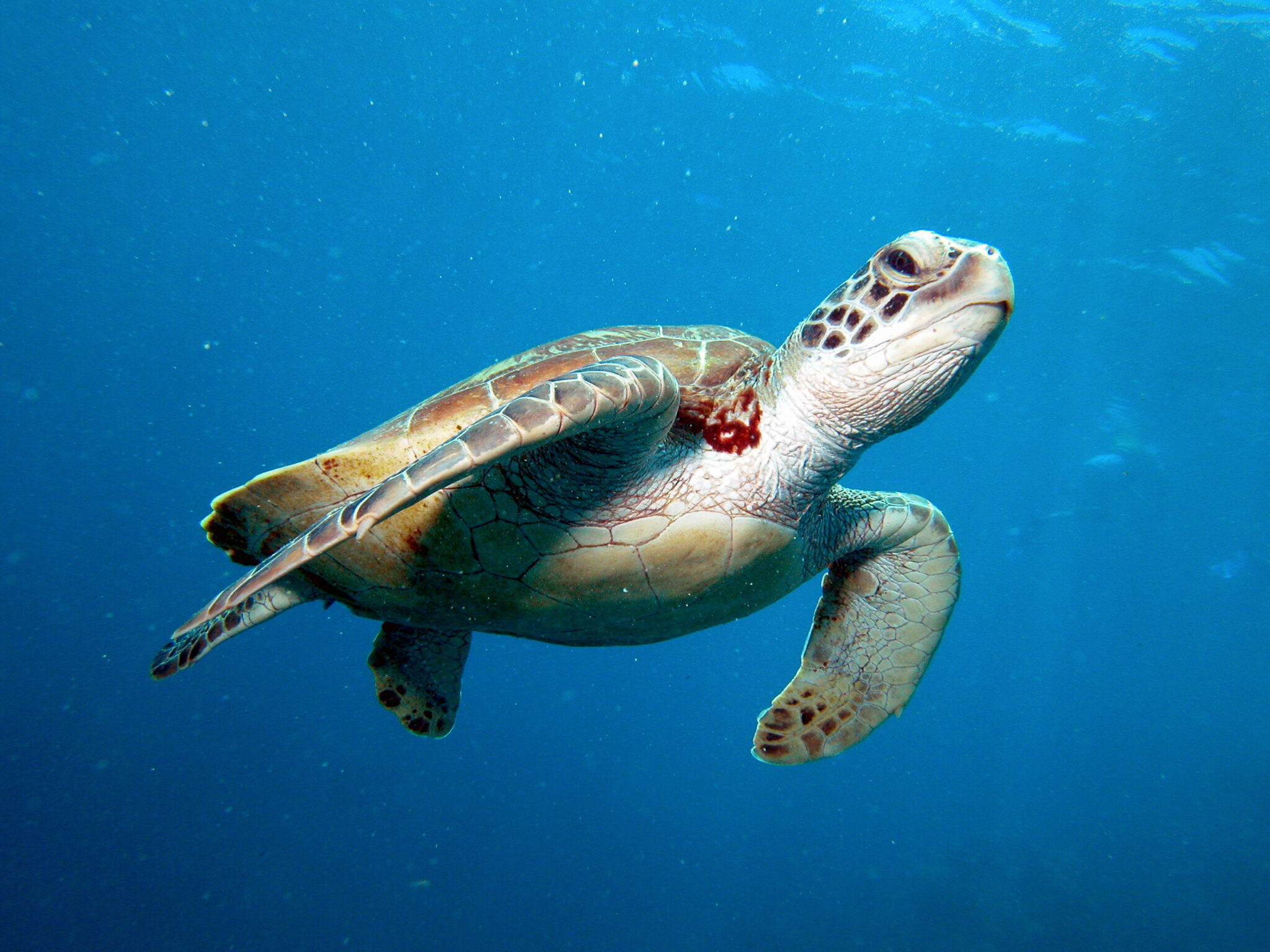 9. Lighthouse Bommies – Lady Elliot Island
Given its status as one of the world's best places to dive with manta rays, it's no surprise that one of Lady Elliot Island's dive sites made it onto the list. The Lighthouse Bommies site sits directly out from the name-giving lighthouse on Lady Elliot Island. The site is made up of several coral heads that sit between 14 and 16 meters (45 and 52 feet) in depth. This means it's a suitable site for divers of all levels. These cleaning station coral heads attract manta rays throughout the year and make it a reliable place to see them. Divers can watch as they acrobatically twist, turn and loop-the-loop, giving the cleaner wrasse time to complete a thorough job.
In addition to manta rays, divers may also encounter barracuda, trevally, coral trout, white-tip reef shark, bull rays and a wide variety of other fish species. The sandy bottom around the bommies is home to hundreds of garden eels. Cowtail rays and shovel­-nosed sharks are also common visitors. Plus, like most places on Lady Elliot Island, encounters with green turtles are commonplace.
---
10. Challenger Bay – Ribbon Reefs
If your favorite dive type is filled with fish from start to finish, add Challenger Bay to your need-to-dive spots. With its high chance of schooling fish and seemingly endless hard and soft corals filled with reef fish, this is without doubt one of the best diving sites in Australia's Great Barrier Reef for marine life lovers. There's always a good chance of seeing trevally, barracuda, batfish, sweetlips, humphead parrotfish, snappers or surgeonfish passing by. Reef sharks and stingrays may also make an appearance. Marine life that can be found throughout the numerous coral heads and coral gardens on the reef includes cuttlefish, pipefish, filefish, nudibranchs, sea stars, anemones, clams, gobies and garden eels. It's easy to see how marine life-filled this popular dive site can truly be.
In addition, this sandy-bottomed, bommie-filled site is a great option for divers wanting to dive at night. Not only can you encounter different dive site residents, such as moray eels, flatworms, crabs and shrimps, you may also get to observe different behavior, too, such as hunting or resting.
---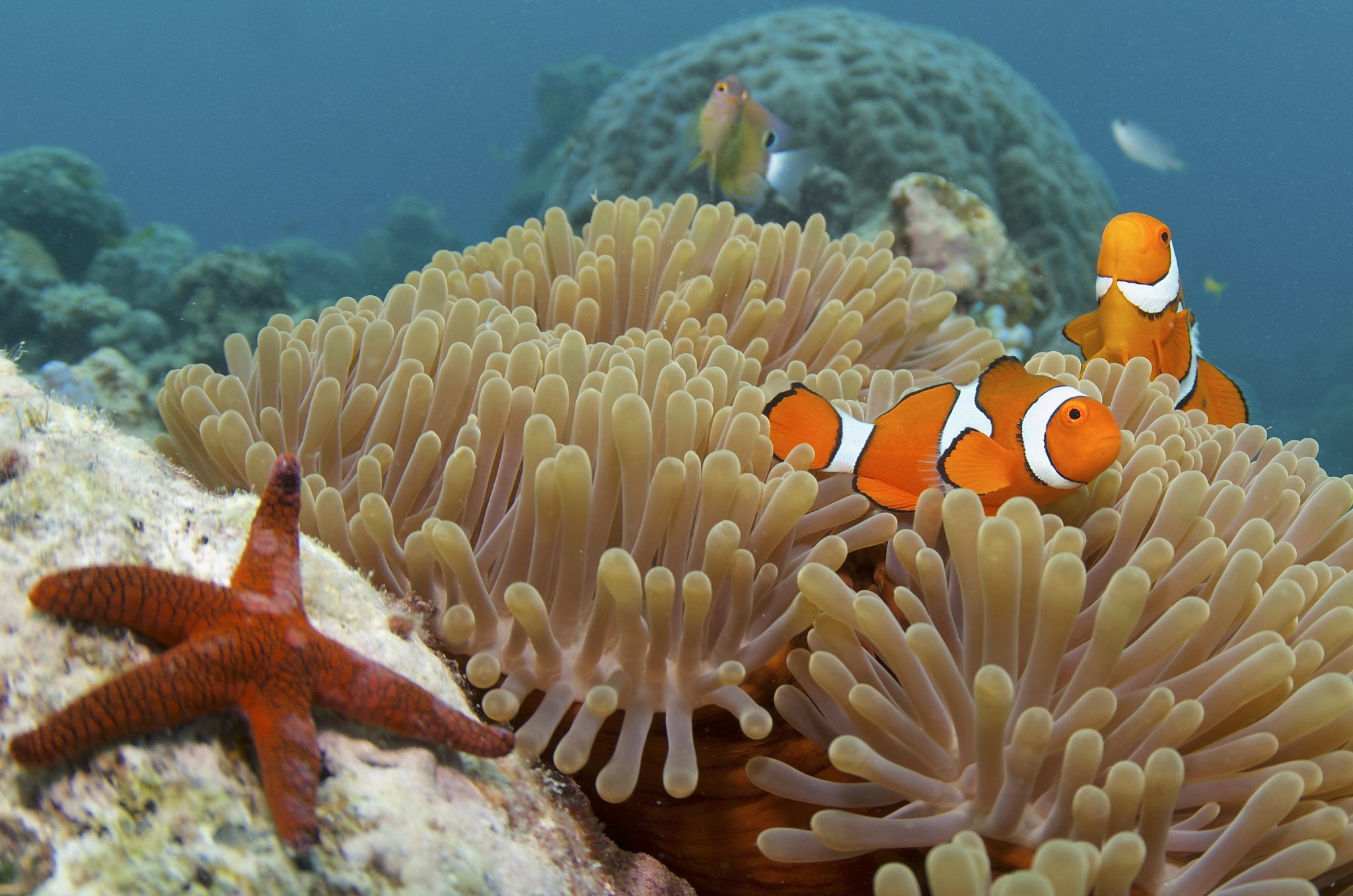 11. The Cathedral – Whitsunday Islands
If you're looking for a Great Barrier Reef destination that has both stunning dive sites and some of Australia's most beautiful beaches, the Whitsunday Islands should be calling to you.
One of the area's most popular dive sites, The Cathedral, is a bommie, coral outcrop and swim-through-filled dive site. It delivers entertainment through both its underwater geography and diversity of marine life. Divers can encounter hundreds of different species of fish, which call the fan coral and gorgonian reefs home. These include clownfish, surgeonfish and sweetlips. Larger marine animals in the area range from turtles and dolphins to whales (in the right season) and even dugongs.
---
12. Around The Bend – Osprey Reef
This impressive drift dive site is located on the northwest wall of Osprey Reef. The highlights of diving here include a large coral bommie which manta rays are known to frequent as a cleaning station. Divers can also expect to see white tip reef sharks and a plethora of different reef fish. Towards the end of the drift (which does take you around a bend!) the site opens up to a bay where there is little current and an explosion of color. There are vibrant hard and soft corals, anemones, and schools of brightly colored damsels. This is one Great Barrier Reef site that never fails to impress!
---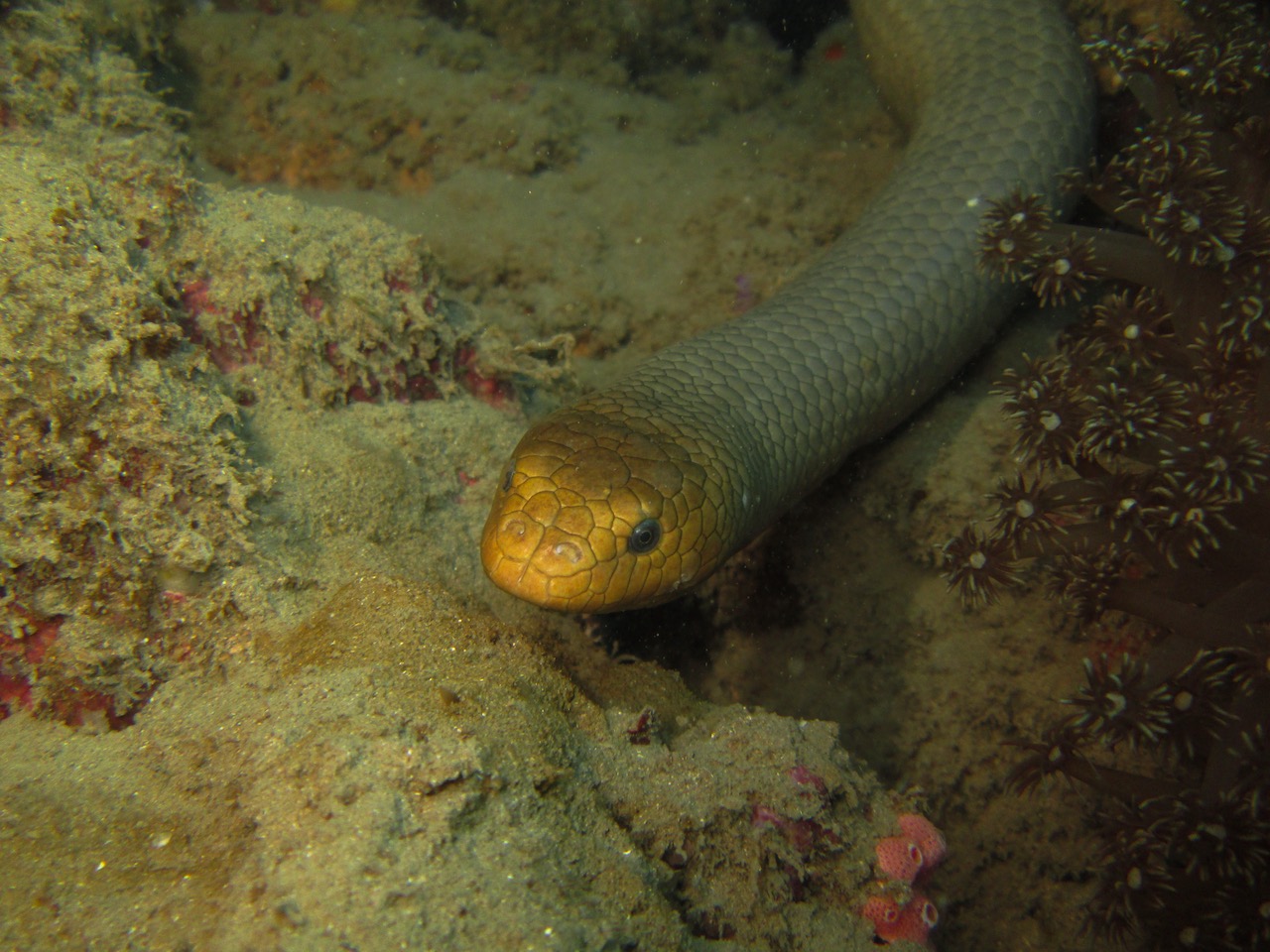 13. Snake Pit, Lizard Island – Ribbon Reefs
As the name suggests, this is a great site for spotting numerous olive sea snakes in a single dive. It's not only the snakes that are a draw card for this site – the topography is stunning. The site is located between Ribbon Reef Number Ten and Lizzard Island and features numerous impressive coral bommies that attract a wealth of marine life, including some larger species, such as Napoleon wrasse, large schooling batfish, and colorful coral trout. This is a great site for anyone interested in underwater photography, whether shooting macro or wide angle.
---
14. The Abyss – Holmes Reef
This dive site is best dived at either high or low tide when there is the least current, and as the name suggests, there is a drop off to a vertical wall. Divers can expect to see a variety of marine life here, including schooling mackerel, snappers, fusiliers and sweet lips. Remember to keep looking out to the blue for the chance to see white tip and grey reef sharks cruising by. When heading back up the reef towards the end of the dive, the reef top has stunning hard and soft corals that are home to a variety of nudibranch, and there are several giant clams.
---
Unsurprisingly, with its 1,429 miles (2,300 km) of reef, choosing where to go diving in the Great Barrier Reef isn't a one-dive-site kind of an answer. If you have more questions, get in touch with the experts at PADI Travel. Alternatively, take a look at the available liveaboards, resorts and dive centers to find the best option for you.