To inspire others and to save the oceans, scuba divers must connect life above the water to the gorgeous beauty below the waves. Underwater photography is the key to this connection. Without it, landlubbers would have no idea of the intricacy of coral reefs or the oddities found on a sandy bottom.
As divers, we realize from day 1 that the underwater world is worth seeing. We wouldn't keep diving if we didn't think it was. But the only way to capture that feeling is on a digital camera. With today's invention of compact cameras which can reach 50 feet (15 meters) or more, this process is easier than ever. In addition, editing software, dive cases, strobes and filters mean our underwater images keep getting better and better. So why not add underwater photography to your scuba diving hobby?
Whether you're already a pro or are just starting out, the ten following sites are our favorites for underwater snaps. Of course, depending on conditions and your luck, any site can make a wonderful photograph.
---
1 Pelagic Magic – Kona, Hawaii
Nerve wracking yet beautiful, black-water diving was first invented in Hawaii. It involves being tied to the bottom of the boat and then being suspended in pitch black water. Pelagic Magic is the most common site for such diving and is located in the deep channel offshore from Kona where sea depths reach thousands of feet. However, divers are tied off at 50 feet (15 meter). As your eyes adjust to the dark, you'll begin to see strange bioluminescent creatures like colorful jellies rise to the surface where they feed at night. With the right set-up, close photos of these rarely seen animals are possible and lead to stunning results.
Good For: Small Luminescent Creatures
When to Go: April to October
---
2. Breakwater Cove – Monterey Bay, California
Located in California's famous marine hotspot, Breakwater Cove is a shore dive featuring kelp forest and a little something for everyone. The gently sloping shoreline provides a comfortable entry and exit for divers of any level. Conditions can vary significantly, and some days visibility may be no further than the end of your hand. On other days, you might be able to see 60+ feet (20 meters). Breakwater Cove has marine subjects for all types of photographer. For macro fans, the site has a nice population of nudibranchs, star fish, sun stars, octopus and anemones. Larger subjects on offer include sea lions, seals and if you are lucky mola mola, but sadly, visibility can often hinder pelagic photography.
Good For: Kelp Forest
When to Go: June to November
---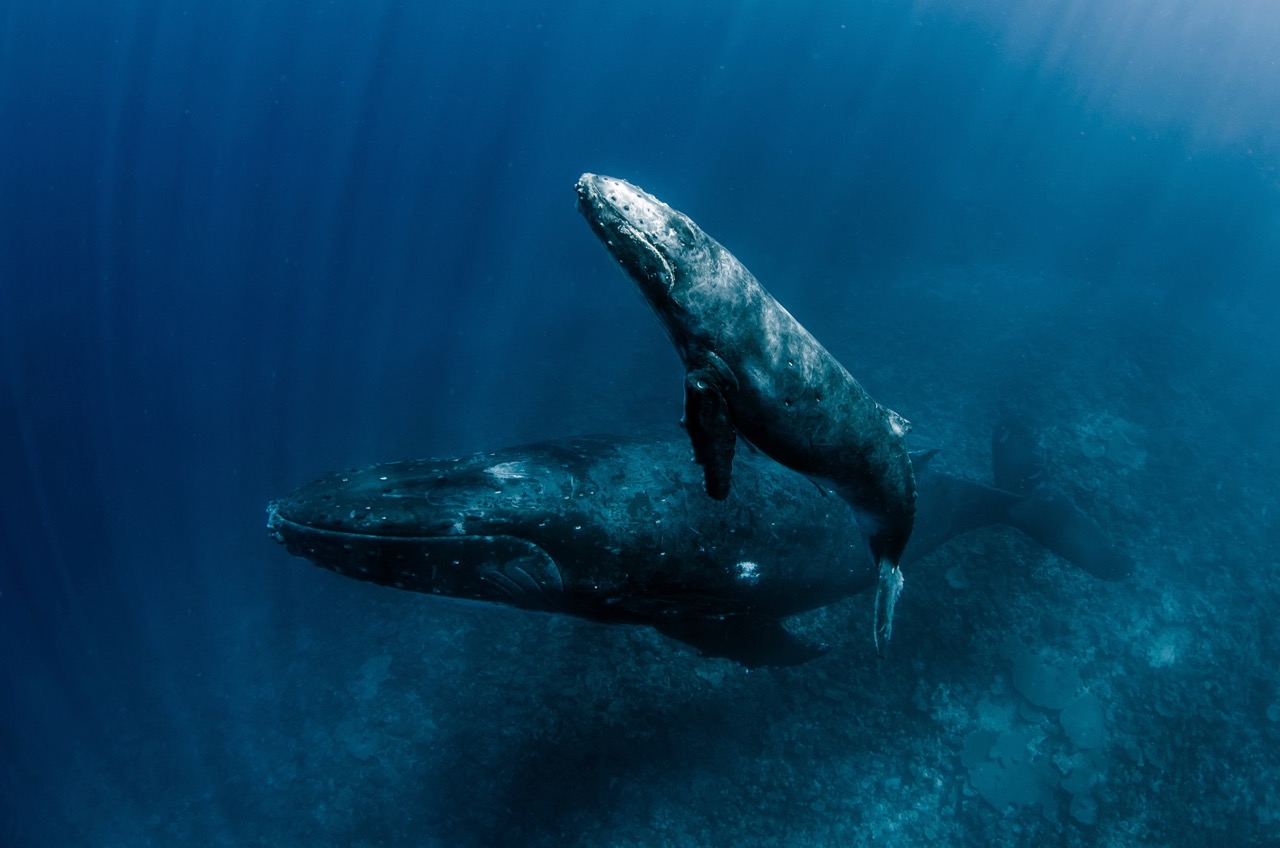 3. Blue Water – Vava'u Islands, Tonga
Recently, Tonga's Vava'u Islands have become the unofficial hotspot for swimming with humpback whales. A still relatively undiscovered destination, Tonga offers you the chance to get in crystal clear water with these gentle giants. The cetaceans come to the islands to mate and give birth. Tonga affords wonderful opportunities to capture a variety of behaviors seen in the Southern Hemisphere Humpback Whales. Participants in whale watching tours will often get to encounter male whales singing, mothers resting, mothers teaching breaching to their calves and also mating competition fighting between males. Please note that the tourism industry in Tonga has highly regulated these encounters, provided some of the best animal-friendly tours on the planet.
Good For: Humpback Whales
When to Go: July to October
---
4. Hammerhead Shark Dive – Bimini, Bahamas
Another site for pelagic lovers, Bimini has recently become known as hammerhead heaven. During the month of February, Great Hammerheads can be found to congregate just off the island of South Bimini in the northern Bahamas. Utilizing the area's great visibility, you can expect an up-close encounter with these giant sharks, which can reach up to 20 feet (6.1 meters) in length. As an added bonus to your hammerhead snaps, the 20-foot (6-meter) deep dive site is also usually swimming with bull sharks and nurse sharks.
Good For: Sharks
When to Go: December to February
---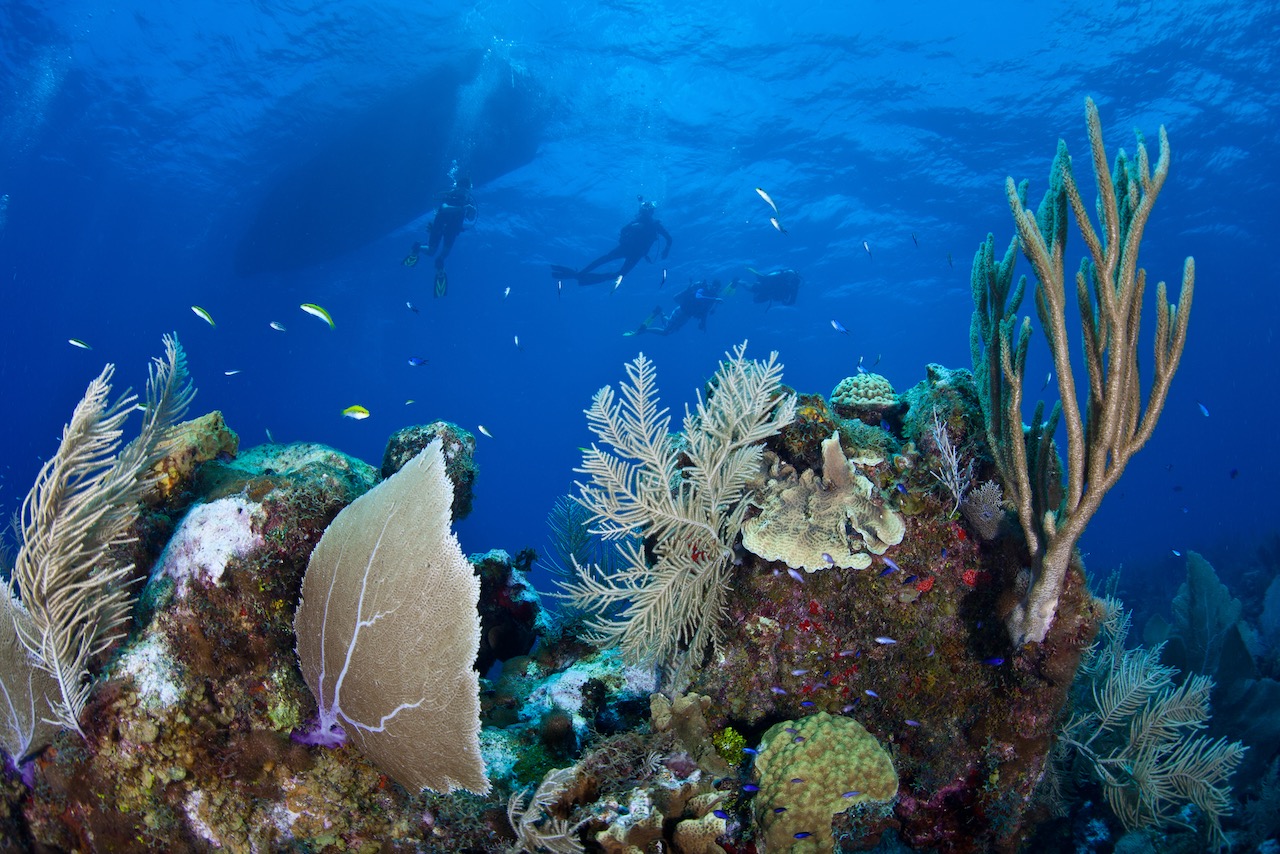 5. USS Kittiwake – West Bay, Cayman Islands
Sat in just 65 feet (20 meters) of water, the USS Kittiwake is a purpose sunk artificial reef ideal for wreck photographers. Thanks to the shallow depth, dives can last up to 60 minutes, allowing plenty of time to photograph every stunning angle of this once salvage and rescue vessel. The 251-foot (77-meter) wreck has open holes and hatches to add ambient light and allow access to all of her decks. With 100-foot (30-meter) visibility and calm conditions, the World War II navy ship has endless photo opportunities.
Good For: Wreck Photography
When to Go: December to May
---
6. Police Pier – Lembeh, Indonesia
Famous for its frogfish, pipefish and thorny seahorse populations, Police Pier is regarded as one of the top muck diving sites in Indonesia. While the sandy slope site may not be as beautiful as many others, the real prize is what can be found among the sponges and patches of rubble. Orange painted frogfish, harlequin shrimp, waspfish and Banggai cardinalfish are among some of the attractions, but every dive is likely to throw up something new. Police Pier is also a popular night dive site. With the chance of seeing the rare bobbit worm, many crabs, nudibranchs and shrimps, it really is a macro photographer's dream.
Good For: Macro Critters
When to Go: October to March and July to August
---
7. Cenote Dos Ojos – Tulum, México
There are several cenotes (pronounced sen-o-tays) located throughout the Yucatan Peninsula of Mexico. This is because of the system of flooded freshwater caves found just below the surface. Of these, Cenote Dos Ojos (a.k.a. Cenote Two Eyes) is perfect for underwater photography. With two interconnected entrances, the light play from below the surface combined with crystal clear visibility produces professional quality photographs that are sure to make all your friends jealous. Don't expect to be the only diver under water, but enjoy the addition of other divers within your photographs. Their size will only add to the unique impression of this underwater cave. At over 50 miles (80 kilometers) in length, there are several different dive paths available and therefore thousands of possible photographic opportunities for the keen underwater photographer.
Good For: Cave Photography
When to Go: May to September
---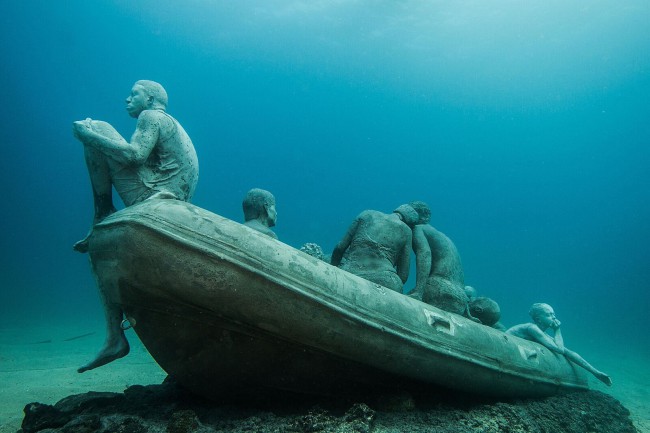 8. Museo Atlantico – Lanzarote, Spain
Jason DeCaires has been busy since he designed MUSA off the coast of Cancun. His newest venture, and the first in Europe, is the Museo Atlantico in Lanzarote, Spain. Of course, we had to feature one of his underwater sculpture parks on our list of the best underwater photography destinations. The statues found here are incredibly lifelike making great artistic pics or even funny selfies. This particular underwater museum is still quite new; it was only opened in March 2016. But as the years pass, coral will begin to grow on the statues. Distorting the body shapes of the models and making them even more beautiful. In addition to improving coral growth, the underwater parks also relieve pressure from over-dived areas nearby, making the whole underwater environment healthier. It's a win-win for coral reefs and photographers!
Good For: Sculpture Photography
When to Go: June to October
---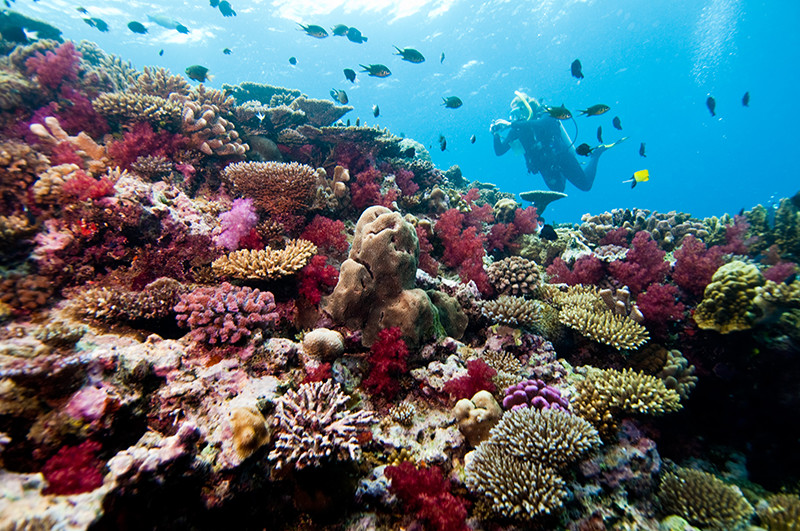 9. E6 – Bligh Water, Fiji
E-6, a favorite dive among soft coral lovers, is located in the Bligh Waters of Fiji between Viti Levu and Vanua Levu. The area is ripe with nutrients, making a vibrant marine ecosystem and growing some of the best soft corals in the world. One side of the seamount is covered in sea fans, while a swim-through (called the Cathedral) can produce epic photos of your dive buddies. The light that filters through also creates ethereal images of massive gorgonians and every color of soft coral. Grab your wide angle lens and dive into Fiji, the Soft Coral Capital of the World.
Good For: Soft Corals
When to Go: April to December
---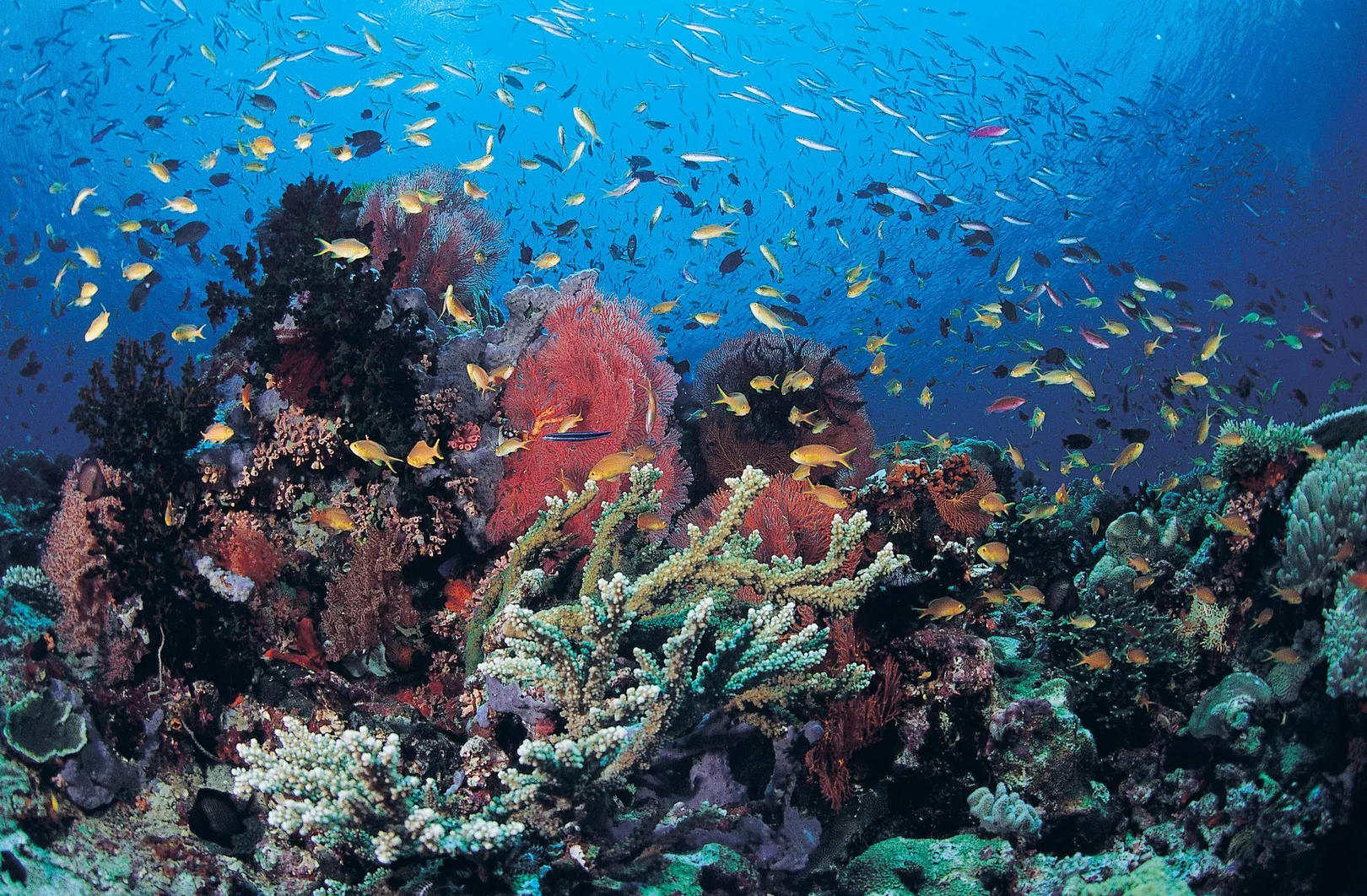 10. Susan's Reef – Kimbe Bay, Papua New Guinea
Frequented by liveaboards traveling the waters of Papua New Guinea, Susan's Reef is one of the most popular dive sites in Kimbe Bay. And there's good reason for it. It boasts opportunities for both macro photography and photos of huge schools of fish, but its true calling is wide angle photography. With a fisheye lens, you can capture the walls created by the site's two seamounts as well as the ever present pink sea whips, anemones, sea fans, soft corals and even your dive buddy in the background. With shallow depths of between 50 and 70 feet (15 and 20 meters), the light is perfect for capturing the brilliant colors of PNG. Whether you shoot with a DSLR rig or a GoPro, Susan's Reef shouldn't be skipped!
Good For: Wide Angle Photography
When to Go: May to November
---
Have you been on any of these gorgeous dives? If so, check off the bucket list feature above and share your results with your friends and tag PADI on Facebook and Twitter!