Australia's Southern Queensland is truly a diver's paradise. Southern Queensland has an incredible array of world-renowned dive sites. This includes everything from coral cays and bommies on the Great Barrier Reef to shoals and shipwrecks bursting with life. You're bound to be surprised and delighted by the abundance and diversity of marine life found in Southern Queensland.
Numerous scuba diving locations are easily accessible from major cities like Brisbane and Gold Coast. Southern Queensland offers plenty of site options for divers of all skill levels. This makes diving here a bucket list essential! Here are eight amazing dive locations you won't want to miss when you visit Southern Queensland.
1. Bundaberg: Lady Elliot Island & Lady Musgrave Island

Sometimes called the jewel of the Southern Great Barrier Reef, Lady Elliot Island and nearby Lady Musgrave Island can be easily accessed by visitors from Queensland's Bundaberg coastline. The marine environment around these islands is sure to be awe-inspiring for any diver. Crystal clear waters and spectacular coral reefs are the backdrop for likely encounters with multiple species of sea turtles, manta rays, dolphins, and over 1,200 species of tropical fish. With the continental shelf and East Australian Current nearby, encounters with whales are a regular occurrence while diving around these two coral cays.
The best time to experience this is from May-October. A two hour boat ride from Bundaberg will get divers to Lady Musgrave Island. If divers wish to explore Lady Elliot Island, they must catch a short scenic flight from a nearby location.
Locate a PADI 5 Star Dive Shop in Bundaberg and surrounding areas.
2. Gold Coast: Scottish Prince Wreck
Venture less than two kilometers off of Southern Queensland's Gold Coast to find this 64 meter (210 foot) iron shipwreck. The most prominent features of the Scottish Prince are the bow and the stern. The shallowest part of the ship is the bow, rising approximately 5 meters (16 feet) off the sandy seafloor. Descend deeper to see that the hull is covered with algae, sponges, and corals. This creates the perfect foundation for attracting a wide variety of marine life!
While you explore this historic shipwreck, be on the lookout for massive schools of fish, pufferfish, groupers, and moray eels. Don't forget to look for those invertebrates, including nudibranchs, octopus, and squid! Divers also frequently encounter spotted eagle rays, shovelnose rays, wobbegong sharks and bamboo sharks. Since much of the mid-section of the wreck is collapsed, there isn't much access to the inside. This makes it a great wreck dive for divers of all skill levels. With visibility around the Scottish Prince typically 6-20 meters (19-65 feet), this is an ideal year-round dive location.
Remember that this shipwreck is protected under the Commonwealth Historic Shipwreck Act, so make sure to look but don't touch. Be sure to enjoy the experience and take plenty of photos to take home with you!
Locate a PADI 5 Star Dive Shop in the Gold Coast and surrounding areas.
3. Brisbane: Manta Bommie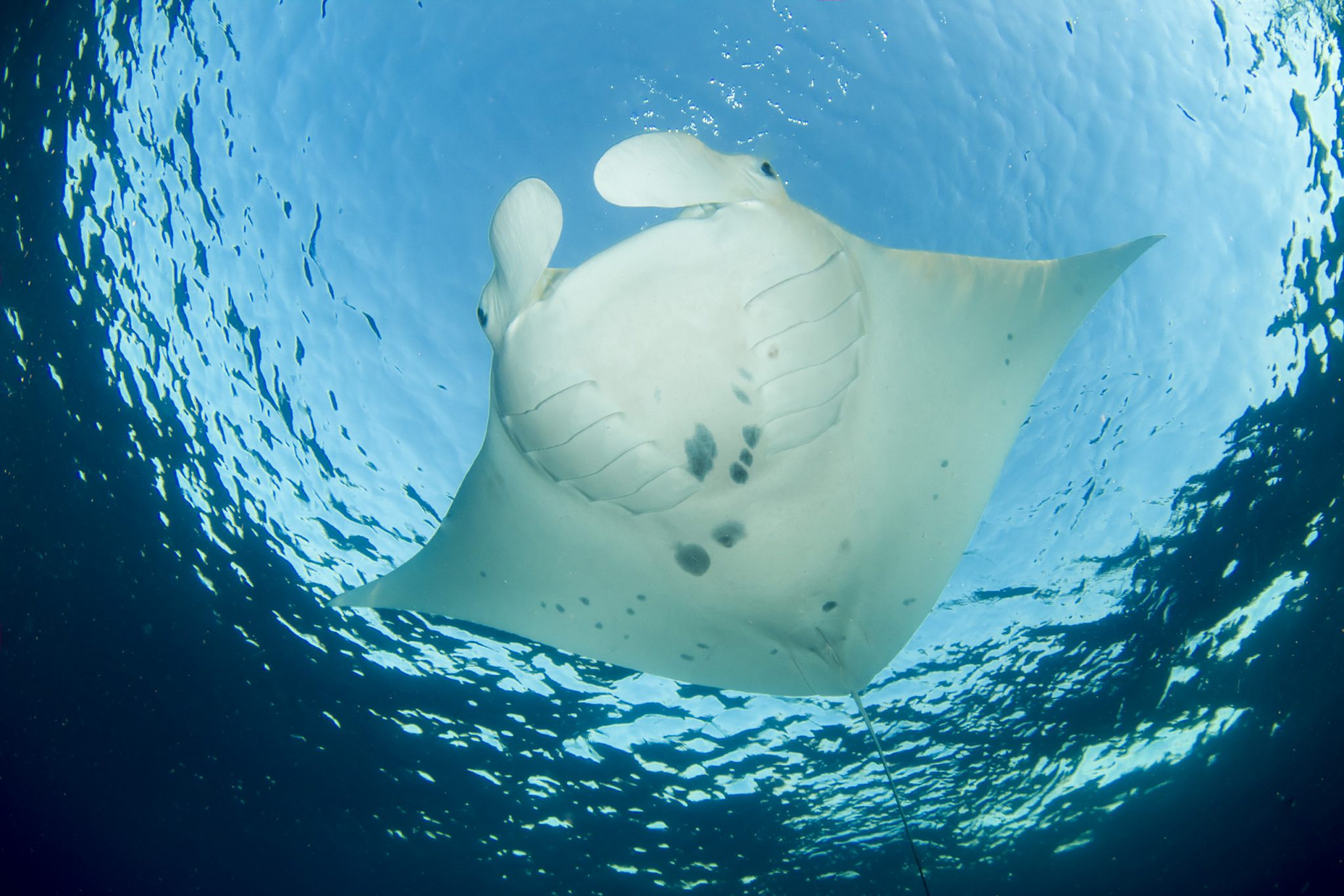 Ranked as one of the top ten dive sites in all of Australia, Manta Bommie is a rocky reef off Brisbane's North Stradbroke Island – a favorite among locals and visitors of Southern Queensland. Known for the resident manta rays that frequent this spot during the warmer months (October through April), divers that slip beneath the surface here can find themselves gazing up at a group of mantas as they glide through the water feeding on plankton. In addition, divers here often spot leopard sharks, wobbegong sharks, sea turtles, dolphins, and a sprinkling of tropical fish species. Between July and November scuba divers are likely to spot migrating humpback whales here. Keep your eyes out for breaching and your ears tuned for singing!
Manta Bommie is suitable for divers of all skill levels. Depths here range from 8-12 meters (26-40 feet). This dive site can be accessed by boat, either from mainland Brisbane or Stradbroke Island.
Locate a PADI 5 Star Dive Shop in Brisbane and surrounding areas.
4. Sunshine Coast: ex-HMAS Brisbane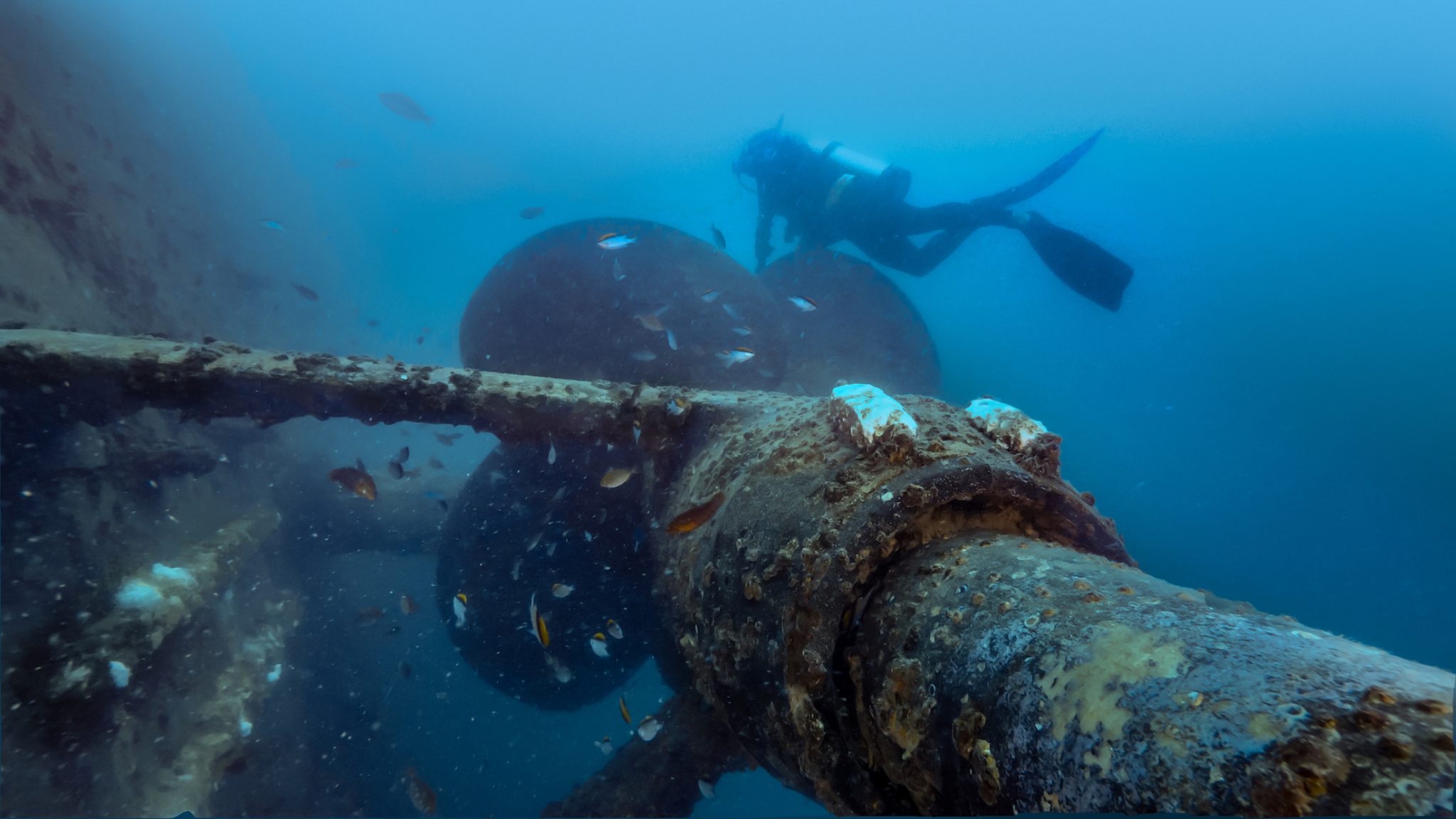 Located near Mooloolaba, on the Sunshine Coast of Queensland, ex-HMAS Brisbane lies in 28 meters (91 feet) of water on a sandy seafloor. The ex-HMAS Brisbane is a retired Royal Australian Navy missile destroyer that was decommissioned in 2005. Today, this destroyer is a massively magnificent artificial reef ecosystem visited by certified wreck divers. Sitting upright on its keel, the forward main deck is in about 15 meters (49 feet) of water while its stern is in about 18 meters (59 feet). Consistently good water clarity, minimal swell, varying depths, and numerous opportunities for wreck penetration makes this a great dive site to earn or utilize a PADI Wreck Diver Certification.
The ex-HMAS Brisbane is now a bustling marine ecosystem where divers can spot eagle rays, octopus, groupers, sea turtles, sharks, and massive schools of little shiny fish. Beautiful soft and hard corals are becoming more and more established over the surface of the reef as time goes on. Uniquely, a conservation park was created around the ex-HMAS Brisbane when it was sunk in order to maintain the cultural, historic, and environmental importance of the ship turned reef.
Locate a PADI 5 Star Dive Shop in the Sunshine Coast and surrounding areas.
5. Hervey Bay: ex-HMAS Tobruk
This Royal Australian Navy Landing Ship was decommissioned and scuttled in June of 2018. This makes it one of Australia's newest wreck dives. The ex-HMAS Tobruk rests on the seabed on its starboard side, with depths ranging from 10-28 meters (33-92 feet), offering ample diving options for both intermediate and advanced divers to enjoy. Halfway between Queensland's Bundaberg and Hervey Bay, the ex-HMAS Tobruk is located approximately 31 kilometers (17 nautical miles) offshore, 41 kilometers (22 nautical miles) from Bundaberg, and 46 kilometers (25 nautical miles) from Hervey Bay. Dive tour vessels can typically bring divers to this site within an hour.
Even in such a short period of time, the underwater world has already started to reclaim this ship. Rapid colonization of the wreck by corals and mollusks has attracted colorful reef fish and anemones, octopus, sparkling schools of small silver fish, groupers, wobbegong sharks, and even passerby turtles and rays. Sheltered by Fraser Island, the visibility is typically great – making it so that divers can explore this wreck all year round. Since the ex-HMAS Tobruk is located within the boundaries of the Great Sandy Marine Park, entry to the area requires an approved permit. Dives with authorized dive operators can be booked in both Hervey Bay and Bundaberg.
Locate a PADI 5 Star Dive Shop in Hervey Bay and surrounding areas.
6. Moreton Bay: Flinders Reef
Protected within the Moreton Bay Marine Park, Flinders Reef is truly a sanctuary for marine life, as well as a magical location for divers to explore beneath the surface. Less than 70 kilometers (43 miles) from the heart of Brisbane's city center, visiting this offshore dive site makes for a great day trip. The diversity and abundance of coral species and tropical fish species at Flinders Reef is nearly unparalleled. These serve as a picturesque backdrop while divers have the opportunity to encounter marine megafauna. This includes sea turtles, manta rays, sharks, and humpback whales as they migrate along Australia's east coast. With mostly shallow depths, pristine visibility, and something new to discover on each dive, Flinders Reef is adored by divers around the world.
Locate a PADI 5 Star Dive Shop in Moreton Bay and surrounding areas.
7. Gold Coast: Palm Beach Reef
Another dive site you should visit, that's filled with unbelievable marine life, is Palm Beach Reef. This reef measures 950 meters (3,116 feet) in length and 500 meters (1640 feet) in width. Palm Beach Reef is the largest reef system on the Gold Coast and perfect for divers of all skill levels. There are different dive sites within this reef system that range from 6 meters (19 feet) to 24 meters (78 feet). When compared to other dive sites along the Gold Coast, Palm Beach Reef is known to have some of the best visibility.
To get to Palm Beach Reef, divers must leave from Gold Coast Seaway by boat. It takes about 35 minutes to reach this reef system. Keep your eyes out for leopard sharks, wobbegong sharks, sea turtles, and so much more!
Locate a PADI 5 Star Dive Shop in the Gold Coast and surrounding areas.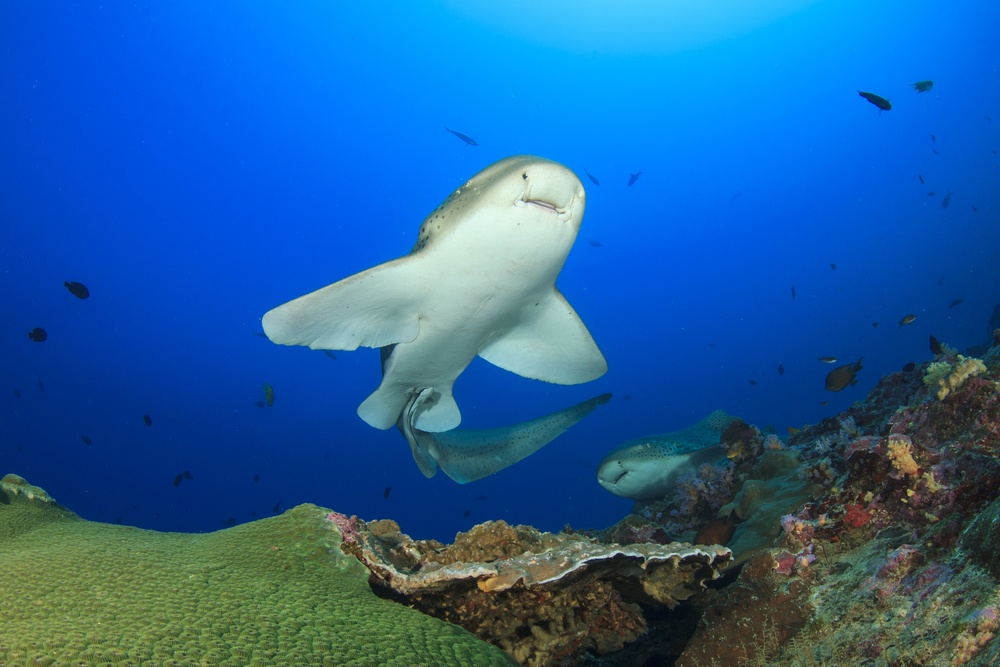 8. Brisbane: Flat Rock
Flat Rock is just a couple of kilometers north of Brisbane's North Stradbroke Island. It is one of the most popular dive sites in the area. Flat Rock is well-known for having a natural rocky environment and a diverse range of marine life. With depths up to 35 meters (114 feet), this dive site is mostly reserved for divers with an Advanced Open Water certification or higher. Flat rock is one of the best places in Australia to dive with Grey Nurse Sharks, especially during winter months. Be sure to check out the three main dive sites Flat Rock can be broken into:
Shark Alley- Eastern Edge of Flat Rock at 25-30 meters (82-98 feet)
Turtle Cave- Western side of Flat Rock at 25 meters (82 feet)
The Nursery- Southern side of Flat Rock at 12 meters (39 feet)
Locate a PADI 5 Star Dive Shop in Brisbane and surrounding areas.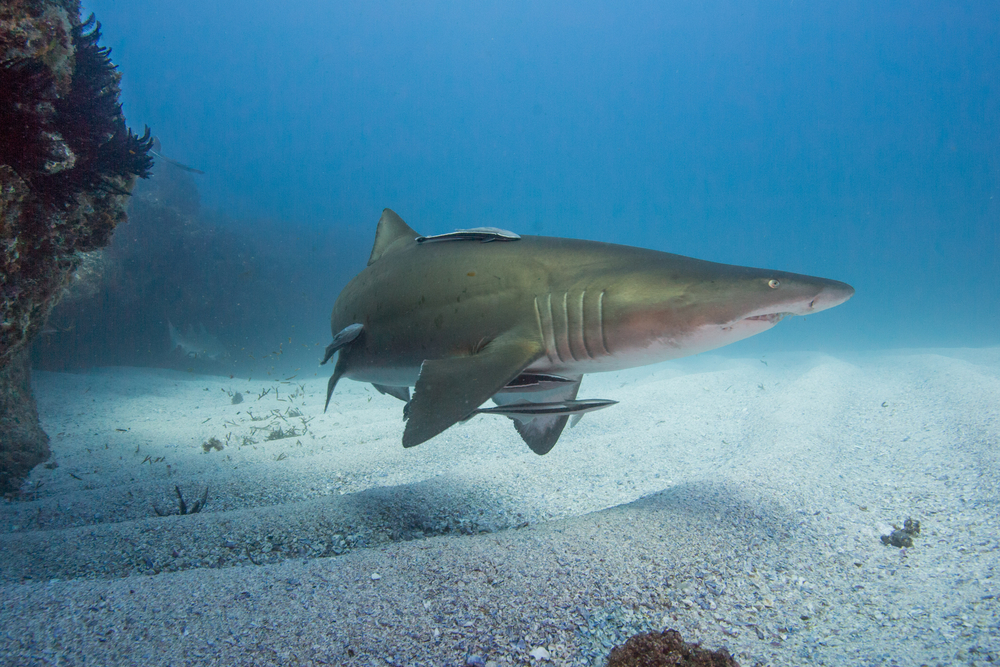 Southern Queensland is home to an amazing array of world-class dive locations! Visit the Queensland page on padi.com to start planning your dives in this unique region today!