This summer, British TV personality and disability advocate, Sophie Morgan, went diving for the first time in the Maldives. The celeb was hosting an inauguration ceremony to celebrate that the Amilla Maldives Resort and Residences has become the world's first accessibility and inclusion certified resort when she decided to take the plunge.
We recently caught up with Sophie to discuss her certification process and how diving has already helped her to Live Unfiltered.
---
1. How did you feel when you did your first dive in the Maldives?
It's hard to put it into words. The experience was better than I could have ever imagined. Ever since I was paralysed – in a car crash when I was eighteen years old – I have found being in water so liberating, as I can get out of my wheelchair and move so effortlessly, especially in the sea, so being able to better that experience by learning how to scuba dive has totally changed my life. And to have my first dive in the crystal clear waters of the Maldives! I felt like the luckiest person in the world!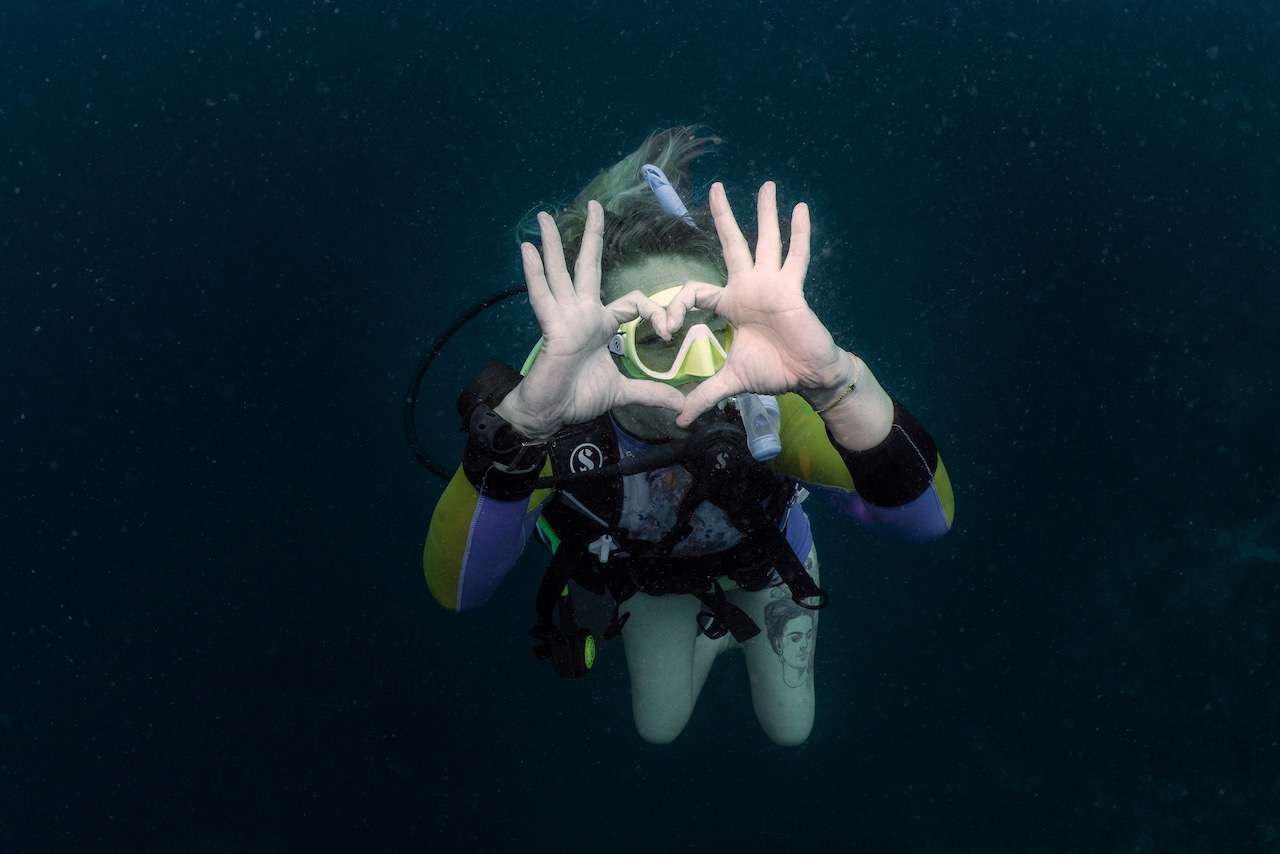 ---
2. How was your experience with the Dive Butler Team?
From the moment I arrived at the Dive School, the whole team made me feel so welcome and I knew instantly that I was in the best hands possible. The amount of care and thought that went into adapting the learning experience for me and my needs as a disabled person helped me to enjoy every second of it. Alexis is the best of the best.
---
3. Dive Butler Amilla, is set to become the world's first IncluCare accessibility and inclusion certified dive organisation. How was your experience, and what does this mean for inclusive travel and dive?
I am delighted that Dive Butler Amilla are taking the necessary steps required to become certified with IncluCare. Disabled people deserve equality of opportunity and experience and, having had the privilege of learning to scuba dive with Dive Butler Amilla myself, I know how transformative their adaptations will be for other aspiring disabled divers. They will be opening up a whole new world, the "blue planet" no less, for countless individuals and families.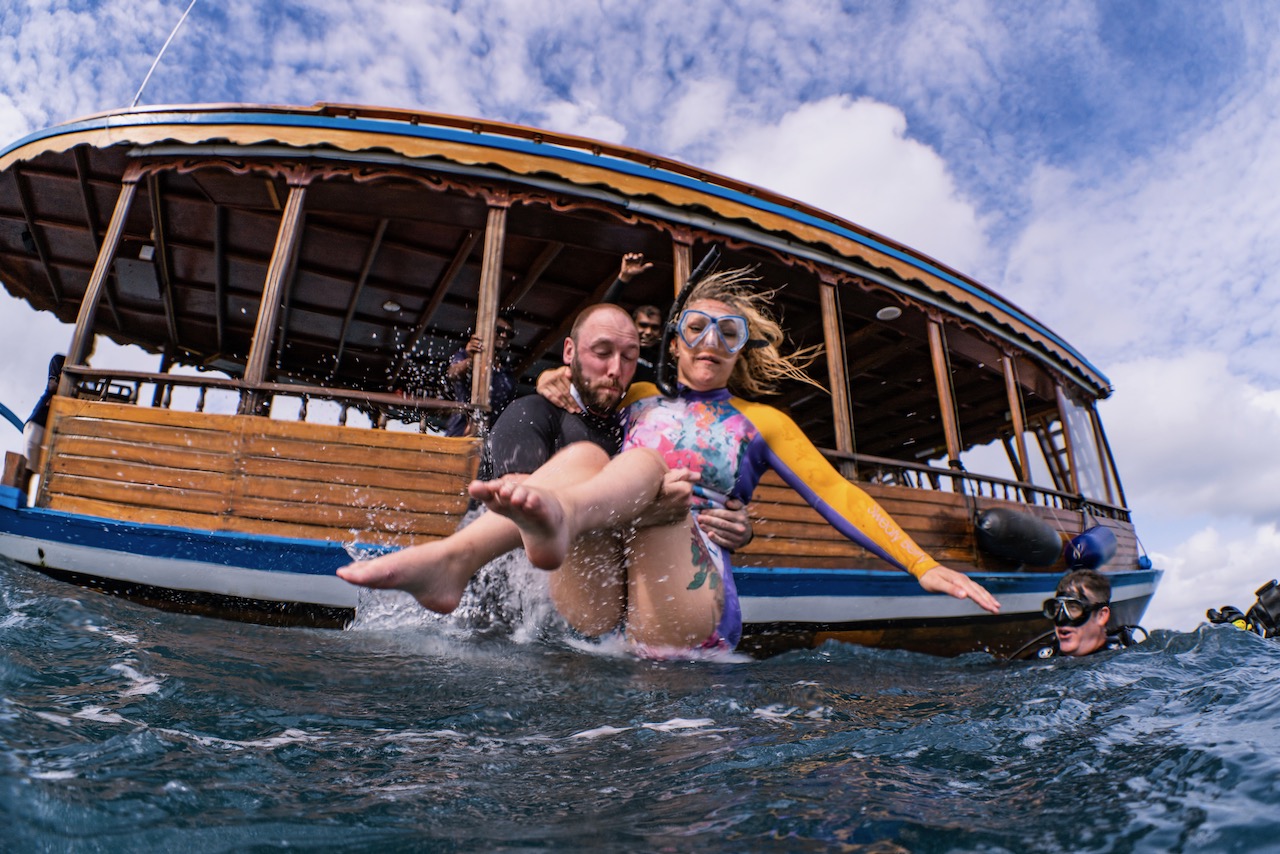 ---
4. Can you tell us a bit about your personal history and what inspired you to try scuba diving?
I was paralysed from the chest down in a car crash when I was a teenager. Ever since then I was gravitated to the water, like a mermaid, as it gave me the freedom to move in ways my body isn't able to when I'm in my wheelchair. I have always dreamed of having the ability to breath underwater, to me it would be the ultimate superpower, so learning to dive has been on my wish list for as long as I can remember. And this dream only intensified when I lost the ability to walk. I love adventures, and I love the sea so I knew that diving would enable me, regardless of my ability to move my legs, a way to combine the two.
---
5. Congratulations on the recent launch of your memoir 'Driving Forwards: A journey of resilience and empowerment after life-changing injury'. As an award-winning disability advocate, how do you think scuba diving can benefit people living with a physical or mental challenge?
If you have a disability and you think that you might have the ability to dive, you must. You MUST! Not only is being in the water good for our physical well-being, there's something about being underwater that feels so empowering and exciting. I found it very cathartic and very relaxing, like a form of mediation, and I really felt, for the first time in over two decades, that I got a day off of being disabled, and felt freer than I ever could whilst in my chair, in the real world so to speak. It's like stepping into the matrix!!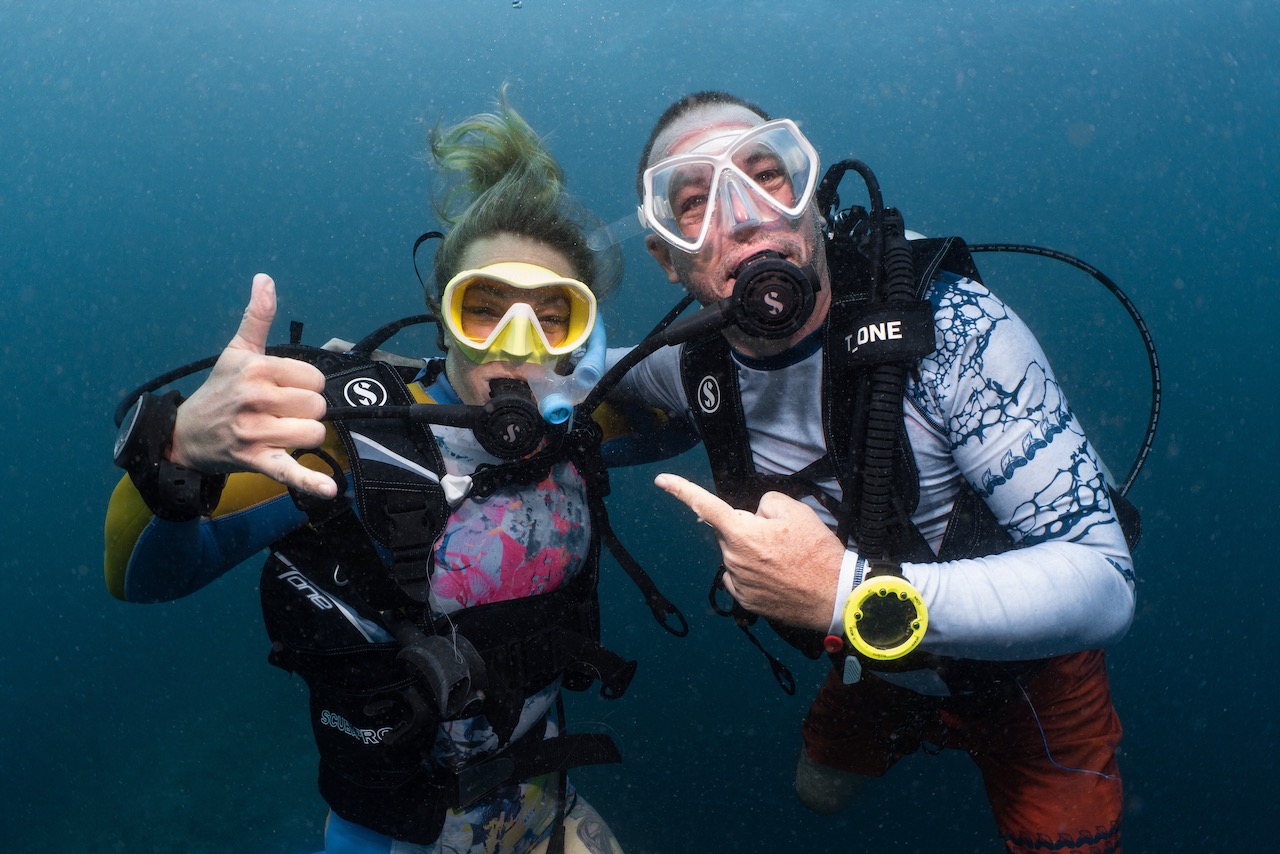 ---
6. You started your PADI Open Water course online in the UK, before heading to the Maldives to complete the open water part of the course. The Maldives is one of the most loved diving destinations in the world, can you tell us a bit about your underwater experience here and the marine life you've seen?
Diving in the Maldives is like winning the lottery! In the space of three days, I snorkelled with tens of manta rays, dove with turtles, sharks and countless beautiful fish and I even saw a pod of dolphins.
---
7. What, if any, were your reservations about scuba diving and how did you overcome them?
I didn't have any! The only challenge that I had to overcome was accessing the boat from the jetty, and then, the water from the boat. But with Dive Butler's help, that barrier was soon removed.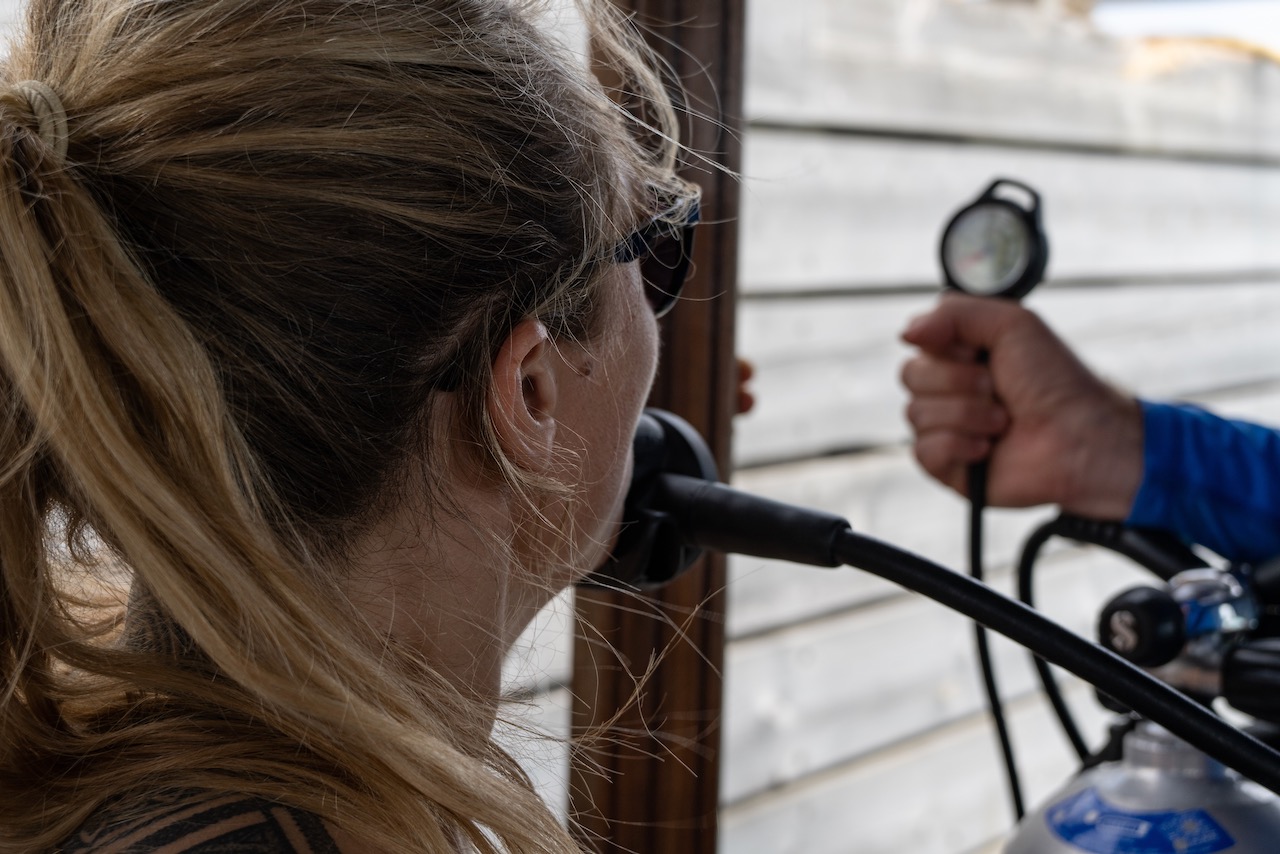 ---
8. At PADI, we believe that diving enables you to immerse yourself in our amazing blue planet and escape the constant pressure to be 'always on'. Under the water, everything is real and we can 'Live Unfiltered'. Having spent the past few days underwater, do you now share this belief and has it affected your life above water?
I agree entirely. My life above water is so hard as a wheelchair user, the way the world is built means I am constantly struggling to get around, and people's perceptions of and attitudes towards disability can be very isolating, othering and limiting. I work hard every day to overcome these challenges. It is, at times, exhausting. All of these problems disappeared as soon as I descended into the blue planet. The water doesn't care if I can't walk! I was able to switch off, focus on the moment, feel free and happy and forget about everything usually bothers me on land. My life will never be the same again now that I know what's down there!!
---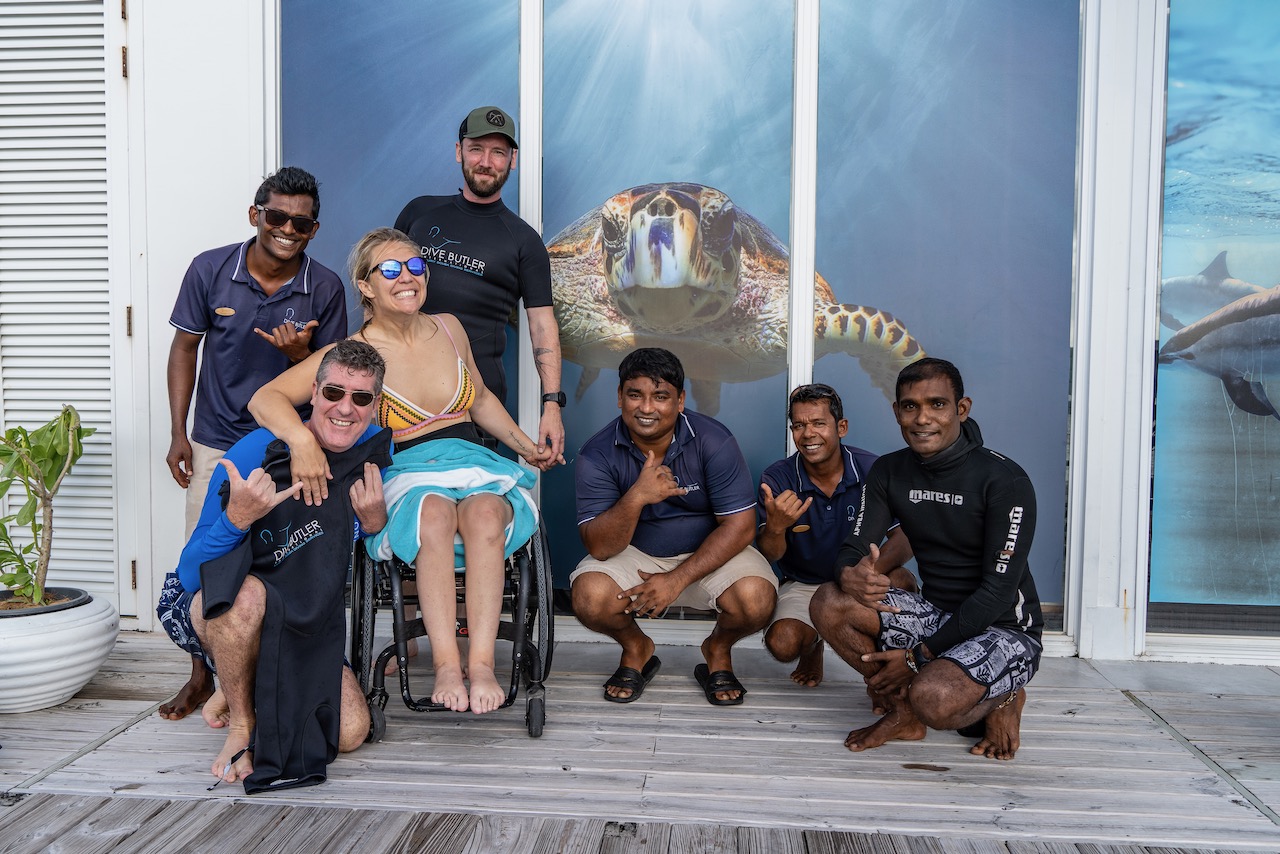 9. Congratulations on getting your PADI Open Water! This certification opens up the underwater world to you, so what's next for your scuba diving adventure? Will you continue your education and go on to do the Advanced course or even the dry suit specialty so that you can scuba dive back in the colder waters of the UK?
I am determined to keep progressing so that I can dive in all sorts of places and conditions. This is just the beginning!!
---
Diving is for everyone. Are you ready to learn to dive and experience the underwater world like Sophie Morgan? Sign up for your PADI Open Water Diver course today and get ready to Live Unfiltered.
---
Sophie Morgan is a British award-winning disability advocate, paralysed in a car crash when she was 18. Today, Sophie Morgan is one of the first female TV presenters in the world with a physical disability.