You don't have to be an adult to learn how to scuba dive. Kids' natural curiosity and aptitude for learning make them some of the best scuba students.
Junior Open Water Diver is a special scuba certification for divers who are at least 10 years old, but younger than 15. The Junior Open Water Diver course covers the same material as the standard PADI® Open Water Diver course but has smaller teacher-to-student ratios and shallower depth limits.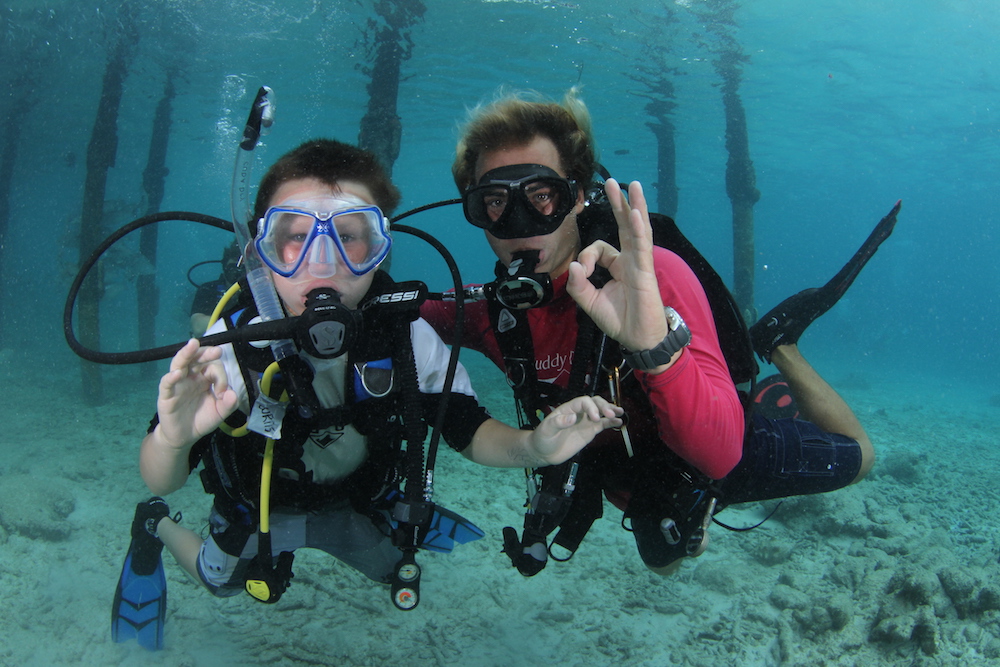 Reduced ratios & depth limits for Jr. Open Water Divers
For children ages 10-11
In Confined Open Water and Open Water, the student-to-instructor ratio may not exceed 4:1 and there may not be more than two children aged 10-11 in the group. Divers aged 10 or 11 may not dive deeper than 12 meters/40 feet during the class or following certification.
Please note: children must be at least 10 years old to start scuba certification training. If your child is eight or nine years old, they may participate in a scuba experience program (see below).
For children ages 12-14
Junior Open Water students who are at least 12, but under 15 years old may dive to a maximum depth of 18 meters/60 feet.
All beginner scuba divers, including adults, should stay above 18 metres/60 feet until they have additional training or experience.
How deep can a Junior Open Water Diver go?
Divers aged 10 and 11 must dive with a PADI Professional or a certified parent or guardian. Dives may not exceed 12 meters/40 feet.
Divers 12-14 years old must also dive with a certified adult and their maximum depth cannot exceed 18 meters/60 feet. With additional training, divers 12 or older may explore down to 21 meters/70 feet with a PADI Professional or other certified adult.
View the complete list of scuba certifications and experiences for kids.
How do you upgrade a Junior Open Water Diver certification?
Because the Junior Open Water Diver course covers the same information and skills as the Open Water Diver course, a Junior Open Water Diver may upgrade to an Open Water certification by simply ordering a replacement card once they turn 15.
There's nothing special you need to do when you order a new PADI card online or from a dive shop. The new card will automatically be printed without the 'Junior' designation if the diver is at least 15 years old.
There's another way to get a card that doesn't say 'Junior' on it (and it's a lot more fun) – take another scuba class! Try a Specialty course and learn how to take great underwater photos and videos or use an underwater scooter. If you can't decide, take Advanced Open Water. You get to try five different types of diving; it's like a specialty sample platter.
Scuba programs for kids 8 or older
If your kids aren't old enough to enroll in a Junior Open Water class, they can still have fun blowing bubbles. Ask your dive shop about their Bubblemaker and Seal Team programs.
Bubblemaker
During a Bubblemaker experience or Bubblemaker birthday party, kids get to take their first breaths underwater. The experience takes place in a pool environment and the depth cannot exceed 2 meters/6 feet. Bubblemaker participants are under the direct care and supervision of a PADI Professional at all times.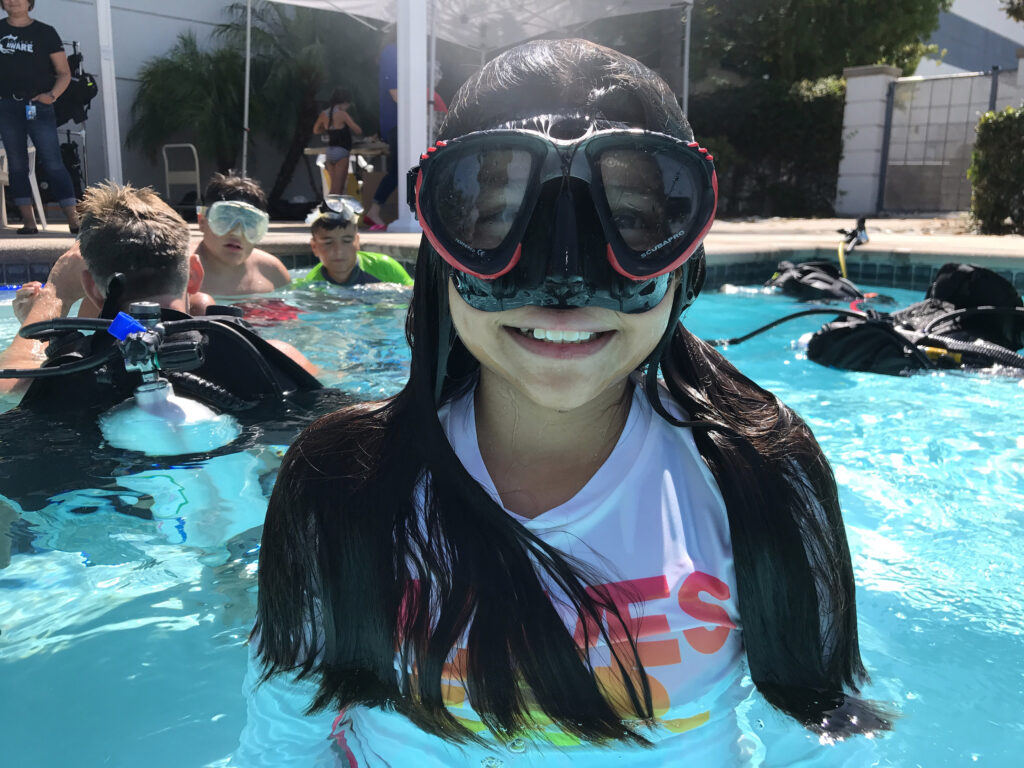 PADI Seal Team
Kids who are comfortable in the water can sign up for the PADI Seal Team program. They'll make multiple dives in a pool while trying different scuba skills like taking photos underwater, diving with a light and hovering like an astronaut. No prior experience is necessary, but if you're unsure whether a child is ready for scuba diving, try a Bubblemaker experience first.
Scuba diving is a fun and rewarding family activity
Scuba diving is the perfect antidote to the always-on surface world. Underwater there are no mobile devices to distract kids (or their parents) and you're surrounded by things as they're supposed to be, natural and unfiltered. Whether your family needs some technology detox or simply needs a new adventure, contact a PADI Shop to start scuba lessons or learn more about scuba programs for kids.
Related Reading