Divers in the UK are lucky to have extraordinary marine life in their backyards. From majestic giants to delicate wonders, the UK's diverse coastline encompasses an array of habitats, ranging from rocky reefs and kelp forests to sandy bottoms and seagrass meadows. These environments provide a rich tapestry of biodiversity, attracting a multitude of captivating marine species. Add these 15 mesmerizing marine creatures that await you in the depths of the UK's waters to your diving bucket list.
---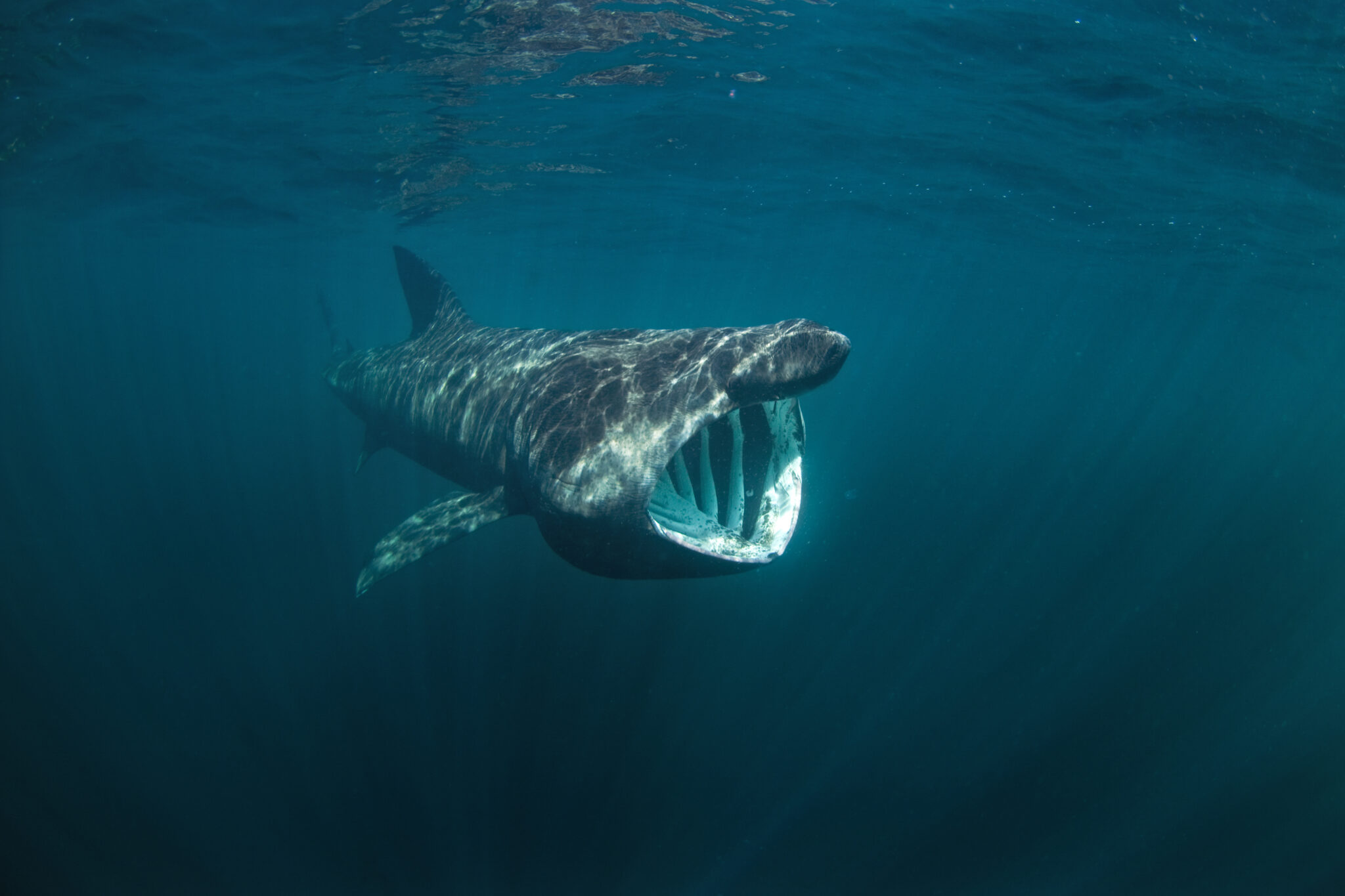 1. Basking Shark
A Graceful Giant Along the UK Coast
Snorkelers and wild swimmers can encounter the awe-inspiring basking shark, the world's second-largest fish, off the coast of England, Scotland and Ireland. Areas such as Falmouth Bay and the Lizard Peninsula in Cornwall provide excellent opportunities to witness these gentle giants gliding through the water, feeding on plankton. The Isle of Man and the Inner Hebrides have fin-tastic sightings during the summer months, too – sometimes in huge aggregations! Always keep your distance and observe the code of conduct to have the best encounter.
Prime Dive Sites: Isle of Coll (Inner Hebrides), Cornwall (Falmouth Bay)
Best Time to Dive: May to October
---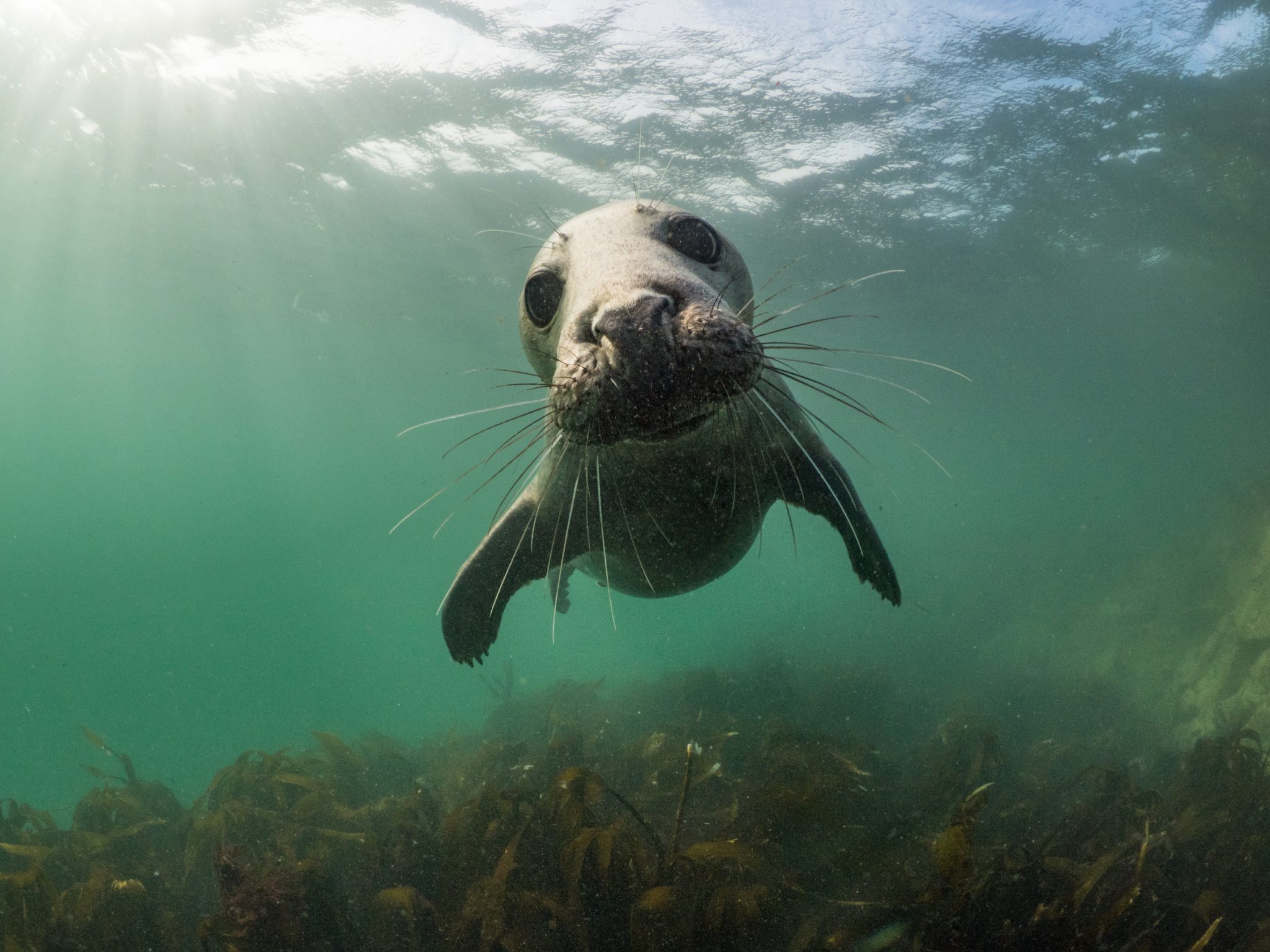 2. Grey Seal
Playful Company in the Farne Islands
Immerse yourself in the playful antics of grey seals surrounding the Farne Islands, off the Northumberland coast. These curious marine mammals will captivate you with their acrobatic underwater displays. The UK is home to 40% of the globe's population of these cheeky creatures. Watch out for one nibbling on your fins!
Prime Dive Sites: Farne Islands (Northumberland), Lundy Island (Bristol Channel)
Best Time to Dive: June to September
---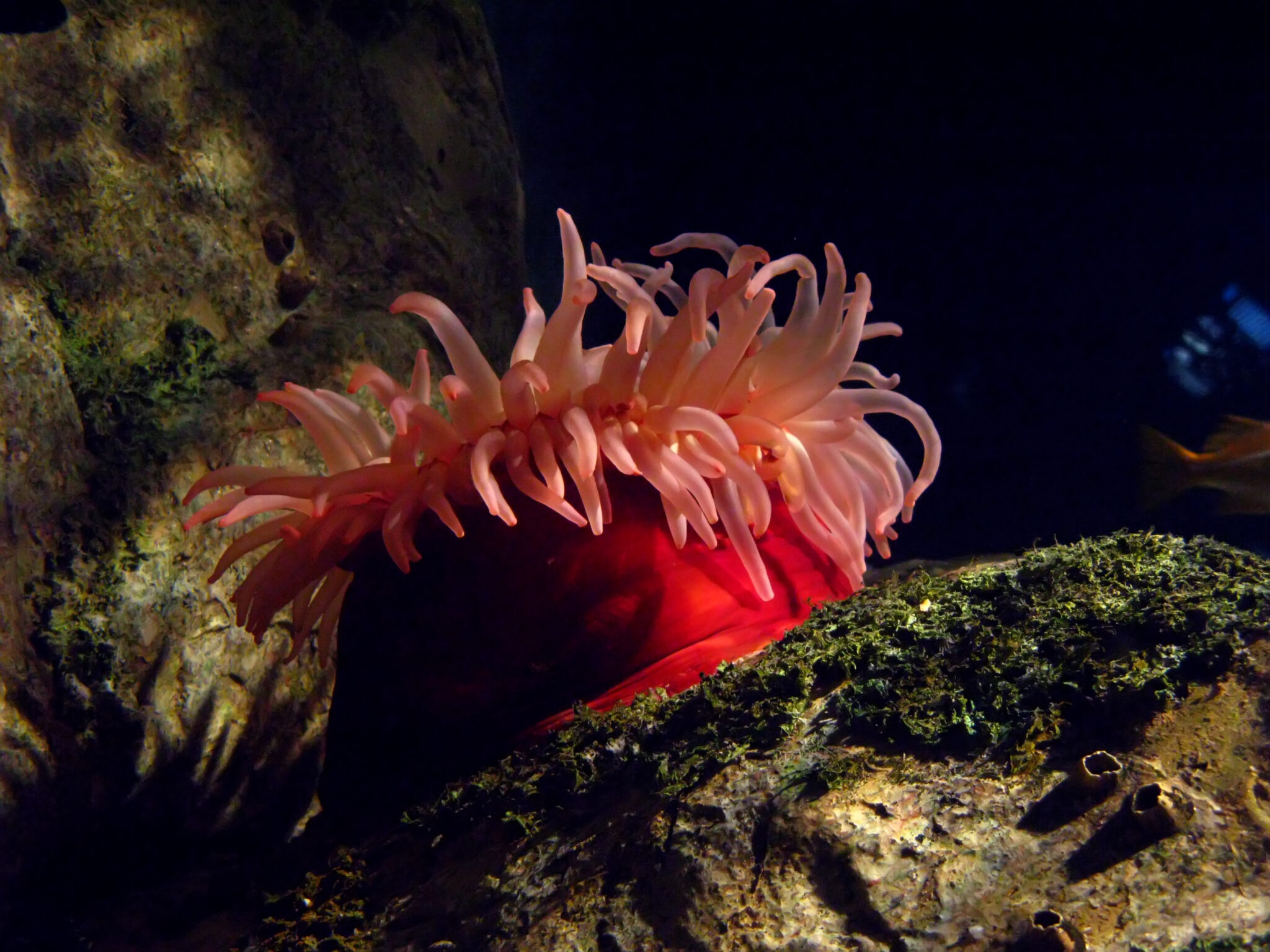 3. Beadlet Anemone
A Colourful Underwater Tapestry in Scotland
Vibrant beadlet anemones adorn the rocky seabed of the Scottish coast. Loch Fyne and Loch Carron are just two dive sites home to these striking creatures, showcasing shades of red, orange, and green. Witness the dance of life as tiny fish and crustaceans seek refuge in their swaying tentacles. Marine life doesn't need to be big to be brilliant!
Prime Dive Sites: Loch Carron (Scottish Highlands), Lundy Island (Bristol Channel)
Best Time to Dive: April to October
---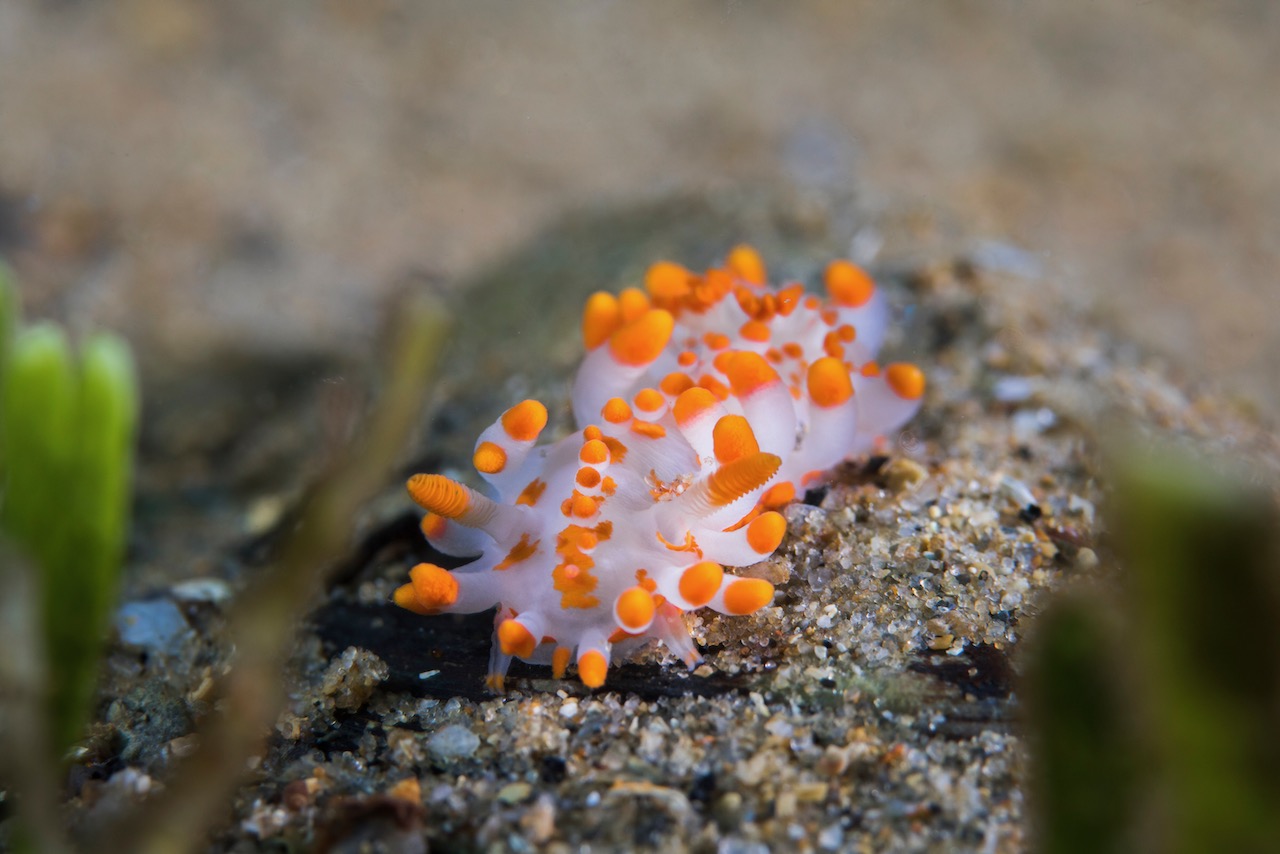 4. Orange-Clubbed Sea Slug
Artistic Delight off the Isle of Man
The artistic beauty of the orange-clubbed sea slug can be found by eagle-eyed divers along the coast of the Isle of Man. Port Erin Bay and Douglas Bay are the perfect dive sites to spot these teeny tiny exquisite creatures. With their vibrant orange colouration and intricate patterns, these sea slugs are a photographer's dream come true.
Prime Dive Sites: Port Erin Bay (Isle of Man), Douglas Bay (Isle of Man)
Best Time to Dive: May to September
---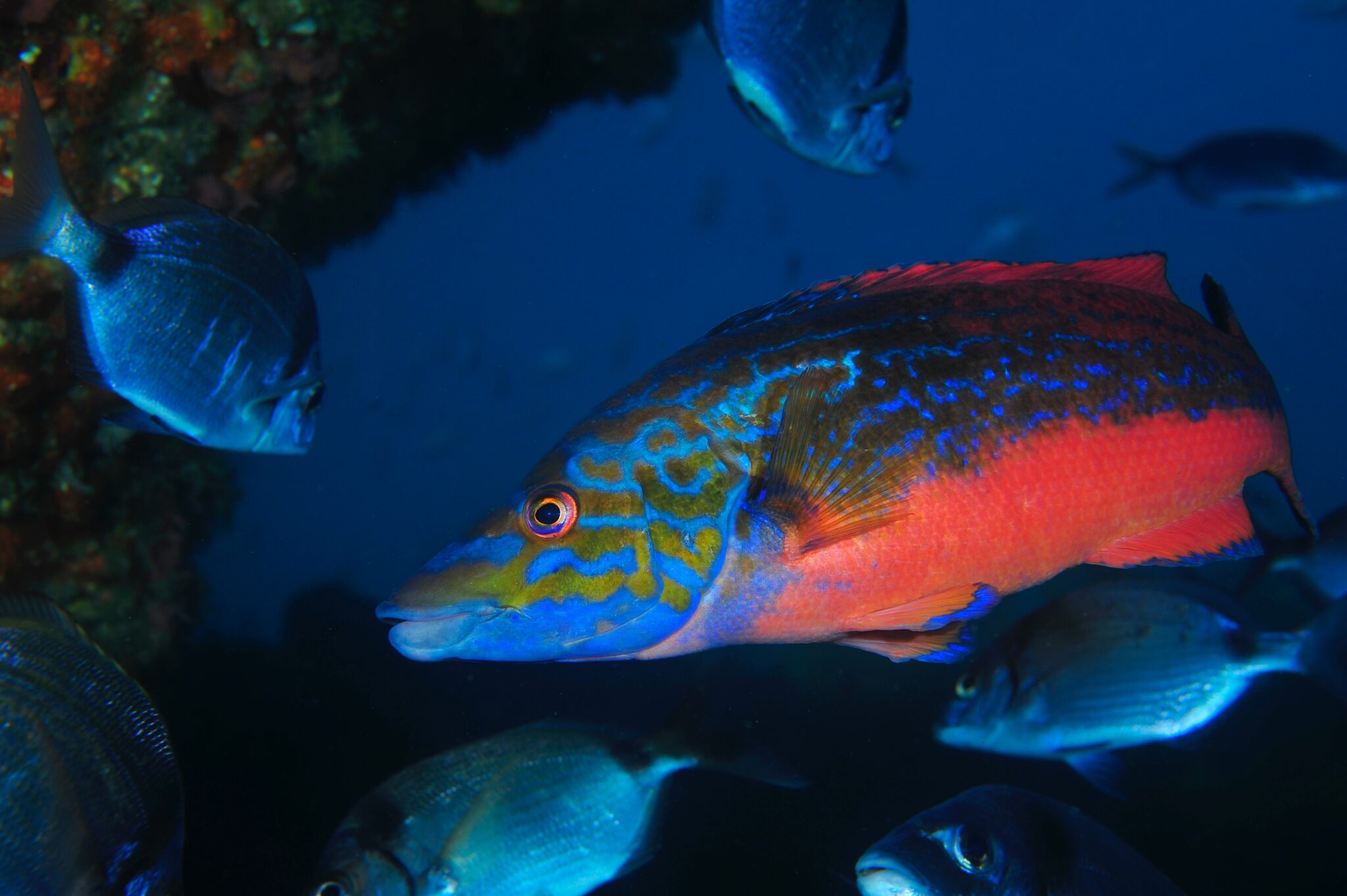 5. Cuckoo Wrasse
Iridescent Encounters in the Scilly Isles
Who said fish in the UK are dull?! Relish in a colourful underwater escapade in the Scilly Isles, where the cuckoo wrasse reigns supreme. Dive sites like St. Mary's and Tresco offer memorable sightings of these dazzling fish. Watch out for males donning an electric blue hue and captivating divers with their courtship dances and territorial displays.
Prime Dive Sites: St. Mary's (Scilly Isles), Tresco (Scilly Isles)
Best Time to Dive: May to September
---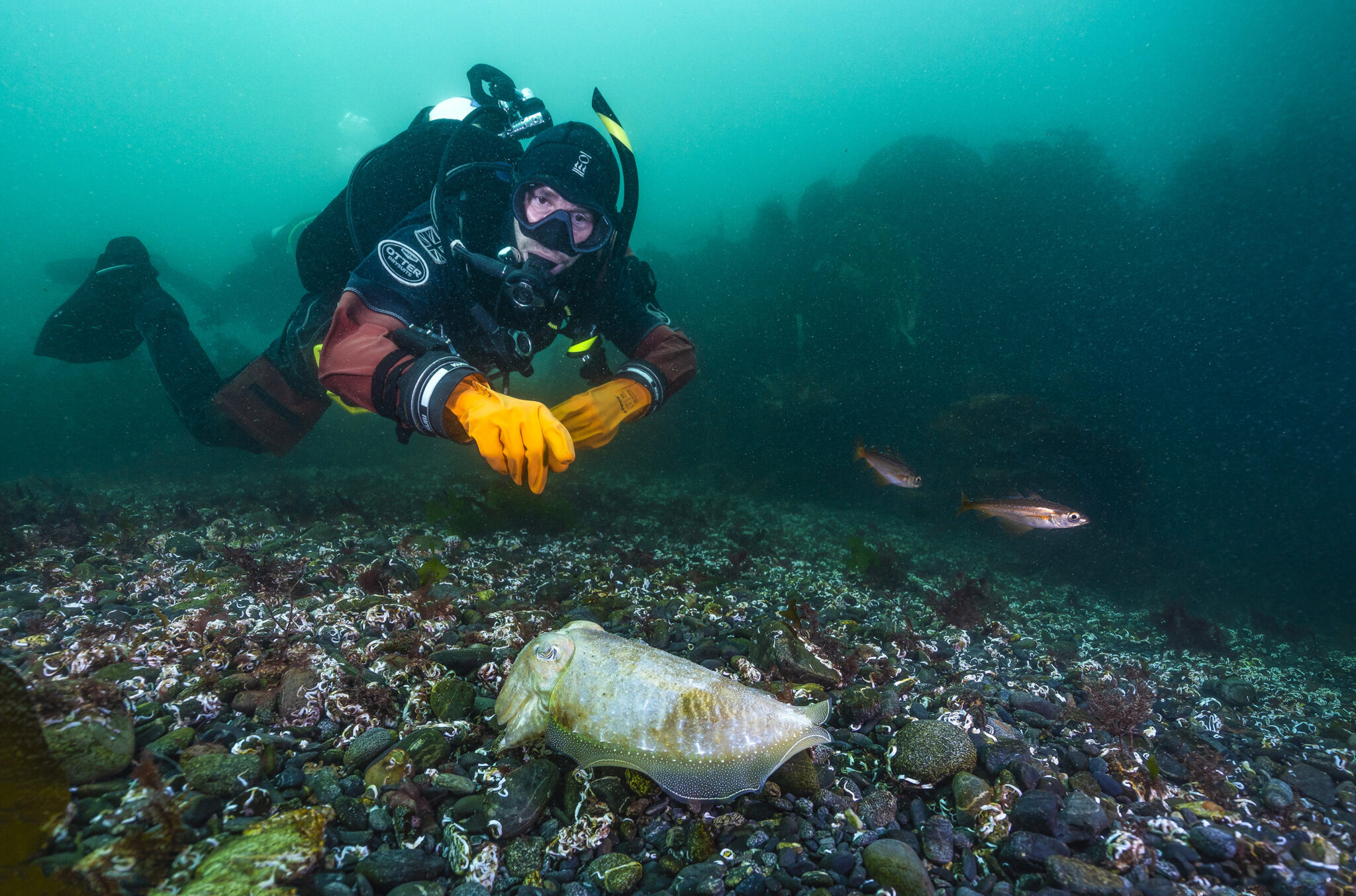 6. Common Cuttlefish
Camouflaged Marvels in Dorset
Uncover the secrets of the common cuttlefish, masters of disguise, along the Dorset coast. Kimmeridge Bay and Lulworth Banks provide divers with a chance to witness their shape-shifting abilities. You'll surely be enchanted by their rapid colour changes and hypnotic displays as they navigate their sandy habitats.
Prime Dive Sites: Kimmeridge Bay (Dorset), Lulworth Banks (Dorset)
Best Time to Dive: May to September
---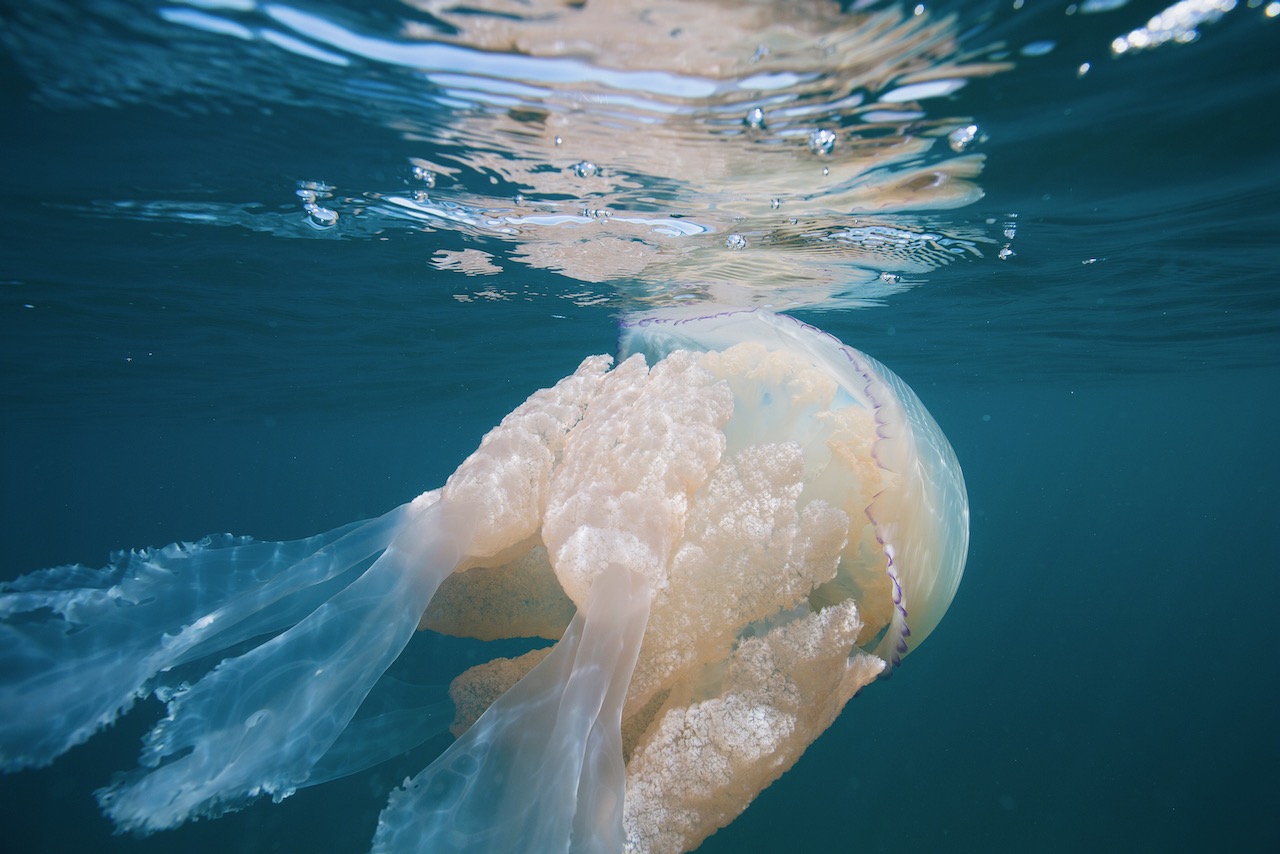 7. Barrel Jellyfish
Serene Encounters in Pembrokeshire
For jellyfish lovers, you can experience the serenity of the barrel jellyfish in the pristine waters of Pembrokeshire. Skomer Island and St. Bride's Bay are known dive sites for these gentle giants. Though harmless, their ethereal presence, with their pulsating bodies and translucent tentacles, creates an otherworldly underwater ambience.
Prime Dive Sites: Skomer Island (Pembrokeshire), St. Bride's Bay (Pembrokeshire)
Best Time to Dive: May to August
---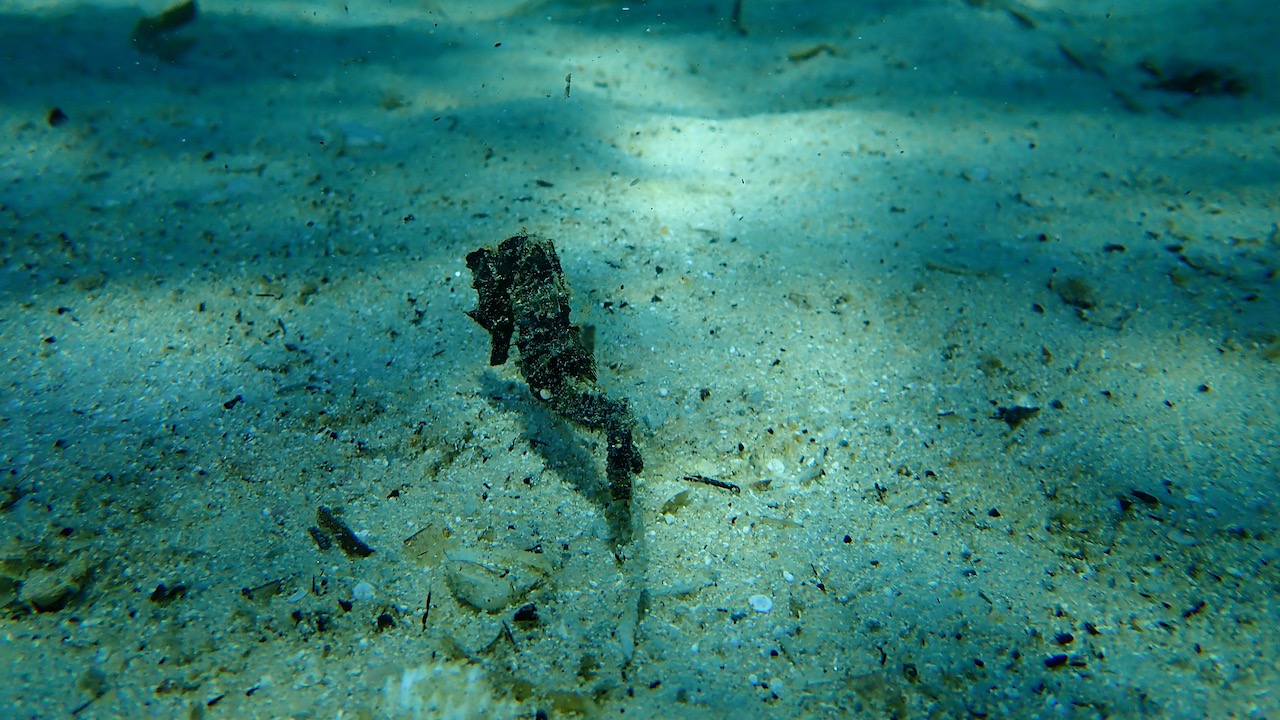 8. Short-Snouted Seahorse
Delicate Treasures in Devon's Estuaries
Venture on a treasure hunt in the estuaries of Devon, where the elusive short-snouted seahorse resides. Salcombe Estuary and Torquay Harbour are where you can find these graceful wonders. As a diver, if you patiently search the seagrass beds for these enchanting creatures, you'll soon be marvelling at their intricate patterns and unique appearance.
Prime Dive Sites: Salcombe Estuary (Devon), Torquay (Devon)
Best Time to Dive: June to September
---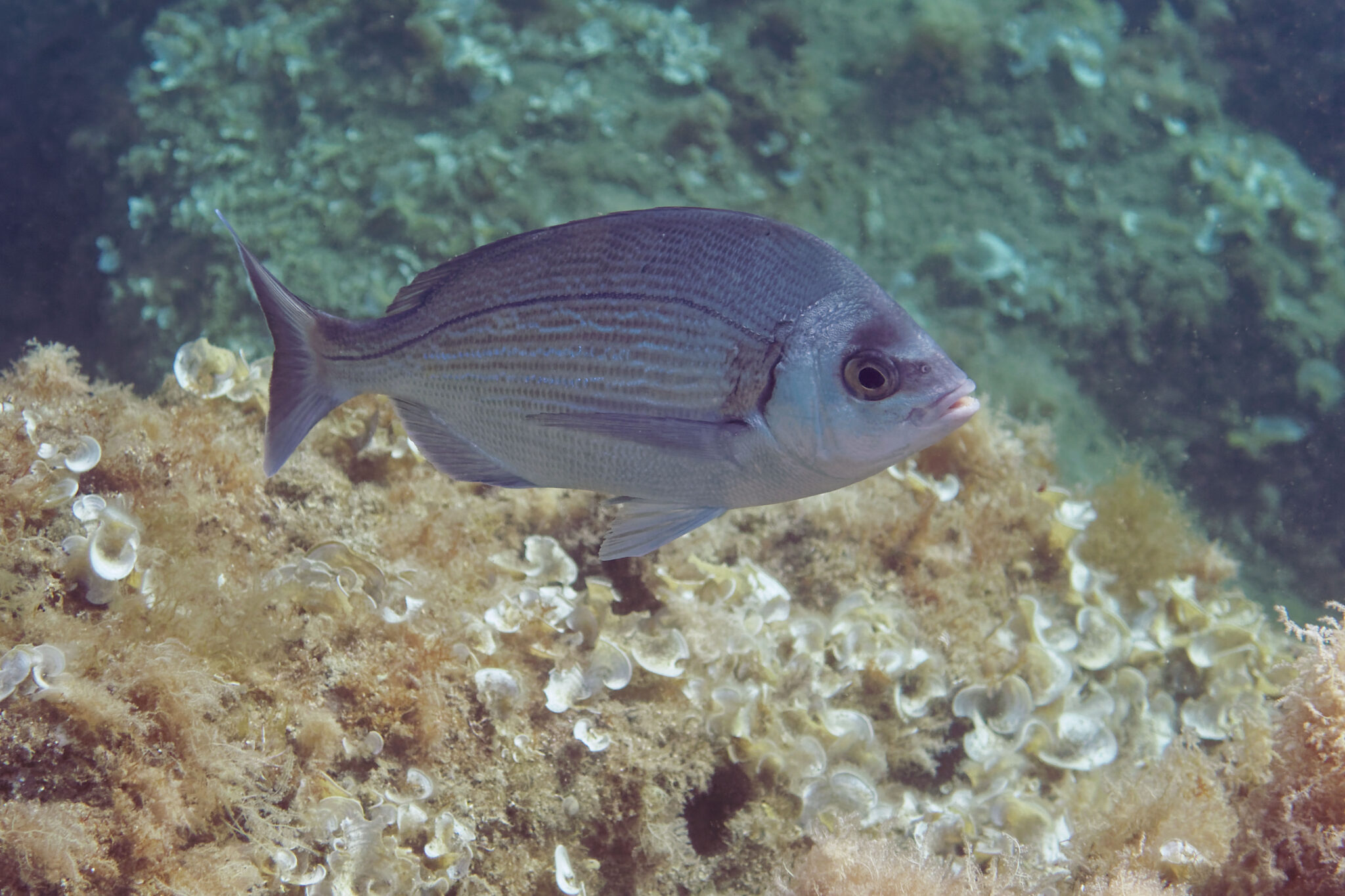 9. Black Sea Bream
Sleek Beauty Surrounding the Cornish Coast
Divers can witness the spellbinding beauty of black sea bream as they explore Cornwall's popular dive sites. Chapel Porth and Porthkerris offer encounters with these shimmering fish, blending seamlessly with their rocky surroundings. Dive among the kelp forests and rocky outcrops to catch a glimpse of their elegant presence.
Prime Dive Sites: Chapel Porth (Cornwall), Porthkerris (Cornwall)
Best Time to Dive: May to September
---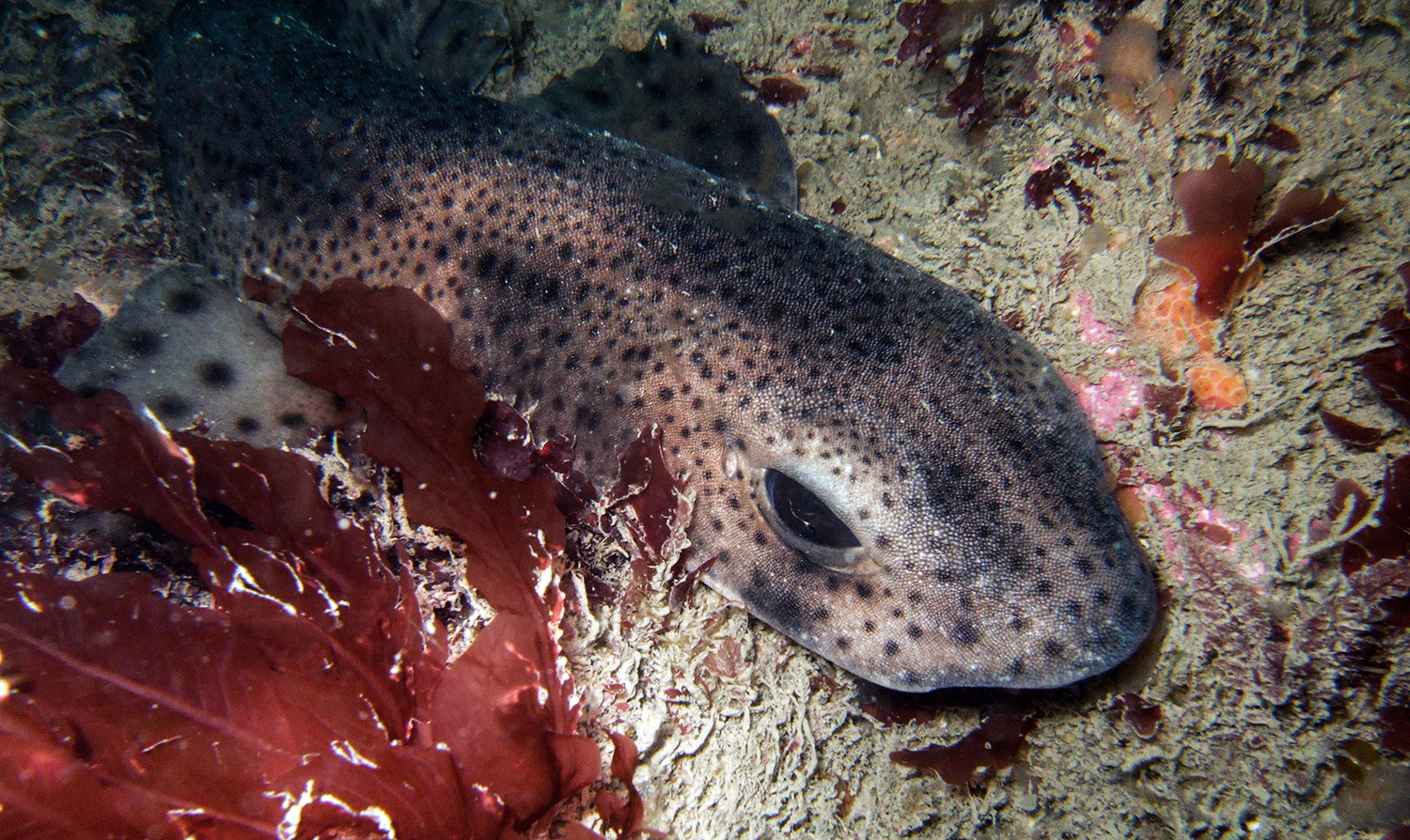 10. Small Spotted Catshark
Camouflaged Predators in the English Channel
In the depths of the English Channel, divers can unveil the hidden world of small spotted catsharks. Dive sites like Chesil Cove and Swanage Bay are home to these camouflaged predators that like to spend their time amongst kelp forests. Spot their distinct markings and witness their graceful movements as they navigate the seafloor.
Prime Dive Sites: Chesil Cove (Dorset), Swanage Bay (Dorset)
Best Time to Dive: April to October
---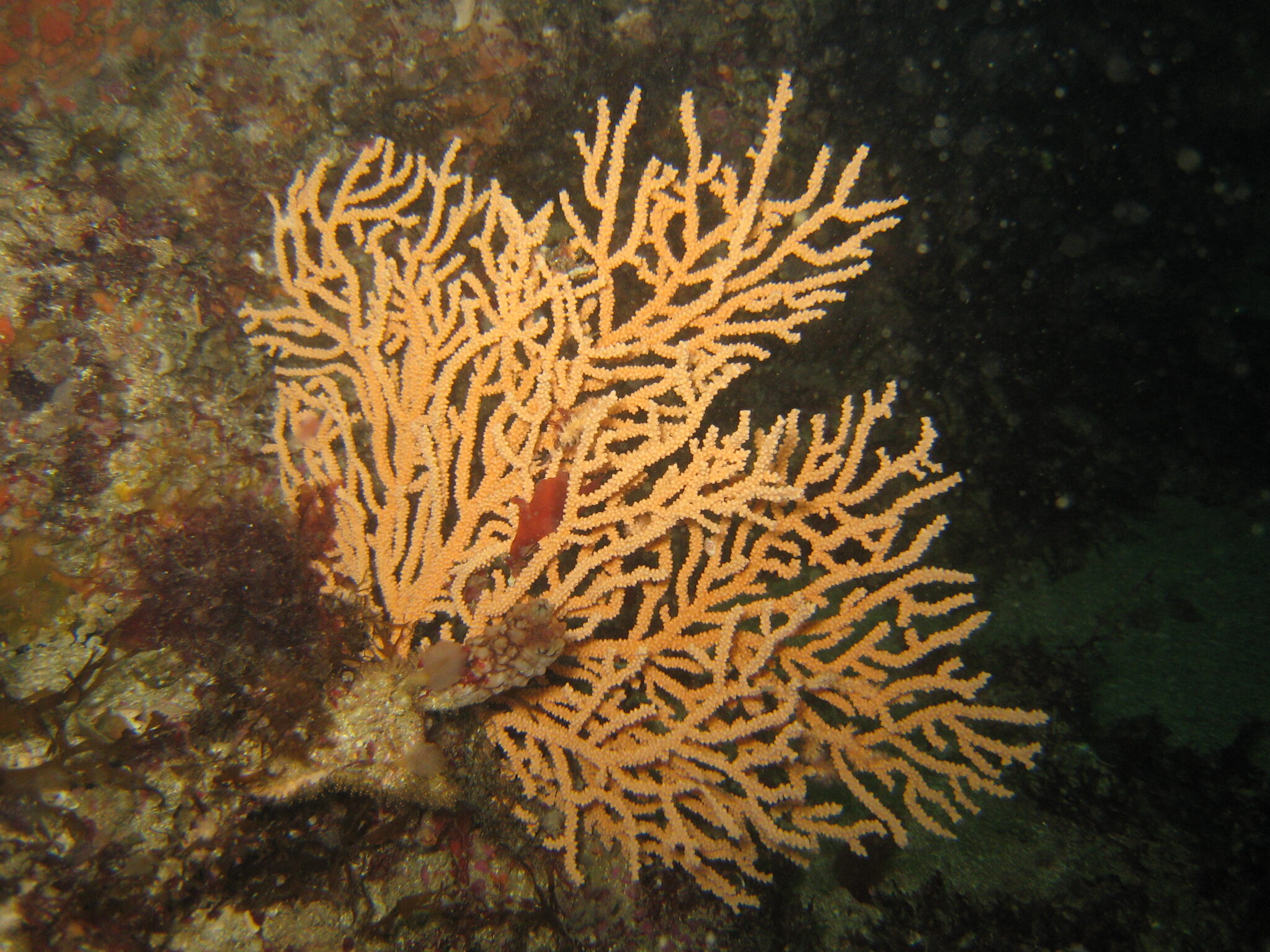 11. Pink Sea Fan
Delicate Splendour in Scottish Hebrides
In the Scottish Hebrides, you can encounter the refined majesty of pink sea fans. The Sound of Mull and the Isle of Skye are hotspots for these stunning corals – yes, we do have coral in the UK! Adorned with intricate branching structures, these vibrant fans create a awe-inspiring backdrop for your underwater explorations.
Prime Dive Sites: Sound of Mull (Scottish Hebrides), Isle of Skye (Scottish Hebrides)
Best Time to Dive: May to September
---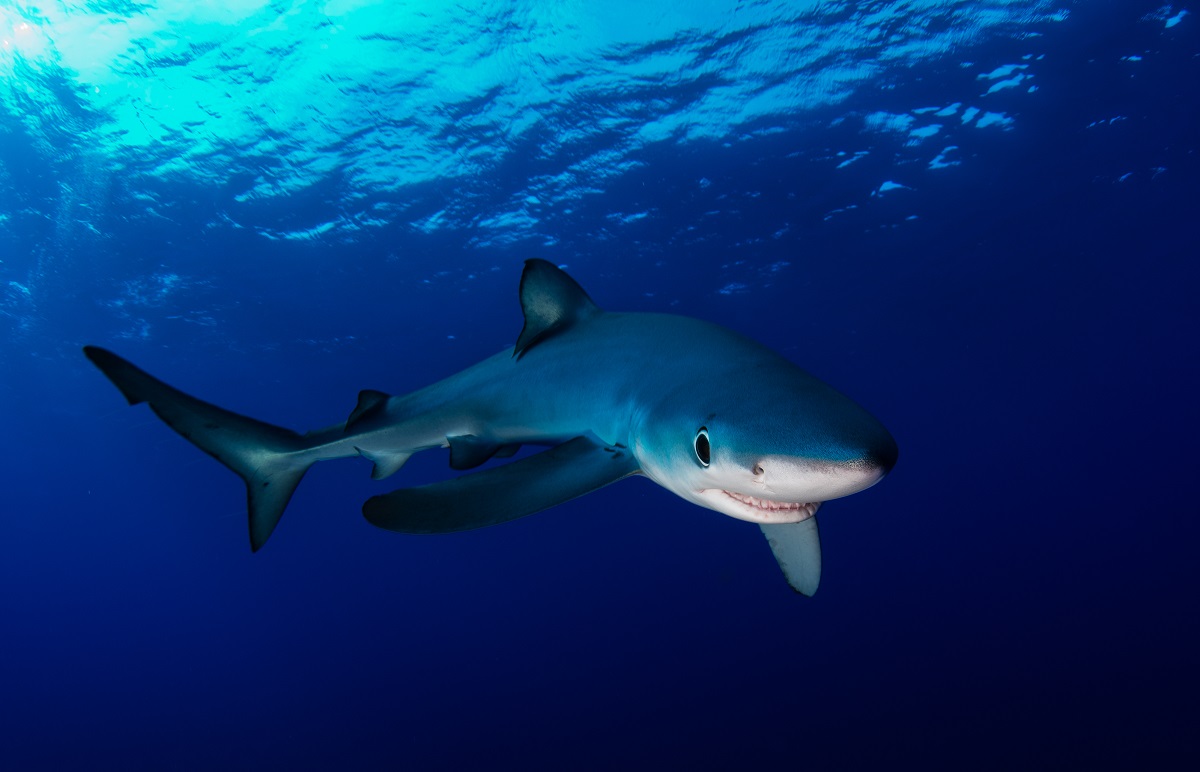 12. Blue Shark
Deep-Sea Majesty Offshore
After a long migration across the Atlantic, following the Gulf Stream, blue sharks reach UK waters in the summer months. Head out on an exhilarating adventure to witness these striking sharks off the Cornish or Pembrokeshire coast. Penzance and Dale offer extraordinary opportunities for encounters with these magnificent creatures. Immerse yourself in their realm and marvel at their sleek beauty as they glide through the blue abyss.
Prime Dive Sites: Penzance (Cornwall), Dale (Pembrokeshire)
Best Time to Dive: June to October
---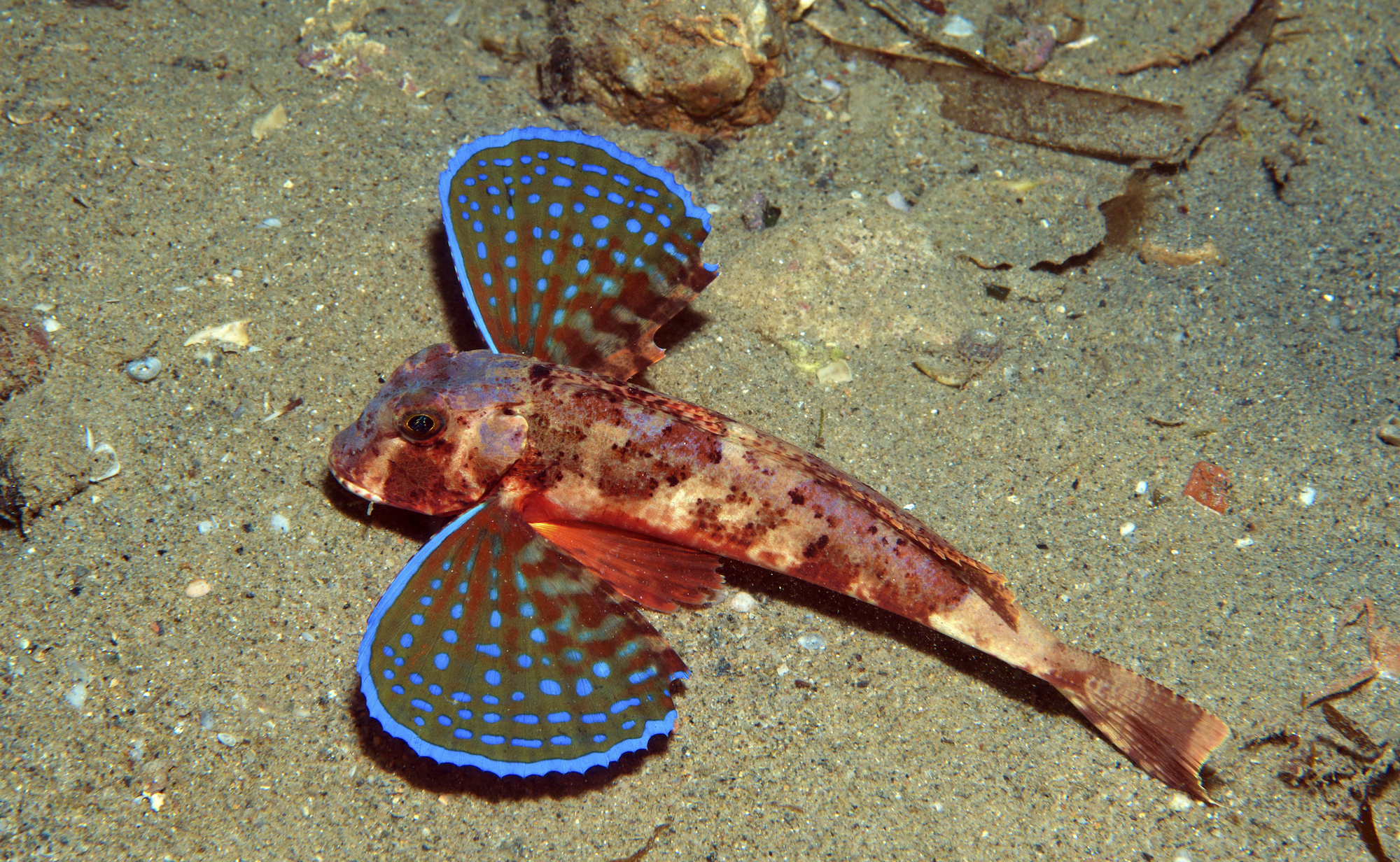 13. Red Gurnard
Vibrant Finned Beauties in Dorset's Wrecks
Divers exploring the wrecks of Dorset may uncover the vibrant presence of red gurnards. Wrecks like the Aeolian Sky and Betsy Anna attract these eye-catching fish and are ideal for intrepid divers. With their striking reddish hues and intricate fins, red gurnards add a splash of colour to the submerged world of maritime history.
Prime Dive Sites: Aeolian Sky (Dorset), Betsy Anna (Dorset)
Best Time to Dive: May to September
---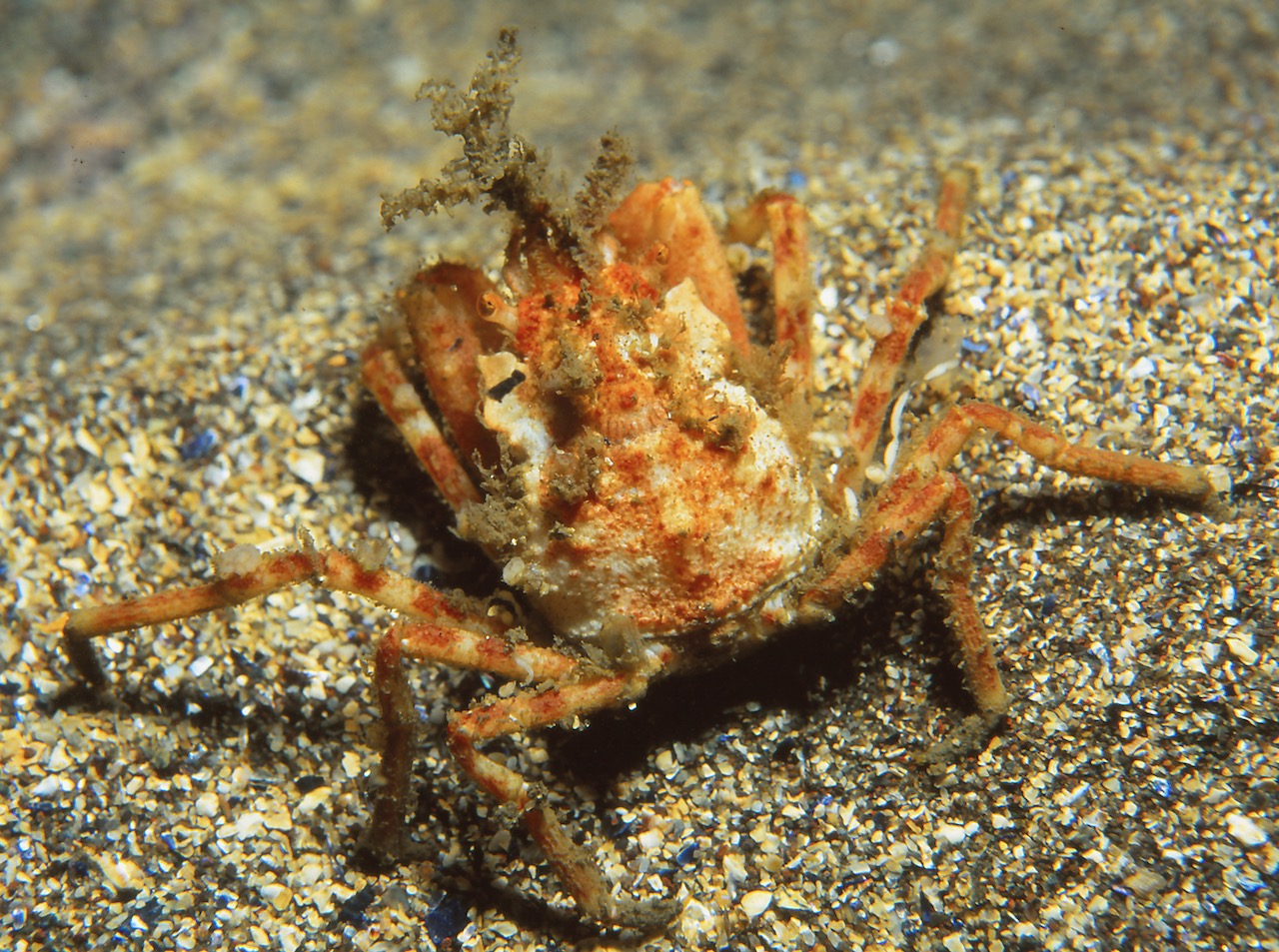 14. Great Spider Crab
Eerie Encounters in the Isle of Man
Around the Isle of Man, you can delve into eerie encounters with great spider crabs. Dive sites such as Port Erin and Peel Bay offer glimpses of these spindly creatures. Watch as they skulk among the wreckage, their long limbs and peculiar movements creating a captivating sight for divers.
Prime Dive Sites: Port Erin (Isle of Man), Peel Bay (Isle of Man)
Best Time to Dive: May to September
---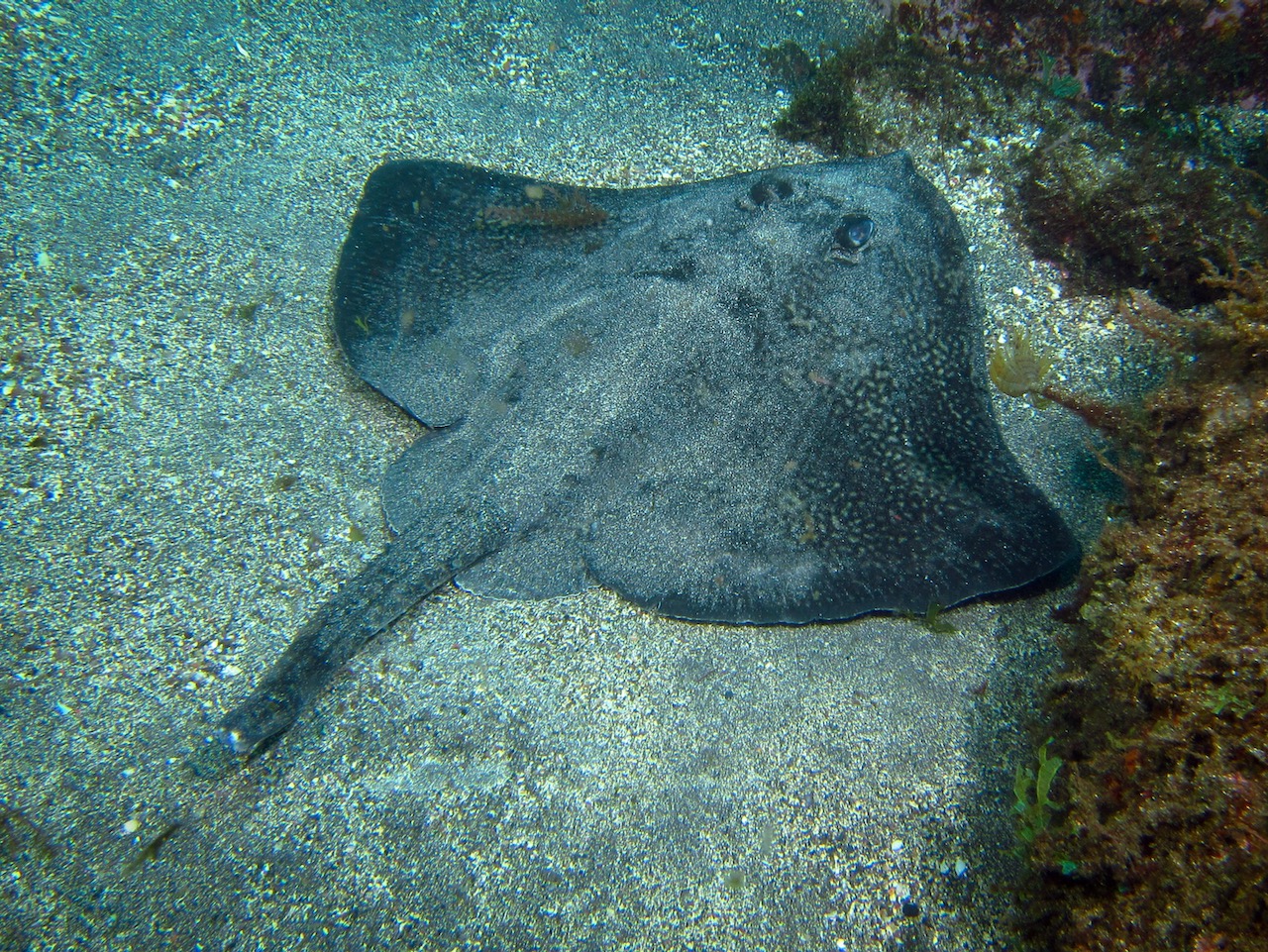 15. Thornback Ray
Graceful Glides in Scottish Sea Lochs
Witness the graceful glides of thornback rays in the sea lochs of Scotland. Loch Fyne and Loch Long are known habitats for these captivating, yet often overlooked, creatures. Observe their elegant movements as they gracefully hover above the sandy seabed.
Prime Dive Sites: Loch Fyne (Scotland), Loch Long (Scotland)
Best Time to Dive: May to September
---
Ready to dive into the UK to spot these spectacular species of marine life? Book your diving trip here. If you aren't yet a scuba diver, start your Open Water Diver course online and finish your certification in the UK so you can #LiveUnfiltered beneath the waves with these amazing creatures.
---
Author Biography – Hannah Rudd
This article was written by guest blogger Hannah Rudd.
Hannah Rudd is a marine biologist and writer who has studied sharks in global marine hotspots, including South Africa and the Maldives. Her first book, Britain's Living Seas, in collaboration with the Wildlife Trusts, will be published by Bloomsbury Publishing in January 2023. Hannah is also a presenter on Discovery Channel's Strange Evidence and has been featured across the BBC television and radio networks. She is currently the Policy & Advocacy Manager for the Angling Trust, a steering group member for Shark Hub UK, and a Youth Ambassador for the High Seas Alliance. She regularly writes articles on marine science and conservation in print and online as a freelance writer. More information can be found on her website: https://www.hannahrudd.com/