Has it been a while since you updated your PADI Diver cards? If you need to update the photo, or simply want a spare card, check out our new options for 2023. We have three exciting underwater images featuring big creatures and unforgettable experiences divers dream about.
To learn more about what the new cards will look like, check out the images below. And then, read the story behind each shot – told to us by photographers Alex Mustard, Beatrice Picariello, and Mike Winkles.
---
Basking in the Moment by Alex Mustard
Underwater photographer and ocean advocate Alex Mustard captured this rare moment with a basking shark feeding on plankton near the Isle of Coll, Scotland. Show your dive certification status with this limited edition dive certification card in eCard or a physical card made from recycled materials; only 750 cards are available.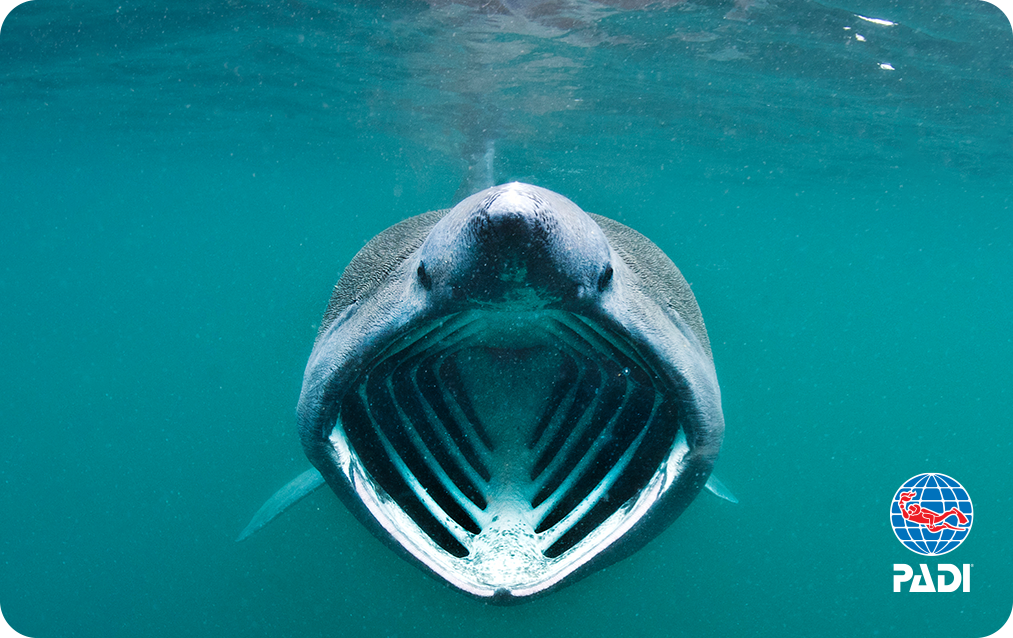 Meet the Photographer – Alex Mustard
Hi! I am Alex Mustard, I am a former marine ecologist, who has worked as an underwater photographer for the last twenty years. In terms of my recreational diving qualifications, I am an Advanced Open Water Diver, Nitrox Diver and a Self-Reliant Diver. I have never been interested in teaching diving, so I have not made Dive Master or Instructor training.
The Story Behind the PADI Basking in the Moment Card
It was taken in off the west coast of Scotland, near the island of Coll. Basking sharks are an amazing species and huge too. But they are very difficult to find, because there are not many of them and you only get to see them when exactly the right conditions bring them to the surface and you can spot their fins. This was the best encounter of my life. I stayed completely still and the shark didn't sense me and just kept swimming towards me with its mouth open filtering the plankton.
What do You do in Life to Protect the Ocean That Others Can Follow?
The best attitude to helping the natural world is to realize that it is one world and everything we do or don't do has an impact. So if we all make small, positive changes for the environment, like reducing our waste and minimizing our carbon footprint it does add up. I choose not to eat any seafood, we don't all need to do that, but we can all think about the types of seafood we eat, choosing species that are sustainable and are caught without damaging the environment or without a large by-catch.
Key Message For The Diving Community?
I think what diving needs is to get more young people exploring the underwater world. We need to act more as a community so that freedivers, scuba divers and tec divers focus on their shared love of the underwater world, rather than focus on their differences. The ocean is under pressure and it needs as many friends as it can get.
---
Merry Manatee by Mike Winkles
PADI Course Director, marine educator, and underwater photographer Mike Winkles captures an irresistible manatee mugging for the shot as it comes up for air in Crystal River, Florida. Show your dive certification status with this limited edition dive certification card in eCard and physical card made from recycled materials, only 750 cards available.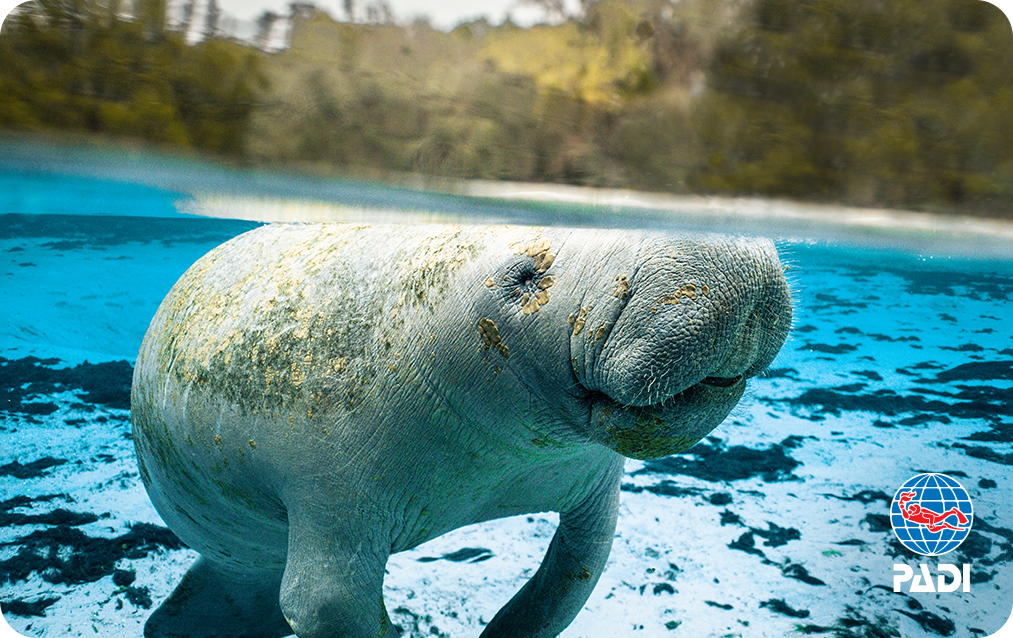 Meet the Photographer – Mike Winkles
This March, I reached my 20-year mark as a PADI Pro. Being a scuba instructor led me to teach Manatee Education for a field trip program in Florida for most of my 20s. I wanted to share the underwater world I love. Photos allow me to show others how amazing marine life is, as well as help give them value in learning why protecting marine life is important.
The Story Behind the PADI Merry Manatee Card
Crystal River, FL. One thing of note about this image is that the manatee is surfacing to take a breath. Many that have seen manatees from boats and docks only see them when they surface to breathe. It's where our two worlds come together for non-divers to experience. This image shows how much better the view is when they are snorkeling or diving. I love that. 
What do You do in Life to Protect the Ocean That Others Can Follow?
With respect to cleanliness, I treat every dive site, every parking lot, and every beach like it's my own backyard. I don't want it trashed and happily pick up the trash I see. I don't get upset, I don't make a scene, I get busy, and I make a difference. I also seek out reputable companies that take environmental health into consideration when making & packaging their products, and I like to find companies that are involved with clean-ups and awareness.
Key Message For The Diving Community?
We protect the things we love, and love the things we've learned about and understand.  Learning about our marine life and our marine ecosystems leads to us loving them. Loving them leads to us protecting them.  
So those that love the water and all the beauty it holds, one of the best things you can do is share that love by educating those around you. That's how we get everyone on board with protecting our oceans, our sea life, our springs and our manatees.
---
Blacktip Reef Sharks by Beatrice Picariello
A shiver of Blacktip Reef Sharks and a stingray escort rendez-vous in the shallows of Moorea, Tahiti in this limited edition dive certification card by underwater photographer Beatrice Picariello.
Show your dive certification status and help protect sharks with this limited edition dive certification card in eCard or physical card made from recycled materials, only 750 available. We'll donate $10 US from every card purchase to the PADI AWARE Foundation™, a publicly funded charitable nonprofit supporting ocean conservation and marine animal protection.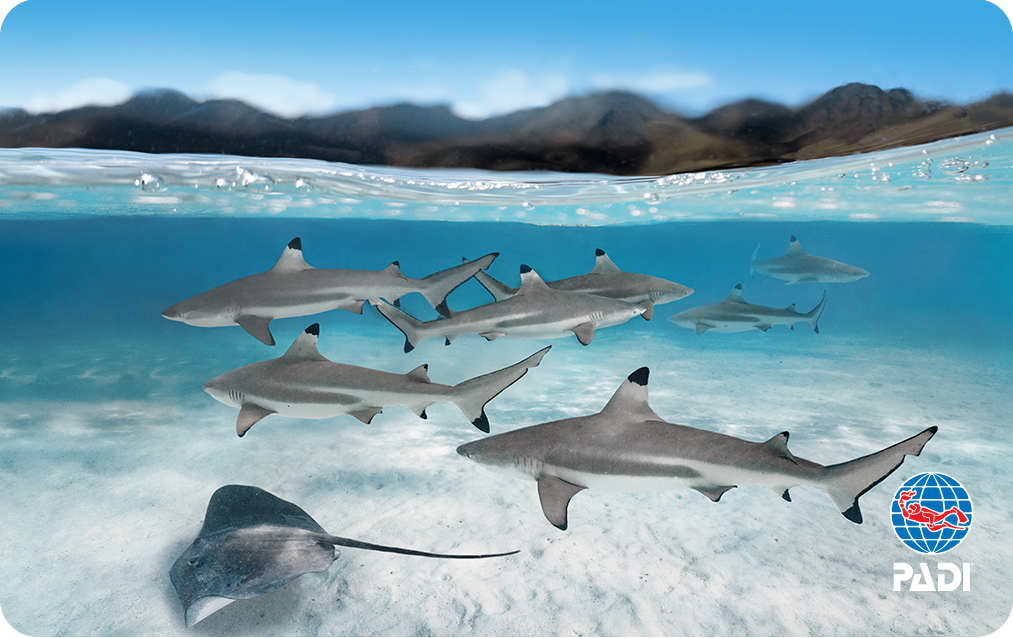 Meet the Photographer – Beatrice Picariello
Hi I'm Beatrice and with my partner and all time (dive)buddy I travel the world as much as we can. While Frankfurt, Germany is our home base we have followed our passion to the far corners of the world and using our photography to capture the experiences and the unique beauty of the places we visit at any height; from underwater up to the sky with a drone.
​The ocean always has my heart, and being able to capture and share moments of this wonderful marine world makes me super happy. How I got into Photography? In the beginning, it was a simple GoPro which I captured the underwater world. But that was enough to get addicted to it. I also want to tell the oceans' stories in order to touch people and raise awareness about the preservation of underwater ecosystems.
The Story Behind the PADI Blacktip Reef Sharks Card
This photo was taken at a sandbar in Moorea, French Polynesia, where the sharks swim very close to the beach and it can be said in the front yard of the islanders. In the morning the water is wonderfully calm and clear and you can spend hours in the shallows watching these graceful animals.
---
Are you prepared for your next diving adventure? If you've lost your PADI certification card or if you only received an eCard with your new certification but want a recycled plastic card as well, be sure to order your new PADI Diver Card soon.
---
Want to save some money on your new certification card? Join PADI Club and receive 25% off a physical PADI replacement card once a year, plus get loads of other perks, like 20% off eLearning, PADI Gear discounts and a free ReActivate program.