Since the scuba diving industry was born, people have been fascinated by shipwrecks. Whether it was finding new wrecks, salvaging old ones or treasure hunting, many of the most important advances in scuba diving were motivated by wreck diving. Today, there is a wreck for every ability level, from Open Water to Tec Diver. Although this tends to be a highly controversial issue, we believe these 10 wreck diving sites represent the best in the world for PADI Wreck Divers. (Feel free to disagree with us in the comments on our social media pages!)
---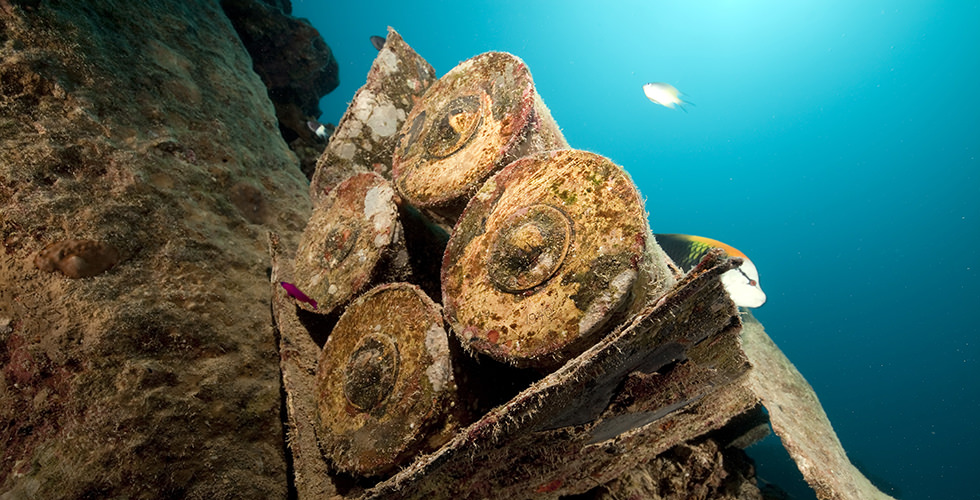 1. SS Thistlegorm – Ras Mohammed, Egypt
Located in the northern section of Red Sea, the SS Thistlegorm is known to many as the best wreck dive in the world. A popular liveaboard stop, it's accessible by both dive safari and day trips from Sharm El-Sheikh. This 420-foot (128-meter) British transport ship was sunk in 1941 following a German air attack. At advanced recreational depths, the Thistlegorm is a fantastic glimpse into history. Divers can still view the ship's cargo, including tanks, trucks, jeeps, motorcycles and even a locomotive! You'll need at least two dives to fully see everything the Thistlegorm has to offer.
Required Certification: Advanced Open Water
When to Go: March to May; September to November
---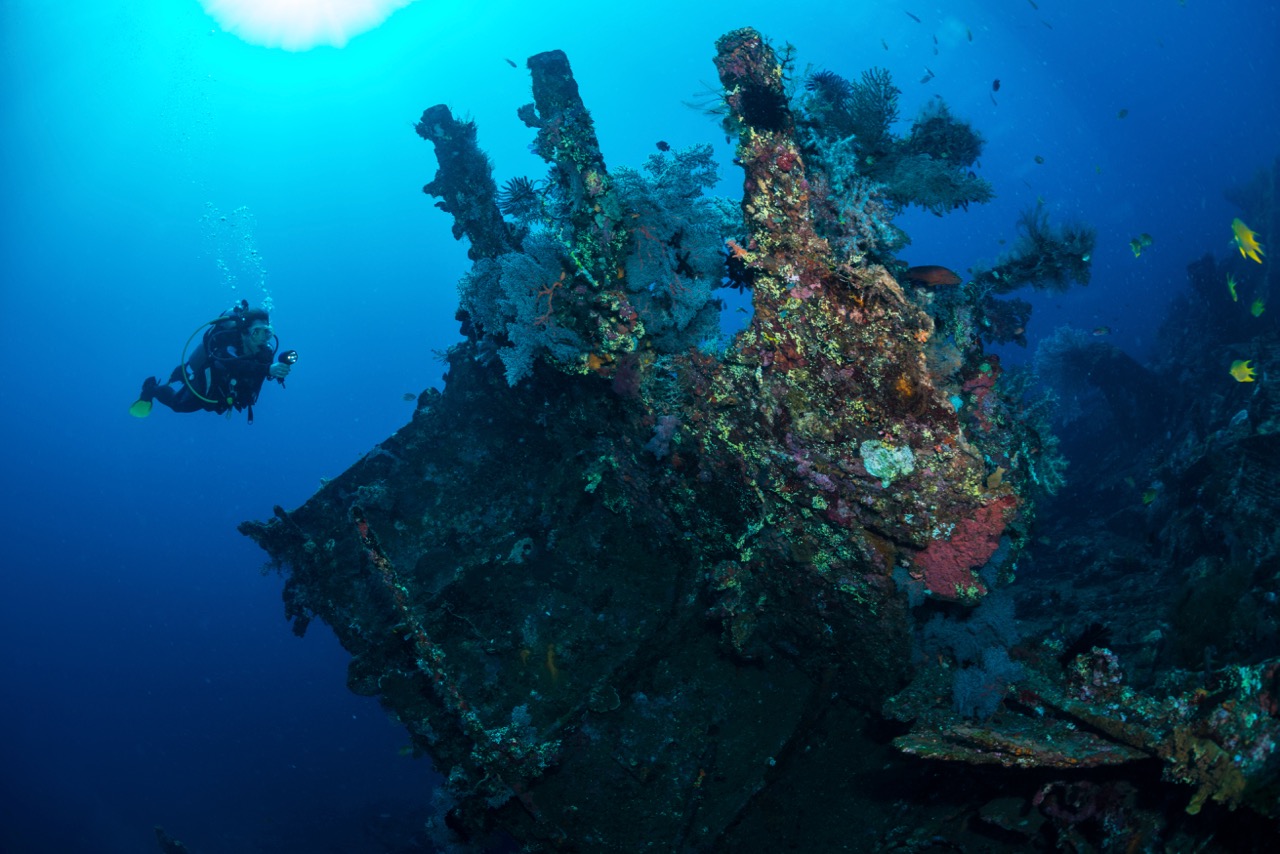 2. USAT Liberty – Tulamben, Bali
Considered one of the most accessible wrecks in the world, the top of the USAT Liberty sits in just 10 feet (3 meters) of water, making this wreck perfect for snorkeling, too. The ship was originally an American warship. It survived WWI only to be sent into WWII. In 1942, it was torpedoed by the Japanese off the coast of Bali. The captain beached the ship, and it sat rusting above the water for 30 years. In 1963, a volcanic eruption shifted the ship into the shallow waters just offshore. The deepest section of the boat lies at 95 feet (28 meters) and measures 390 feet (120 meters) long. Advanced divers can complete a few swim throughs, but open water divers are welcome to explore the shallower sections. The USAT Liberty overall makes a great introduction to wreck diving!
Required Certification: Open Water
When to Go: April to November
---
3. SS President Coolidge – Vanuatu
Originally built as a luxury cruise liner, the SS President Coolidge became a troopship during World War II. In 1942, she was struck by friendly mines after the captain failed to receive information about a safe passage to harbor. The ship was grounded and all but two of the sailors aboard survived. Today, the ship sits between 65 and 230 feet (20 and 70 meters) and is a nationally protected dive site. Scuba divers in Vanuatu can explore the various decks and holds, finding guns, cannons, trucks and "The Lady," one of the remnants of the ship's former glory.
Required Certification: Open Water but a more advanced certification is recommended
When to Go: April to October
---
4. Fujikawa Maru – Chuuk Lagoon, the Federated States of Micronesia
During World War II, the natural harbor known as Chuuk (Truk) Lagoon was the main base of the Japanese navy. As might be expected, this concentration of ships became a target for Allied forces who bombed the lagoon in 1944. This operation ultimately sunk 12 warships, 32 merchant ships and 275 aircraft. Today, the Fujikawa Maru is one of the most accessible of the 60 "re-discovered" wrecks. The ferry sits in just 30 feet (9 meters) of water and is easily penetrable. Inside, divers can spot everything from airplanes to ammunitions.
Required Certification: Open Water without penetration. Wreck Diver with penetration.
When to Go: December to April
---
5. Hilma Hooker – Bonaire, the Caribbean Netherlands
With easily accessible wrecks like the Hilma Hooker, wreck diving doesn't get much better than it is in Bonaire. This 236-foot (72-meter) freighter sits on her starboard side under 95 feet (28 meters) of water. Her history is an interesting one. In 1984, the ship and her crew were detained for drug smuggling. The owners of the boat never came forward, so the Hilma Hooker languished and eventually sank at an anchorage. Thankfully it landed on a sand flat between two coral reef systems. Very little penetration is possible, but with crystal clear visibility, the Hilma Hooker is a dive to remember.
Required Certification: Advanced Open Water
When to Go: Year-round
---
6. The Gunilda – Rossport, Canada
Occasionally treacherous conditions make the Great Lakes a sailor's nightmare and a wreck diver's dream. The depths of the Lakes mean that many of the wrecks will never be visited, but those that have been discovered generally remain in pristine condition due to the cold and fresh water.
The Gunilda was a luxury steam yacht billed as the most opulent boat at the turn of the 20th Century. In 1911, she ran aground on McGarvey's Shoal in Canada, which reaches up from 280 feet (85 meters) to within 3 feet (1 meter) of the surface. The passengers abandoned ship and salvage efforts began, but the hull filled with water and she sank to 270 feet (82 meters). Today, the wreck remains perfectly intact and as scenic as the day she sank, but only tec and trimix divers are able to behold her beauty.
Required Certification: Tec and Trimix
When to Go: June to September
---
7. SS Yongala – Queensland, Australia
Arguably the top wreck dive in the Southern Hemisphere, the SS Yongala in Australia was sunk during a cyclone in 1911, killing all 124 on board. Today, the freight and passenger steamer's highest point lies at just 52 feet (16 metres) and goes down to 108 feet (33 metres). To maintain the remarkably good condition of the hull, divers are prevented from entering the boat. This serves to reduce the negative effects air bubbles have on the sunken ship.
Required Certification: Advanced Open Water
When to Go: December to February for warm and clear waters. June to November for increased marine life activity.
---
8. SMS Kronprinz Wilhelm – Scapa Flow, Scotland
At the end of World War I, 74 German vessels were scuttled off the Orkney Islands in Scotland. This action was taken in order to prevent the ships from falling into the hands of the British. After salvaging efforts between 1920 and 1945, 7 of the German ships remain in Scapa Flow. These battleships join British naval vessels and block ships to create a wreck diving wonderland.
While many of these wrecks lie below recreational limits, the SMS Kronprinz Wilhelm is easily accessible at 40 to 115 feet (12 to 35 meters). The size of the 480-foot (146-meter) can be appreciated at a shallow depth, but the ship's armaments are better enjoyed from advanced depths with the use of Nitrox.
Required Certification: Open Water but Advanced Open Water is recommended
When to Go: April to October
---
9. Bianca C – Grenada, Caribbean
The only ship in the top 10 to have been sunk twice. In 1944, before completion, the boat was torpedoed in tow. It was subsequently raised, renamed and finally completed 2 years later. After 12 years of varying success as a passenger cruise liner, the Bianca C finally met her end when, anchored just of the coast of Grenada, she caught fire. Of the 673 people on board only 2 died.
Today, this impressive 590-foot (180-meter) wreck sits at 100 to 164 feet (30 to 50 meters), lying between a reef system and the open ocean. So you get both reef and pelagic action in an already fantastic dive. Dives usually include a visit to the swimming pool (38m) and work along the bow, finishing at the bow tip (30m).
Required Certification: Advanced Open Water
When to Go: December to June
---
10. USS Saratoga – Bikini Atoll, the Marshall Islands
Initially constructed as a class heavy cruiser, the USS Saratoga (CV3) was converted into an aircraft carrier and eventually commissioned for duty in 1927. After several years of service before and during WWII, the 880-foot (268-meter) carrier found itself surplus to requirements at the war's end. At this point, the Saratoga was assigned to Operation Crossroads, a program to assess the effect of atomic bombs on naval vessels in Bikini Atoll.
After surviving her first exposure to atomic firepower, the USS Saratoga would eventually sink under the impact of the second test. It came to rest on the sand 177 feet (54 meters) down with its bridge at 18m. Today, much of the wreck still remains unexplored. Because the Bikini Atoll remains uninhabited, the marine life in the area is also astounding, and the Saratoga has become home to an overwhelming number of marine species.
Required Certification: Advanced Open Water
When to Go: May to October
---
While wreck diving can lead to memorable experiences, there are some further considerations to make before your first expedition.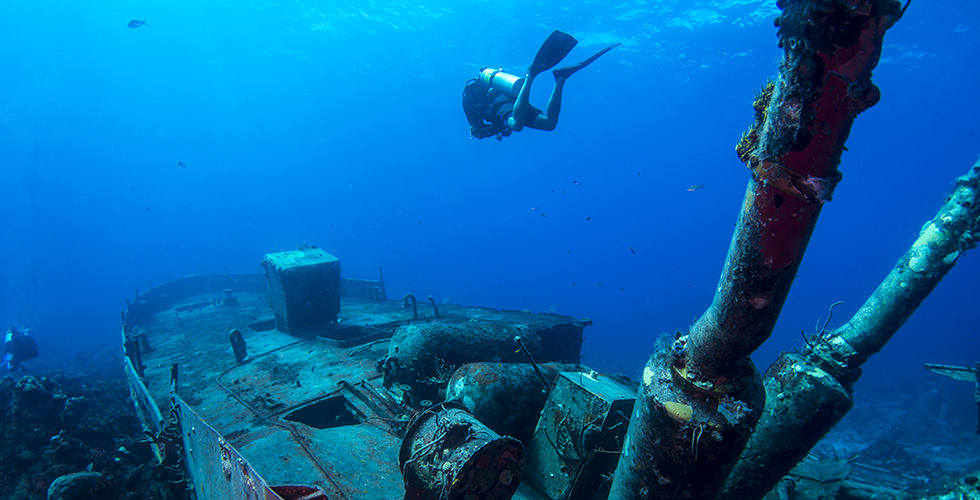 What Equipment is Necessary for Wreck Diving?
Because wreck penetration often includes overhead environments, special equipment may be necessary. While the gear needed will change based on the situation, serious wreck divers might want to consider investing in the following items:
Dive Light: You'll want a good dive light for penetration and looking into dark corners of the wreck. Make sure the light's grip fits your hand and includes a lanyard or wrist strap. You may also want to invest in a secondary dive light in case the first unexpectedly fails.
Dive Knife: Dive knives are essential for wreck diving. You may need it to cut fishing line, rope or wires inside or outside the boat. You dive knife should have both a serrated as well as straight edge and should fit into your calf or weight belt.
Underwater Slate: While an underwater slate is helpful for communication in most diving situations, it can be particularly useful inside a wreck. It's main function while wreck diving is to map the ship you are exploring.
Wreck Reel: Used in both penetration scenarios and situations where you are exploring a new wreck that may be broken up, a wreck reel is a handy device for marking your path.
Marker Buoy: If you're exploring a new wreck, a marker buoy can be helpful in determining the exact GPS location of the wreck once you return to the surface. It's also a great safety tool.
---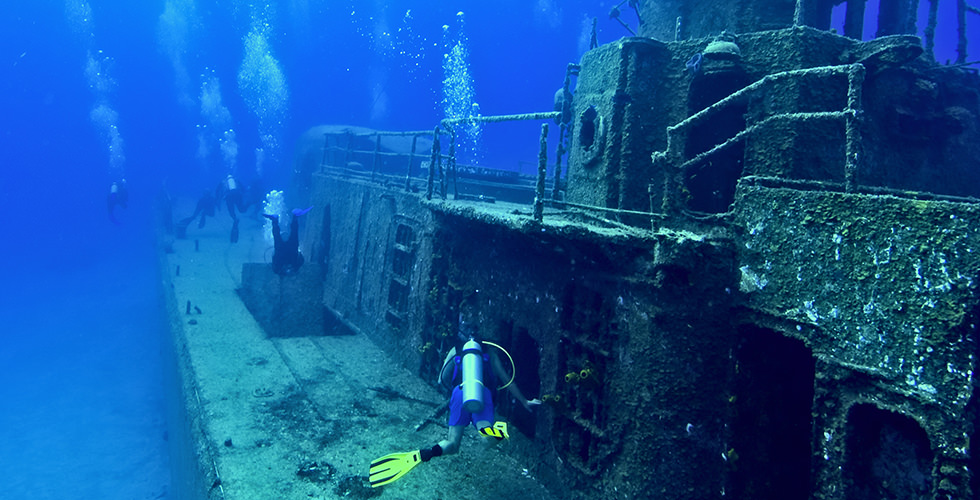 Do I Need to Take a Wreck Diver Specialty Course?
We always recommend taking the Wreck Diver course before wreck diving. In general, there are three types of wreck diving:
Non-Penetration Diving: This is the least risky type of wreck diving. Generally, divers descend, circle the wreck and work their way back the surface. Although non-penetration diving does not require specialized wreck diver training, scuba divers should still be aware of entanglement dangers.
Limited Penetration: In this type of wreck diving, divers can penetrate the wreck so long as an exit point is still visible and a minimum of natural light exists.
Full Penetration: With the greatest risks, full penetration allows scuba divers to enter the wreck past the light zone and without the ability to escape in an out of air situation.
---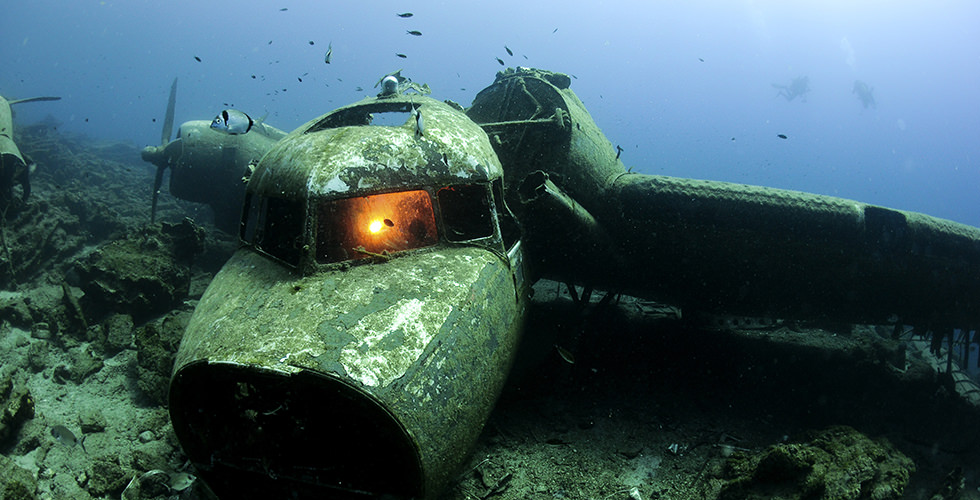 Is Wreck Diving Dangerous?
Like any type of diving, wreck diving carries risks, but with proper training, these can be minimized.
The most common risk in wreck diving is entanglement. This can occur in non-penetration wreck diving as fishermen's nets and lines often become ensnared on ship structures. A reliable dive knife can go a long way in solving this issue.
Another risk to consider is a silt-out. In a limited penetration situation, a silt-out can become endangering if the nearby exit is blocked from view. Limited visibility causes confusion and often divers will progress further into the wreck accidentally. For this reason, excellent buoyancy is essential to wreck diving.
You may want to consider taking the Peak Performance Buoyancy course in addition to the PADI Wreck Diver course before you begin wreck diving.
---
How many of these wrecks have you visited? If you're ready to dive into one of the best wreck dive sites in the world, start planning your trip on PADI Travel now.