Six years ago, PADI® Women's Dive Day began as a simple idea – encourage more women to go scuba diving. Passionate divers took up the charge and planned thousands of fun and inspiring events that changed lives and strengthened dive communities around the world.  During the span of 5 years, nearly 4000 events took place across 183 countries, in which women came together to plant new coral nurseries, perform beach and underwater clean-ups, set a world record for the longest underwater female human chain, fundraise for breast cancer research and local women's shelters – and, of course, to take their firsts breaths underwater.
This July 18, many of us will participate in Women's Dive Day digitally instead of in person. Even though our fins will stay dry, we can celebrate by sharing the stories of the lives made better and the doors that were opened to new opportunities and to the underwater world for the first time. Read on for some inspiring Women's Dive Day stories from our community:
Inviting Local Women to Explore Their Ocean
Indonesia
In 2016, the Lumba Lumba Diving Centre team took their admin staff and hotel housekeepers out for a Discover Scuba® Diving (DSD®) Experience. Tari, one of the receptionists, said, "Seeing divers every day made me very curious about diving. I'm so happy I could see it for myself. So many fish, coral and colours! It was really nice for me and my colleagues to discover some of our country's treasures. We also laughed a lot. One of my dreams is to become a dive guide."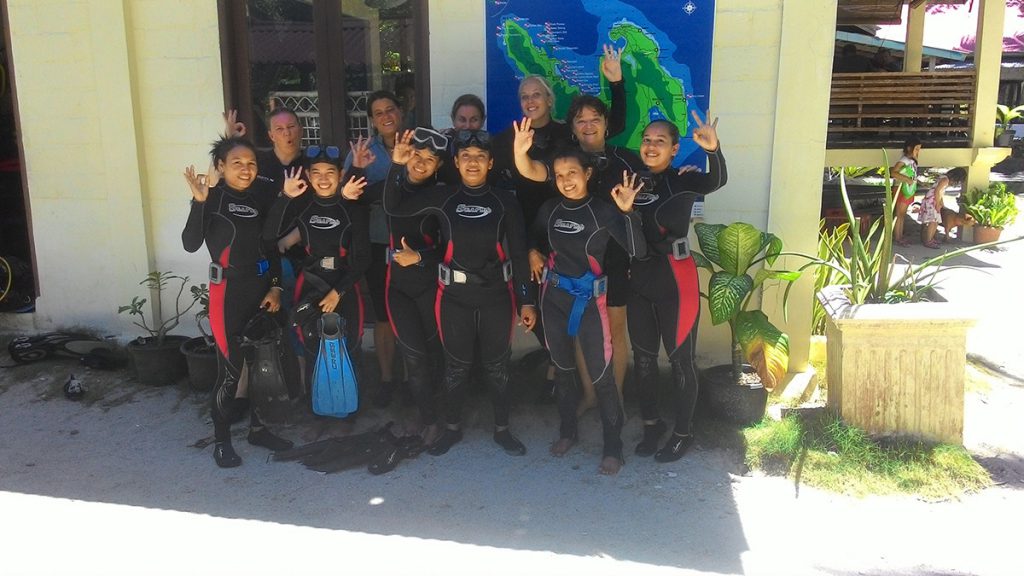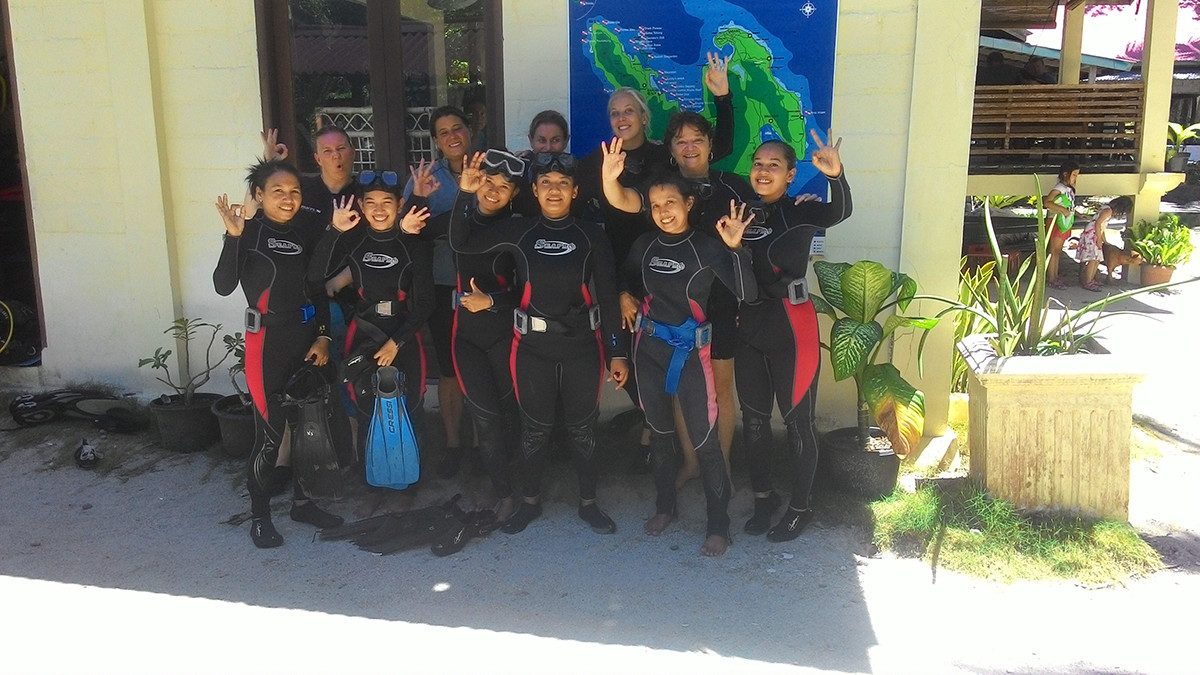 Blue Corner Dive Bali offered scholarships for local Indonesian women to commemorate Women's Dive Day each year. Two ocean enthusiasts receive training from Open Water Diver all the way to PADI Divemaster and work with a female mentor along the way. Meet some of the past winners.
---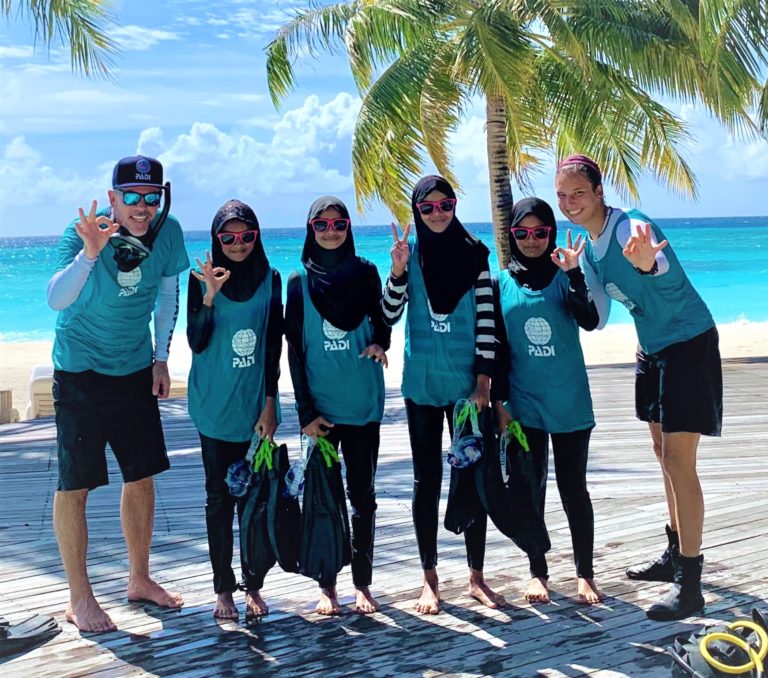 Maldives
Last year, COMO Maalifushi on Thaa Atoll, Maldives, celebrated Women's Dive Month. The initiative was part of the resort's move to create not just a Women's Dive Day, but by committing to events for an entire month, to empower more women to take up scuba diving and become part of a welcoming and inclusive underwater community. 21 local women between the ages of 8-16 participated in PADI Discover Scuba Diving and spent a month with a marine biologist learning their ocean heritage and achieving their dreams of breathing underwater.  
---
South Africa
Coral Wetsuits, based in Cape Town, South Africa, makes tailored wetsuits for a variety of watersports including scuba, surfing, swimming, triathlons and spearfishing. Established in 1995, the company employs people from disadvantaged homes.
In honor of Women's Dive Day, PADI AmbassaDiver Lesley Rochat invited female staff members from Coral Wetsuits to try snorkeling for the first time. 
"Despite making wetsuits for years, these ladies had never been snorkeling, some could not even swim despite being adult women. None had ever worn one of the wetsuits they make," Lesley explained. "AfriOceans and Shark Warrior Adventures arranged an event for them to learn to snorkel for the first time, wearing wetsuits for the cold waters we have here – they loved it. It was a big highlight in their lives!"
---
Celebrating New Freedoms and Diving Pioneers
Saudi Arabia
In the Kingdom of Saudi Arabia (where many female divers are also driving for the first time), a 2019 Women's Dive Day event brought together three diving trailblazers. The historic meeting included the one of the first female PADI Instructors in Saudi Arabia, Jennifer Simpson, one of the first female Saudi PADI Instructor, Sarah Abdullah Bogdadi, and PADI AmbassaDiver™  and one of the first Saudi female PADI Technical Diver, Nouf Alosaimi.
Nouf wrote, "Jennifer…was our guest of honor. She came all the way from Panama to celebrate with us here in Saudi on a female-only liveaboard – for the first time! I never imagined that we could have a boat full of female divers here in Saudi Arabia – so inspiring."
---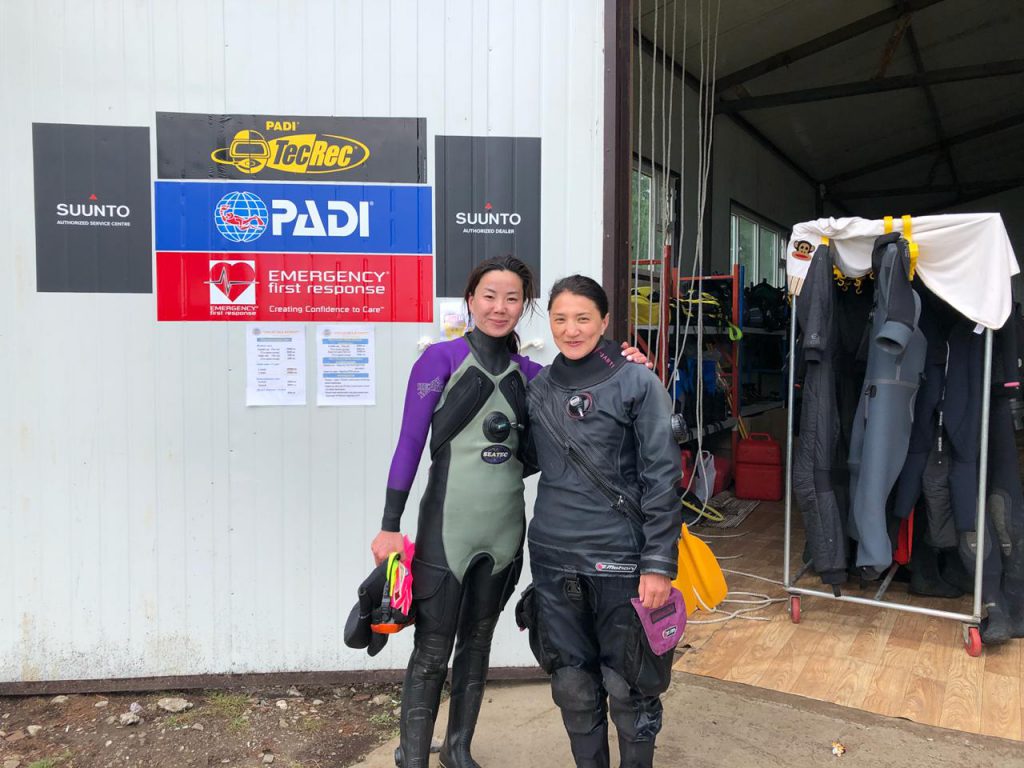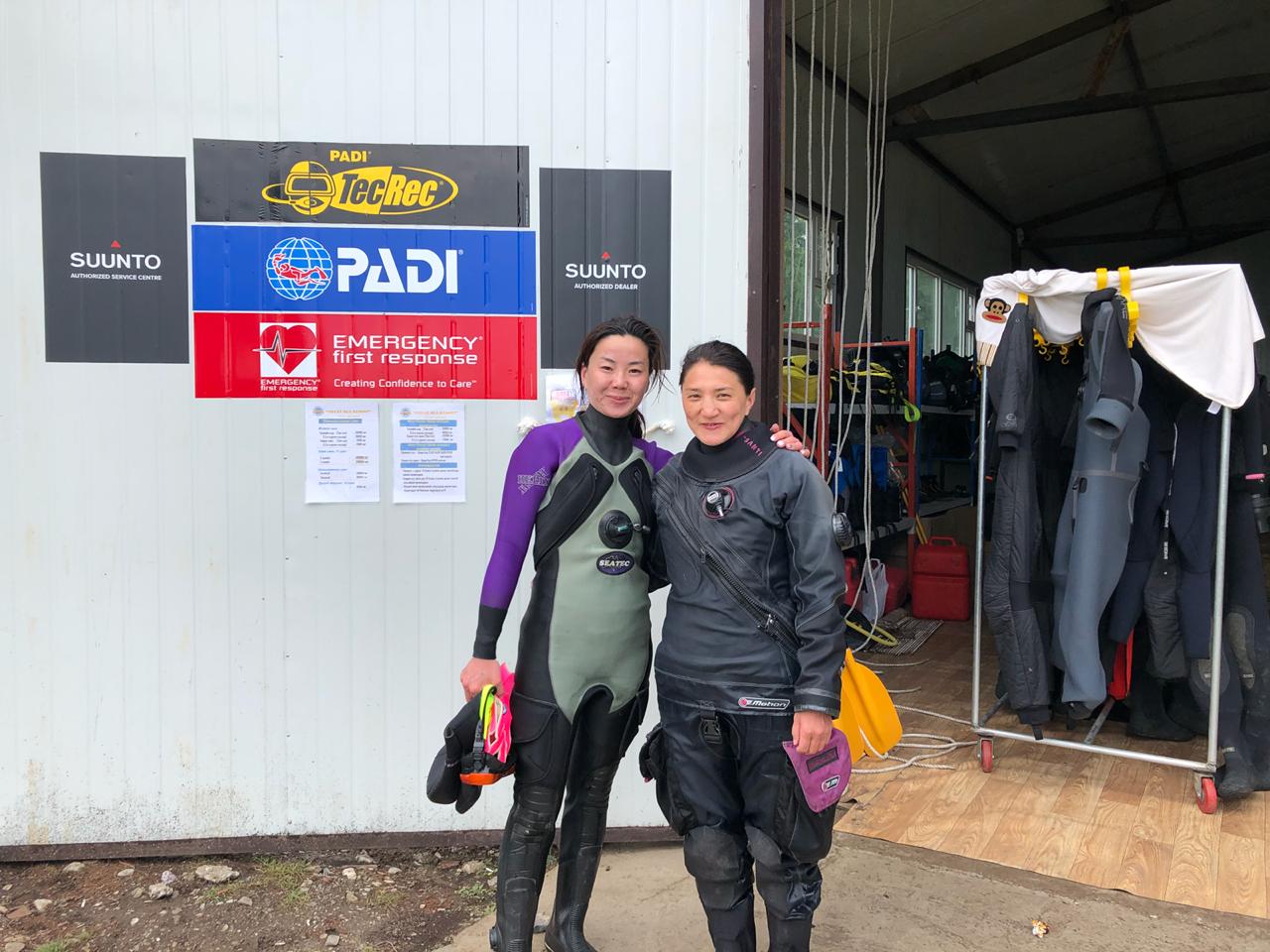 Mongolia
Mongolia celebrated its first Women's Dive Day with Great Sea Resort Mongolia, Mongolia's first PADI Dive Center. For the day's festivities, locals, expats, and visiting divers gathered at Khuvsgul, the area's largest freshwater lake known as the "Blue Pearl of Mongolia." Events included eco dives and Discover Scuba Dives for non-divers.
---
Inviting Women Back to Diving
Hawai'i, USA
Many women learn to dive in their 20's, but stop diving once they have a family. Professional freediver Kimi Werner invited her sister (a mom) Christy to ReActivate™ her scuba skills and spend a special week together exploring the underwater world which culminated in night diving with Manta Rays in Kona.
"Being underwater with someone is especially bonding because you're sharing an experience that's only between the two of you. When you come out of the water, that's your little secret; that's your special bond; that's something that only the two of you went through together and whether you verbalize it or not it's going to now be ingrained with you and that sensation lasts far beyond the dive," Kimi said.
---
PADI Women's Dive Day 2020
On Saturday, 18 July, divers around the world will come together for the 6th Annual PADI Women's Dive Day. Some will go on diving adventures, while others will celebrate via the internet (wishing we had our toes in the sand).
Connect with your local PADI Dive Center or Resort to see what's planned in your area, or join us digitally on the Women's Dive Day webpage, Facebook and Instagram for 24 hours of Women's Dive Day posts, videos, live interactions and stories.
---
Further Reading
7 Amazing Female Divers Everyone Should Know
PADI Women Saving the Ocean
One Woman, Seven Continents