Nine years ago, PADI® Women's Dive Day began as a simple idea – encourage more women to go scuba diving. Passionate divers took up the charge and planned thousands of fun and inspiring events that changed lives and strengthened dive communities around the world. During the span of 8 years, events took place across 183 countries, in which women came together to plant new coral nurseries, perform beach and underwater clean-ups, set a world record for the longest underwater female human chain, fundraise for breast cancer research and local women's shelters – and, of course, to take their firsts breaths underwater.
From sunset yoga sessions, local guided dives, environmental actions and so much more – the diving community turns out for this global celebration that brings everyone together to create balance between humanity and the ocean.
In 2023, PADI Dive Centers, Resorts, Professionals and divers around the world took part in the ninth consecutive PADI Women's Dive Day event on Saturday, 15 July 2023.
Here are just a few of the events that have invited women to celebrate the sport of diving, with opportunities to seek adventure for all levels of divers. We hope that these past events inspire you to host or attend a PADI Women's Dive Day event next year!
---
Inviting Local Women to Explore Their Ocean
Women's Dive Day was created to open the door to diving for women around the world. The following events have made breathing underwater more accessible to local women who may otherwise never come into contact with the sport.
Indonesia
Blue Corner Dive Bali offered scholarships for local Indonesian women to commemorate Women's Dive Day each year. Two ocean enthusiasts receive training from Open Water Diver all the way to PADI Divemaster and work with a female mentor along the way. Meet some of the past winners.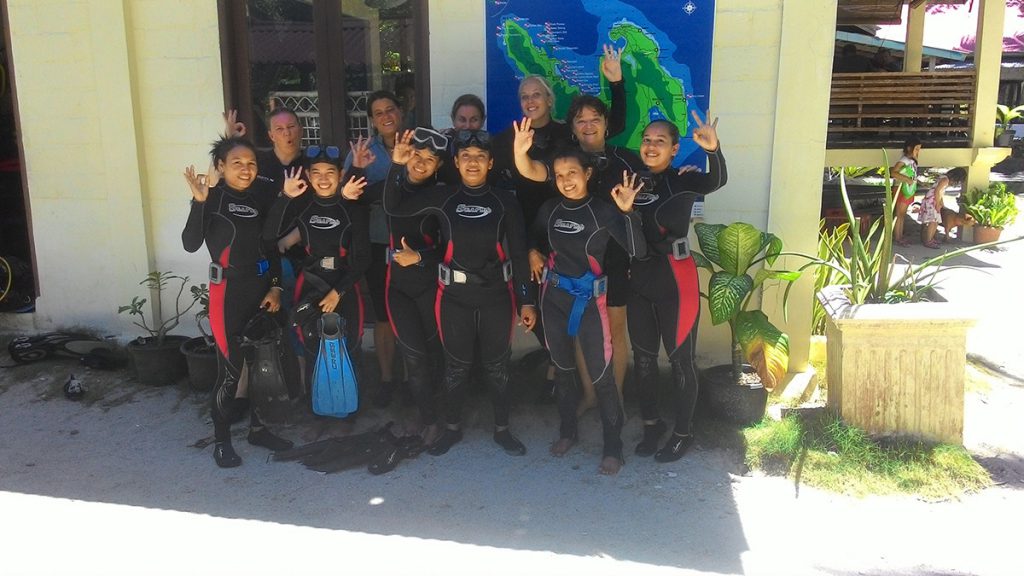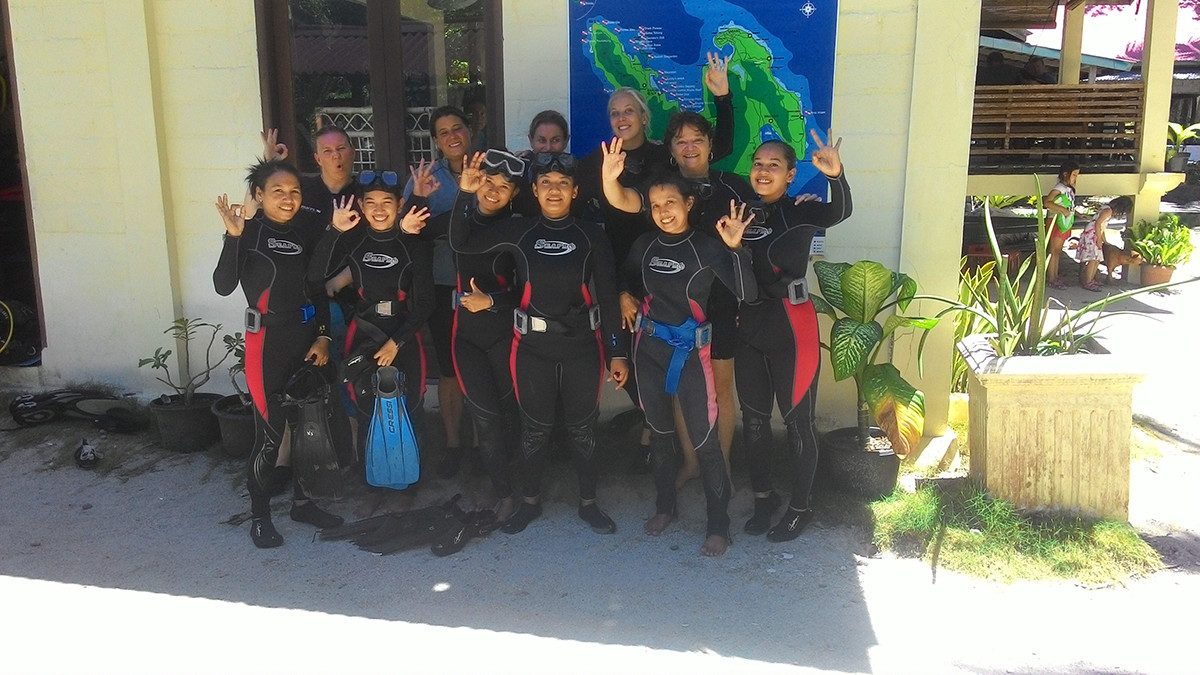 And in 2021, Meridian Adventure Dive Resort, a PADI Five Star Dive Center in Raja Ampat, partnered with Papua Design to join forces for a day of community empowerment. They brought their group of passionate snorkelers and divers out to the Coral Triangle to learn how to identify the local marine species and ways in which they can help protect them.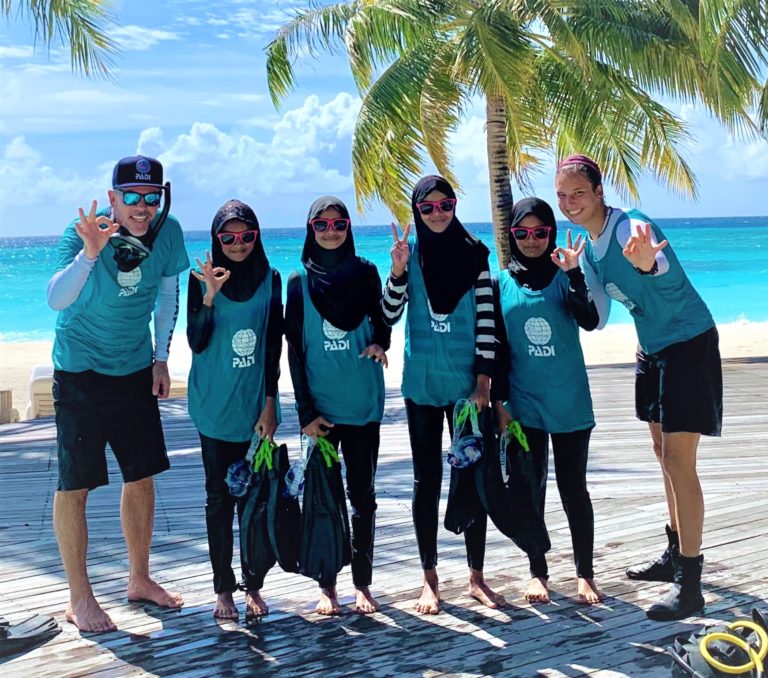 Maldives
Last year, COMO Maalifushi on Thaa Atoll, Maldives, celebrated Women's Dive Month. The initiative was part of the resort's move to create not just a Women's Dive Day, but by committing to events for an entire month, to empower more women to take up scuba diving and become part of a welcoming and inclusive underwater community. 21 local women between the ages of 8-16 participated in PADI Discover Scuba Diving and spent a month with a marine biologist learning their ocean heritage and achieving their dreams of breathing underwater.
And, Kamadhoo Divers and Watersport made waves during the 9th Women's Dive Day in 2023. Collaborating with the Kamadhoo women's association and the women development community, they hosted an impactful event by providing over 45 female community members with a complimentary Discover Scuba Diving Experience. The day was filled with excitement and empowerment as these women were introduced to the wonders of the underwater world, leaving an indelible mark on their journey of exploration and adventure.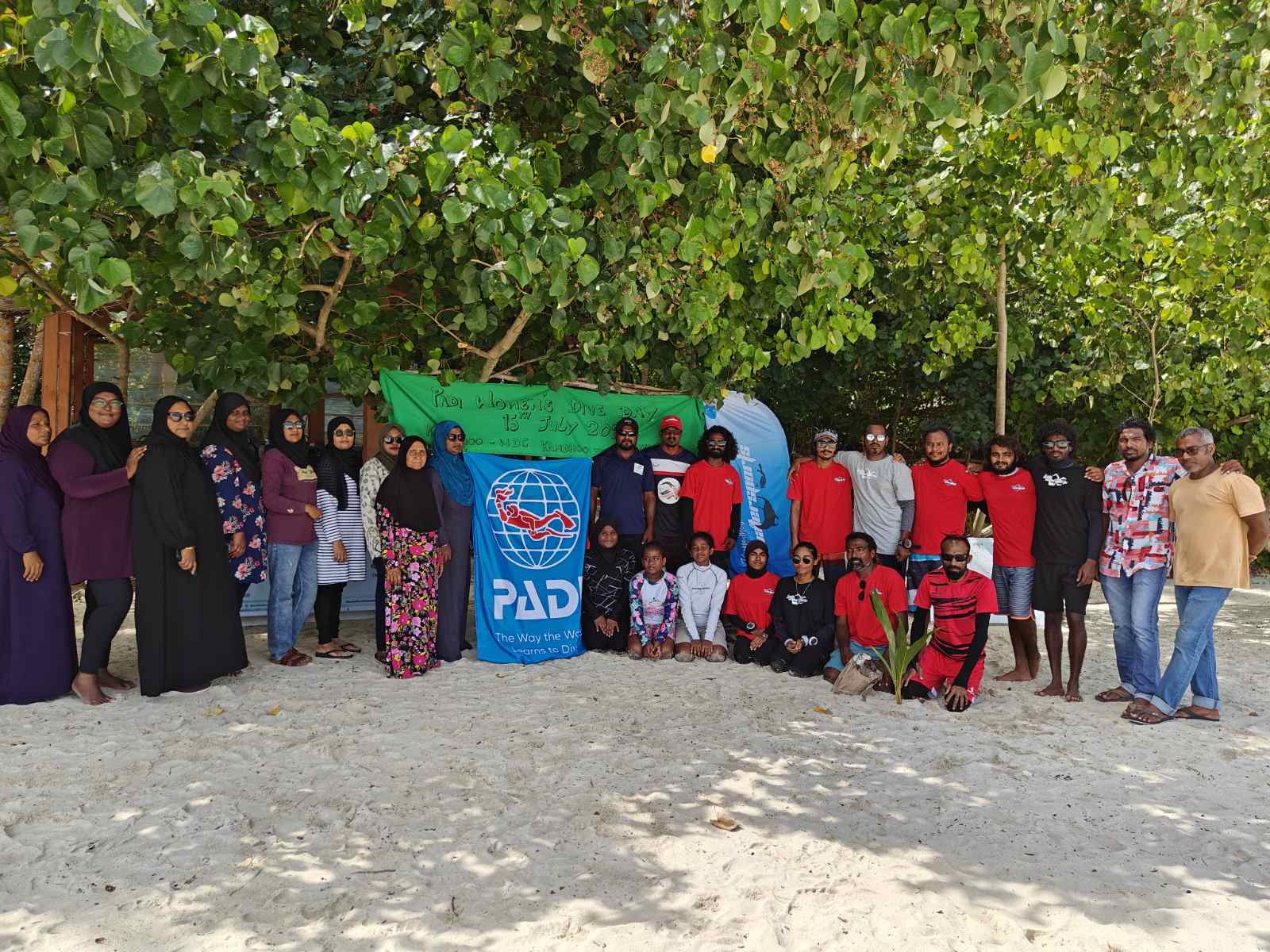 South Africa
Coral Wetsuits, based in Cape Town, South Africa, makes tailored wetsuits for a variety of watersports including scuba, surfing, swimming, triathlons and spearfishing. Established in 1995, the company employs people from disadvantaged homes.
In honor of Women's Dive Day, PADI AmbassaDiver Lesley Rochat invited female staff members from Coral Wetsuits to try snorkeling for the first time.
"Despite making wetsuits for years, these ladies had never been snorkeling, some could not even swim despite being adult women. None had ever worn one of the wetsuits they make," Lesley explained. "AfriOceans and Shark Warrior Adventures arranged an event for them to learn to snorkel for the first time, wearing wetsuits for the cold waters we have here – they loved it. It was a big highlight in their lives!"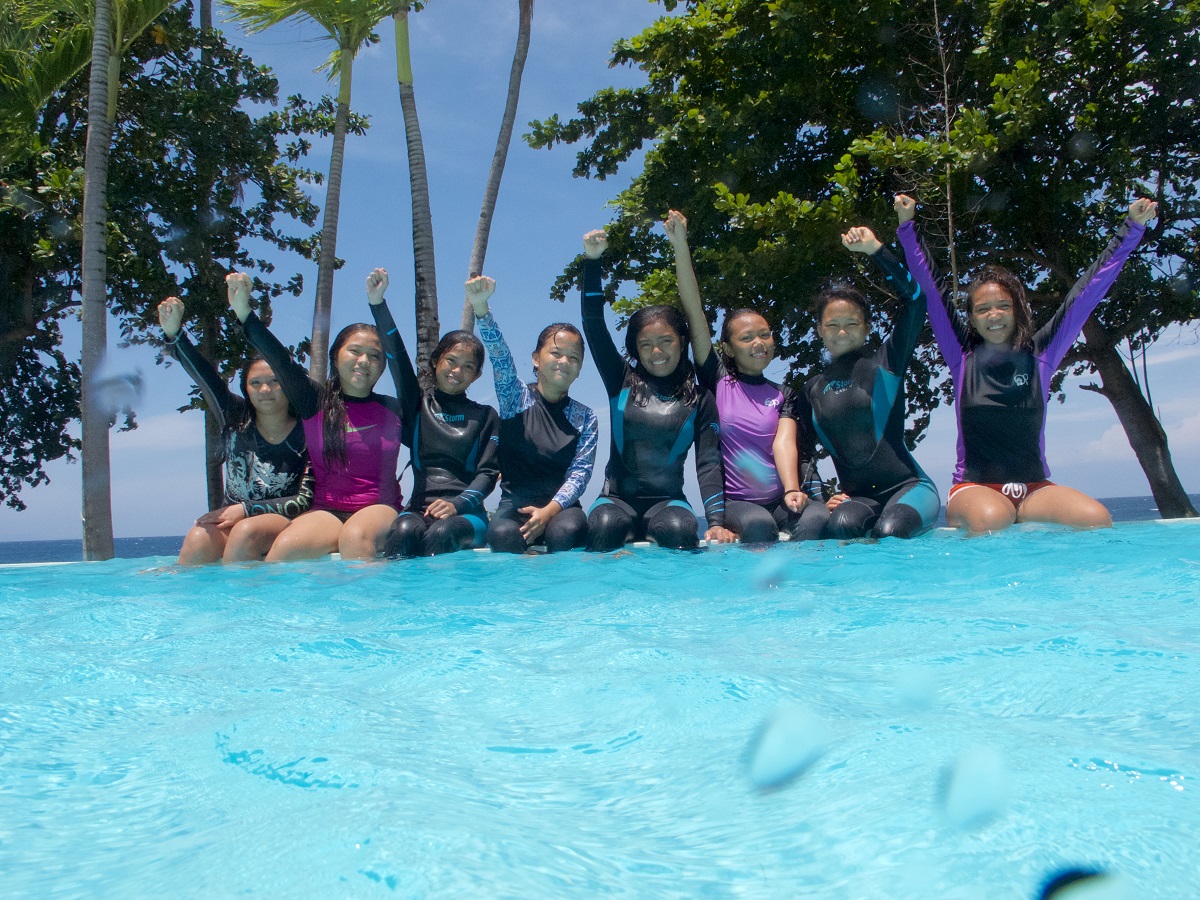 Philippines
In the muck-diving mecca, Dauin, Philippines, PADI Pros from Salaya Beach Houses looked to bring diving to the local youth by teaching a group of young women from the local orphanage how to dive. After a Friday night sleepover and a hearty breakfast, the girls learned everything from dive theory to equipment maintenance before completing their pool work and open water dives. At the weekend's end, some of the girls are already considering joining the ranks and becoming a PADI Pro.
India (2023)
In a concerted effort to address the low representation of female divers in Kerala, India, PADI Instructor Joseph Daleesh and the dedicated team at Aqua Leo Dive Center organized a transformative event. They offered a complimentary Discover Scuba Diving experience in a local pool, aiming to ignite the passion for diving among women in their community.
Recognizing the significance of spreading the word far and wide, they collaborated with a local radio station to promote this celebration of Women's Dive Day. By reaching out to people from all corners, they hoped to inspire more women to embrace the wonders of the underwater world and embark on their own diving journeys. Together, they paved the way for a more inclusive and diverse diving community in Kerala.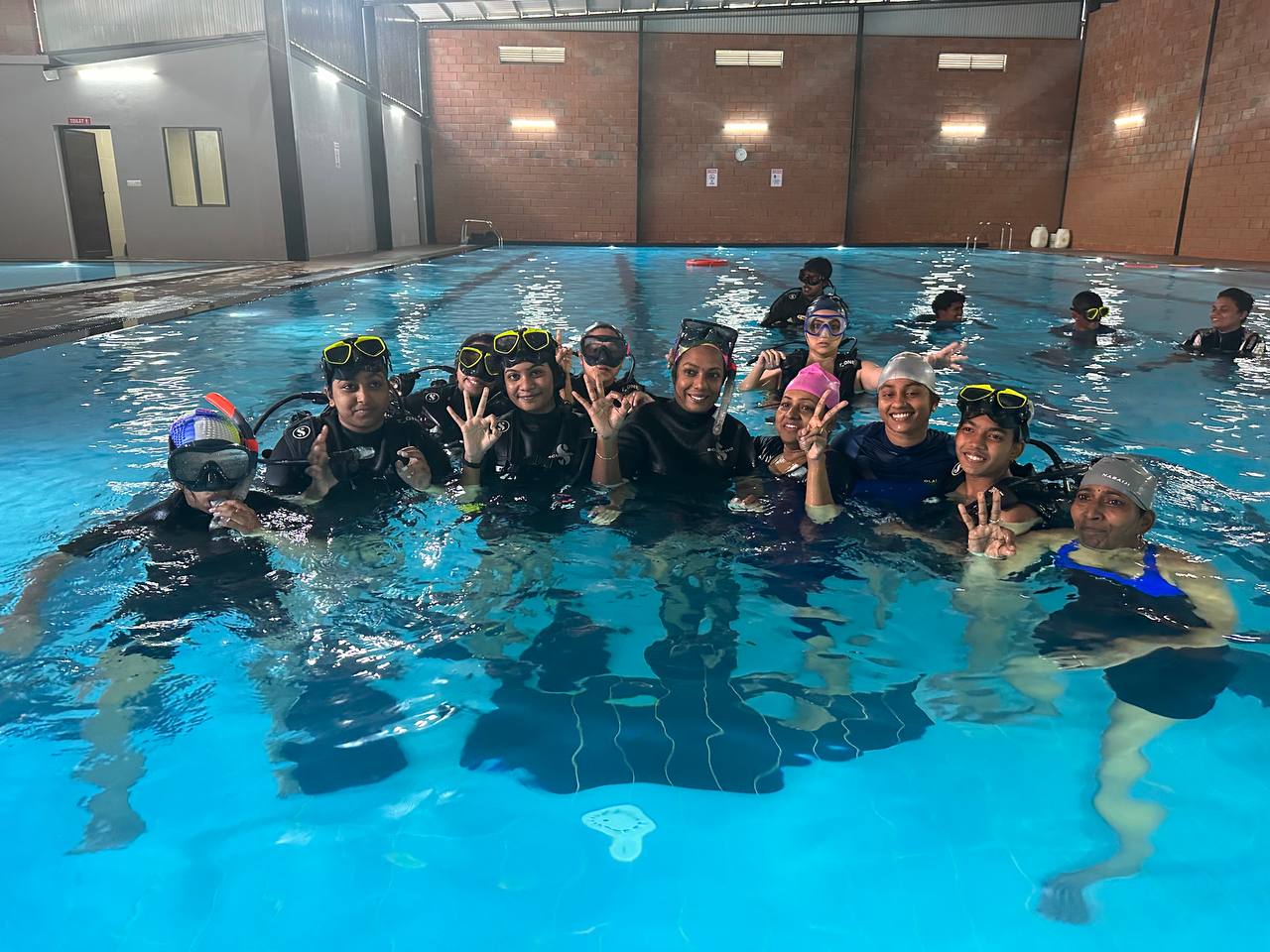 ---
Celebrating New Freedoms and Diving Pioneers
We wouldn't be where we are today without the female divers who came before us. These events celebrate those women and also the women fighting for gender equality around the world.
Saudi Arabia
In the Kingdom of Saudi Arabia (where many female divers are also driving for the first time), a 2019 Women's Dive Day event brought together three diving trailblazers. The historic meeting included the one of the first female PADI Instructors in Saudi Arabia, Jennifer Simpson, one of the first female Saudi PADI Instructor, Sarah Abdullah Bogdadi, and PADI AmbassaDiver™ and one of the first Saudi female PADI Technical Diver, Nouf Alosaimi.
Nouf wrote, "Jennifer…was our guest of honor. She came all the way from Panama to celebrate with us here in Saudi on a female-only liveaboard – for the first time! I never imagined that we could have a boat full of female divers here in Saudi Arabia – so inspiring."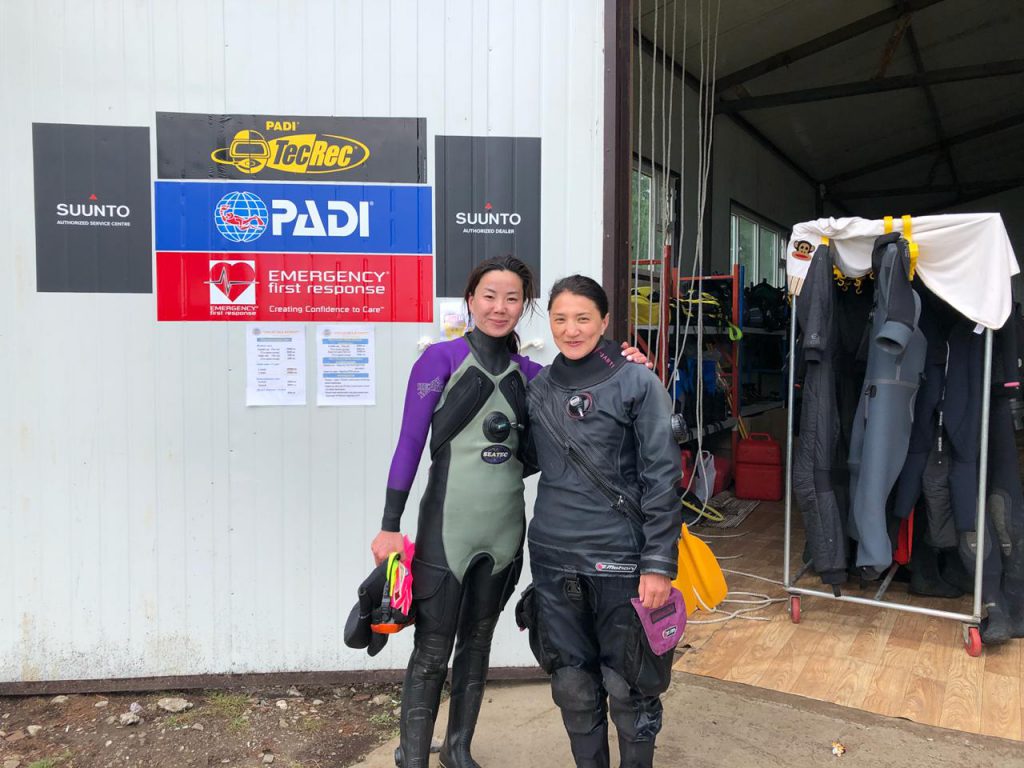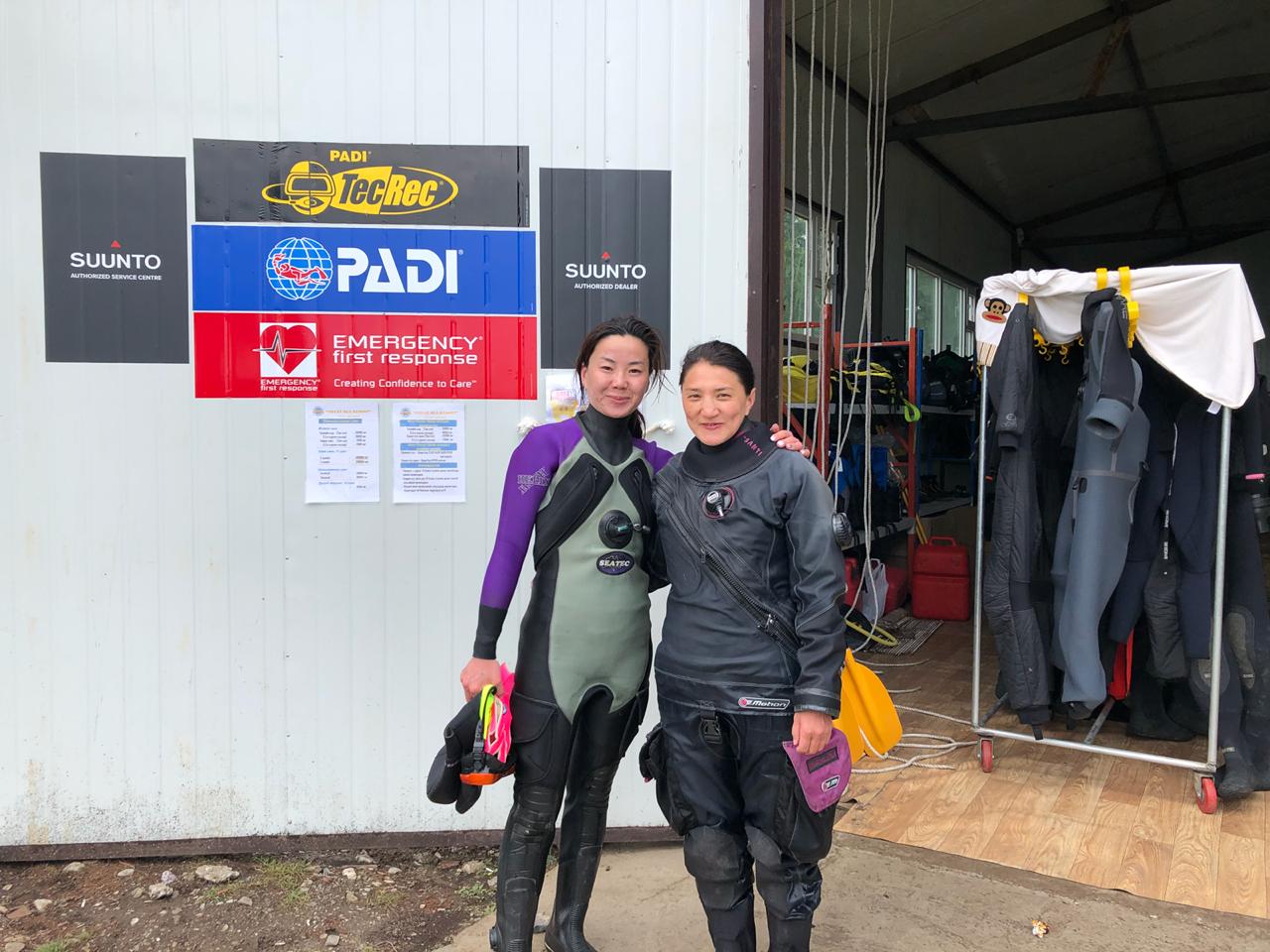 Mongolia
Mongolia celebrated its first Women's Dive Day with Great Sea Resort Mongolia, Mongolia's first PADI Dive Center. For the day's festivities, locals, expats, and visiting divers gathered at Khuvsgul, the area's largest freshwater lake known as the "Blue Pearl of Mongolia." Events included eco dives and Discover Scuba Dives for non-divers.
---
Benefiting Charities Around the World
The scuba diving community is a powerful one, and we can make a difference both to the ocean and outside the water world. PADI Members around the world have chosen to use Women's Dive Day as a force for good, raising money and awareness for a plethora of charities. Here are a few examples that might inspire your next fundraising activity.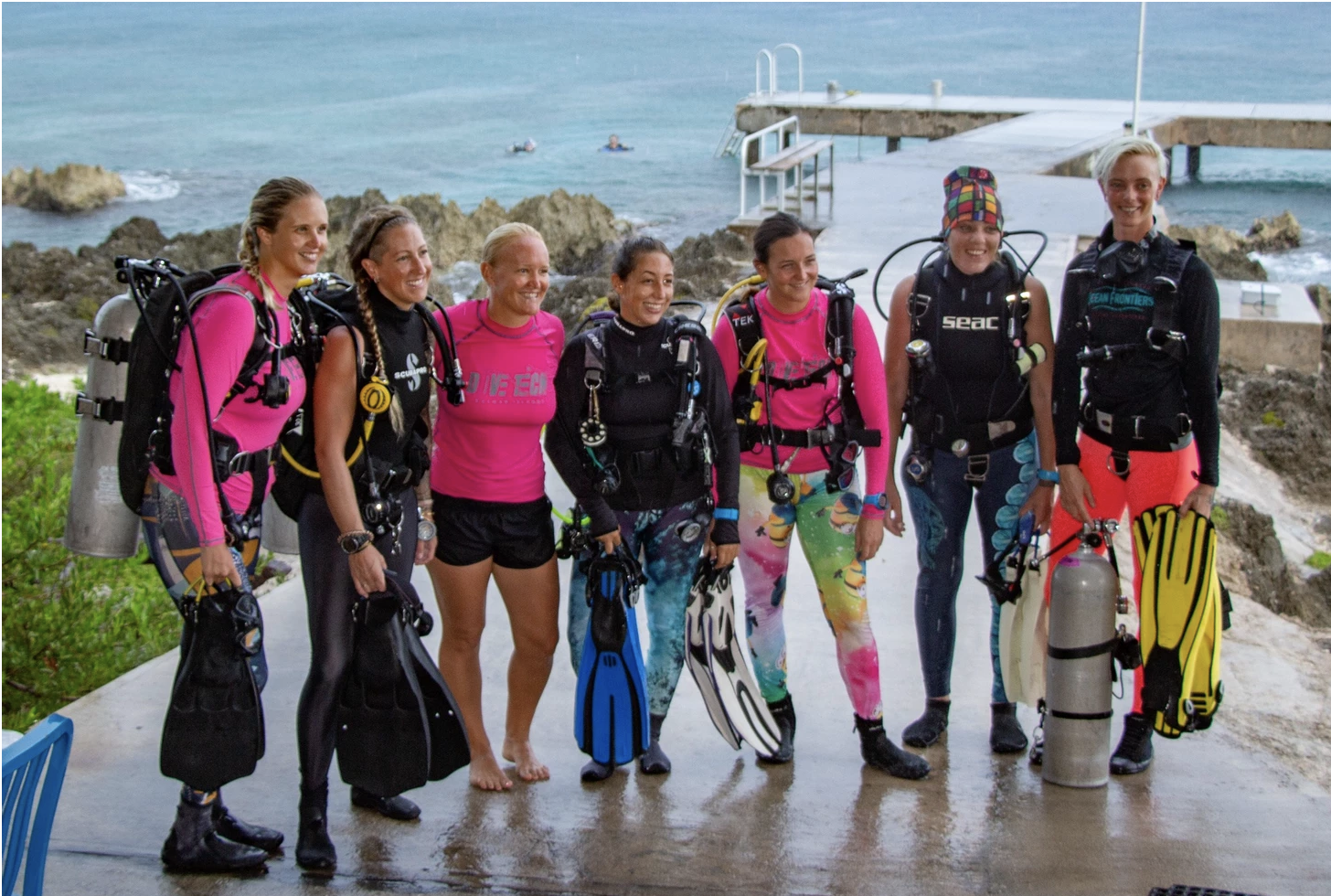 Cayman Islands
Continuing the tradition of paying it forward every PADI Women's Dive Day, PADI Five Star Dive Resort Divetech Grand Cayman celebrated the day through a charity fundraiser, with 100% of the proceeds going directly to the Cayman Islands Breast Cancer Foundation. Their goal was to dive one second for each person diagnosed with breast cancer in 2020—totaling 639 hours below the surface. This year divers overseas also took part in by sending in photos of their dive computer logs so their bottom time could be added to the grand total.
"As well as celebrating women in diving and raising money for the Cayman Islands Breast Cancer Foundation, we wanted to send a message to all divers internationally that we are still here, we are waiting for the borders to re-open and to welcome dive tourism back again," says Serena Evans of Divetech Grand Cayman.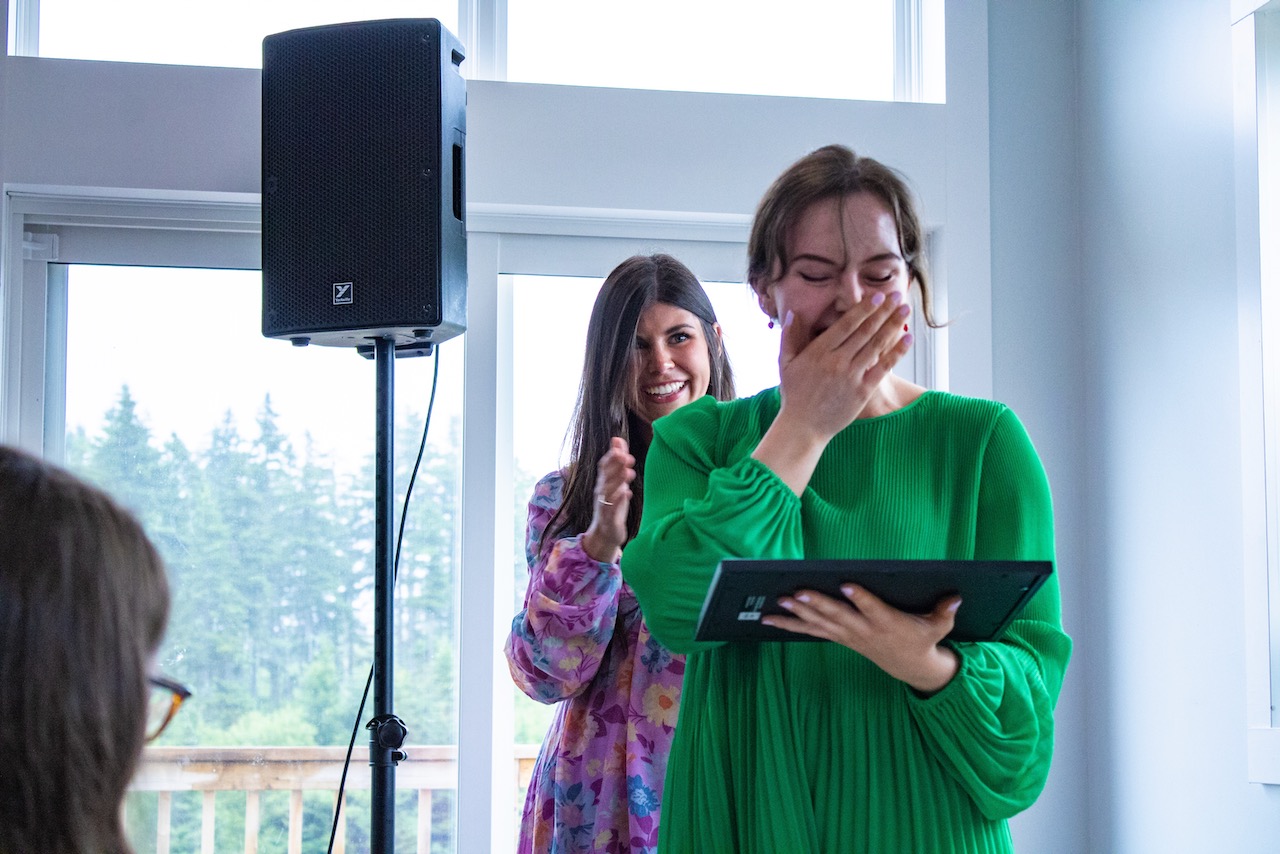 Canada (2023)
At Torpedo Ray Scuba in Canada, the passionate team, led by PADI Staff Instructor and Manager April Weickert, crafted an action packed day filled with underwater adventures. They started off with a morning dive at Fox Point Beach. Additionally, their mermaid Instructor, Alanna, joined the event, warmly welcoming new mermaids to the water and capturing their picture. 
In the evening, the festivities reached their peak with a Gala, dedicated to celebrating and honoring the remarkable women in the community who continuously go above and beyond. During this occasion, the Sea Foxes Scholarship was presented, providing support to an aspiring female diver on her journey of continued education. Additionally, the Gala served as an opportunity to raise funds for the Back to the Sea Society, underscoring their commitment to marine conservation and environmental preservation.
"Women Dive Day is so important to me because not that long ago I was the one of the only young women in my dive community. After a few years of promoting women in diving and hosting events like this one, I look around and I feel completely represented. Celebrating one another on PADI Women Dive Day is simply the best, and it's become one of my favorite days of the year! " – April Weickert.
---
Introducing Women & Children Alike to Diving
While we've made giant strides in closing the gender gap in scuba diving, some communities remain vastly underrepresented. Here are a few PADI Dive Shops that dedicated their Women's Dive Day events to getting more women and children in the water.
Switzerland (2023)
Aiming to ignite the passion for diving among the next generation, the TSK * Tschiggis* female dive club from Zurich organized an exciting event, transforming a popular public pool into an underwater playground. Over 30 young divers took the chance to experience the magic of breathing beneath the surface for the very first time.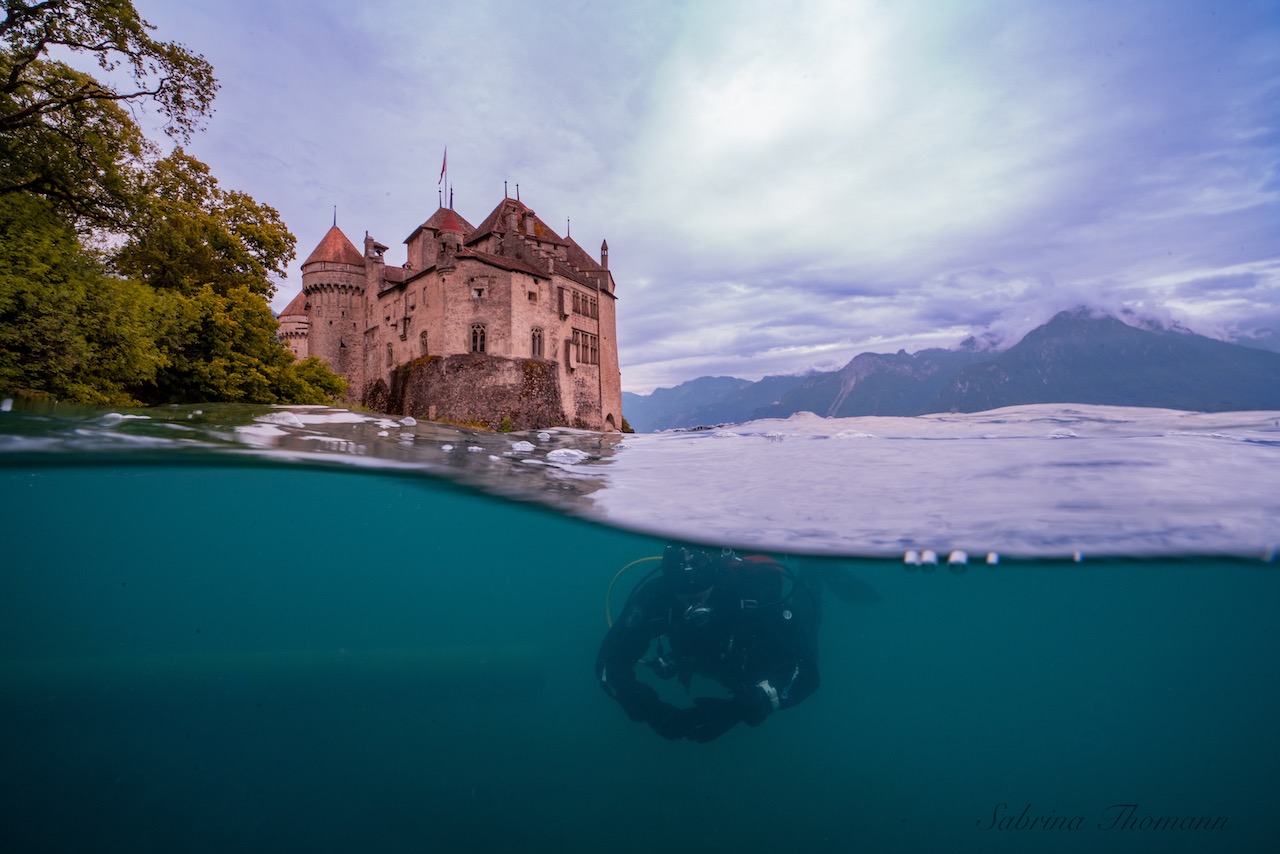 Meanwhile, their partner shop in Bern hosted a captivating community dive event at the enchanting Château Chillon, located on the picturesque shores of Lake Geneva. Together, these two initiatives exemplified the dedication of female divers in Switzerland to foster a love for the underwater world and create unforgettable experiences for aspiring adventurers.
"During the PADI Women's Dive Day, the female divers learn from each other: to take care of their counterparts and the environment, to have fun together in a sheltered environment and the anticipation of even more knowledge, development and the achievement of diving goals. We offer this expertise and skills to female divers at every level." – Milena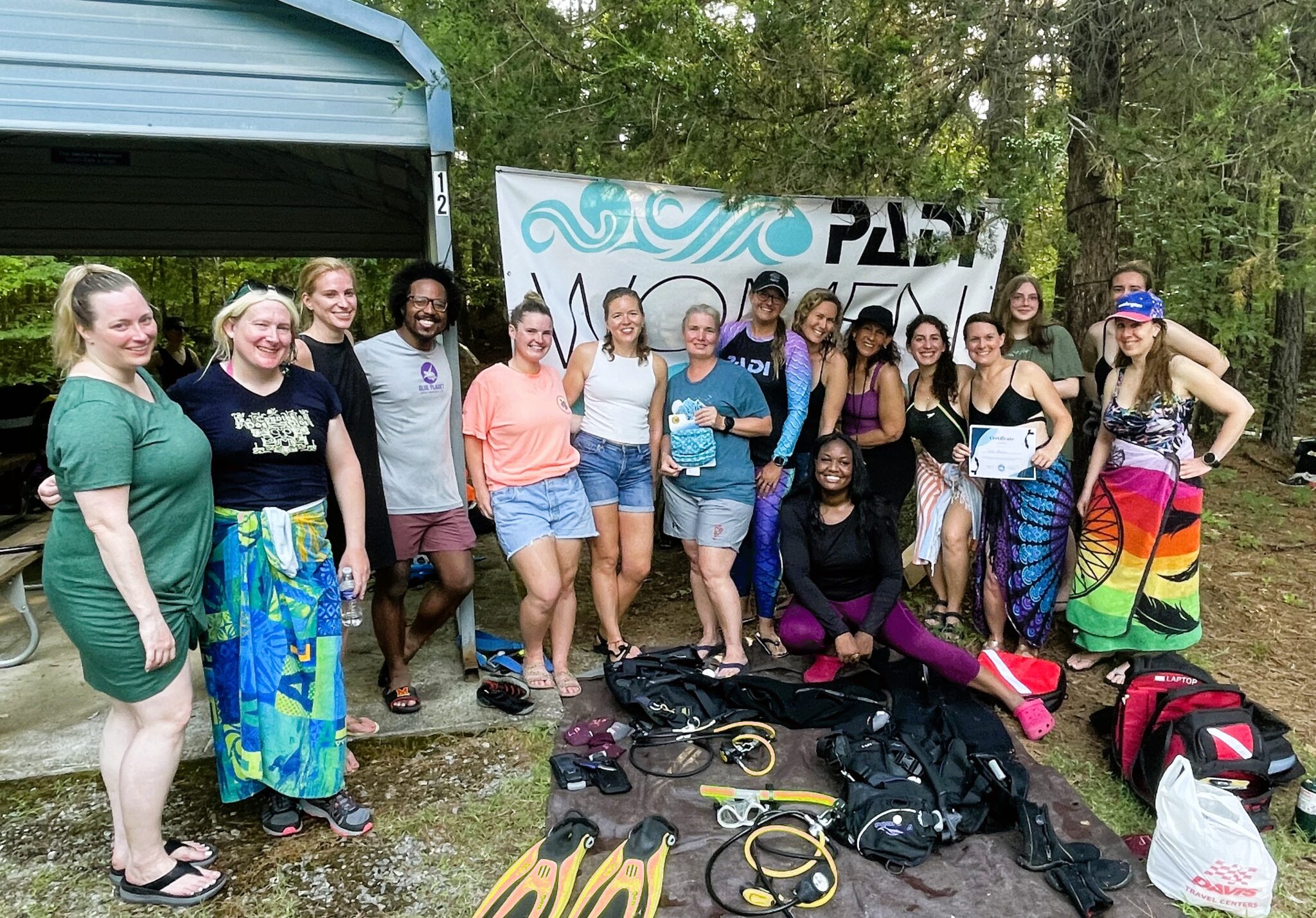 USA (2023)
For Women's Dive Day 2023, Blue Planet Scuba in Washington DC pulled out all the stops to commemorate this special occasion. Embracing the mission of the Black Girls Dive Foundation, they organized a day filled with empowering workshops and activities. From an exciting scavenger hunt with enticing prizes to complimentary Discover Mermaid, buoyancy, and underwater photography workshops, they provided a diverse range of opportunities to explore the underwater world. Together, they created a memorable and inclusive event that celebrated women divers and supported a worthy cause.
"The best part of the day was hearing from the newer divers who were thrilled to find not only dive buddies, but a whole community of supportive, welcoming folks to share their passion with." – Heather, Blue Planet Scuba
---
Creating Community
One of the many benefits of learning to dive is joining a community of passionate explorers. Women's Dive Day can serve to strengthen this bond between divers, and these PADI Members use the celebration as a good excuse to bring their communities together for a celebration of fun.
United Kingdom
PADI Five Star Dive Center Dorset Diving took their group of divers out for a day of adventure to celebrate PADI Women's Dive Day last year. The group explored some of the 100 wrecks that lie just off the Dorset Coast, such as the Fleur De Lys, and enjoyed the local waters that were teeming with marine life.
"PADI Women's Dive Day is important to the whole dive community. We love inviting people in and have a great group of female divers who are very active in our local area, often getting together throughout the year for Dive Against Debris® dives," says JoJo Southgate, a PADI Divemaster at Dorset Diving.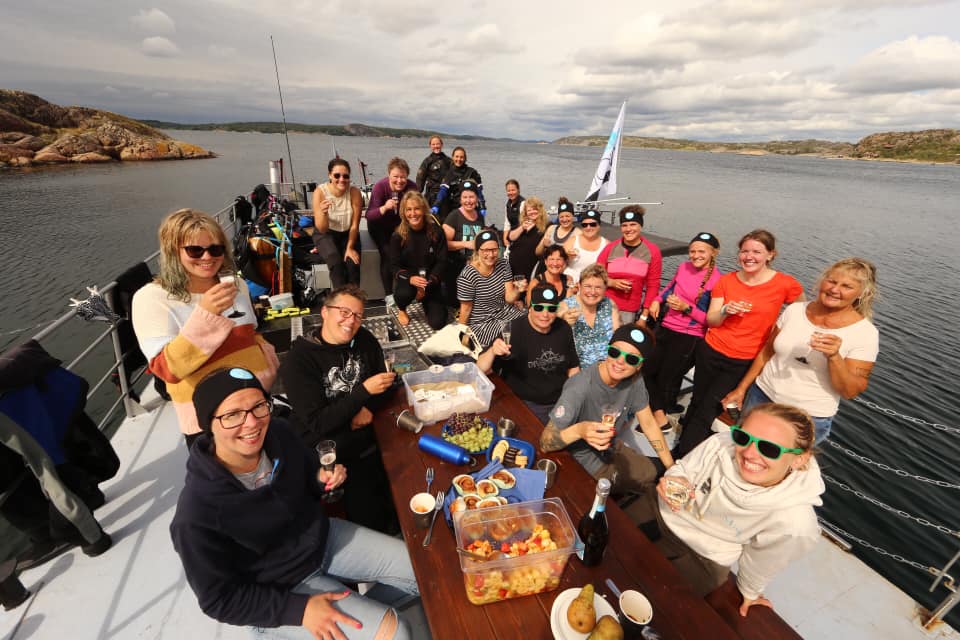 Sweden
Dive Team, a PADI Five Star Career Development Center in Sweden, used their Women's Dive Day 2021 event to allow divers to find new dive buddies. This year they hit the local Fjords for the celebratory dive, with this being the first time many of the participants had ever explored the waters in their own backyard.
"Women's Day is about the diversity of divers and what better way to celebrate than exploring the diversity of our own local waters," says Malin Tiger Dahlström, PADI Course Director of Dive Team.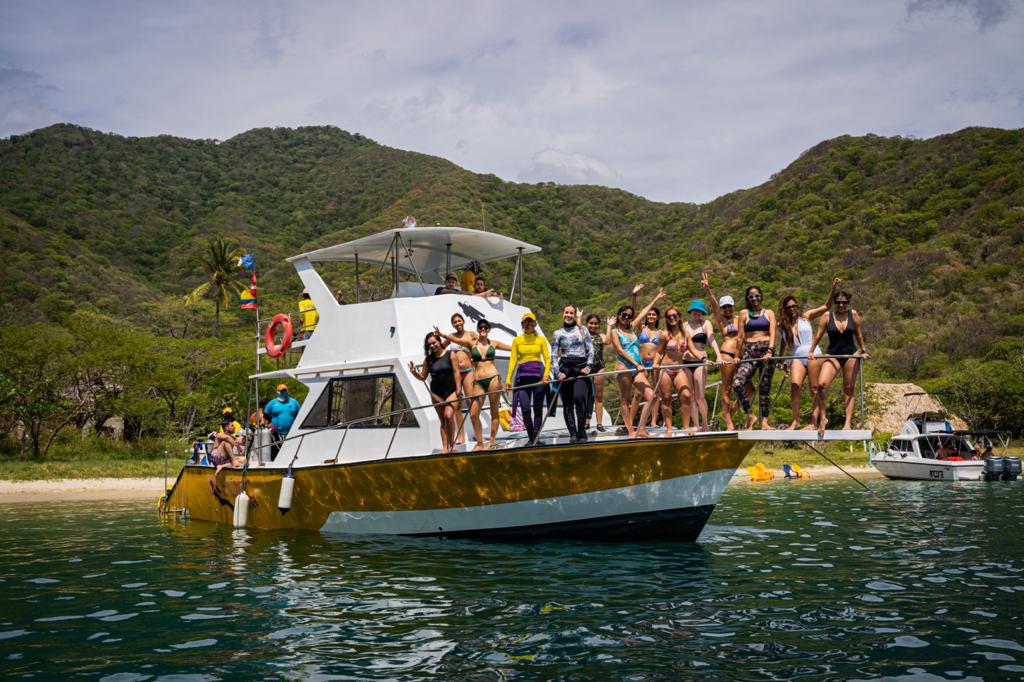 Colombia
In 2021, 20 divers joined Oceano Scuba Dive Center in Taganga, Colombia for a day of balance and bonding! The participants enjoyed a day of diving, followed by a group yoga session and were given special gifts to remind them of the importance of exploring and protecting the ocean.
Mexico
As if diving wasn't already zen enough, the staff at Takata Experience, located in Mahahual, Quintana Roo, Mexico, incorporated even more mindfulness into their Women's Dive Day celebration in 2018. With a focus on conservation mixed with fun, the list of events included a relaxing yoga session, fresh ceviche, a coastal ecosystems talk, food, music, and a beach cleanup.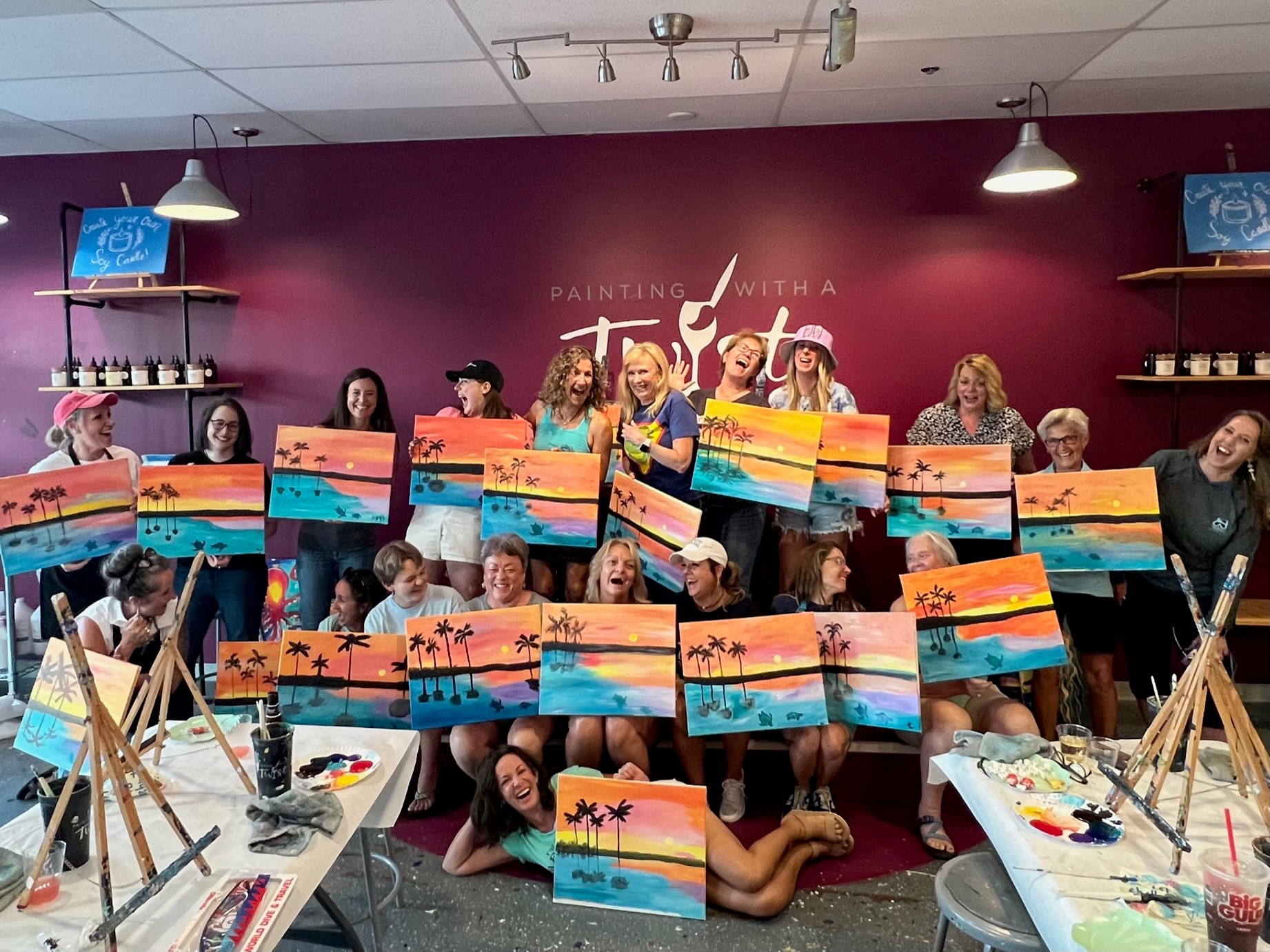 USA (2023)
One World Dive & Travel chose a unique and creative way to honor Women's Dive Day and offer their female divers a memorable experience. Gathering together for a group painting class, they delved into the art of creating a stunning seascape, reflecting the beauty of the underwater world they adore. This innovative celebration resonated deeply with their tight-knit dive community, as they cherished past diving memories and eagerly looked forward to planning their exciting upcoming adventures.
"In an industry that is still male dominated, Women's Dive Day has helped our female divers realize they are part of a huge community! This event really fosters a sense of growth and friendship where women of all ages and experience levels can connect." – Anna Lyte , One World Dive & Travel, Denver, USA.
---
Inviting Women Back to Diving
Let's face it – life sometimes gets in the way of scuba diving. Luckily, Women's Dive Day is the perfect opportunity to rediscover the underwater world. Keep reading for how one dive shop is helping women do just that.
Hawai'i, USA
Many women learn to dive in their 20's, but stop diving once they have a family. Professional freediver Kimi Werner invited her sister (a mom) Christy to ReActivate™ her scuba skills and spend a special week together exploring the underwater world which culminated in night diving with Manta Rays in Kona.
"Being underwater with someone is especially bonding because you're sharing an experience that's only between the two of you. When you come out of the water, that's your little secret; that's your special bond; that's something that only the two of you went through together and whether you verbalize it or not it's going to now be ingrained with you and that sensation lasts far beyond the dive," Kimi said.
---
Saving the Ocean
PADI is synonymous with seeking adventure and saving the ocean. So, it only makes sense that PADI Women's Dive Day and ocean conservation go hand-in-hand.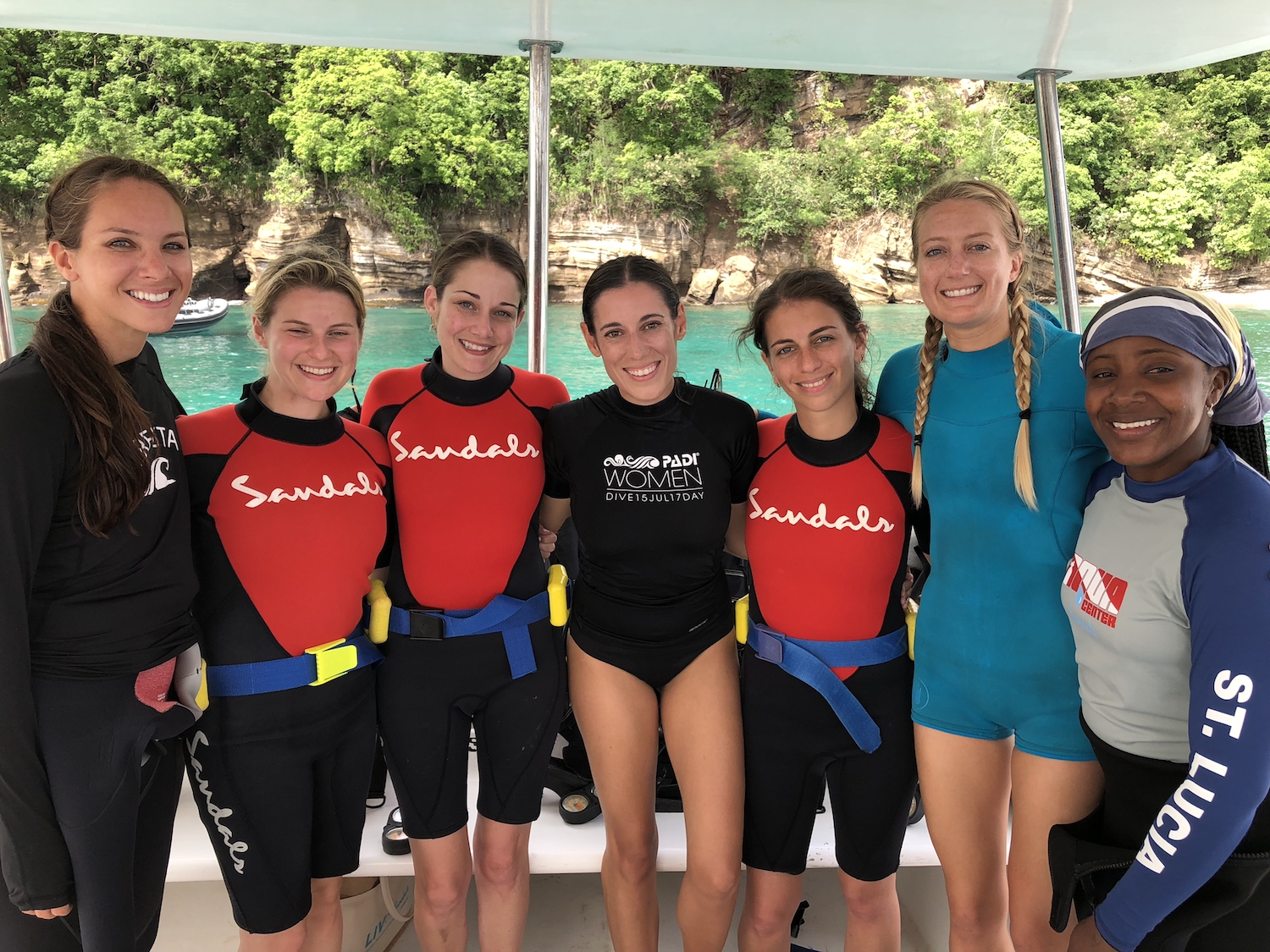 Grenada
Sandals Grenada and Sandals Foundation celebrated Women's Dive Day in 2018 by focusing on controlling the lionfish population – and how to have a sustainable meal afterward. The event kicked off at Sandals Grenada with a lionfish eradication dive to help protect the threatened reefs and marine life. Post-dive, the group met at Grand Anse Beach with the Sandals Foundation, Grenada Fisheries Division of the Ministry of Environment, and the Grenada Chapter of the Caribbean Youth Environment Network where they enjoyed a lionfish luncheon, lionfish cooking demos, music, and exhibits – all set beachside.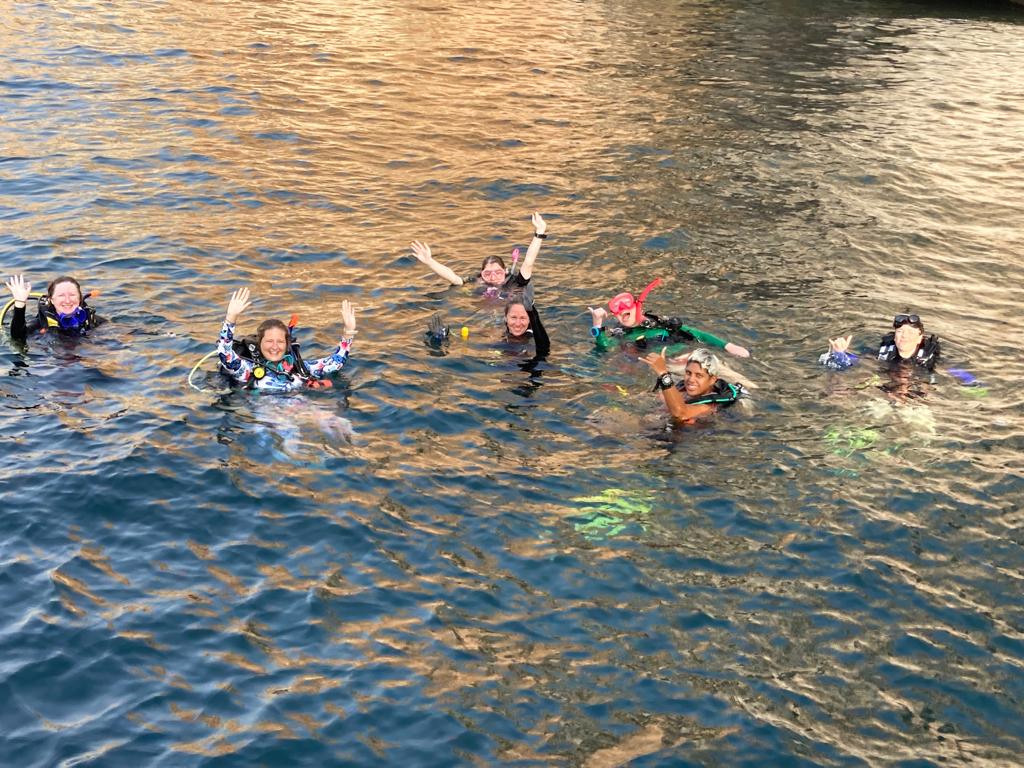 Oman (2023)
In the spirit of collaboration, United Arab Emirates dive shops Al Mahara Diving Center, led by Kathleen Russell, and Chloe Blue Scuba, headed by Chloe Griffin, joined forces and traveled to the northern Oman Region. Together, they hosted a day of extraordinary dives, complemented by a Dive Against Debris Survey and a Reef Check Survey, engaging trained divers in meaningful conservation efforts. This powerful partnership showcased the collective commitment of female-owned dive centers to protect and preserve our precious marine ecosystems.
"We are extremely passionate about creating a warm and welcoming space where female ocean lovers from diverse backgrounds, regardless of their level of experience and expertise, can join together and forge a meaningful influence and make a positive impact on our one ocean." Says Kathleen Russel, PADI Course Director and founder of Al Mahara Diving Center, Abu Dhabi, UAE.
---
Furthering Education
A scuba diver's education doesn't stop at the PADI Open Water Diver course. There are dozens of more core and specialty courses that add on to a diver's toolbox of skills. Below, we'll look at a few examples of how PADI Dive Shops use Women's Dive Day to help their divers further their education.
Hawai'i, USA
The calm, clear waters of Kauai made for the perfect spot for Freedive Kauai's divers. As a way to build the female diving community on the island, the weekend included an all-women freediving class. After the three-day course was complete, the results were brag-worthy with some of the women accomplishing two-minute static breath holds and depths of 69 feet. A surprise visit from a pod of dolphins made their accomplishments even sweeter.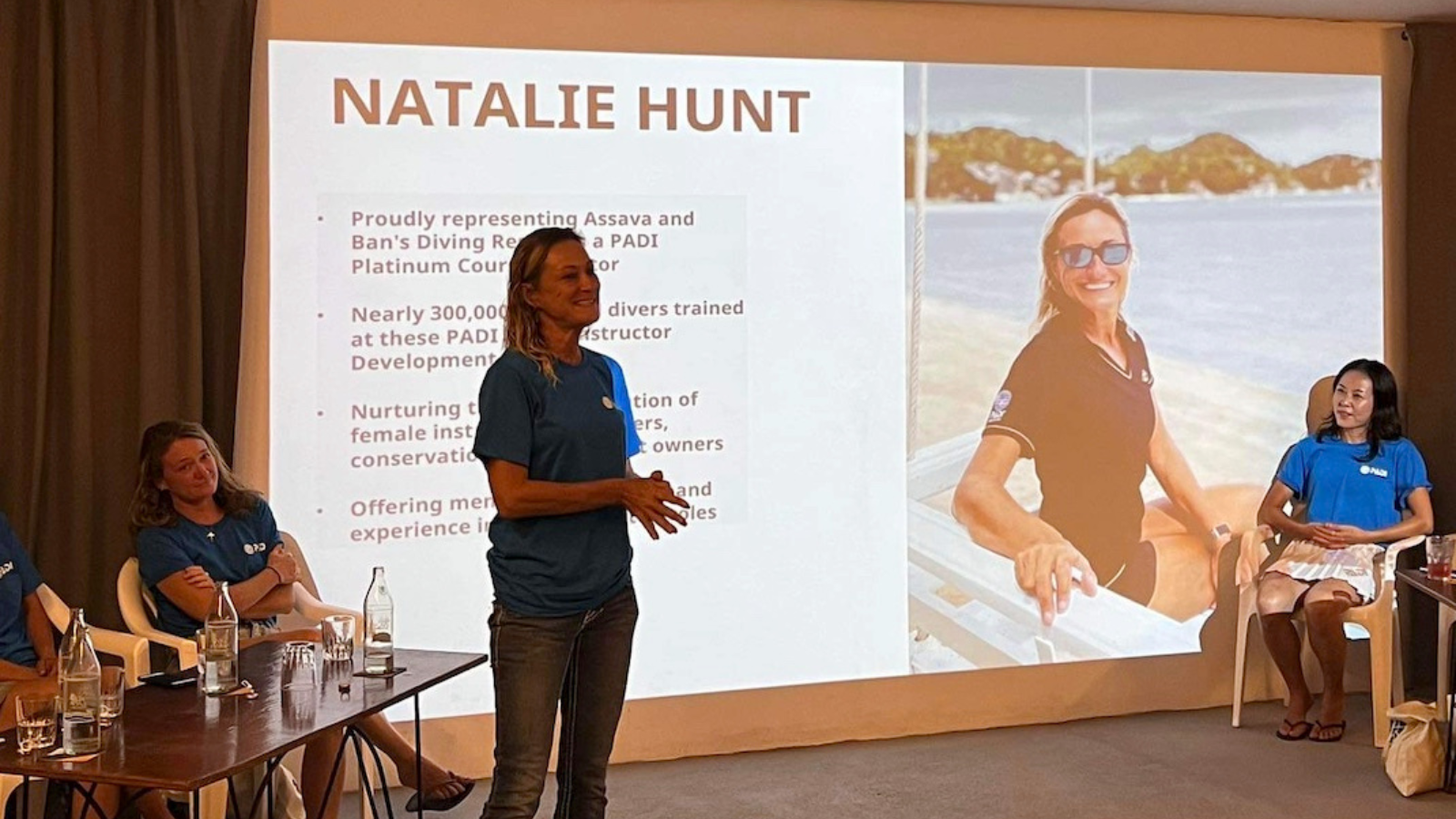 Koh Tao, Thailand (2023)
In Koh Tao, the dive community came together for a remarkable Special Women's Dive Day Event the evening before the celebration. Andrea Warren, PADI Regional Manager, hosted an expert panel joined by ten inspiring women, each representing diverse sectors within the diving industry, including Course Directors, Tec, Freedive & Mermaid Instructors, photographers, and business owners. This event provided aspiring female divers with valuable insights into various aspects of the diving world and a chance to network within their community.
Following this empowering evening, a full day of introduction classes took place at Assava Dive Resort, catering to all levels of divers. The classes covered exciting activities such as bubble makers, mermaiding, and an afternoon session exploring the world of sidemount diving. This Women's Dive Day was truly an exceptional and inclusive celebration of women's contributions to the diving industry, inspiring both experienced and new divers alike.
"I am honoured to represent Assava Dive Resort and Ban's Diving Resort, as a Platinum Course Director. Together these PADI 5 Start Instructor Development Centres, owned by inspiring and forward thinking sisters, have certified over 300,000 divers. Many of these student divers represent the next generation of female diving instructors, dive centre managers, marine conservation enthusiasts and resort owners. It's been my privilege to offer mentorship and a first-hand experience in tackling these roles" – Natalie Hunt Platinum CD 460782
---
PADI Women's Dive Day 2023
The collective effort of the previous PADI Women's Dive Day events has helped to create balance between humanity and the ocean and exemplified what it means to be a PADI Torchbearer – passing the torch and passion for the ocean to your local community and beyond.
In 2024, divers around the world will come together for the 10th Annual PADI Women's Dive Day.
Connect with your local PADI Dive Center or Resort to see what's planned in your area, or find an event happening near you using our PADI Women's Dive Day Event Locator.
---
---
Further Reading