Raja Ampat, or The Four Kings, in Indonesia, is well known for its colorful corals. Many call it the 'Last Paradise on Earth.' For this reason, liveaboards in Raja Ampat are the perfect destination for those who love dense schools of fish and encounters with weird and wonderful critters. 
While diving in Raja Ampat, you'll get to experience the highest biodiversity of marine species on Earth, because this archipelago straddles the Equator and forms part of world-renowned Coral Triangle. Lucky divers will see an astounding number of rare marine life, including wobbegong sharks, manta rays, epaulette sharks, bobtail squid, whale sharks, pygmy seahorses and thousands of tropical fish.
This archipelago boasts 1,500 small islands with a wide variety of underwater environments, including reef dives, deep dives and high-speed drifts. Landscapes are volcanic in nature with outstanding coral growth because of the limited population and environmental protections.
While there are scuba diving resorts scattered around Raja Ampat's major islands, you'll be able to dive more of the area's 200 dive sites from a liveaboard. For this reason, liveaboards are the most popular form of travel in Raja Ampat.
Dive safaris that explore this region of Indonesia usually depart from Sorong in West Papua. The typical length of liveaboard trips is 7 to 10 nights, although some operators offer shorter, 5-night itineraries.
---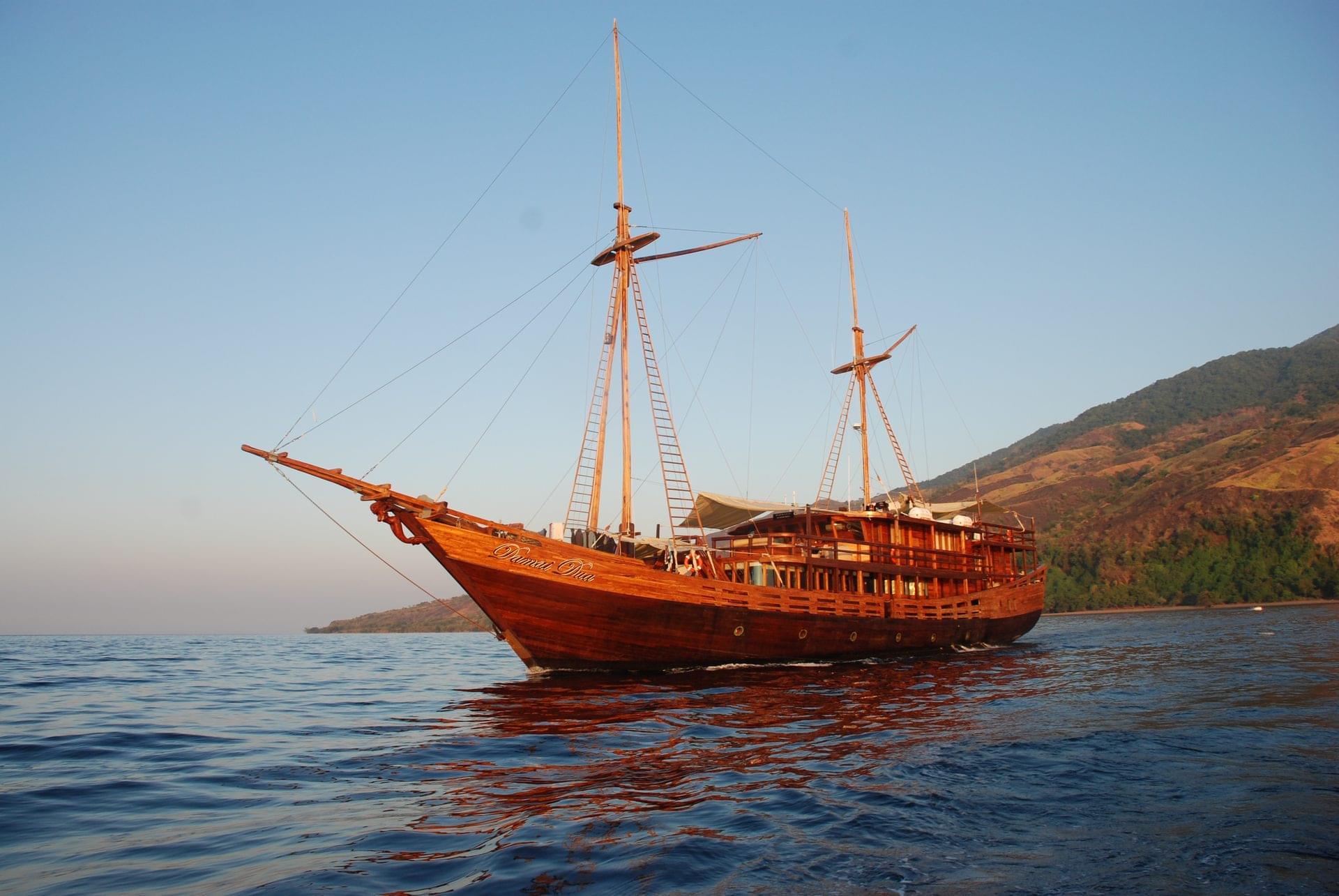 Best Luxury Liveaboard: Damai II
The Damai II is the liveaboard of choice for those who want to be pampered on their holiday. This dive safari can easily compete with a land-based luxury resort.
The range of amenities available on the yacht is sure to impress. The 130-foot (40-meter) traditional yacht was designed for small-group dive safaris. In addition, each room is equipped with reef-safe amenities, such as suntan lotion and shampoo, as well as a 3G hotspot so that you can always be in contact with the outside world.
Divers will enjoy the spacious dive deck and the high-speed tenders that are used to reach the dive sites. Plus, there's unlimited diving (as long as your air lasts) with a ratio of 1 guide to 4 divers.
With 7 staterooms, the maximum number of divers is 14, yet the crew of each vessel is 20 members strong. You're sure to get personalized service, and you're definitely going to enjoy a heavenly dive vacation on the Damai II, one of the most luxurious liveaboards in the world.
---
Best Liveaboard for Longer Trips: Amira
Cloud-like white sails regally announce the arrival of the Amira to ports around Indonesia. Just because this well-priced boat reaches remote corners of the Coral Triangle doesn't mean the Amira sacrifices grandeur.
First, the spacious dive deck and 4 dives a day mean scuba divers are well-catered for aboard this magnificent dive charter. Small diving groups are a hallmark of the Amira. Five experienced dive pros are split between a total of 20 guests. And a dedicated camera and computer room is ideal for underwater photographers.
Furthermore, the 170-foot (52-meter) yacht boasts both a sun deck and a spacious lounge as well as two shared computers, massage services and onboard kayaks. 10 spacious cabins can accommodate all guests in style.
For a nicely priced liveaboard with a touch of luxury and personal service, the Amira is an excellent choice.
---
Best Budget Liveaboard: Pearl of Papua
Providing a cheaper alternative to the high-end boats plying Indonesian waters, the Pearl of Papua gives outstanding service above and below the water.
This dive safari is dedicated entirely to Raja Ampat. The boat does not travel elsewhere in Indonesia during the offseason, so you can be sure that you'll see the best dive sites in the region. And the Pearl of Papua's trips are scheduled in a way that dive sites are seen at the ideal time. You'll enjoy up to 4 guided dives a day alongside 3 experienced dive pros.
In addition to great diving, onboard you'll find the relaxation only available to those sailing the Seven Seas. A crew of 14 give personal service to the 14 guests diving with the Pearl of Papua. Furthermore, the 7 cabins are well-equipped for the journey, and air conditioning will keep you cool and collected.
If you're on a budget, yet wish to explore Raja Ampat, the Pearl of Papua is the perfect option.
---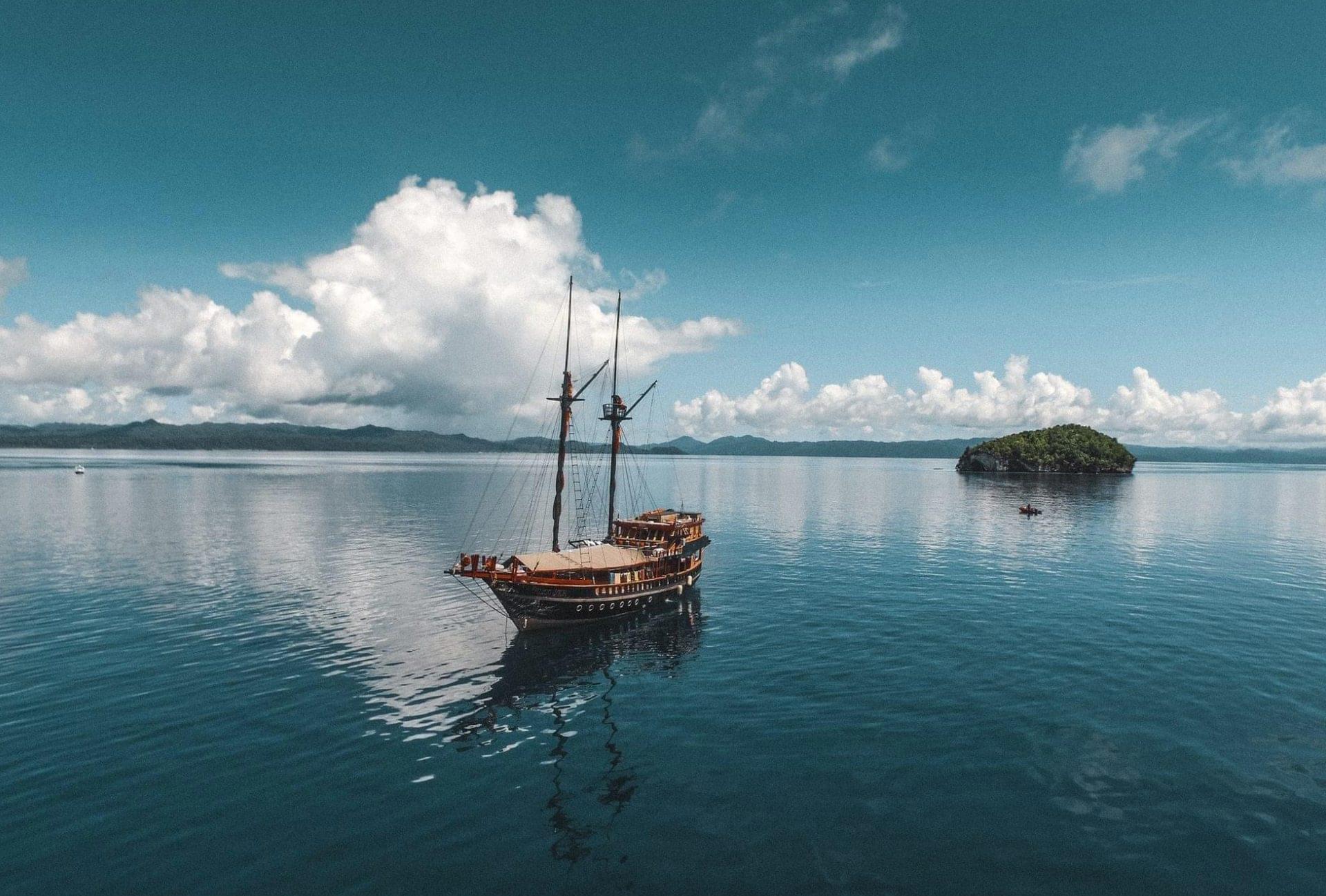 Best Liveaboard for Photographers: Calico Jack
Few boats are as eye-catching as the Calico Jack, a gorgeous phinisi schooner offering camera stations and a spacious diving platform as well as editing facilities and action-packed Indonesian dive itineraries.
Between dives, go kayaking, wake boarding and paddle-boarding, then return to your comfortable, air-conditioned boutique cabin. Considering the maximum number of guests on board is 10, there is plenty of room on this classic Phinisi schooner.
In addition to these great amenities, two to three excursions are usually offered during each itinerary. While sailing Raja Ampat, you might have the chance to climb Wayang or search for a Bird of Paradise.
The Calico Jack is an outstanding choice for a journey of discovery and to experience intimate connection with people, nature and wildlife.
---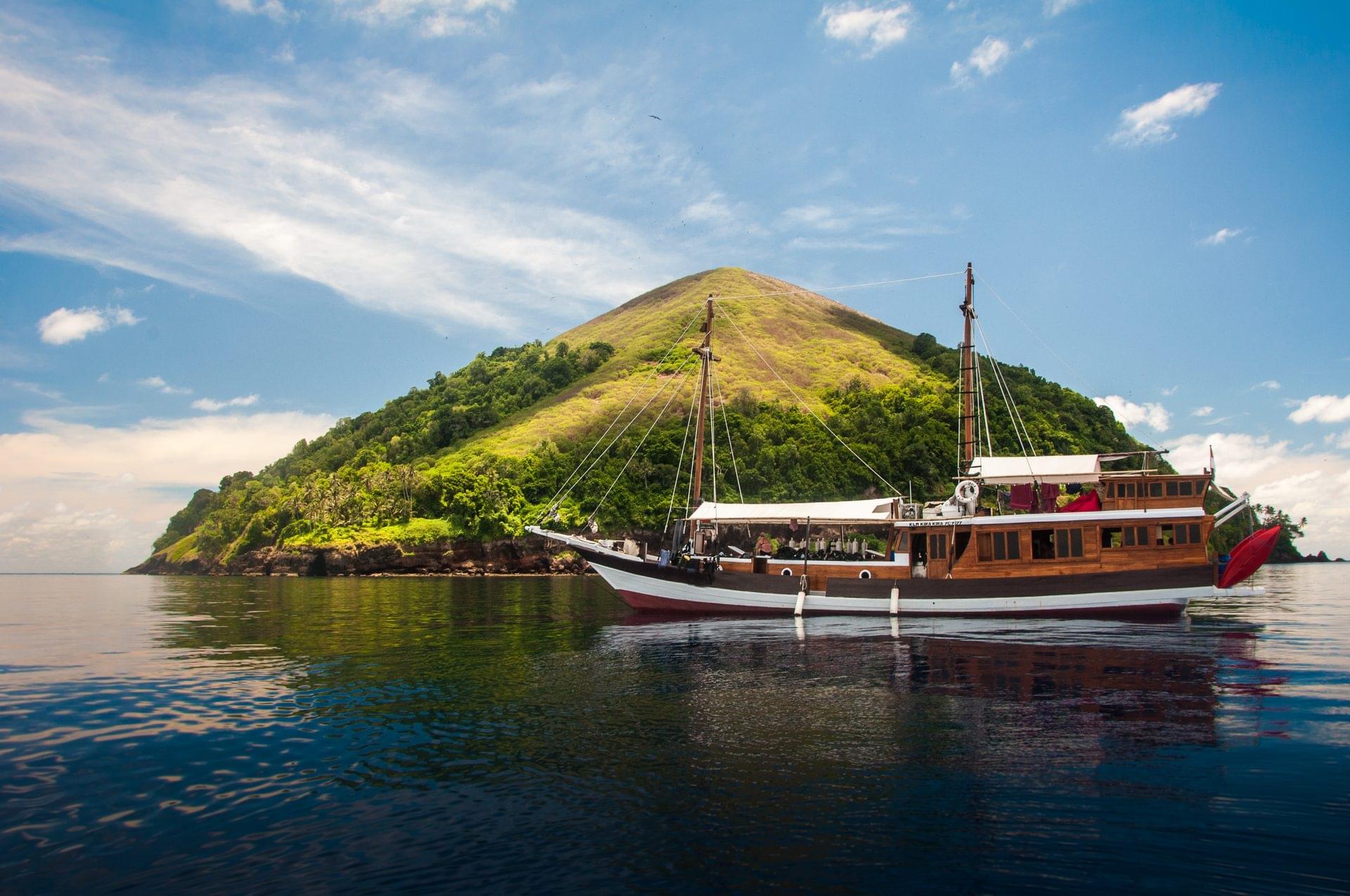 Best Eco-Friendly Liveaboard: Kira Kira
This stunning, eco-friendly boat represents a floating home, not a hotel, where you'll feel completely relaxed thanks to the valet diving service, flexible itineraries and the boat's go-with-the-flow attitude.
With a maximum of 8 passengers on board, Kira Kira specializes in bespoke, super intimate trips. The beauty of a flexible schedule is that you'll never queue for a dive site either, or share the site with another group. Two dives down and don't fancy the third? The crew will strap kayaks onto the back of the boat and search for a wild beach to explore instead, where baby white tips swim around your ankles in the shallows.
The boat is completely solar-powered, so it has no unnatural air-con, making it both eco-friendly and breathtakingly quiet. Cabins are comfortably vented, but you can sleep on deck below the stars any time you like – it's a rare pleasure.
The Kira Kira is the perfect choice for a more natural approach to exploring these beautiful islands.
---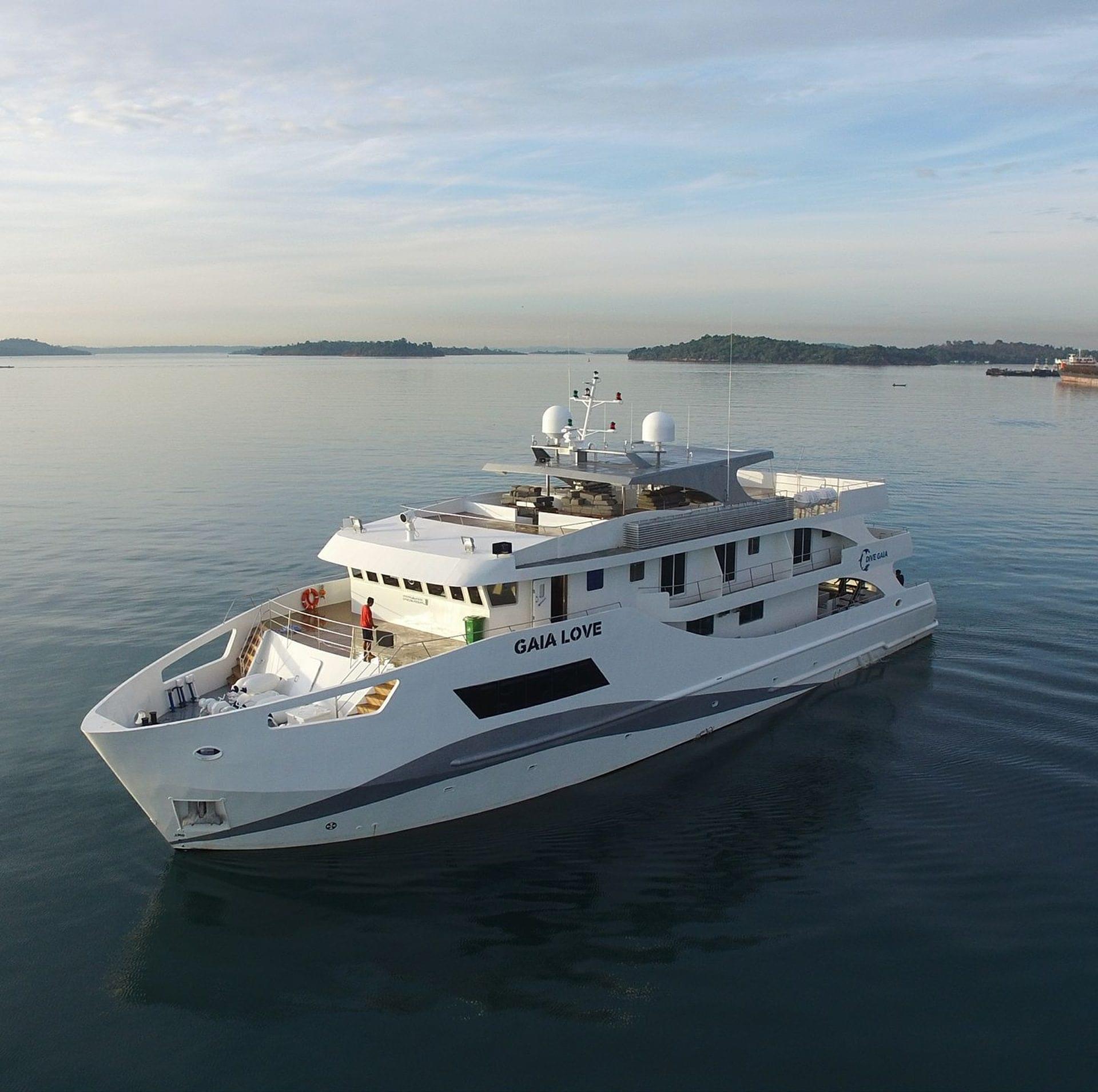 Best Liveaboard for a Romantic Getaway: Gaia Love
There are so many choices for liveaboards plying the waters of Raja Ampat, but what if you want a romantic escape with your favorite dive buddy? Look no further than the Gaia Love.
This modern vessel offers socially responsible itineraries to take you to the best dive sites in Raja Ampat. You'll enjoy approximately 28 dives over a 10-night itinerary, leaving you plenty of time to relax into the delicious food and epic scenery from the comfort of the many common areas, such as the al fresco bar, indoor salon, outdoor lounge and partially-covered sundeck.
For the best spot on the boat, grab an upper-deck cabin. These feature large, picture windows as well as outdoor balconies, where you and your sweetheart can spend some quiet, quality time.
The facilities onboard also include a large diving deck to accommodate the 28 passengers as well as rinse tanks for your gear and two skiffs for reaching secluded dive spots.
---
Most Popular Liveaboard: Indo Siren
Part of the well-regarded Siren fleet, the Indo Siren is one of the most popular choices for divers. This is especially true among those wanting to see the best Raja Ampat has to offer from an ultra-comfortable vessel. That means many Indo Siren trips are sold out months in advance.
The boat was purpose-built back in 2011 to provide divers a best-in-class experience with plenty of space and luxury amenities. The full-service dive experience includes free Nitrox and free rental equipment. Plus, if you're rebreather certified, the crew are more than qualified to assist you.
For underwater photographers, this liveaboard features designated work stations indoors and outdoors. There's also plenty of space for charging and maintaining your photo equipment. That way, you're ready to capture all the sharks, mantas and biodiversity of species you'll spot during your dives.
---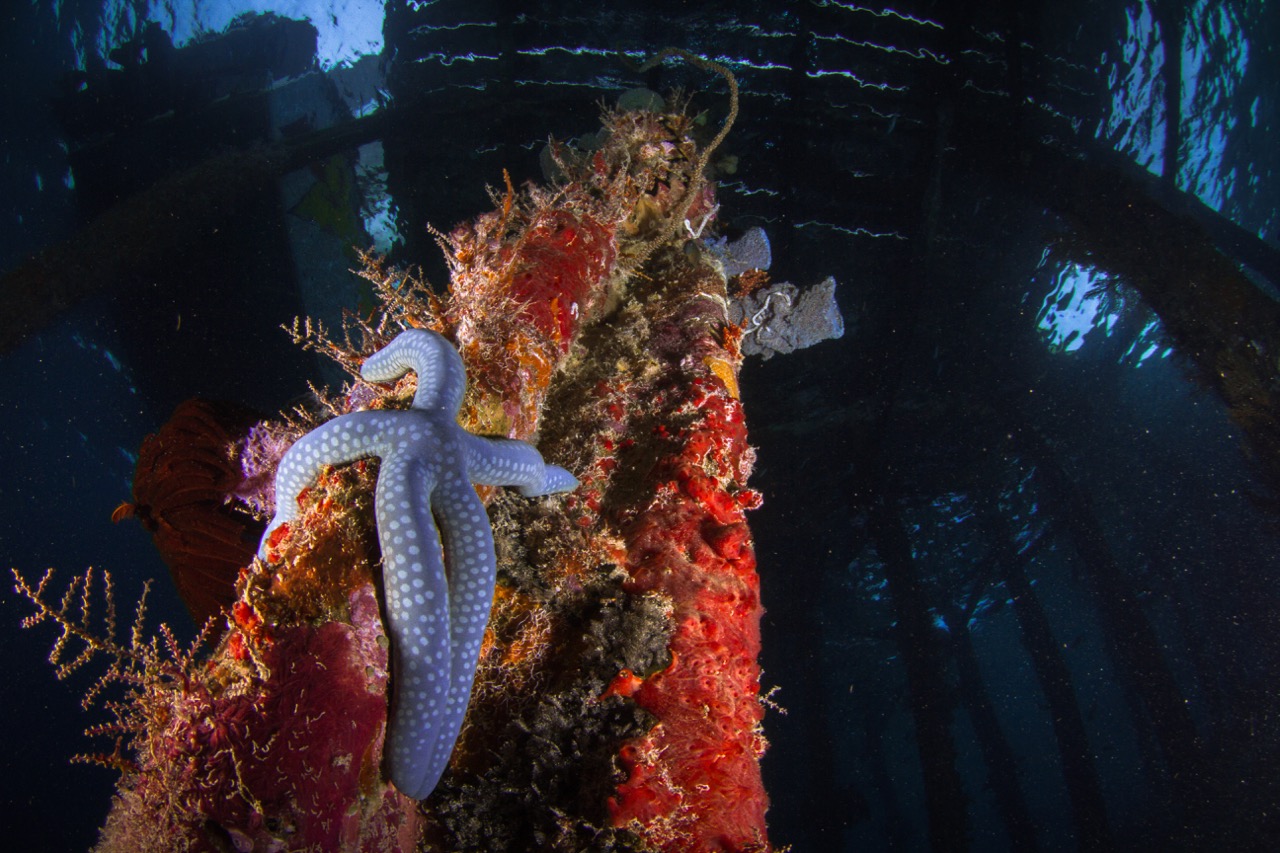 Raja Ampat Liveaboards vs. Dive Resorts
Until very recently, Raja Ampat was thought to be a liveaboard destination. However, more and more dive resorts have now popped up in the region. So which type of diving is right for your trip to Raja Ampat – liveaboard or dive resort?
First, it's important to note that Raja Ampat can be split into two distinct regions – north and south. The northern part of Raja Ampat is known for its biodiversity. In fact, it's home to Cape Kri, the most biodiverse dive site in the world. And lucky divers can also spot plenty of pelagics here, but the currents make diving the northern part of Raja Ampat more challenging.
On the other hand, the southern part of Raja Ampat is calm and colorful. Here you'll find healthy reefs and fewer people. There are also sites known for oceanic manta rays and rare dugongs.
Why is the distinction between north and south important? Almost all the dive resorts in Raja Ampat are located in the northern section, with the exception of Misool Eco Resort. The lovely resorts in the north are great for divers who want to relax and enjoy the local culture while still experiencing some of the most amazing dive sites Raja Ampat has to offer.
However, if you want to see the picturesque, southern portion of Raja Ampat, you may want to dive the region by liveaboard. Chances are, you'll have each dive site you explore to yourself.
Keep in mind that Raja Ampat is 46,000 square kilometers (17,800 square miles) and boasts hundreds of dive sites. You'd need to spend years here to see everything, no matter whether you're diving from a liveaboard or a dive resort.
---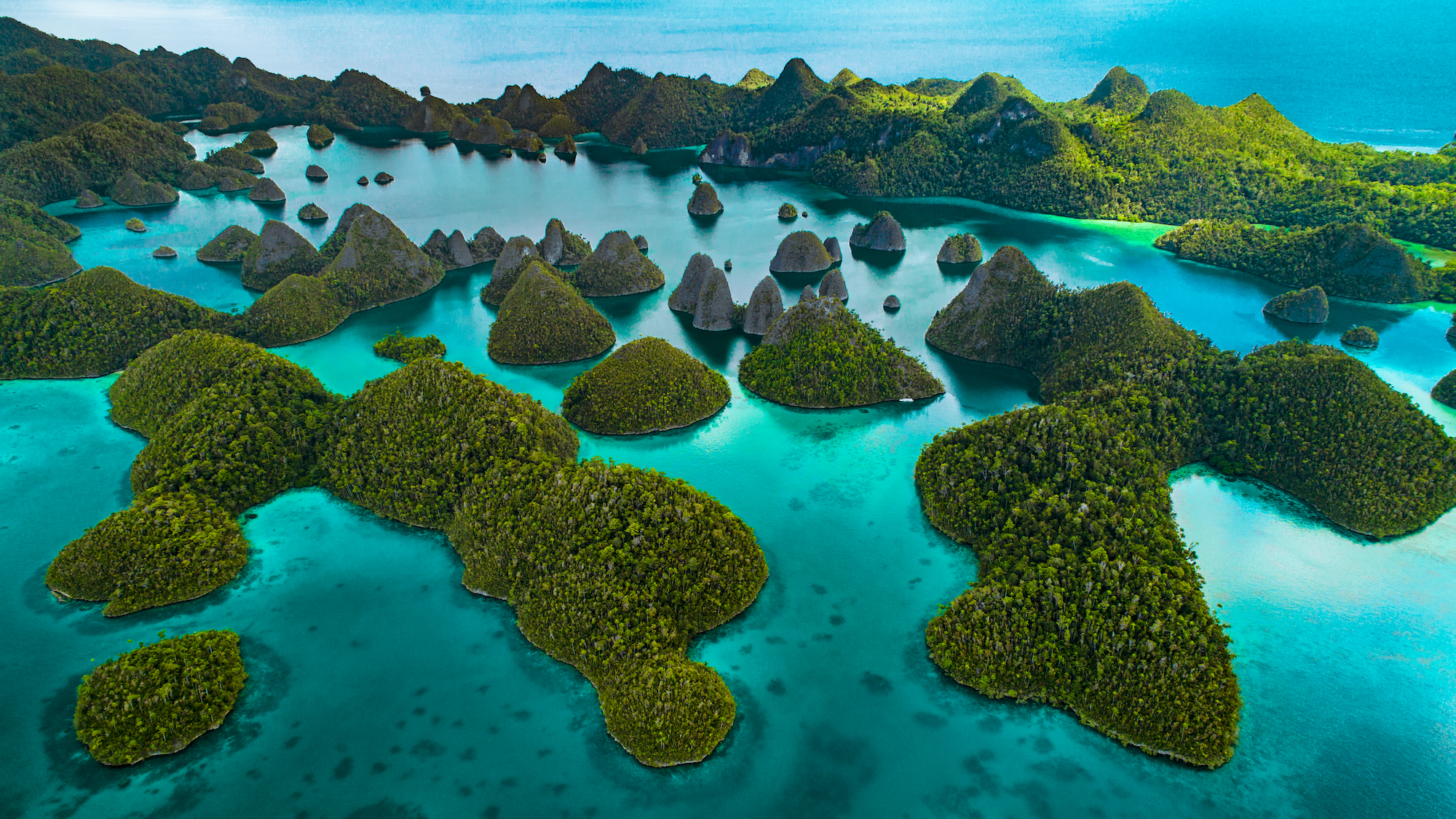 The Best Time to Dive in Raja Ampat is from October to April
During these months, you'll have the greatest selection of liveaboards and the best weather. Surface conditions are calm and the skies are generally dry. However, Raja Ampat can be dived year-round, and the same amount marine life is present in the off-season as well.
---
Can Beginners Dive in Raja Ampat?
It's recommended that divers visiting Raja Ampat have at least an intermediate skill level and feel comfortable in unpredictable conditions. Currents can pop up from time to time in this region, but most dive sites are calm with great visibility.
---
Still Searching for the Perfect Liveaboard in Raja Ampat?
The seven liveaboards you've read about were hand-picked by our Scuba Travel Experts, but there are more boats available. To see the full list of liveaboards in Raja Ampat, click the button below.