When diving is your work, the ocean is your office; additionally, becoming a PADI Pro opens the doors to wherever you want to live and work.
We caught up with PADI Pros who have allowed their certifications and zests for life to take them on wild adventures. Each lives in their own slice of paradise and, like me, can credit diving, the ocean and becoming a PADI Pro with facilitating a fabulous life.
---
1. Fernanda Nieto & Mathias Van Asch | Expedition Guides in Baja California, Mexico
Fernanda Nieto and Mathias Van Asch, originally from Mexico City and Belgium, respectively, are both PADI Instructors who live and work in Cabo San Lucas, Mexico. Being PADI Pros has allowed the pair to work in many different parts of Mexico and Latin America doing various different types of dive jobs. Moreover, they now own Latitude Encounters, a wildlife expedition company leading ocean safaris and diving with sharks.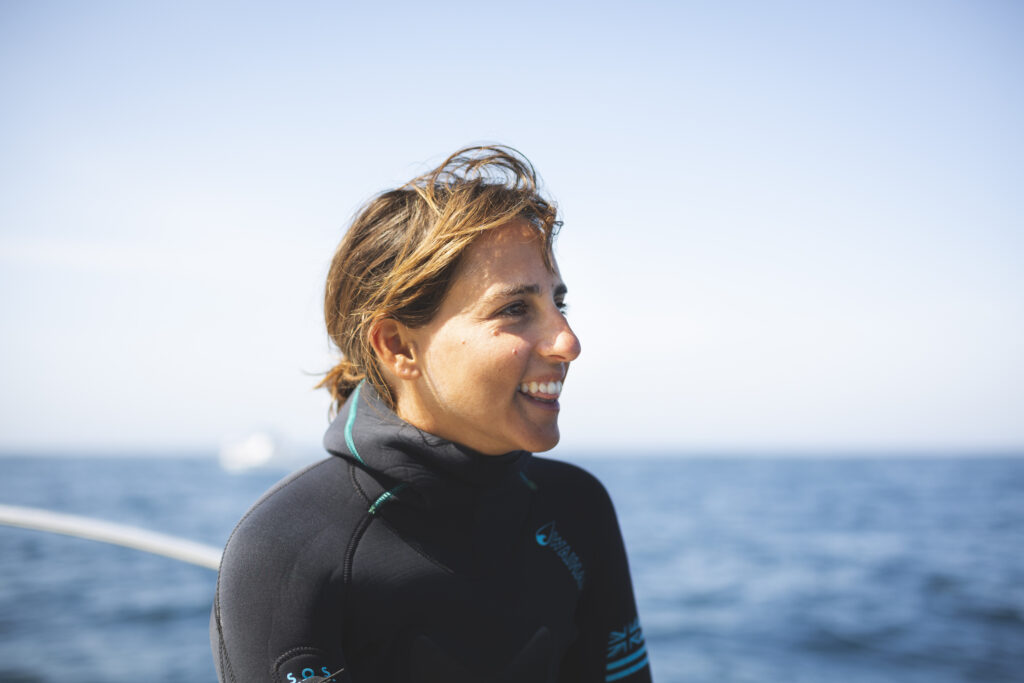 The oceans in Baja are a beautiful blue with contrasting mountains. There, the pair are surrounded by friends, nature, and the most incredible sunrises and sunsets – a total paradise, Nieto says. Additionally, the local reefs are beautiful – full of large schools of fish, sea lions, rays, sharks and dolphins. Furthermore, "Humpback whale season is amazing in Cabo," she adds. "We get to see whales every day as we go out to work; plus, we can hear them while diving and freediving."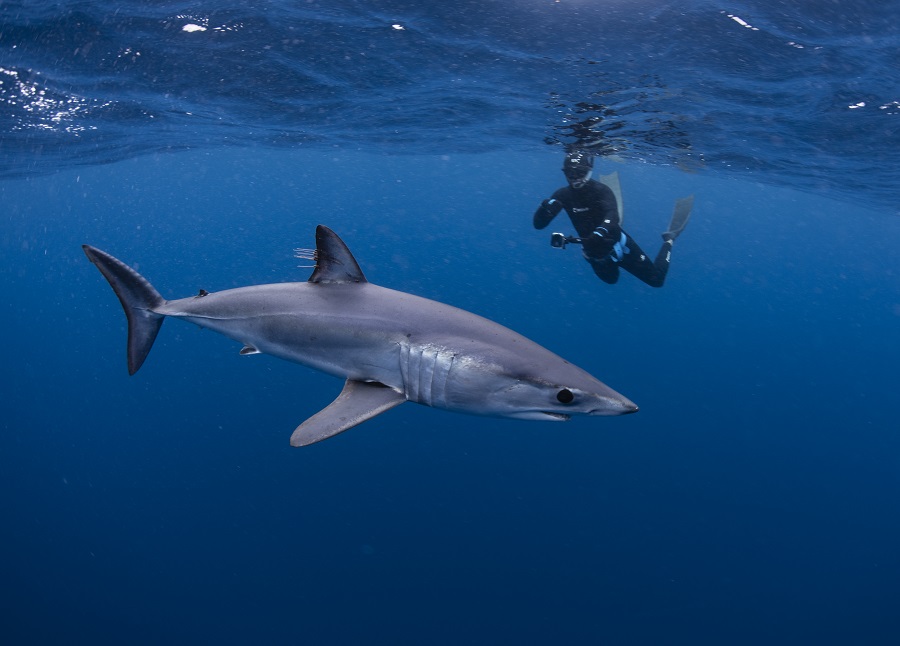 Nieto adds, "We love where we live. It makes me very happy to have found this paradise in my own country and to be able to live and work in Mexico doing what I love. Moreover, it is amazing to share these experiences and the incredible things Mexico has to offer with the world."
---
2. Maelly Faure | Videographer and PADI Pro on Koh Tao Island, Thailand
Maelly Faure followed the sun from her native south of France to Koh Tao Island in Thailand. Presently, as a PADI Pro with Master Divers, she works as a PADI Instructor, underwater videographer and social media content creator.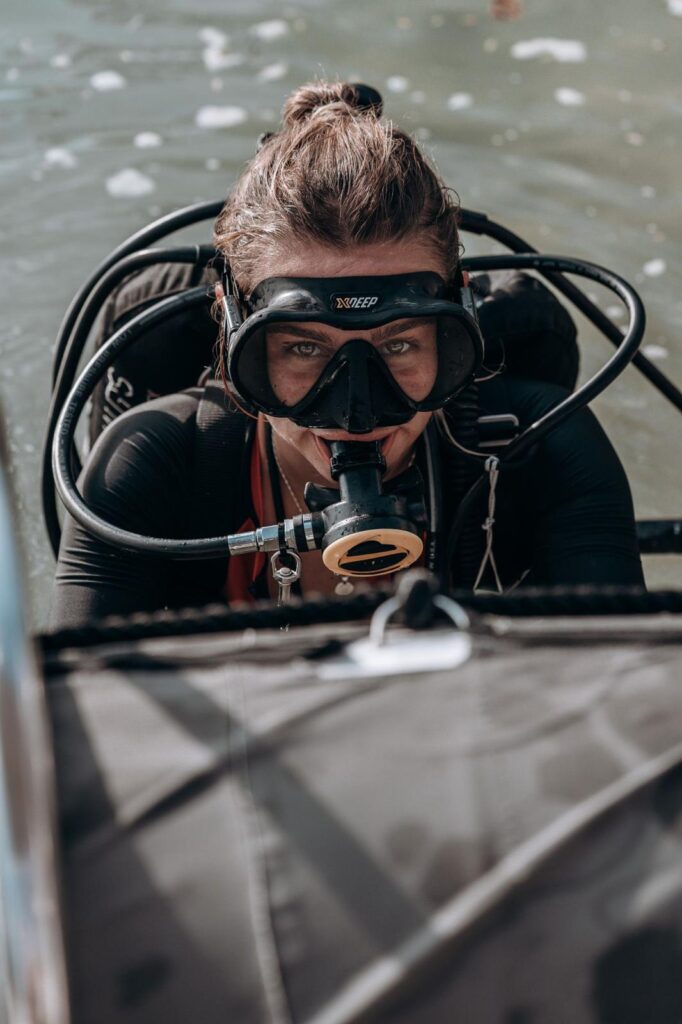 Koh Tao is the #1 island for scuba diving in Thailand, with ideal weather and water temperatures. Faure says, "Koh Tao is a very special place to me. It will always feel like home. There is something about this island that makes you come back."
She credits being a PADI Pro and her dive shop with allowing her to "live [her] favorite lifestyle!" Additionally, "The best thing about my job is that I get to dive in amazing dive sites and see beautiful marine life. I also help people capture their first bubbles, and their smiles are always so priceless," she adds.
---
3. Christian Carias | PADI Pro in Tela, Honduras
Christan Carias is the PADI Divemaster in Honduras. By becoming a PADI Pro, he gets to live and work in his favorite dive spot in the world: Tela Bay.
"Tela's reefs are one of the most amazing reefs I've ever seen in my life," Carias says. "It's impressive how healthy this reef is – how colorful and alive it is, different from other reefs dying everywhere. Tela is special."
Carias is originally from the capital city of Honduras, Tegucigalpa. It's about as different from quiet and quaint Tela as you can get. "I became a Divemaster about 10 years ago, and it helped me to get to know this spectacular reef here in Tela and to love it," he says. "And, I'm not leaving anytime soon because I want to show everyone the beauty of this place and how magical the coral is."
---
4. Callie Stephenson | Marine Researcher/Scientist in Hawai'i, USA and Moorea, French Polynesia
"Being a PADI Pro opened both professional and personal doors for me!" says Callie Stephenson, a PADI Divemaster and AAUS Scientific Diver from Raleigh, North Carolina. Presently, she lives and works in Hawai'i and French Polynesia.
She says, "I would not have reached this point in my career without being a PADI diver…. My Divemaster training allowed me to gain skills that made being a Scientific Diver easier, both in building my confidence as a diver and demonstrating to potential employers that I had a strong foundation of professional training." Plus, being a PADI Pro has also allowed her to work for recreational dive shops as needed, helping her to make friends and build community in new places, she says.
She's been in Honolulu, Hawai'i for almost four years now – save her three-month field season in Moorea. Furthermore, Stephenson has found her place amongst the surfers and divers in the community. "I like to spend almost all my time, both on and off the clock, in the ocean," she says. "I find the more time I'm able to spend in the ocean, the deeper connection I have to people, place, and environment. Moreover, the stronger that connection is, the stronger my motivation to protect and conserve our wonderfully blue world."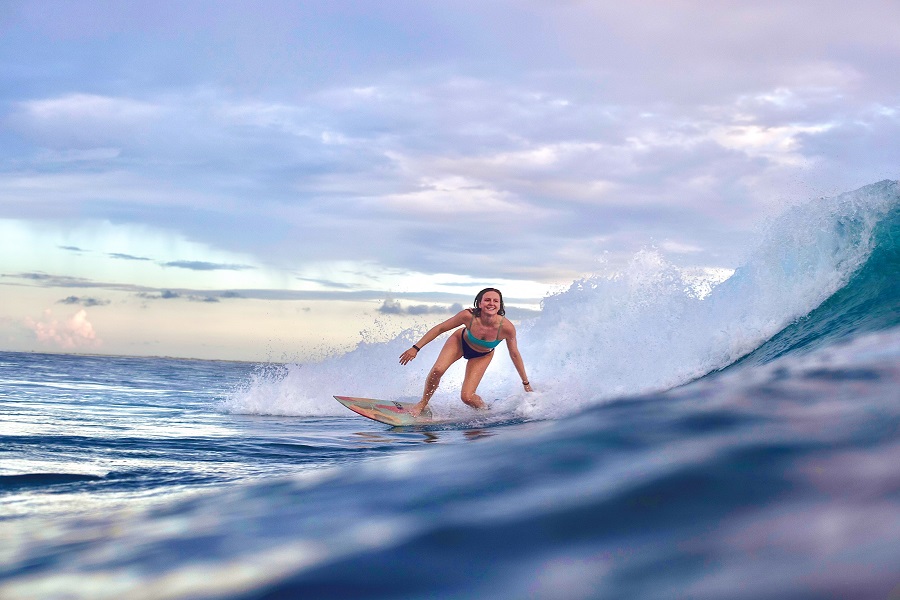 She also adds, "Moorea is casually the prettiest place I have ever been. It feels humble, almost unassuming, just confidently stunning. It is honestly hard to put into words how it felt like every corner was picturesque in its own way."
---
5. Sea Saba Team | Dive Shop Owners and Managers on Saba, Caribbean Netherlands
Sea Saba is the dive shop on Saba, in the Caribbean Netherlands. The owners, Chad and Katy Nuttall, and the dive shop manager, Vicky Gabriel, all ended up on this tiny island in paradise because of their PADI Pro certifications.
"Being a PADI Pro has allowed me to travel and work in lots of places like the Red Sea, the Mediterranean and the Caribbean," Gabriel says. "The PADI Pro level was also what granted me the work permit here in Saba since there is a lack of local instructors."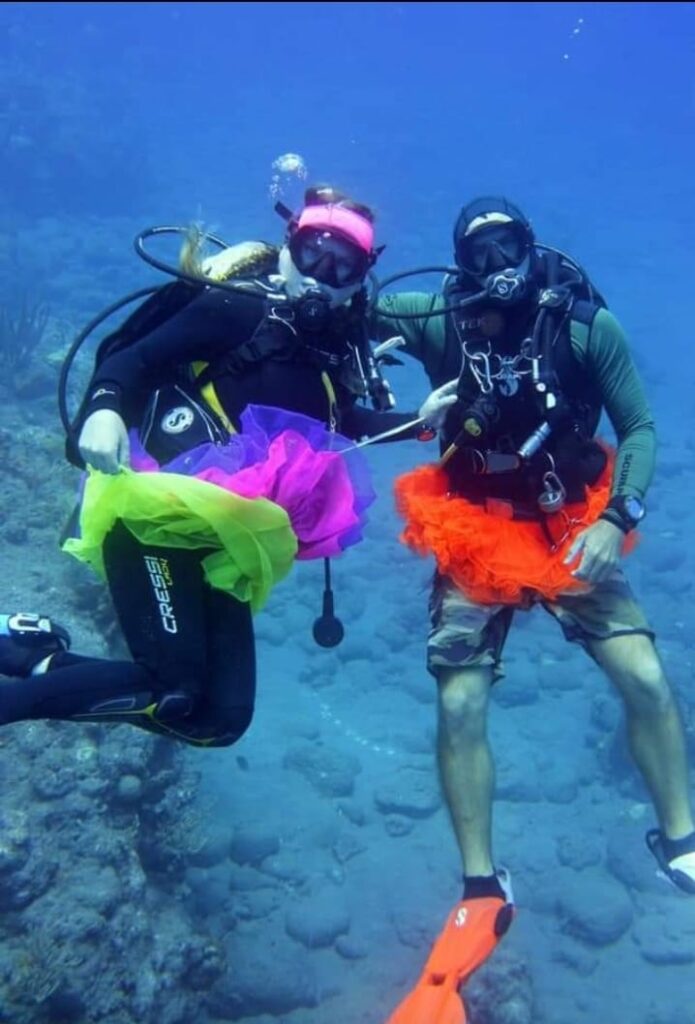 About two years ago, the Nuttalls fulfilled their dreams of becoming PADI Pros, owning a dive shop and doing what they love daily when they bought Sea Saba. Then, they moved from Arizona with their family to the Caribbean island.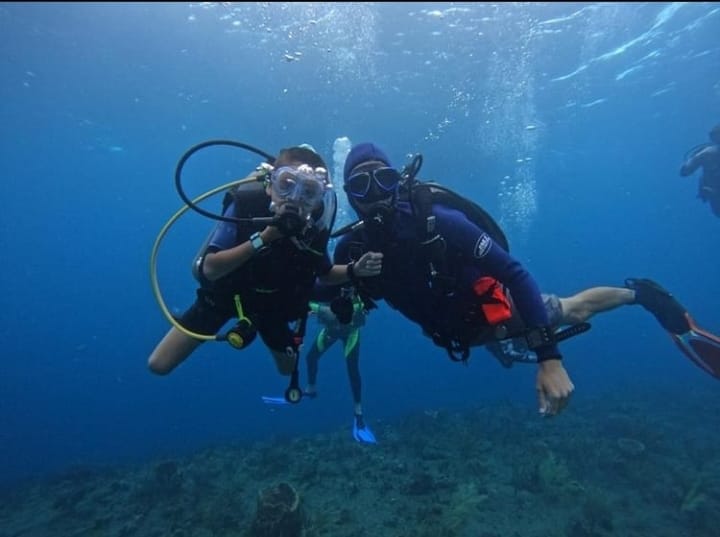 Gabriel, originally from Germany, and her husband, from Texas, also enjoy life on the small, safe island. "The diving here is amazing – some of the best diving the Caribbean has to offer," says Gabriel. "We have small macro critters, from nudibranchs to seahorses to frogfish, combined with daily turtle and shark sightings. Moreover, in wintertime, there are humpback whales migrating through this area."
---
Ready to Become a PADI Pro?
As our PADI Pros know, becoming a dive professional opens many doors and allows you to create a life you love – in and on the water. So, do you think you have what it takes to go PADI Pro? We think you do, too! Moreover, we're here to support you the entire way. If you have any questions or need a few more reasons to dive in (literally), we've got the world's largest scuba diving network at your disposal to help you figure out if becoming a PADI Pro is the next step for you.
So what're you waiting for?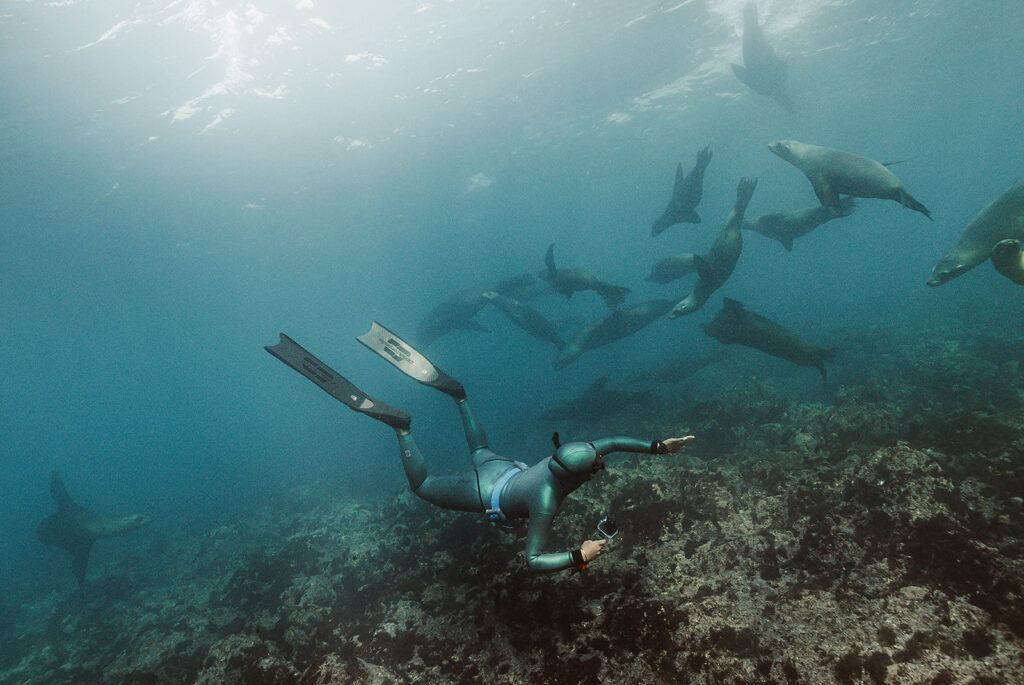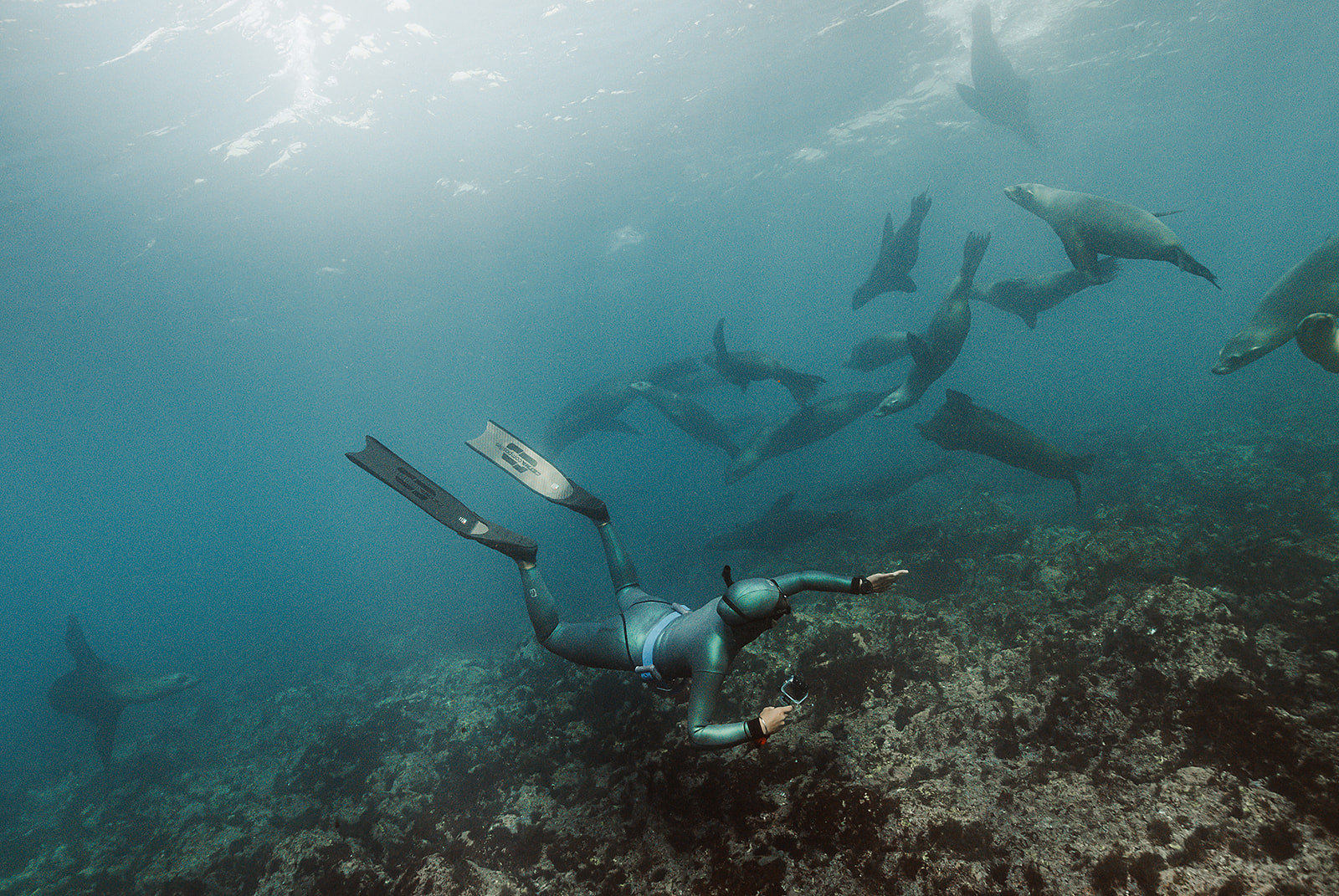 ---
More on PADI Pros in Paradise