If you've got a scuba diver on your shopping list, here some gift ideas based on popular gifts I've given, received or recommended in recent years. Hope you'll find inspiration for the perfect gift for your dive instructor, buddy or scuba diving friend.
Gift Ideas for New Divers
Here are some accessories that have been popular with my students over the years. Your local PADI Dive Center should have these items in stock, or can order them for you.
SeaCure mouthpiece – precisely fits the individual diver's mouth, teeth and jaw to provide support of the regulator and significantly reduce jaw fatigue.
"Spring straps" for scuba fins – I got my first set of spring straps several years ago and can't imagine diving without them. Whether I'm doing a surf entry or bobbing next to the dive boat ladder, I'm always able to get my fins off in a flash.
Gear ID tags – on a busy dive boat, it's easy for fins to get mixed up or accidentally grab someone else's wetstuit (hey, mine was the black one!). A gear ID tag or marking device will keep dive gear from walking off with the wrong person.
PADI eLearning online training
Help your favorite Open Water Diver gain confidence and improve their skills by gifting them additional training with a PADI Instructor. The Advanced Open Water course is a popular choice, but we also offer Digital Underwater Photography and Enriched Air Nitrox online training.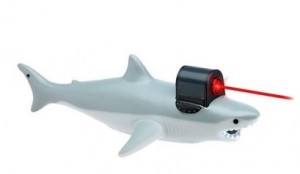 Gift Ideas for Dive Geeks
Shark with Frickin' Lazer Pointer – need I say more?
Shark bite oven mitt – I'm not the only dangerous thing in the kitchen!
Scuba Diver Tea Infuser or ManaTea Infuser (yes, in the shape of a Manatee) – stir up a conversation about diving with a fun tea accessory.
Wild Walls Shark Scene Room Decor – shark decals and flickering blue light create an underwater scene to scuba-ize any room.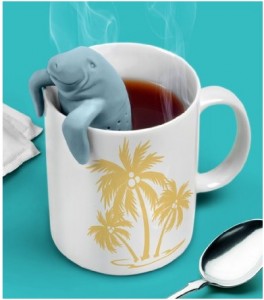 Gifts Any Diver (or Dive Instructor) Would Enjoy
A T-Shirt or hat from their favorite dive shop or dive destination – Look up your dive buddy's favorite dive shop on the internet and see if you can order a hat, shirt or other souvenir.
PADI swag – show your scuba diver pride with a PADI backpack, iPad cover or other fun item.
New gear! Contact your local PADI Dive Center about the hottest new gear. Computers, cameras, and accessories that don't require a specific fit are always a good choice.
Environmentally-friendly gift ideas such as a solar-powered iPhone/Android charger, or sunscreen that is eco-friendly – are always a win.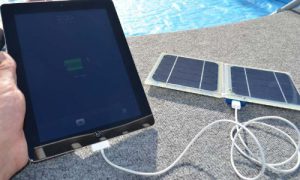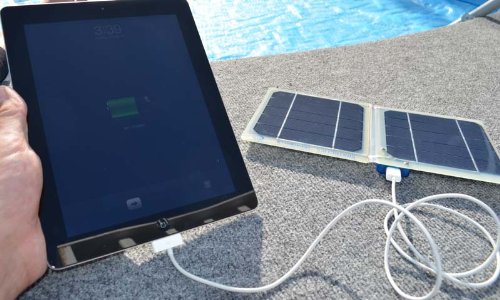 Gift Ideas for Hardcore Divers
Neoprene Seat Covers when you dive everyday, your car pays the price.
Travel-sized luggage scale   one of the best gifts I have ever received (thanks, Mom!) helps me avoid baggage fees.
Equipment mat – ask your dive center if they carry an equipment mat specific to your local area. If they don't, I like the CGear Sand-Free multimat. It was developed for military application allows sand & dirt to fall through the mesh without coming back up. See a short video clip of how it works.
Note: if you purchase the featured Amazon.com items via links in this article, a portion of the sale will be donated to Project AWARE® through Amazon's affiliate program.
Looking for more ideas? Check out our new scuba diver gift idea list – updated for 2014.
 – – –
Support your local PADI Dive Center – your local dive shop is more than just a place to take classes, get air fills, etc. These business owners and their staff are committed to preserving and protecting the underwater world and are the lifeblood of the dive industry. By doing business at your local shop you support your local community and environment. Visit our website to find a PADI Dive Center near you.