The PADI Master Scuba DiverTM rating is sometimes called the "black belt" of diving. In a previous post, we discussed how the Master Scuba Diver program can be tailored to individual interests like photography or cold water diving. In today's post, we'll review how your Master Scuba Diver curriculum can be customized to meet your scuba career goals.
Divemaster or Dive Instructors
If you're unclear on the difference between a Master Scuba Diver and a Divemaster, the short answer is:
PADI Master Scuba Diver (MSD) is the highest possible rating for a recreational diver. To become a MSD you need: a PADI Open Water Diver, Advanced Open Water Diver and PADI Rescue Diver (or equivalent) certifications, proof of 50 dives and five PADI Specialty Diver certifications.
PADI Divemaster is the first rung on the PADI Professional ladder. To begin the Divemaster program, divers must have at least 40 logged dives and a PADI Rescue Diver (or equivalent) certification. View the complete list of Divemaster prerequisites.
Though Divemaster candidates aren't required to have any specialty certifications to begin training, part of the Divemaster program includes organizing a search and recovery project and leading a deep dive. For this reason, aspiring PADI Professionals will benefit from having the Deep Diver, Underwater Navigator, and Search and Recovery specialty certifications. Two additional specialties, like Emergency Oxygen Provider and Equipment Specialist will meet the five specialty requirement for Master Scuba Diver, and enhance your diving résumé.
The Emergency Oxygen Provider speciality is useful for two reasons: it can be applied towards one of the Rescue Diver course requirements, and it's an essential safety skill for dive professionals. Some dive operators won't hire a Divemaster or Instructor who doesn't know how to administer emergency oxygen.
Equipment Specialist gives a thorough overview of scuba gear, how it works, proper maintenance and basic repairs. As a dive professional, you'll be expected to assist students with their gear on a daily basis, and the Equipment Specialist course teaches you how to deal with common gear problems. This specialty also introduces you to the different types of scuba equipment you may encounter when working on a boat or with students.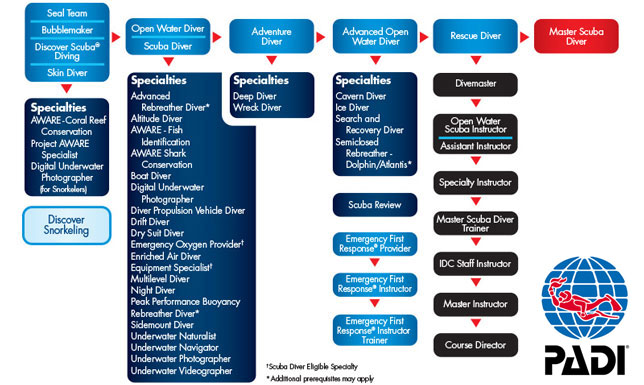 Public Safety Diver
The PADI Public Safety Diver course prepares divers to respond to a variety of emergencies. To begin training as a PADI Public Safety Diver, you need a PADI Advanced Open Water certification in addition to other prerequisites.
Divers interested in pursuing a career as a public safety diver will benefit from a Master Scuba Diver program that includes the Underwater Navigation and Search and Recovery specialties as locating and recovering evidence is something public safety divers are often asked to do. The Dry Suit Diver and Full Face Mask specialties are also recommended because these two pieces of equipment are commonly used by public safety divers. Lastly, the Self-Reliant Diver specialty can help prepare a diver for the self-rescue technique section of the Public Safety Diver course.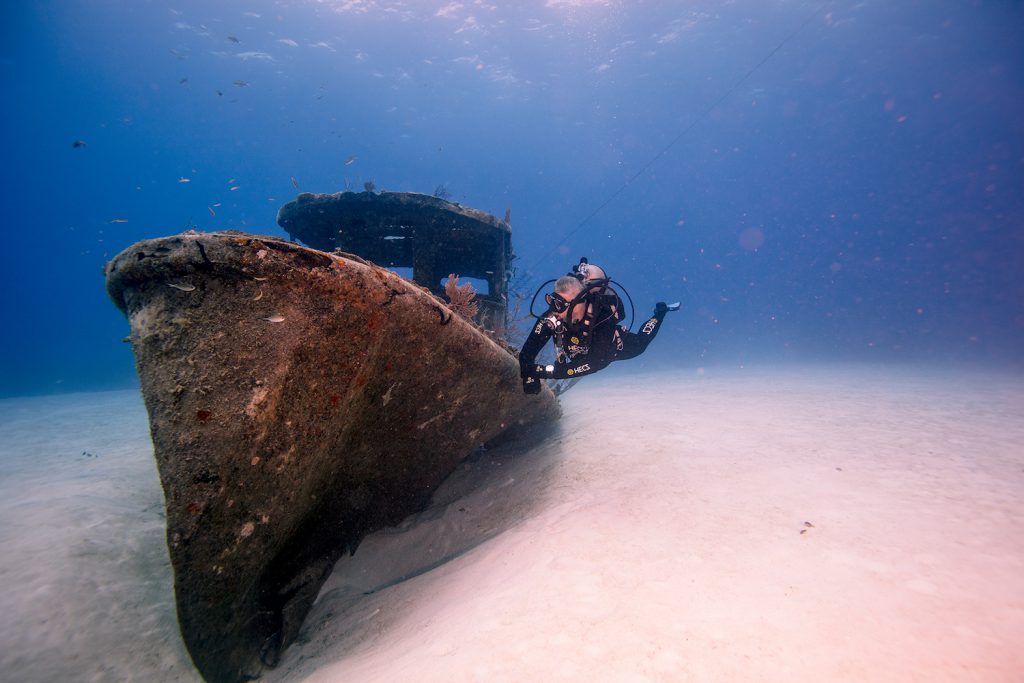 Choose Your Own Adventure
There are dozens of exciting career opportunities for scuba divers including:
Speak to your PADI Dive Center or Resort about your scuba career goals and ask what distinctive specialties may be available.
Distinctive specialties are courses authored by individual PADI Instructors and approved by PADI. These specialties count towards a Master Scuba Diver rating and offer divers a wide array of training opportunities. A few examples include: underwater model, invasive lionfish tracker, underwater hockey, hot springs diver and mermaid.
PADI Master Scuba Divers are an elite group of respected divers. Fewer than two percent of all divers ever achieve this level of experience and training. If you're interested in a part-time or full-time career in scuba, the Master Scuba Diver program is an effective way to enhance your skills and your résumé.