In everyday life we often hear the phrase 'where there's a will there's a way' used to assimilate a person's desire to achieve what some may consider impossible. For people with disabilities, whether born with or acquired due to illness or accident, overcoming challenging situations becomes part of daily life.
Learning to adapt to new ways of carrying out tasks becomes standard in order to carry on with life. This includes participating in physical activity and sport. People with disabilities want to keep their bodies and minds in healthy shape as well as access the therapeutic benefits that exercise can bring. Scuba diving not only provides access to the underwater world, it also unlocks a range of benefits that can enrich the lives of those living with disabilities.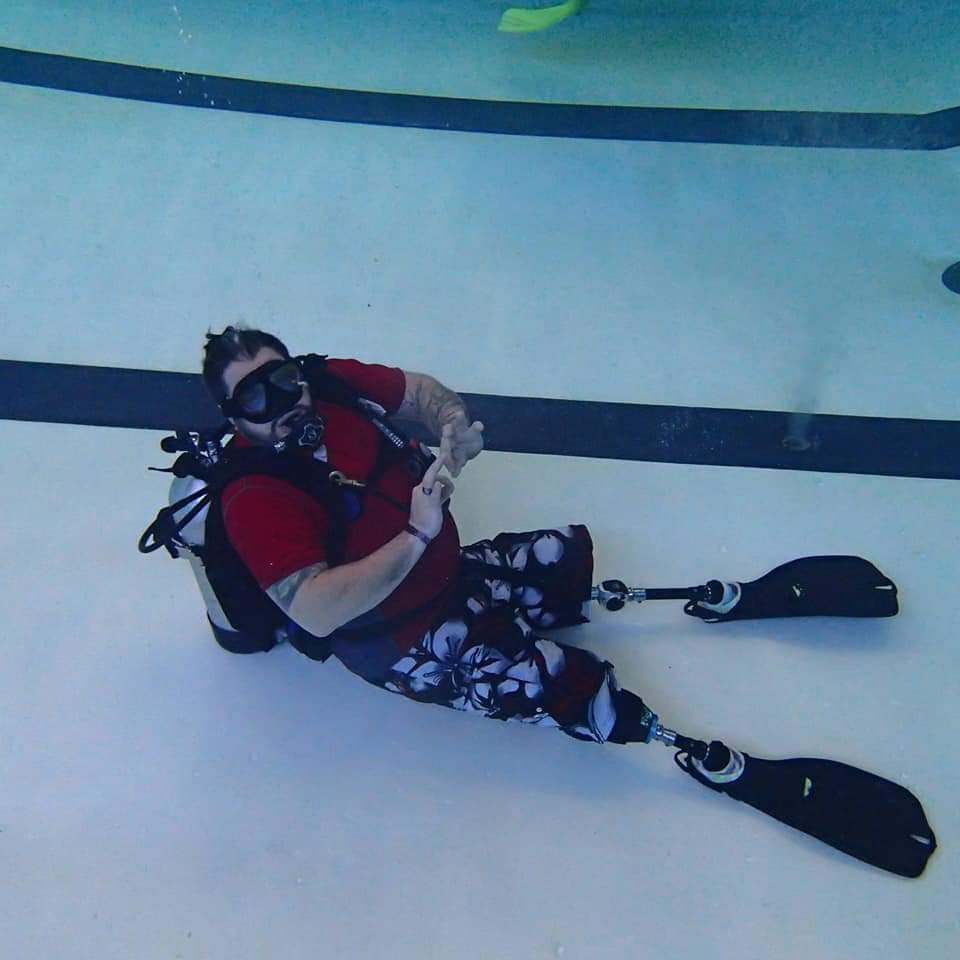 Rhia Weinhaus is a PADI Instructor living in the USA. She met her business partner, Kevin Pannell, through a wounded veteran's diving group called Valhalla Dive Group. The program facilitates dive certification for amputees, paraplegics, quadriplegics and veterans coping with PTSD. Kevin lost both his legs in the Iraq war and for him diving is a form of escapism. The water being his saving grace having lived as a bilateral amputee for 30 years.
Rhia explains, "Kevin and I realised that there weren't many regular diving opportunities for wounded veterans so we started a veterans centric dive club called the Mouthbreathers. We offer local dive opportunities and social events for veteran divers and their connections."
"We have found the therapeutic benefits of neutral buoyancy to be astounding. Not only does it allow for greater mobility but provides a significant reduction in pain. For long term pain sufferers this relief is invigorating and enables a sense of euphoria not able to be experienced anywhere else."
She finishes "Working within the PADI Adaptive Support Diver program has been one of the most exciting and exhilarating things I have done in my life. Working with Kevin has been a life changing experience for me. When he first started diving, he did not have a dive prosthesis. He dived using just his arms only. Now, with a bespoke dive prosthesis, Kevin has completed his PADI Advanced Open Water Diver and PADI Rescue Diver certifications. I can't say enough about the benefits that scuba diving offers people living with limited mobility and chronic pain conditions."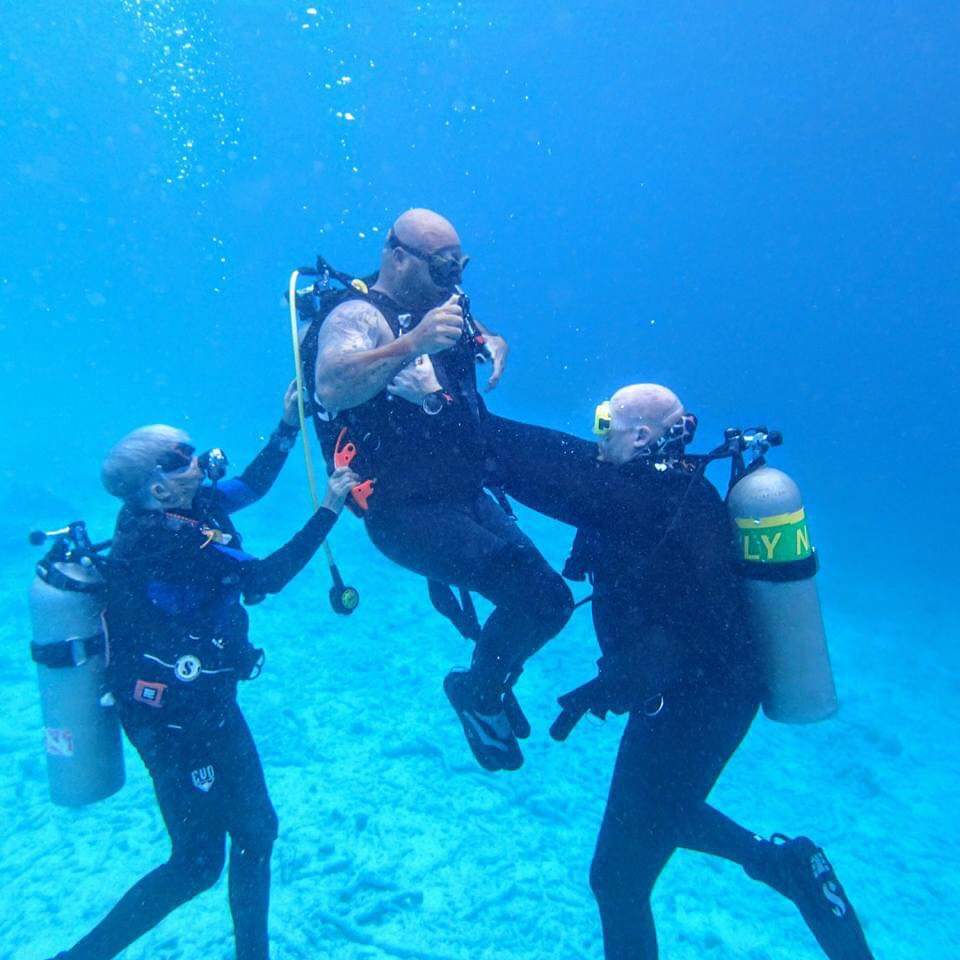 Every day we will encounter individuals that are classified as disabled. Some have physical impairments, others may appear able bodied, however, each disability is unique and comes with its own set of challenges to overcome.
PADI Open Water Diver, Luke Menasco, has learned to live with Cerebral Palsy (CP) since birth. He maintains a very active lifestyle, in addition to scuba diving, you can also find him snow skiing, kayaking, biking (on a trike or tandem), swimming, and more recently – adaptive surfing. In day to day life CP only really affects his balance and ability to walk long distances. He's able to function capably in relation to normal activities such as dressing, eating, working, driving, being a husband, and dad to a 6-year-old.
Luke tells me "While learning to dive there were a few skills in the pool that were challenging for me, but with some practice and some alternative thinking I was able to master them. Walking and balancing fully suited with a tank on my back is my main enemy due to my lack of balance. When entering the water from a boat, I just perform a back roll, no giant strides for me! If it's from shore, I will typically get help with my gear, and put it on once in the water. My wife is a Divemaster with lots of diving experience, so I'm always in good hands with my dive buddy."
He concludes, "Getting PADI certified has been one of my biggest physical accomplishments I've tackled with CP – and something I'm very proud of. I'd love for someone else with CP to read this and use it as motivation to help them realise that diving could be possible for them as well."
Around the world there are many organisations and individuals striving to make diving accessible to everyone whatever their level of ability. In November 2017, PADI launched a new pro-level specialty: The PADI Adaptive Techniques Specialty course. This program provides PADI Professionals and Divers with additional tools to help students of varied abilities meet course performance requirements. PADI's Adaptive Techniques Specialty does not create a new set of standards for existing PADI programs. Instead, instructors and divers learn how a simple technique change can allow many divers to meet performance requirements and earn a PADI certification.
PADI IDC Staff Instructor, Syed Abd Rahman who is a member of PADI's advisory group which helped develop the PADI Adaptive Techniques Specialty course, explains how every PADI Pro can benefit from learning adaptive techniques.
"We often get set in our teaching style over time, and the Adaptive Techniques Specialty course helps you see the standards in a fresh light. The course teaches how to adapt to the student, while still holding the line on performance requirements and expands the instructor's tool box in ways that can be applied to all students. For example, learning how a paraplegic might perform the Controlled Emergency Swimming Ascent (CESA) successfully will help teach that skill to all divers."
Syed, is also the founder and Director of Kids Scuba and the Ambassador for Diveheart in Malaysia, the non-profit organization for Disabled Divers, "In my experience, there are two common misconceptions: that there is more liability when working with those with disabilities, and that there is no business case for shops to provide the training."
Syed said. "The liability does not change; you always have the duty to care."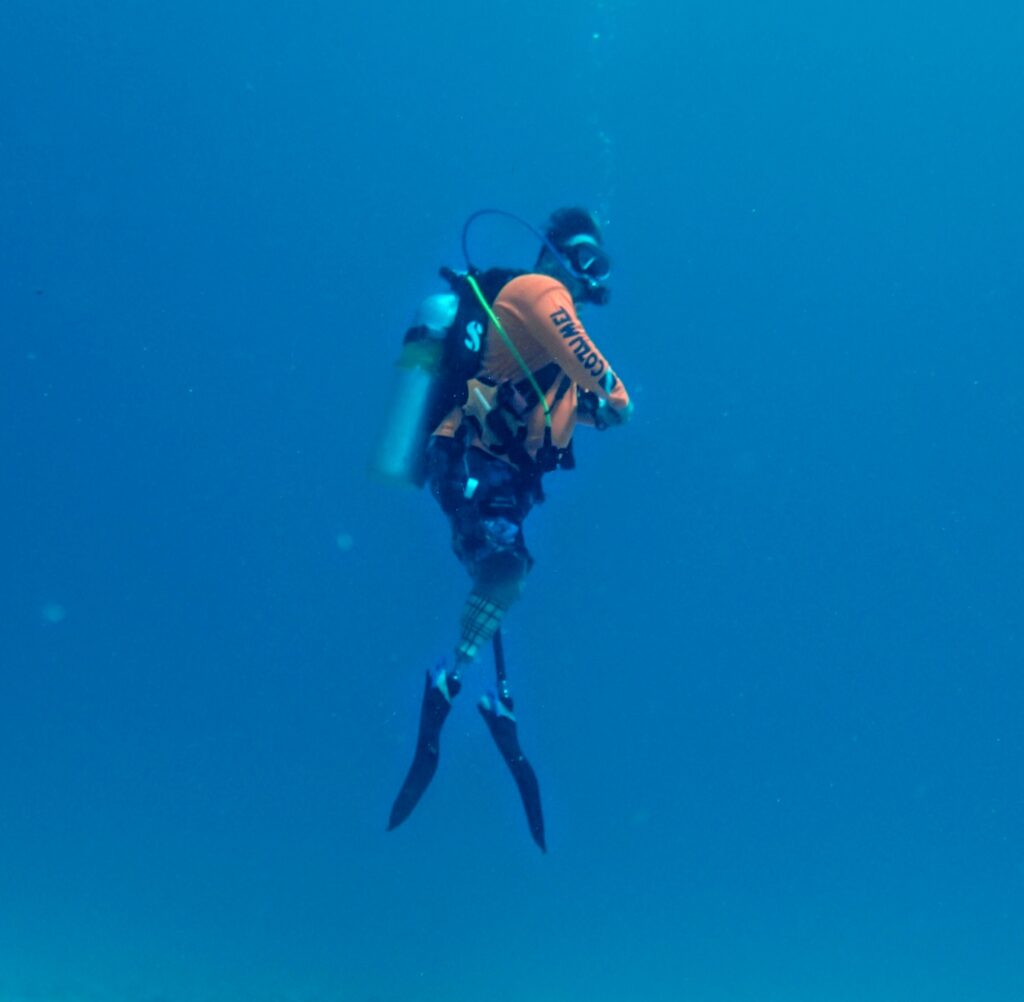 According to the World Health Organization, there are around one billion people on the planet who are living with some form of disability. Therefore, it is likely that most PADI Pros are already working with people who could benefit from adaptive techniques; they just don't realise it.
Even people with a more typical ability range don't all learn the same. Every diver is unique; they struggle with some skills and not with others. PADI's Adaptive Techniques Specialty helps pros look at a PADI Standard and see the flexibility that already exists there. They learn how to easily implement techniques to capitalize on the strengths of their students and help each one overcome their unique challenges.
Executive Director of Patriots For Disabled Divers (PFDD), Bob Taradash is a PADI Master Scuba Diver Trainer and Adaptive Instructor, committed to helping disabled veterans regain confidence and overcome mental and physical challenges through the healing power of diving.
PFDD is a charity for and inspired by disabled veterans. He shares, "We are a group of divers dedicated to bringing the joy and therapeutic benefits of scuba to veterans with disabilities. To date, we've helped more over 750 men and women experience freedom in the underwater world."
"Scuba diving provides a unique environment with many therapeutic effects that can't be replicated on land. For one, the weightlessness of being underwater can relieve physical pain. Also, completing a scuba certification can help a disabled person feel more in control and experience a sense of achievement. If I can breathe underwater, what else is possible? Our divers also tell us the mental benefits of scuba and being in the silent world underwater, gives them a chance to focus and just breathe."
"PFDD is the network of 14 affiliated dive shops around the United States that train our Disabled Veterans. They are all PADI Five Star centres with instructors specially trained to certify disabled divers. They work with each Veteran to determine any special needs and provide the training required to become a PADI Open Water Diver."
A 2011 study conducted by Johns Hopkins University found, "veterans with spinal cord injuries who underwent a four-day scuba- diving certification saw significant improvement in muscle movement, increased sensitivity to light touch and pinprick on the legs, and large reductions in post-traumatic stress disorder (PTSD) symptoms."
Although overcoming the physical challenge is rewarding, it's also paramount to understand and appreciate your own personal limitations when it comes to diving safety.
French diver Nael started diving when she was ten progressing to becoming a PADI Rescue Diver. She was born with bilateral hip displasia and joint hypermobility. This basically means her hips are flat and knees and elbow extend over the 180° angle. She also has Raynaud's syndrome which affects the hypermobility in her hands.
Dives for Nael have to be planned weeks in advance, she explains "Around two to three weeks before I dive, I have to come off my medication as they are not compatible with diving and could cause medical side effects."
"During the dive I have specific hand signals which indicate the levels of coldness I am experiencing. Level one is 'I am cold', level 2 is 'my fingers are turning white, can we ascend slightly' and level 3 is 'I need to surface soon'. This makes underwater communication with my dive buddies very important."
Ready to Get Involved?
It's clear that scuba diving has shown numerous advantages as a social and physical rehabilitation of disabled individuals, allowing them to interact in a near weightless state, with many feeling that the normal obstacles and restrictions their disability gives them on land, disappears in water when given the right equipment and training.
In a world where anything is possible, disabled people around the globe are finding ways to achieve their goals and continue to reap all the benefits that the underwater world has to offer. It's not about what you can't do, it's about what YOU CAN DO! Don't give up, always believe in the possible. Scuba diving is for everyone!
Visit padi.com to learn more about the PADI Adaptive Techniques course for PADI Professionals and the PADI Adaptive Support Diver Specialty for divers.
Related Reading:
Plus, listen to Season 2 Episode 5 of PADI's Dive Stories Podcast featuring adaptive scuba diver and PADI AmbassaDiver, Cody Unser!
---
 Editorial by Paul Graham