It doesn't matter whether you're north of the Equator and stuck behind piles of snow or in the Southern Hemisphere and gearing up for a summertime adventure, packing your bags and going diving in February is an effective way to banish any post-holiday season blues.
The second month of the year has a dive trip to suit every type of diver. For example, it's possible to encounter hundreds of hammerhead sharks in either the Bahamas or Malpelo, or swim with whale sharks in Tanzania or Thailand. You can also visit Mexico's Pacific Coast during the peak whale-watching period, or even meet the mantas of the Andaman Sea and Raja Ampat. February is truly the prime time for several great marine life seasons around the world! Alternatively, for something a little different, sign up to experience the warmth of hydrothermal vents amid Iceland's winter wonderland.
Taking a dive vacation in February can also be an exciting way to celebrate Valentine's Day. Whether you're looking to surprise a significant other with a getaway or you're just looking to show yourself a little love during this romantic time of year, a memorable dive trip is hard to beat.
Ultimately, whatever your motivation, vacationing in the second month is unlikely to disappoint. Here are the best destinations for scuba diving in February.
---
1. Malpelo Island, Colombia
Malpelo Island, located 500 kilometers (310 miles) from the Colombian mainland, may look like a lonely rock in the eastern Pacific Ocean, but this is one of the best liveaboard diving destinations in the world. At depth, scuba divers will find one of the planet's largest shark populations.
You might swim with 200 to 300 hammerhead sharks and hundreds of silky sharks on any given dive. Whale sharks, eagle rays, tuna, sailfish, and even whales could also make an appearance.
The best diving season for Malpelo falls between January and May. During these months, you'll experience a generally sunny climate with higher than usual seas. Shallow thermoclines complement colder water, which ranges between 61-77°F (16-25°C). Hundreds of hammerhead sharks gather around the island, and it's also a great time to encounter smalltooth sand tiger sharks. For wide-angle photographers, every dive is an underwater field day! This is undoubtedly shark diving at its best!
Editor's Recommended Liveaboard: Ferox
---
2. Bimini, Bahamas
On the far reaches of the Bahamas sits the island of Bimini, a shark diving haven and home to some of the best Caribbean diving in February. The Gulf Stream cruises past this remote island, attracting large marine life to get the adrenaline pumping.
Every winter, from December to March, great hammerhead sharks gather around the Bimini Islands in large numbers, curiously approaching divers. This makes February the perfect time to visit. There are even opportunities for keen volunteers to participate in shark conservation and research. In addition, divers will enjoy great topside conditions and the occasional sighting of a bull shark during these months. Of course, just make sure you follow the appropriate shark diving procedures.
However, Bimini also offers great diving other than the shark variety. Around the island, there are about two dozen dive sites, most of which are suitable for beginners and those learning to dive. From wrecks and walls to reefs and drifts, there's something for everyone on this stunning Bahamian island.
Editor's Recommended Liveaboard: Bahamas Master
---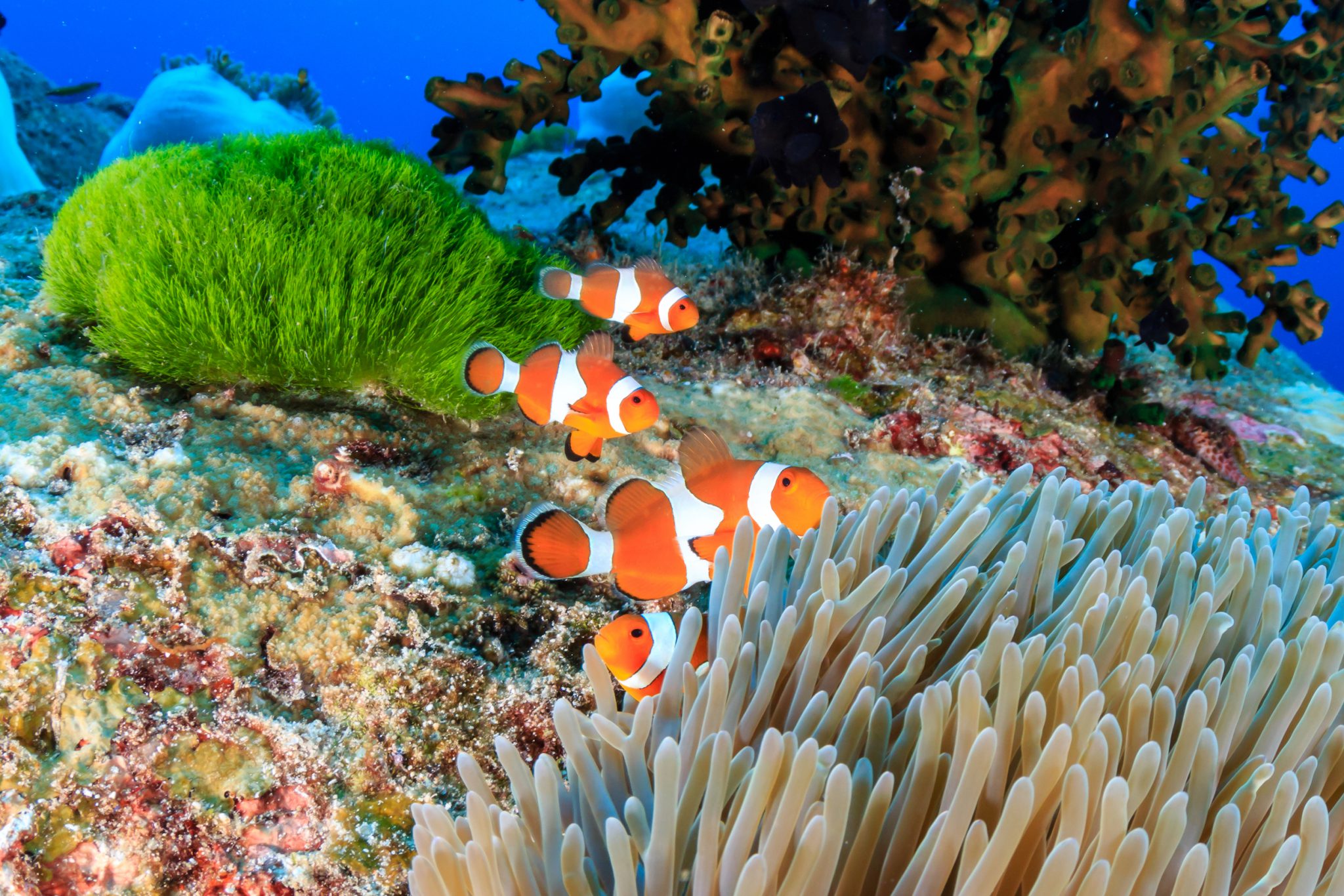 3. Similan Islands, Thailand
Thanks to a limited season and a massive conservation effort, the Similan Islands offer some of the best liveaboard dive sites in the world. The only time you can access these islands is from October to May. During these months, the water is calm and the weather is dry.
These months also offer frequent plankton blooms and the abundant presence of cleaner wrasse. As you may know, both of these things attract manta rays and whale sharks, as well as black and white-tipped reef sharks. February, in particular, is the best month for manta rays at dive sites like Koh Bon.
In addition, these remote, rocky outcrops are home to some fascinating (and highly photogenic) marine life, such as anemone fish, boxfish, and parrotfish.
Ready to discover the beauty of the Andaman Sea? Diving in Thailand in February is a great way to do just that, especially if you're looking for the most budget-friendly liveaboards in the world.
Editor's Recommended Liveaboard: The Junk
---
4. Raja Ampat, Indonesia
Several of the world's leading marine biologists claim Raja Ampat is one of the best destinations for scuba diving. This Indonesian region set the record for the most species of fish on a single dive back in 2012, making it a wonderland for divers. In addition to huge schools of fish, Raja Ampat is home to colorful corals and a plethora of macro critters.
On a dive in Raja Ampat, you might spot any number of rare species, such as wobbegong sharks, bobtail squid, pygmy seahorses, whale sharks, and epaulette sharks. February is also one of the best months for seeing manta rays.
The diving season in Raja Ampat runs from October to April, so it makes sense that it's one of the best places to dive in February. Indeed, this season brings fewer rain showers and relatively smooth seas, making for a comfortable trip. While you can dive Raja Ampat from land, you will see far more of this region's 200 dive sites from a liveaboard. Luckily, Indonesia is home to some of the best liveaboards in the world.
Editor's Recommended Liveaboard: Indo Siren
---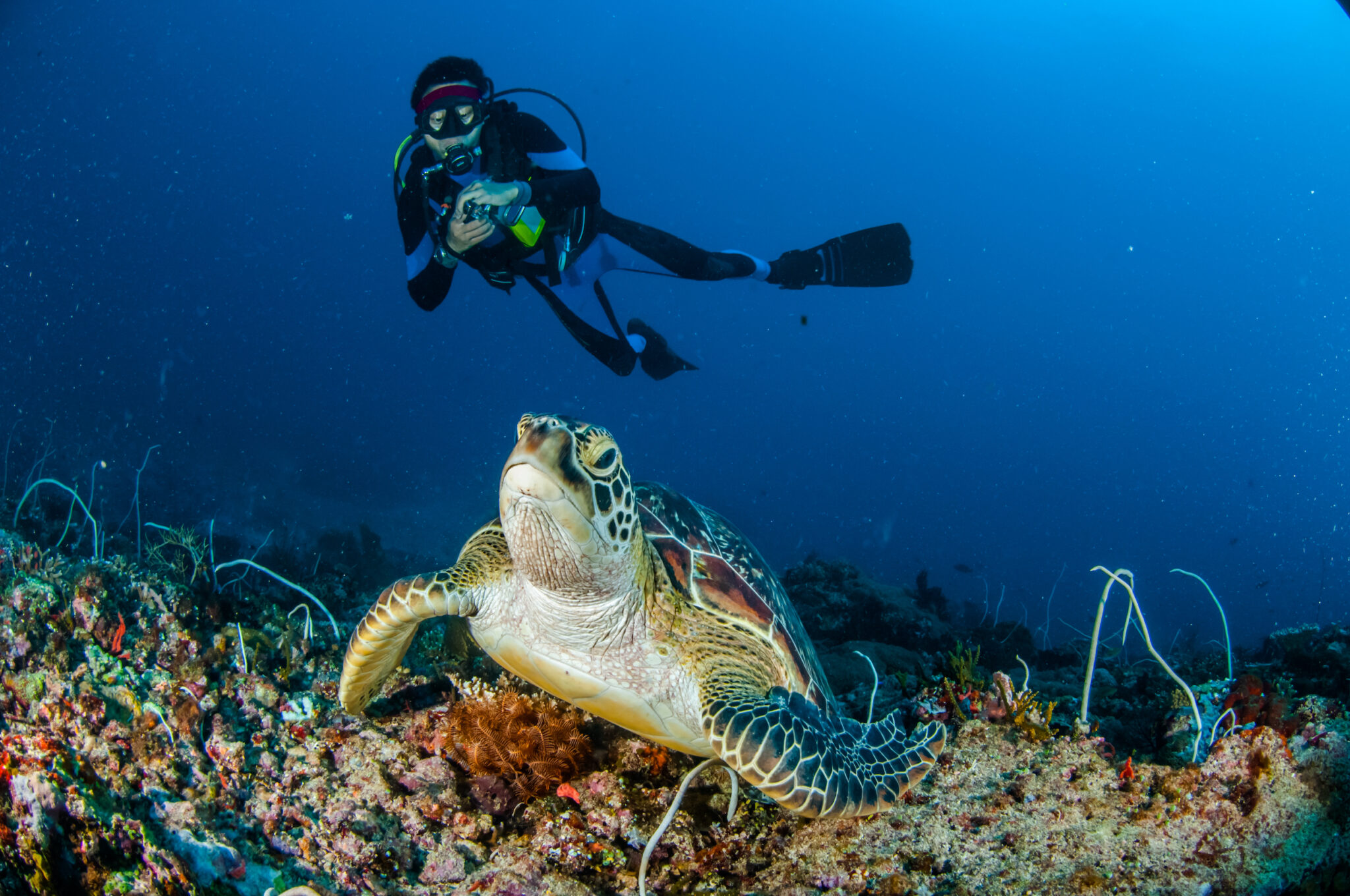 5. Andaman Islands, India
This February, book a liveaboard for a far-flung adventure to the Andaman Islands. The diving season on these Indian islands lasts from November to May. So, the second month of the year falls within the best time to visit the Andamans. Outside of these months, the islands are hit by the monsoon, which brings rain and wind.
Much like the Similans, which is the other set of islands in the Andaman Sea, the Andaman Islands are home to sloping reefs, steep walls, sandy bottoms, coral gardens, and superb pinnacles. Visibility is usually excellent, and marine life is varied.
In particular, a few highlights from this liveaboard destination include Dixon's Pinnacle, the walls and channels off Havelock Island, and the manta ray cleaning stations around Barren Island. Green sea turtles pop up at several dive sites, not to mention a variety of colorful tropical fish.
This is one of the most remote inhabited archipelagos. Thanks to conservation efforts and a naturally resilient environment, the Andaman Islands make an epic scuba diving destination and one of the best tropical vacations in February.
Editor's Recommended Dive Resort: Big Tree Resort
---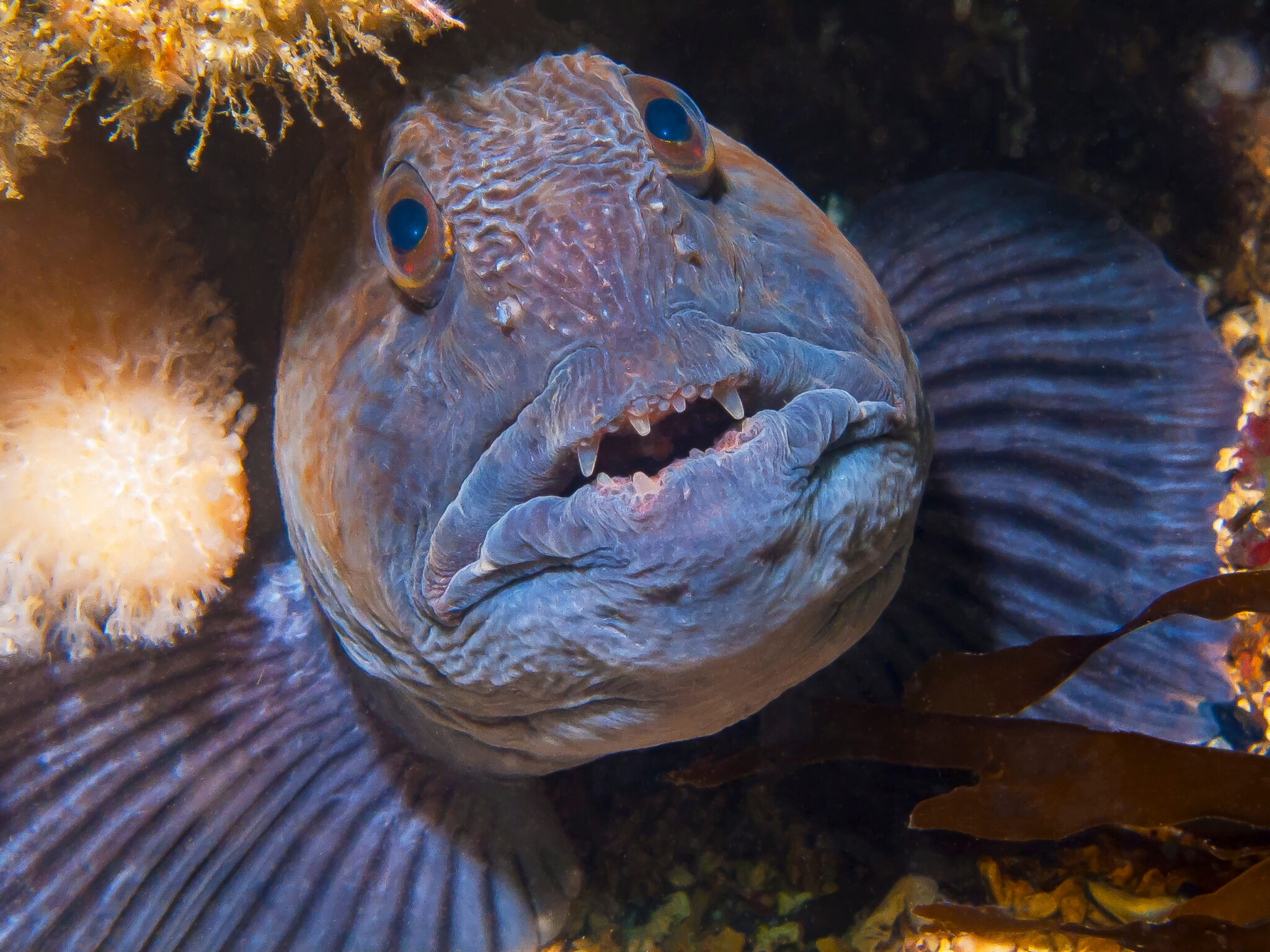 6. Iceland
This small nation is often associated with Silfra. But venture to the other side of the island, and you'll behold unique rock formations and impressive biodiversity. Diving in February is colder and more challenging, but you'll be rewarded by peace, quiet, and the snow-capped vistas you'd expect from a country named Iceland.
In the Eyjafjörður fjord stands Strýtan, the world's shallowest hydrothermal chimney. Rising from 213ft (65m) to just 49ft (15m), it's believed to be 11,000 years old and is still active today. Remove your glove, and you'll even feel the 80°F (27°C) water flowing out at 100 liters per second. Arnarnesstrýtur is home to smaller chimneys and plentiful cold water creatures. Walls are covered in sponges, anemones, nudibranchs and crustaceans in crevices. Also, look out for cod, lumpfish and wolffish.
Of course, the water is near-freezing, and excellent buoyancy is essential on these protected sites. For that reason, divers must be 17 years old or older and hold a minimum of Advanced Open Water Diver certification with drysuit experience. Remember that daylight periods are shorter in winter, but this means more chances of witnessing another of Iceland's treasures: the northern lights.
Editor's Recommended Dive Center: DIVE.IS
---
7. Pacific Coast of Mexico
From the coastlines of Baja California and Bahia de Banderas to the rocky Revillagigedo Islands, the Pacific waters of Mexico offer unforgettable sightings of marine megafauna in February.
Alongside encounters with dolphins, sharks and rays, whale watching is the star attraction at this time of year. From the beach or dedicated boat tours, this is the peak season for spotting several cetacean species: gray whales with calves, sperm whales, and even the rarer and mighty blue whales. Listen out underwater for the songs of migrating humpback whales. 
The Pacific Coast of Mexico welcomes divers in any month of the year. However, the arrival of cooler waters (around 66-72°F / 19-22°C) and plankton blooms makes winter the prime time for big pelagics. With calmer weather, November to May is also the only season you can book a liveaboard to offshore Socorro.
Editor's Recommended Liveaboard: Quino El Guardian
---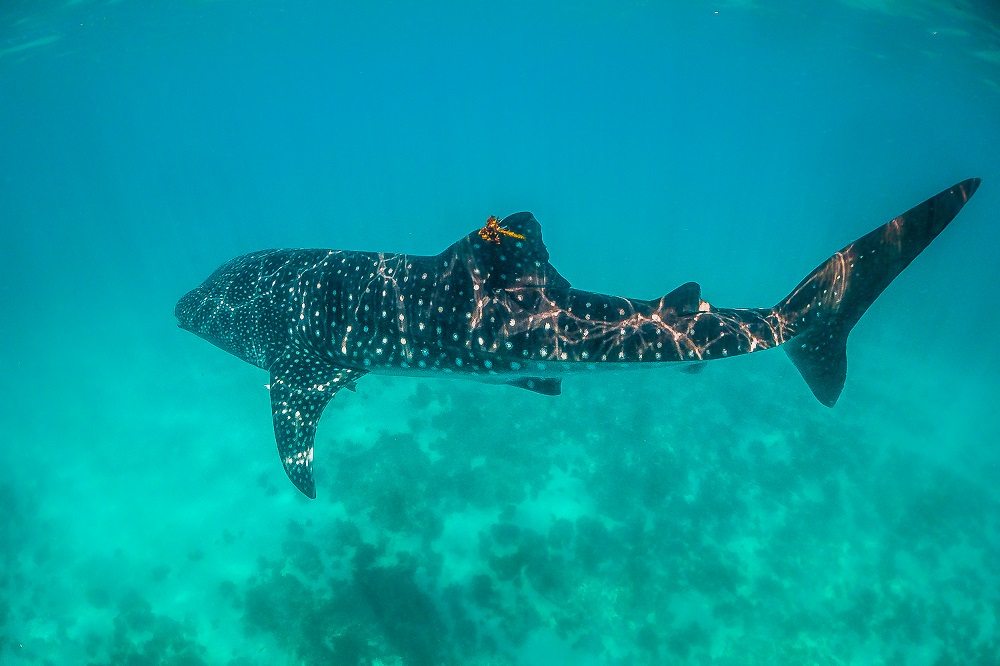 8. Mafia Island, Tanzania
160km (99 miles) from the buzz of neighboring Zanzibar, Mafia Island in Tanzania is revered for its secluded beaches and uncrowded dive sites. As well as a perfect Valentine's Day backdrop for romantic couples and honeymooners, February diving at Mafia Island promises frequent sightings of whale sharks. These gentle giants are attracted by a buffet of shrimp and plankton and are the subject of a local Marine Megafauna Foundation research program. 
Ideal for beginners and snorkelers, the shallow waters inside Chole Bay are home to reef sharks, rays, groupers, octopus, morays, and countless fish swimming among seagrass, mangroves, and corals. More experienced divers might instead head to the outer reefs. As well as better chances of turtles and big pelagics, the walls are lined with impressive displays of staghorn coral.
November to March is the best time to see whale sharks at Mafia Island. It's also the warmest season with the most favorable diving conditions. Water temperatures are pleasant 80-86°F (27-30°C), and visibility often reaches 100ft (30m).
Editor's Recommended Resort: Big Blu Mafia Island Dive Centre & Resort
---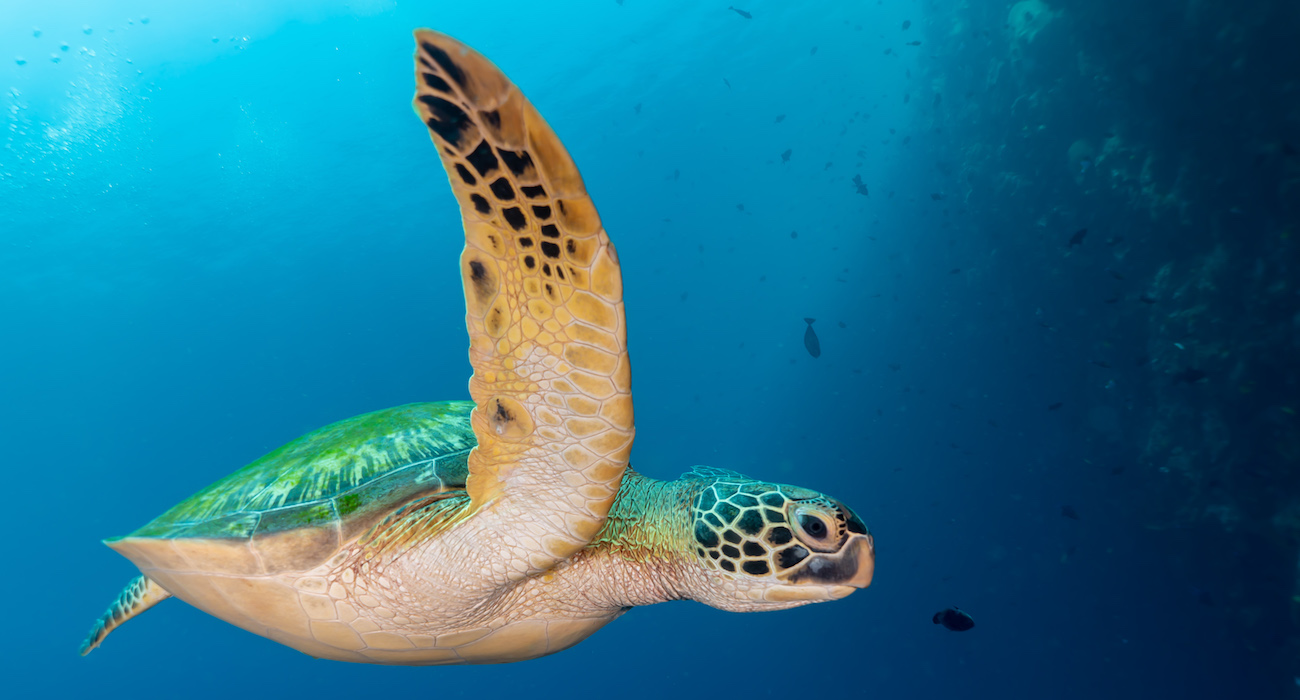 9. North Sulawesi, Indonesia
At the crossroads between the Indian Ocean and the Pacific Ocean, more than 17,500 islands make up Indonesia. The waters host 25% of the world's fish species and 15% of its coral. The country has thousands of amazing dive sites, so it's no wonder that it's not only Raja Ampat that deserves a mention.
North Sulawesi offers phenomenal diversity, from the staggering walls and huge sea turtle population of the Bunaken Marine Park to kaleidoscopic soft coral reefs around Bangka Island. The Lembeh Strait is also home to some of the world's best muck diving, with memorable macro critters, such as bobbit worms, frogfish, harlequin shrimp, waspfish, Banggai cardinalfish and several species of octopus encountered on a regular basis.
Additionally, the proximity of many of the top dive sites to nearby islands makes North Sulawesi an excellent destination to take advantage of some of the best dive resorts in Indonesia. Accommodation comes in a range of different styles, meaning there are options to suit a number of budgets. Furthermore, being based on land makes it easier to fill your vacation with interesting activities both in and out of the water.
Editor's Recommended Resort: Murex Dive Resorts
---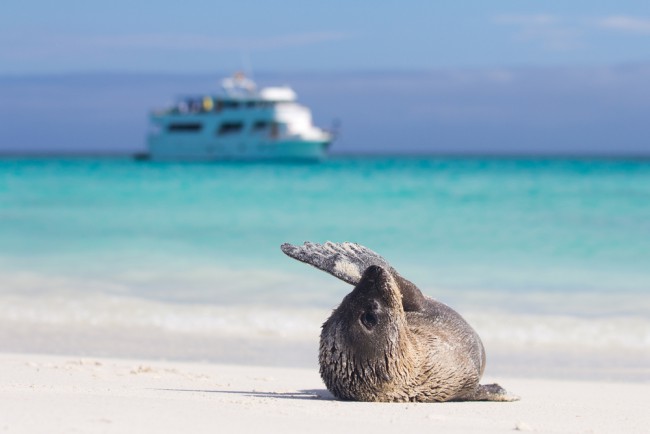 10. Galapagos Islands, Ecuador
There are several good reasons why the Galapagos Islands regularly appear on lists of the best scuba diving destinations in the world (in addition to almost every diver's bucket list). Spectacular marine life, memorable seascapes, outstanding visibility and just enough thrilling adventure make any visit to these legendary islands a trip you'll remember forever — and the month of February is one of the best times to go.
During a visit to the islands, you'll likely have the chance to meet plenty of logbook-worthy marine species. These can range from endemic species to the Galapagos, such as marine iguanas, Galapagos penguins, Galapagos fur seals and the red-lipped batfish, to other regularly encountered marine life, including molas, mantas, and perhaps most impressive of all, schooling hammerheads.
Given the large distances between the Galapagos Islands' best dive sites, the best way to visit them all during a single trip is by opting for a liveaboard vessel. And while many of the most popular sites, such as Darwin and Wolf Islands, are only suitable for divers with a certain level of experience, there are still plenty of sheltered coves with sites better suited to less experienced divers. 
Editor's Recommended Liveaboard: Calipso Galapagos
---
Choose Your Perfect February Scuba Diving Adventure
Are you planning an early-year scuba getaway? Download the PADI Adventures App for even more ideas on where to go diving in February. Or, for advice on choosing the best scuba diving destinations for you, get in touch with our experts at PADI Travel. The team is available 24/7 by phone, email, and chat to help ensure you get the vacation of your dreams.