A common question among divers is, "How did you get into this?" (and they're not talking about that rental wetsuit). In this article, we explore what motivates people to try scuba diving. As a bonus, we asked real PADI Divers about their diving journey and shared their answers below – so you can decide if scuba diving is for you. 
Coming up are the top nine signs it's time to become a diver.
---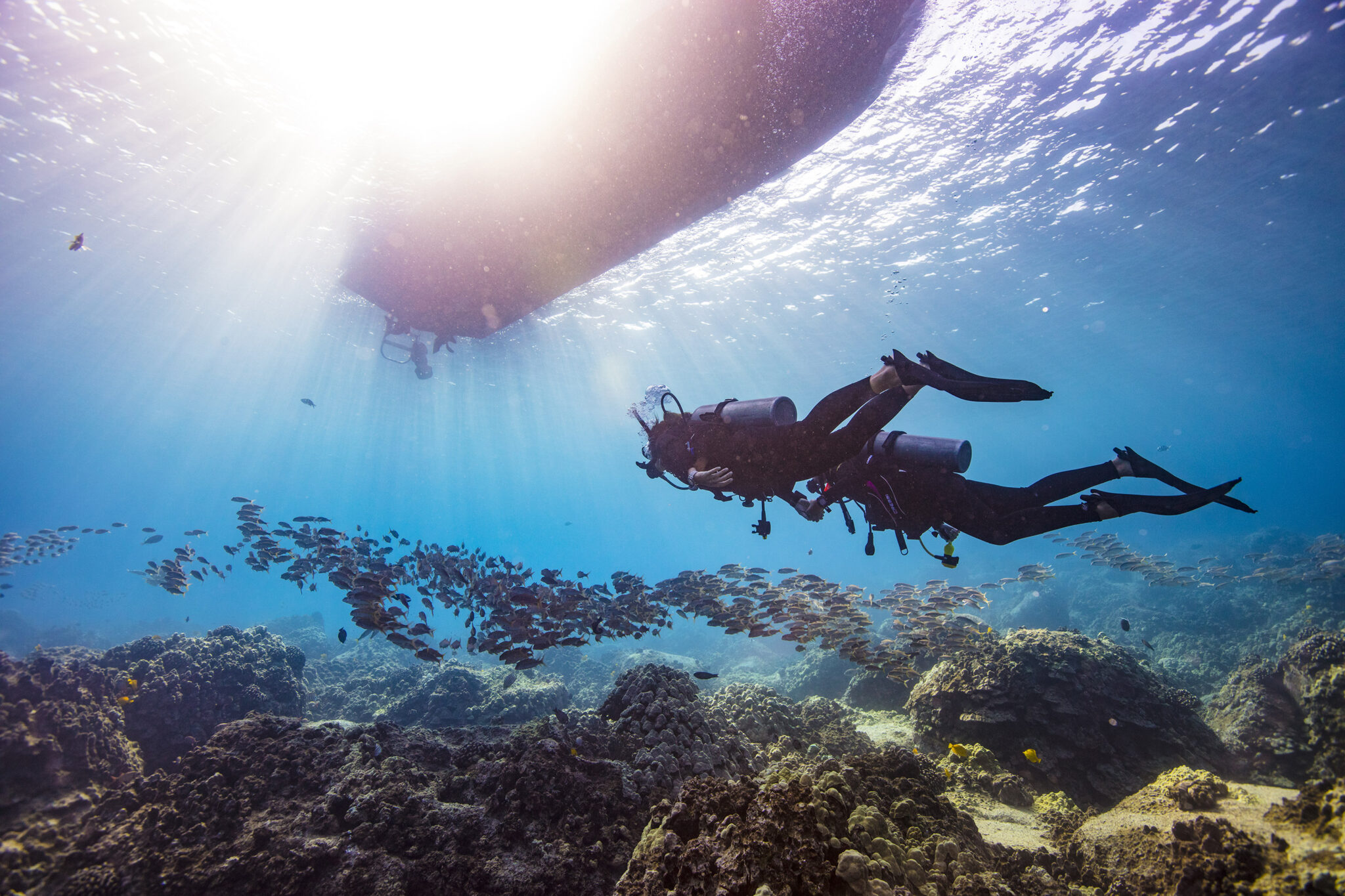 #1 You feel anxious, stressed or depressed
Scuba diving has scientifically proven health benefits and being in the water improves both mental and physical wellbeing.
How does scuba diving help soothe busy minds? According to Dr. Laura Walton, clinical psychologist and PADI IDC Staff Instructor, scuba diving causes us to be present and focused on the now. "Every dive is an opportunity to leave behind distractions on the surface and focus our attention on the stuff that matters. Also, there is an unfamiliar world to explore, our senses are filled with new sights, and our brains are stimulated by making sense of what we see. It leaves little room for our everyday worries."
While this might seem a bit of a stretch, scuba diving can do wonders for your anxiety, stress or depression. But, don't just take our word for it. Megan Hassa, a PADI AmbassaDiver and PADI Rescue Diver, feels passionately about her encounters with the water and their impact on her mental health:
"The first time I went diving I remember slipping beneath the water and just hovering above the ocean floor. There I felt a stillness. Diving into another world allowed me to disconnect from the reality above. For me, being beneath the surface and just listening to the sounds of the ocean is therapeutic. It's a place where I can clear my mind and be fully present in nature. When I dive, I leave my life and worries at the surface. Struggling with depression, these moments of stillness keep my soul happy. They remind me how beautiful our planet truly is and how grateful I am to be alive."
---
#2 You love authentic animal encounters
If you're a wildlife lover on land, the oceans have even more to offer. As a diver, you'll enjoy authentic interactions with marine creatures in their natural habitat.
Diving isn't always about watching big animals, like manta rays or turtles. As you progress in your diving journey, you'll find yourself on plenty of dives where spotting the small stuff is the aim of the game.
"Scuba diving is unique in that it allows you to really take your time viewing all the fish, coral, mollusks, sharks, marine mammals and everything else that calls any marine environment home. About 20% of discovered species live in the water, and it's estimated that 95% of the ocean's animals have yet to be described. Learning to dive is the best way to see all the marine life out there." – Elliot Pelling, PADI Advanced Open Water Diver & Digital Nomad.
---
#3 You want to spend time with fun, like-minded people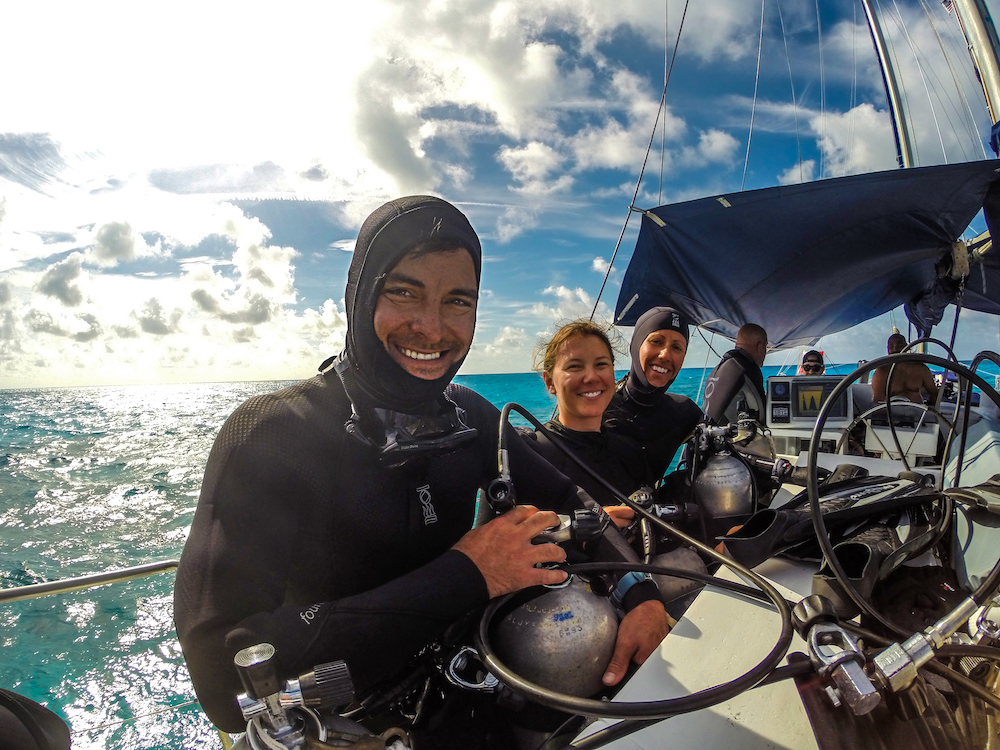 When you scuba dive, you always go with a dive buddy. You can bring your own buddy (a friend, partner or family member) or get paired up with someone at the dive site.
In a surprisingly short amount of time, two random divers can become fast friends. Why do most divers instantly hit it off? I think there are a few reasons:
A shared passion for the ocean and the creatures who live there
The experience itself: what you see and the mental stoke
Diving isn't competitive, everyone's there to have fun
---
#4 You want to get out of your comfort zone
Scuba diving comes naturally to some and is challenging for others. Is learning to scuba dive worth it? If any of the reasons we've mentioned resonate with you – definitely, yes.
In addition to the rewards that come with being an underwater explorer, there's a huge benefit to trying something new. What's that saying? Life begins at the end of your comfort zone.
As PADI AmbassaDiver Pier Nirandara put it:
"Growth is often uncomfortable, but you'll never grow without discomfort. In scuba diving, we have a movement called a giant stride — which is when you stand at the edge of the boat and do a large step into the ocean. Embrace that giant stride into the unknown. The ocean has carried me around the world as a novelist, film producer, and underwater photographer. Where will the currents take you?"
---
#5 You need a confidence boost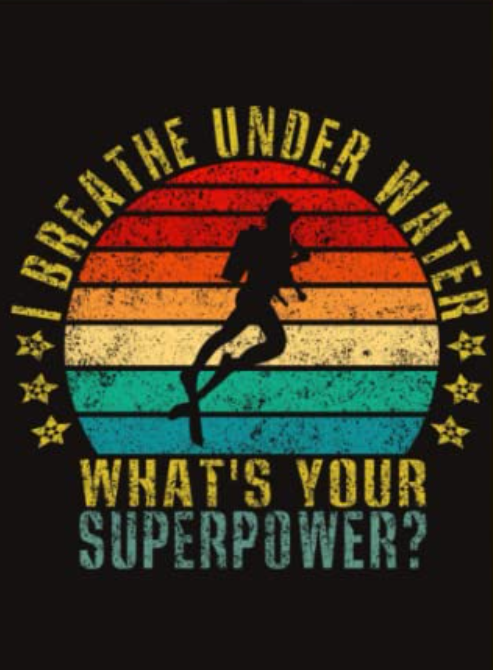 Setting a goal and achieving it can give you a massive confidence boost. Learning to scuba dive will also give you new skills and abilities.
"I learned to dive because I wanted to fully experience all the destinations I travel to – above and below the surface. But, the confidence boost that came with passing my Open Water Diver course was immediate. Not only had I accomplished a goal I set out for myself, I had gained skills I didn't even know I needed. For the first time, I felt in control in the water, and I learned I could handle multiple tasks while several meters below the surface. I could understand and set up equipment that would keep me alive underwater, and I could care for my buddy at depth, too. I could go on, but it's enough to say that getting scuba certified is one of the best things you can do for your confidence levels."
– Sarah Morlock, Travel Writer and PADI Global Digital Content Editor
---
#6 You want to help save the ocean
"For me, my commitment to marine conservation comes down to a single experience years ago when I first became a diver. I came face to face with a small fish going about its business on the reef. When it turned and looked me in the eyes, I realized no one else on the planet knew that specific fish even existed.
"There we were, just the two of us in this special moment away from everything else on the surface. It was incredibly humbling and left me with a strong sense that we all have an equal right to exist on this planet.
As a diver, you have a unique ability to see what's happening beneath the waves and actually do something to bring about better balance between humanity and the ocean. By becoming a citizen scientist and submitting marine debris data to PADI AWARE, you are directly providing support to scientists and policymakers to make real changes.
Diving skills can literally be the foundation of a healthier ocean and planet for us all. If everyone on this planet could just do one dive, I believe it could fundamentally change how humanity interacts with the natural world."
– Emma Daffurn, PADI Corporate Social Responsibility Specialist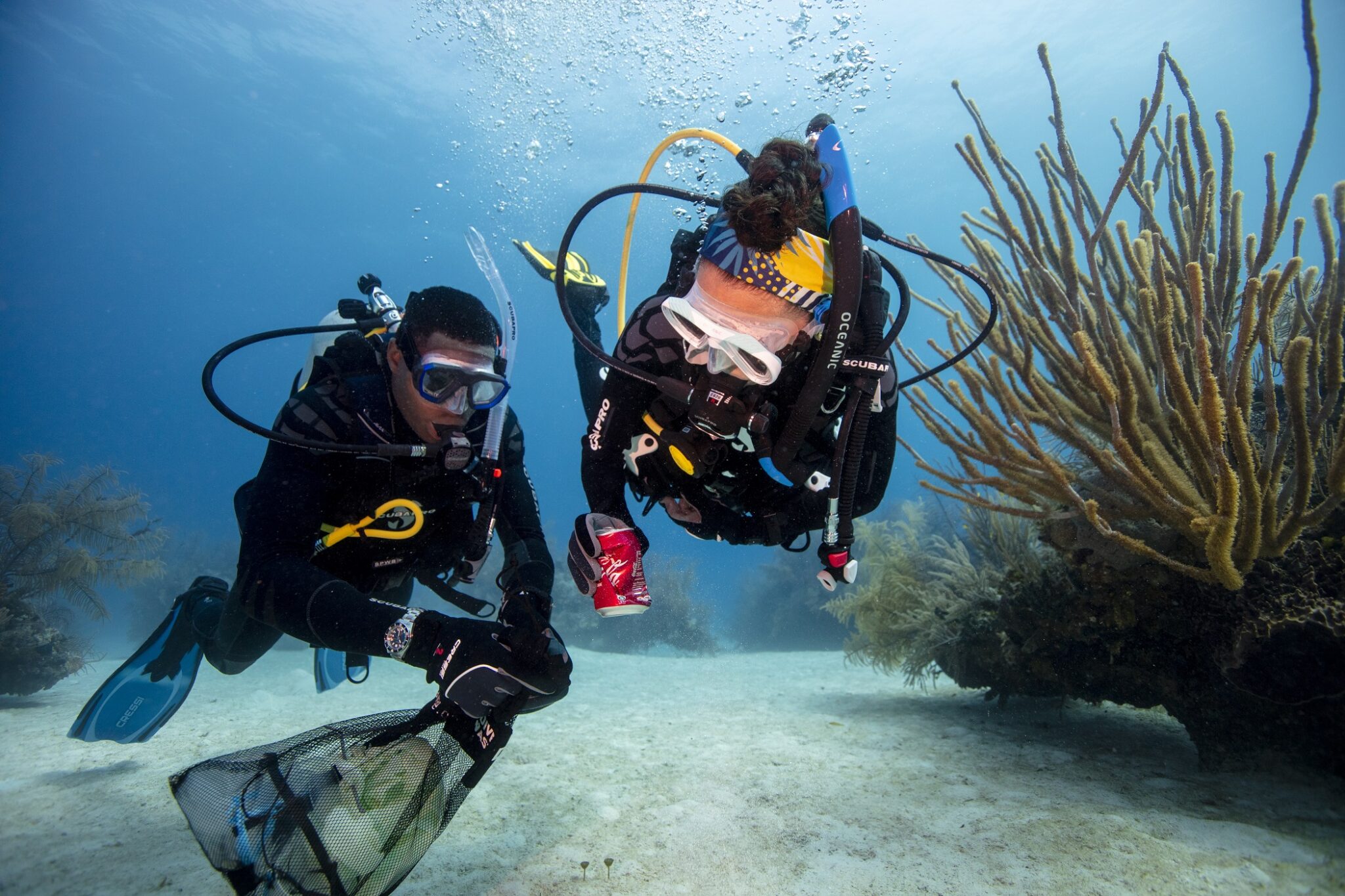 PADI Instructors and Dive Shops issue more than one million certifications every year as part of our collective mission to restore ocean health. When you choose PADI, you support independent businesses committed to ocean conservation and like-minded, mission-driven organizations. Learn more on our conservation page.
---
#7 You're looking for a new adventure
Scuba diving will take you to places you never thought you'd visit – both locally or on holiday.
"Did you know that a large chunk of ocean, about 70%, is unexplored?!! How awesome, right? The ocean is literally the last frontier – unexplored territory – on our planet. Scuba divers are on the forefront to discover what is yet to be known."
– Melodie Treviño, PADI AmbassaDiver & Instructor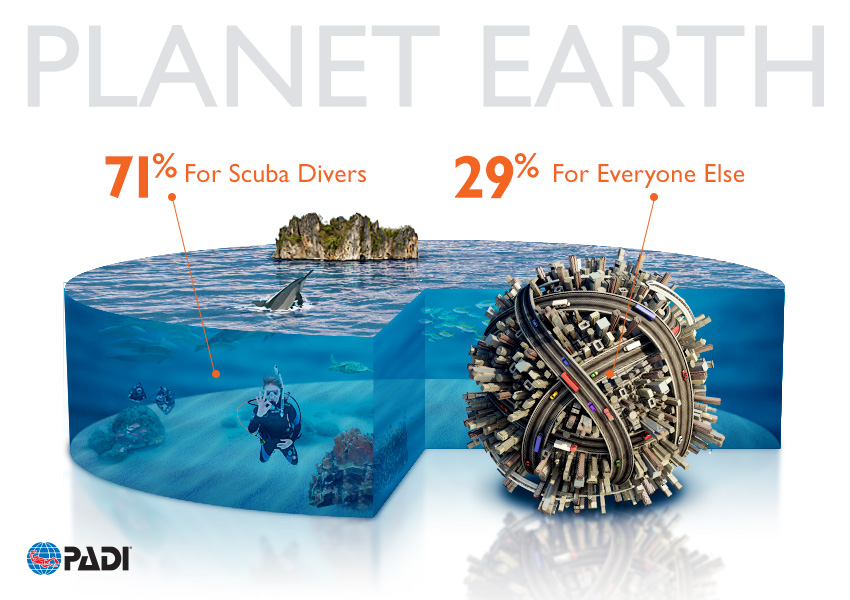 ---
#8 You want to take your photography skills underwater
If you are a keen nature photographer, imagine how incredible it would be to capture marine species that are seen by so few in their natural environment. Once you're hooked and your dive skills are up to scratch, take the PADI Underwater Photographer course, invest in a housing for your camera and the underwater world is yours to capture in images.
"It's one thing to tell friends and family about the amazing marine species I see on my dives, but it's so much more to be able to share my images with them. Images are also an impactful way to raise awareness of marine conservation initiatives.
I particularly have a love for macro photography which enables me to capture details that are hard to see with the naked eye. The underwater world is constantly revealing more of itself to me on every dive."
– Sarah Wormald, PADI Blogger, author, and underwater photographer.
---
#9 You want a new way of staying fit and active
It's not only making actual dives that contribute to your overall fitness level. Most divers tend to engage in a healthier lifestyle to ensure their fitness levels are maintained for making future dives. This might include eating healthier, more regular exercise or cleaner living. As a result of this, you'll find that your mental health is enhanced, too.
As you start to engage with the scuba diving community, either online or in your local area, you'll meet like-minded people, and dive buddies might also become travel companions, trekking partners, and globe-trotting exploration friends!
---
Live a More Extraordinary Life, Live Unfiltered
If you're looking for an antidote to the always-on modern world, scuba diving might be the new adventure you need. Underwater, you can Live UnfilteredTM, experience natural wonders first-hand, and hang out with like-minded people who care about the planet.
Ready to dive in?
Sign up to a PADI Open Water Diver course now, and learn to dive in three easy steps. You can even get started online right now with our eLearning course.
Or, if you just want to tip your toe in the water, you can start the Open Water Diver course online – FREE. There's no commitment and no credit card required. You'll learn underwater hand signals and how divers play a critical role in ocean protection.
---
Go Deeper