Planning a scuba diving vacation in July? Then check out these top diving destinations. Choose from a number of sun and fun-filled adventures, such as minke whales in Australia, manta rays in Indonesia or hammerhead sharks in Costa Rica. In reality, there really is no wrong choice when deciding between the best places to dive in July.
Read on to discover our picks for the top dive destinations in the seventh month of the year.
---
1. Isla Mujeres, Mexico
Love whale sharks? Head to Isla Mujeres in July to snorkel with them. While this isn't strictly a diving destination, this experience is one of the best whale shark encounters available, so we definitely have to include it on our list of the best destinations for the seventh month.
Set just offshore from Cancun, Isla Mujeres attracts hundreds of whale sharks from June to September each year. This is partly due to the fact that the island sits at the point where the Gulf of Mexico joins the Caribbean. The excursions will take you about an hour off the island by boat where you'll jump into the warm, clear waters where the whale sharks congregate.
In terms of the actual scuba diving around Isla Mujeres, the area is suitable to all levels of divers and snorkelers, making it an ideal family vacation spot. This is because many of the sites are shallow reefs with little to no current. For those with an advanced certification, a few deep wrecks, as well as ledges and cenote dives are also available.
Editor's Recommended Dive Center: Squalo Adventures
---
2. Great Barrier Reef, Australia
A designated UNESCO World Heritage Site, Queensland's gorgeous Great Barrier Reef stretches 1,400 miles down the east coast of Australia. This area includes 600 islands and 2,900 individual reefs. Because it's Earth's largest reef system, you can see just about every type of marine life here.
There's truly no bad time to scuba dive in Australia. However, there's little doubt diving Down Under is one of the best places to dive in July. From June to November, Australia experiences winter and slightly cooler water temperatures in the Great Barrier Reef. I know what you're thinking, but this change doesn't make the water uncomfortable. Instead, it attracts a range of exciting and large pelagic marine life, including manta rays, whale sharks and even minke whales.
In addition, the seas are relatively calm and visibility is excellent. At the beginning of the season, you can enjoy dives with 100-foot (30-meter) visibility in the outer reefs.
If you're ready to jump in with bucket-list marine life while checking the Great Barrier Reef off your scuba diving bucket list, be sure to pick July for your Australian diving holiday.
Editor's Recommended Liveaboard: Spoilsport
---
3. Cocos Island, Costa Rica
If you haven't heard of Cocos Island National Park in Costa Rica, you've been severely deprived of this incredible diving destination. For instance, located 550 km (350 miles) off the Pacific coast of Costa Rica, this is the only island in the tropical eastern Pacific with a tropical rainforest. The island is also the first point of contact with the northern equatorial counter-current, which creates an incredible ecosystem for marine life. For these reasons, this area has become very famous with divers, who rate it as one of the best places in the world to view large pelagic species, such as sharks, rays, tuna and dolphins.
The best timeframe to dive at Cocos Island is from June to December. This is known as the wet season and is also when plankton blooms attract large amounts of marine life, including the schooling hammerhead sharks that make the island famous and give one of the best dive sites in the world.
During July, you might also encounter whale sharks and manta rays at this liveaboard-only destination. However, be prepared for decreased visibility versus the dry season and cooler temperatures. It's also important that you have experience diving in a current before attempting a trip to this Costa Rican island.
With all that said, Cocos Island really is one of the best liveaboard destinations in the world, especially if you love diving with sharks. Book your trip for July and get ready for the adventure of your scuba diving career.
Editor's Recommended Liveaboard: Cocos Island Aggressor
---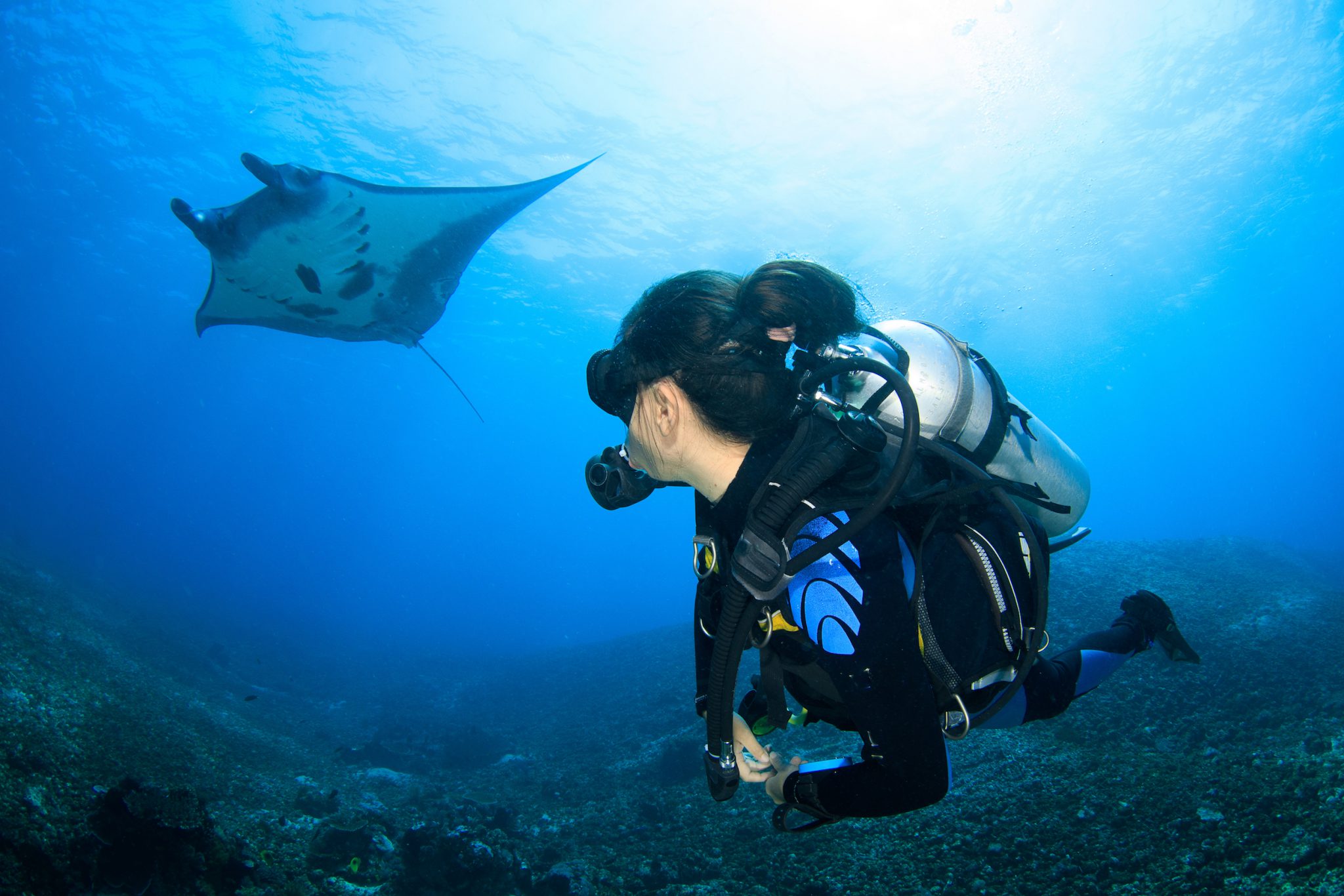 4. Komodo, Indonesia
If manta rays are at the top of your list, Komodo is definitely one of the best places to dive in July for you. This spot is one of Indonesia's most famous dive sites. Manta rays, sharks and colorful reefs are just a few of the stars of Komodo. It is relatively remote, but if you want an adventure and incredible diving, it should be at the top of your bucket list. Additionally, you can expect to find an array of dive sites perfectly suited to drift diving.
The area is also well known for its opportunities for macro-lovers. As a result, you'll be drifting around hard and soft coral walls and checking out the myriad of critters hiding among them. It is important to note that divers should be experienced enough to feel comfortable on drift dives for this destination.
Diving season at this UNESCO World Heritage site lasts from April to August with near perfect conditions in July. July is right in the middle of dry season. As such, it boasts calm surface conditions, great visibility and an abundance of marine life. You can expect to swim with manta rays and spot some of the 1,000 plus species of fish that inhabit these waters.
To see the very best dive sites in Komodo, be sure to book a liveaboard. If you book early enough, you might be able to find a great deal on our special deals page.
Editor's Recommended Liveaboard: KLM Manta Mae
---
5. Sipadan, Malaysia
Sipadan is one of the most bio-diverse regions in the world and boasts of over 3000 fish species and several hundred coral species. Its located in Celebes Sea, which is just an hour-long ride from mainland Borneo. The nutrient-rich currents entering this area attract almost every member of the marine food chain, including small fish, large fish, sharks and turtles. Lucky divers can also expect to dive with hammerheads and thresher sharks occasionally!
Much like Australia, you can dive Sipadan in Malaysia year-round. However, dry season lasts from March to October, and it is in the middle of this season, in July, that you'll experience the most breathtaking conditions.
During this month, visibility can reach 160 feet (50 meters). In addition, there's fantastic muck diving in nearby Kapalai Island. It's no coincidence that July is one of the most difficult months for finding the necessary permits, so be sure to book your adventure early.
It's also worth noting that liveaboard diving here allows you to see the best of Sipadan over multiple days along with Kapalai and Mabul.
Editor's Recommended Dive Resort: Sipadan-Mabul Resort
---
6. New Caledonia & Vanuatu
During the month of July, New Caledonia and Vanuatu hit their peak diving season. These South Pacific, multi-island neighbors both boast world-class diving, with everything from pristine coral reefs and shipwrecks to manta rays and dugongs to entice travelers.
With a 1600-kilometer coral reef, which curves around to create the world's largest lagoon, it's little wonder New Caledonia is crammed full of so many dive-worthy sites. During any trip, divers can expect to descend into clear waters and enjoy some truly memorable underwater encounters. Marine life present in the area includes dugongs, sharks, manta rays, numerous other pelagic fish and a range of macro life.
Additionally, to round off New Caledonia's impressive diving buffet, there are several shipwrecks and caves to be explored if you want a little variation or marine life-centric dives aren't your go-to. In short, New Caledonia is a dive destination with something for every diver.
The island nation of Vanuatu is a quick 630-kilometer (390-mile) hop over a maritime border from New Caledonia, and this country rivals New Caledonia for being the most diver-worthy travel destination in the area. Vanuatu's historic wrecks (including the famous SS President Coolidge), huge caverns and steep drop-offs are all home to an abundance of marine life, making diving here an experience you're not likely to forget anytime soon. Vanuatu is also one of the top destinations for diving with dugongs in the world.
Editor's Recommended Dive Resort: Nautilus Watersports Ltd
---
7. Elba Island, Italy
With warm temperatures above and below the surface, if you're intending on diving during a vacation in Italy, July is a great time to do it.
While Italy has dive-worthy locations all around its peninsula, ranging from the north of the country, in Liguria on the Italian Riviera, to the island of Sicily in the south, the island of Elba is one of the not-to-be-missed diving destinations here. 
Located within the Tuscan Archipelago National Park, Italy's third largest island is surrounded by hundreds of rocky outlets and sandy sea beds, which are home to plenty of Mediterranean diving marine life staples, such as eels, nudibranchs, starfish, groupers, shrimp and lobsters. If you're particularly lucky, it's possible to find sunfish lurking in and around the black stones on certain dive sites, too.
Another popular diving spot near this Tuscan paradise is the Elviscott shipwreck, a merchant ship which sank in 1972. Sitting on a sandy bottom in just 35 feet (12 meters) of usually calm water, the wreck is a comfortable starting point for newcomers to wreck diving. It is also possible for more advanced divers to penetrate the hull.
Editor's Recommended Dive Center: Talas Diving Center
---
Ready to plan your July scuba diving trip?
Interested in planning a trip to one of the best places to dive in July? Visit PADI Travel for the best deals on dive resorts and liveaboards.
---
Related Reading
---